San Diego is located in the sunny State of California and is known for its stunning beaches and parks and warm climate. If you're planning a trip to San Diego, there is a wide range of things to see and do. Belmont Park is a historic amusement park along the ocean and it's a fun spot for people of all ages.
You can't visit San Diego without a few days on the beach. Some of the best beaches to visit include La Jolla Cove, Black's Beach, Windansea Beach, Torrey Pines State Beach and Dog beach (for all the dog lovers out there)!
When you've had enough of the beach, San Diego has great shopping, plenty of cafés and restaurants, as well as an amazing art scene with endless museums and art centers in the area. So where's the best place to stay? It all boils down to what you're most interested in doing during your time there.
Let's jump into the 6 best hostels in San Diego!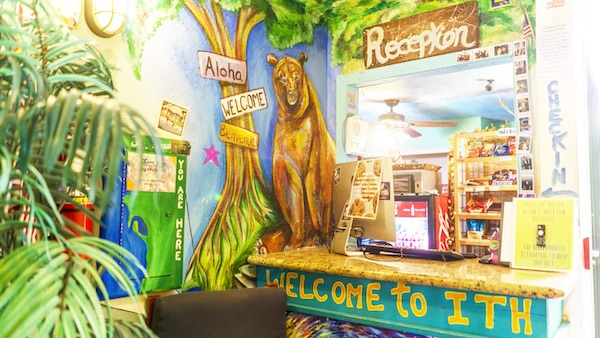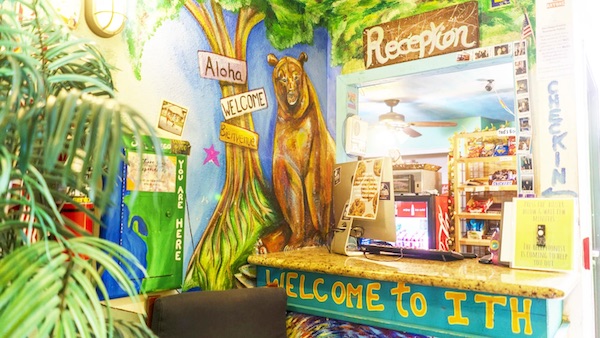 ITH Hostels CoLive Balboa Park
We're off to a great start with free breakfast and towels to use during your stay at ITH Hostels CoLive Balboa Park! The hostel has a laidback feel and is a friendly place for all travelers.
Discover the garden by the main lounge or play pool with newfound friends! If you've yet to meet anyone, check out the outdoor patio to socialize and you're likely to come across a few friendly faces. The hostel staff also host nightly events where you can explore the best parts of the city and discover the vintage shops, local bars and eateries in the area!
Hostel details
Address:
3751 6th ave, San Diego, USA.
Guest rating:
4.7 out of 5.
Price per night:
from $27.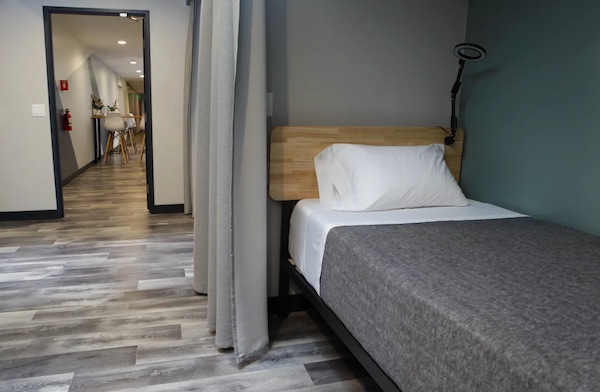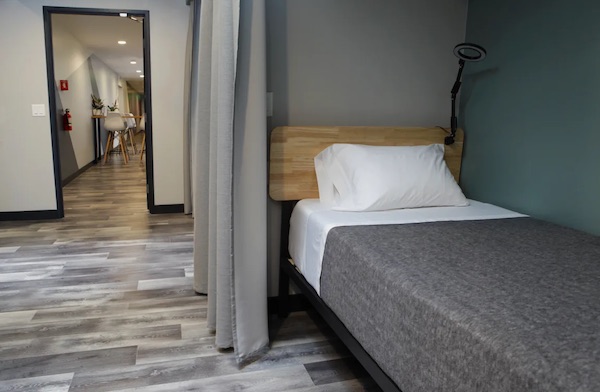 Stay Classy Hostel
Why sleep in a bunk bed when you can have your own private bed in a dorm room?! Make yourself at home with a reading light, bedside table and spacious lockers to store all of your valuables! Each bed also has a curtain to section off your space and give you some much-needed privacy.
Located in the East Village of San Diego, Stay Classy is just a few minutes walk from Petco Park baseball stadium, the famous Gaslamp Quarter where you can find hip bars and cafes and it's also only a mere 4 miles from the airport!
Hostel details
Address:
1455 Market St, San Diego, USA.
Guest rating:
4.9 out of 5.
Price per night:
from $49.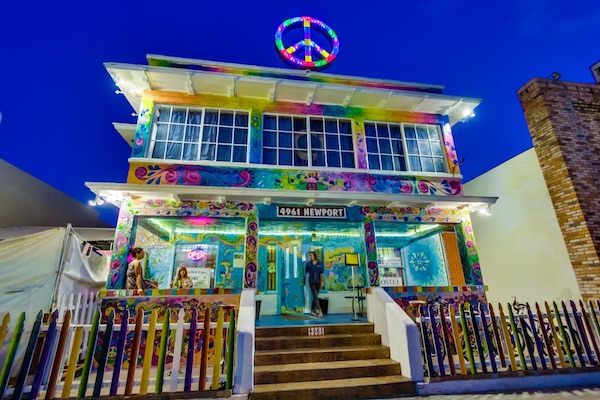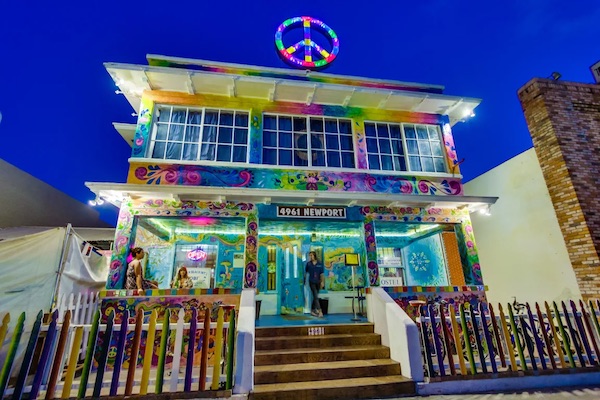 Samesun Ocean Beach
If you're after a spot near the beach, Samesun Ocean Beach is your best bet! This beautiful hostel is a few steps from Ocean Beach, where you can experience some amazing surf, wander through the many shops along the shore and become a part of this boho community.
The hostel itself is colorful and charming with beautiful art throughout. It comes equipped with a full kitchen, so you can make yourself at home and the atmosphere is nothing short of relaxing! Once you arrive at Samesun Ocean Beach, you won't ever want to leave.
Hostel details
Address:
4961 Newport Ave, San Diego, USA.
Guest rating:
4.8 out of 5.
Price per night:
from $33.
HI San Diego – Point Loma
Point Loma is a beautiful neighborhood, not far from Ocean Beach! It has a quiet but friendly atmosphere, perfect for those who are hoping to escape the hustle and bustle and enjoy some time by the courtyard, firepit or bbq. The outdoor space also has hammocks for when you get back from the beach and need a quick snooze!
With free surfboard and boogie board rentals and low-cost bike rentals, you can easily explore San Diego on a budget. When it's time to move on, HI Point Loma is right around the corner from the airport.
Hostel details
Address:
3790 Udall St, San Diego, USA.
Guest rating:
4.6 out of 5.
Price per night:
from $27.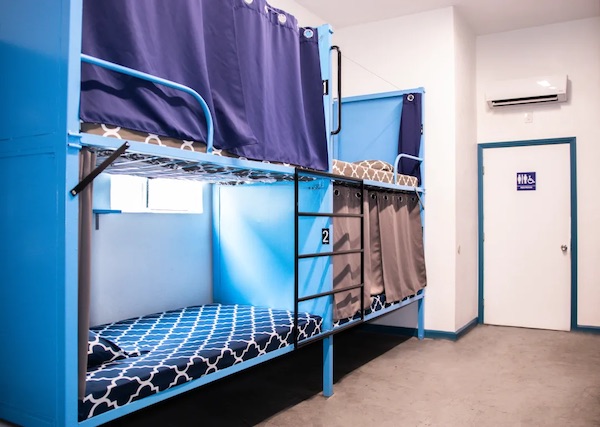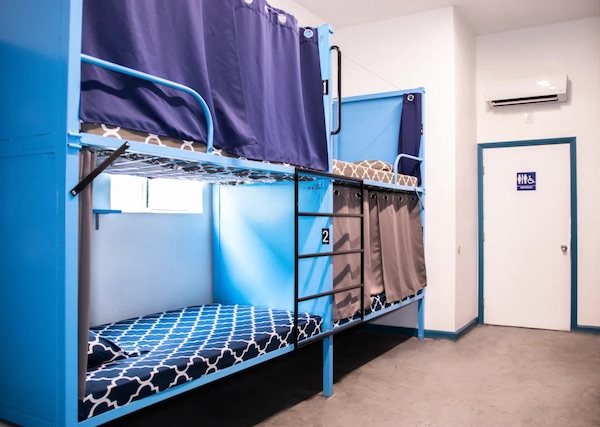 California Dreams Hostel
After another spot along the beach? Look no further! California Dreams Hostel is only a one minute walk from Pacific Beach. It's in a laidback neighborhood, a surfer's paradise and a beautiful spot to get away.
It's just a 20-minute drive from downtown San Diego and the airport, but still in a fun area with lots to see and do. Walk along the dreamy beach boardwalk, book a surf lesson at the hostel and get to know some new people! If you've had enough of the heat, all rooms are air-conditioned and you'll score again with free breakfast!
Hostel details
Address:
743 Emerald Street, San Diego, USA.
Guest rating:
4.7 out of 5.
Price per night:
from $31.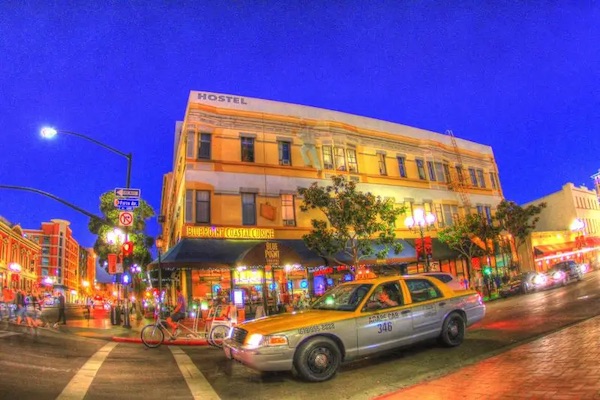 HI San Diego – Downtown
HI San Diego – Downtown is situated right in the Gaslamp Quarter of the city, which is known for its fun atmosphere, Balboa Theatre and the quaint Horton Plaza Park. Take part in a pub crawl around the downtown area and make new friends while you're at it!
The hostel is newly renovated and decorated with a modern feel. The rooms have high ceilings and comfortable beds so you can relax each night. If you're hoping to meet new people, the games room is the perfect spot to do it, with a pool table and arcade games at your disposal.
Hostel details
Address:
521 Market St, CA 92101, CA 92101, San Diego, USA.
Guest rating:
4.7 out of 5.
Price per night:
from $39.
About our San Diego hostel recommendations
Whether you're a solo traveler looking for a private room, or a backpacker traveling around in a group wanting to stay in a cheap and cozy dorm, above you will find the best hostels in San Diego for all your needs.
Please note, we only list hostels on our website that have an aggregated guest review rating of at least 4.0 out of 5. We aggregated all reviews from different booking sites and other unbiased review websites. Hence, you can be certain all hostels listed above offer an excellent value-for-money stay in San Diego.
Best price guarantee
For our hostel recommendations, we work together with Hostelworld and Booking. These partnerships don't have any influence on the recommendations we make or on the order in which our recommended hostels are listed. The reasons why we have chosen to partner with these companies is that they're trustworthy, offer excellent service and they both apply the best price guarantee. This means you can claim a refund for the difference if you find your reservation cheaper on another website. It has to be for the same property, accommodation type, dates, cancellation policy and conditions, otherwise, you can't claim the refund for the difference. If you book through Booking.com then all you need to do is contact them at least 24 hours before your check-in date. If you book through Hostelworld you must claim the refund within 24 hours after you made the booking.
Top 6 hostels in San Diego
To summarize again, based on thousands of guest reviews, these are the best hostels in San Diego:
Why you should be careful when booking the cheapest hostel available
The cheapest hostels available are typically not in a great location. If you want to go sightseeing or go for a night out in central San Diego, you probably end up having to pay for public transport or a taxi to get there. So your stay could end up being more expensive compared to a stay in a central location. For first-time travelers, we recommend staying central anyway, but also for frequent visitors, it's probably worth it to pay a bit more to stay in a central location.
Another reason why you shouldn't stay at the cheapest hostel is that the people staying at the cheapest hostels are often not the people that can afford to travel like you. Because a very cheap hostel is often cheaper than renting a flat, these places tend to attract migrant workers or local misfits. That's probably not the crowd you want to hang out with, especially if you're a solo traveler looking for friends.
The third reason why you should avoid the cheapest hostels is safety. Some of the cheapest hostels don't check IDs, don't ask for signatures, or only accept cash at check-in. The hostel won't know who is actually staying there.
Lastly, the service at these hostels isn't great. For instance, if you choose to store your luggage, your bags will be unattended in a public space. It won't be recorded anywhere or tagged and stored in a locked room.
So, it's probably worth it to spend a bit more on your hostel stay in San Diego.
And finally, a tip: always read the latest reviews of the hostel! All places have good and bad reviews, but the most recent reviews matter the most.
More San Diego tips
Get to know the city even better and check out our other articles about San Diego:
Best cheap hotels in San Diego
Best boutique hotels in San Diego
Best luxury hotels in San Diego