Vancouver is a beautiful city in Western Canada, known for its urban city life surrounded by stunning natural wonders such as the mountains, the ocean, and some spectacular forests. Vancouver is a city with the largest concentration of eco-friendly hotels that are committed to sustainability and have incorporated eco-conscious practices into the day-to-day running of their hotels.
Below we explore the 5 best sustainable hotels in Vancouver and discover what makes them such amazing places to stay. We will look at hotels that are a part of Vancouver's eco-initiatives that help to protect the environment and marine life to hotels that support indigenous communities and artistic projects. Read on to find out about the best eco-hotels in Vancouver.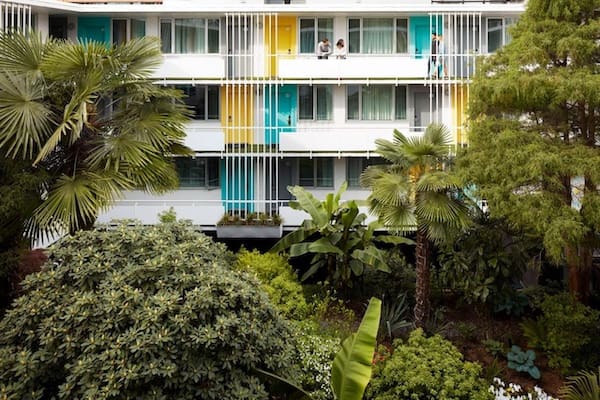 The Burrard
The Burrard is a Canadian-owned boutique hotel located in downtown Vancouver, a short walk from the West End and Yaletown areas, and close to the city center area. The hotel is in an excellent position to explore Vancouver and take in everything the city has to offer.
The hotel is situated in a converted Vancouver motor hotel and has a unique and playful atmosphere with eye-catching neon lights and a tropical garden courtyard where guests can enjoy connecting with nature after exploring the city.
The guest rooms are bright and airy with colorful and clean decor throughout. Guests can choose from double, queen, or king-size rooms with the option of a city view or an internal view over the stunning garden courtyard. The Burrard has two restaurant areas, the ELYSIAN serving beer and coffee with freshly baked snacks, and the Burgoo serving Canadian comfort food on its outdoor patio.
What makes The Burrard sustainable?
The Burrard hotel is committed to being an eco-friendly hotel and has been recognized for its work towards sustainability and has received the Green Key eco-label certification. The Burrard hotel incorporates sustainability into its practices by
Removing single-use plastics throughout the hotel including swapping the guest toiletries for refillable options
Water-efficient toilets are used in the guest rooms
Guests can opt out of room cleaning and re-use towels to help reduce energy consumption
Food provided at the hotel is locally sourced
The hotel uses energy-efficient LED lighting throughout the guest rooms and hotel areas
Hotel details
Address: 
1100 Burrard Street, V6Z 1Y7 Vancouver, Canada.
Guest rating:
4.1 out of 5
Price per night:
From $130
The Listel Hotel
Located in the city center, The Listel Hotel is an excellent choice for people looking to explore the sights of Vancouver. The Coal Harbour Marina is a short walk away and there is an excellent selection of restaurants and attractions nearby. There are excellent shopping areas such as Robson Street and the Stanley Park seawall is an attractive place to walk by.
The hotel prides itself on its passion for the arts and displays many impressive artworks from local Canadian artists in its lobby area and reflected in the style of the art-themed guest rooms. The hotel has an excellent restaurant called The Forage celebrates local sustainable cuisine and the hotel also includes a fitness center.
What makes The Listel sustainable?
The Listel Hotel is dedicated to the protection of the environment and sustainability and has its own eco-initiative, Environment Matters, which works to actively minimize the hotel's operational impact on the environment, through conserving energy and resources. The Listel Hotel is also an inaugural participant in the City of Vancouver's "Corporate Climate Leader" and Vancouver's "Tourism Ambassador for Conservation" programs and has introduced the following actions toward protecting the environment:
Forage, the Listel's signature restaurant, is an active member of the Vancouver Aquarium's Ocean Wise sustainable seafood program
The hotel sources local and sustainable food and wine where possible
20 solar panels and a state-of-the-art heat capture program have been incorporated into the hotel to help reduce energy consumption.
The hotel has a zero-waste policy and reuses or recycles 100% of its waste.
Single-use plastics are not used within the hotel, this includes plastic bottled toiletries in the rooms
Windows are double-glazed to reduce heat loss
Electric vehicle charges are available for guests to use.
Hotel details
Address: 
1300 Robson Street, West End, V6E 1C5 Vancouver, Canada.
Guest rating:
4.2 out of 5
Price per night:
From $150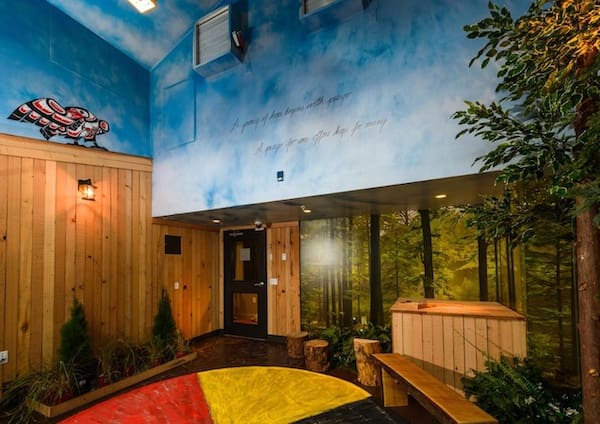 Skwachàys Lodge
Skwachàys Lodge is located in the heart of Vancouver amongst many fabulous attractions, making this cozy lodge popular with tourists looking for a central location. The lodge is a unique boutique-style hotel that has been decorated to celebrate Indigenous artists and has an art gallery that supports and houses 24 Indigenous Canadian artists.
The hotel is decorated with artworks and cultural items from the Indigenous community and offers visitors 18 rooms which are either deluxe hotel rooms or suites. Each room has been designed by one of six of Vancouver's top hotel designers and offers unique yet modern rooms. The Skwachays Lodge is beautifully designed and has community socializing spaces for guests to enjoy such as the Kayachtn Welcome Room and an Indigenous Smudge Room.
What makes Skwachàys Lodge sustainable?
The Skwachàys Lodge is committed to supporting its local community, specifically the community of Indigenous artists, and does so through its work with the Vancouver Native Housing Society. The lodge funds shelter for Indigenous people who are homeless and provides gallery space for aboriginal artists allowing them freedom in the community to showcase their work. The hotel makes efforts to incorporate sustainable practices into its business and supports the local community.
Sourcing local produce where possible
Sourcing environmentally friendly products or products that support Indigenous people
Has eliminated the use of single-use plastics, specifically plastic water bottles, straws, and cups.
The hotel has installed water-efficient toilets and showers
The hotel invests a large proportion of revenue back into community projects that support local Indigenous people
Energy-efficient LED lights are used throughout the hotel
Windows are double-glazed to reduce heat loss
Hotel details
Address: 
31 West Pender, V6B 1R3 Vancouver, Canada.
Guest rating:
4.3 out of 5
Price per night:
From $180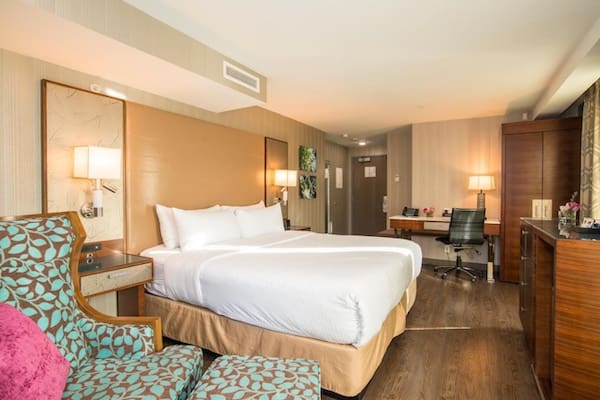 Hotel BLU
Hotel BLU is a beautiful eco-luxury hotel with sustainable features located in downtown Vancouver. The hotel is centrally located near many great tourist attractions and restaurants such as the BC Place stadium, Canada Place waterfront, and the Yaletown-Roundhouse SkyTrain is a ten-minute walk away.
The hotel has been stylishly decorated with spacious rooms that include smart TVs, coffee makers, mini-fridges, and high-speed wifi. The rooms also have eco-friendly body products for guests to use and the hotel welcomes guests to bring their doggie family members.
The amenities at the hotel are excellent considering its central location and include a small spa with a 28-foot indoor swimming pool, jacuzzi, and sauna. The hotel also has three excellent dining options to choose from, offering a la carte breakfast at Azure Lounge, Japanese Izakaya dining at Black Rice, and brilliant seafood selections at the Fanny Bay Oyster Bar.
What makes Hotel Blu sustainable?
Hotel BLU is committed to sustainability and prides itself on being an eco-friendly and environmentally safe boutique hotel in Vancouver. Hotel BLU is also a recognized Green Key hotel and has been awarded this status for its commitment to protecting the environment through the hotel's policies and practices. Some of the green initiatives that the hotel has integrated include
The second floor of the hotel is entirely carbon-neutral and runs on BullFrog Clean Energy
Energy-efficient LED lights are used throughout the hotel
Rooms in the hotel are fitted with an energy management system to conserve energy when not in use
Water-efficient toilets and showers are used in all the guest rooms.
Single-use plastics have been reduced or removed where possible including plastic water bottles
Guests can rent electric scooters from the hotel to tour the city
Electric vehicle charging stations are available at the hotel to encourage guests to use green energy-fueled vehicles.
Hotel details
Address: 
177 Robson Street, V6E 1B2 Vancouver, Canada.
Guest rating:
4.5 out of 5
Price per night:
From $150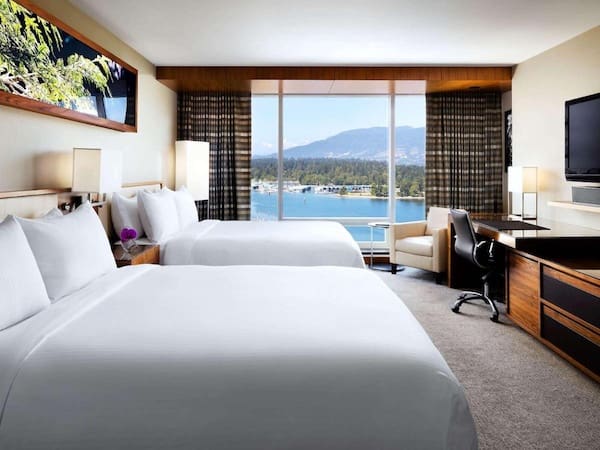 Fairmont Pacific Rim
The luxurious Fairmont Pacific Rim Hotel is located in the center of Vancouver, minutes away from Vancouver's Convention and Exhibition Center and close to excellent shopping areas. The hotel is modernly designed with an impressive rooftop pool area, a well-equipped spa and fitness center, and sweeping views over the Vancouver harbor.
The hotel guest rooms are decorated to a high standard with spacious rooms, marble bathrooms, and modern amenities. Each room has been styled with warm accents to give each room a cozy and luxurious feel. Guests can choose from attractive apartment-style rooms or larger suites that look out across the water.
The hotel also has two excellent restaurants, the Botanist which serves sustainably sourced seafood, and The Lobby Lounge & RawBar which serves cocktails and sushi.
What makes Fairmont Pacific Rim sustainable?
The Fairmont Pacific Rim Is conscious of the environment and ensures that sustainability is incorporated into the practices of the hotel and restaurants. Sustainably sourced seafood and local produce are sourced for use within both restaurants and the hotel is a part of Ocean Wise, the Vancouver Aquarium's conservation program.
The hotel has also incorporated the following practices into its every running of the hotel to ensure that it works towards protecting the environment.
Certified by Green Key Global Eco-Rating
Part of the Accor sustainability program: Planet 21 – Acting Here
Non-essential single-use plastics have been removed from the hotel
The hotel takes part in the Great Canadian Shore Clean Up
The hotel promotes clean transport and offers bicycles rental to its guests to explore the city
The hotel supports initiatives to educate the public on the conservation of nature and is part of the Stanley Park Ecology Society's Eco-Innovations Signature Project
Hotel details
Address: 
1038 Canada Place Way, V6C 0B9 Vancouver, Canada.
Guest rating:
4.4 out of 5
Price per night:
From $340
How we select the best eco-friendly hotels in Vancouver
We are a travel research company. We check a lot of details and guest reviews before making a selection. First, we check which hotels follow eco-travel principles. Are they recycling their waste? Do they work with local communities? Are they using renewable energy? Are they not using single-using plastics?
Secondly, we check guest reviews across multiple websites and only list hotels with an aggregated review rating of at least 4 out of 5. So you can be confident you will stay at an excellent eco-friendly hotel in Vancouver.
More and more people recognize the importance of sustainable travel. Not only is it better for the environment and our planet, but it also often leads to more meaningful experiences. If you're interested in learning more about eco-tourism, here are some eco-friendly travel tips to get you started.
More Vancouver tips
Get to know the city even better and check out our other articles about Vancouver: