As one of the cultural hubs of the United States, Atlanta is a fantastic place to visit whether it be for pleasure, business, or a mixture of both. No matter why you may find yourself here, there are always great things to do and see.
In America, there are a few cities that have that in-your-face and very unique identity. Atlanta is toward the top of that list. Everything from the sports teams to the nightclubs to the awesome aquarium, there is truly a diversity of things to do and see in the area.
Now, one of the coolest ways to experience Atlanta is by staying in a boutique hotel. Boutique hotels are smaller accommodations that can deal with your specific needs. Sure, you could stay in the big box hotel chains, but the value is not there.
Here are three of the best boutique hotels located in Atlanta!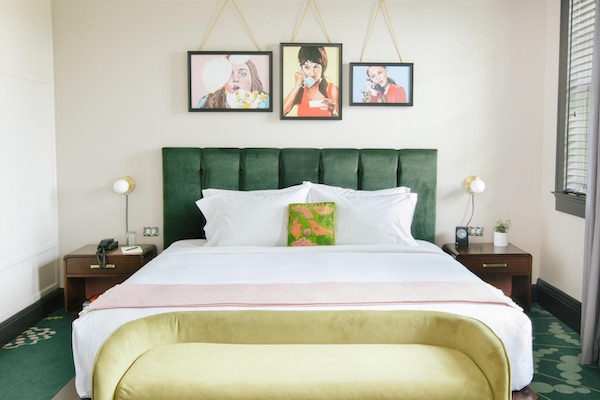 Hotel Clermont
The first boutique spot on our list is the Hotel Clermont. This is a rock'n'roll location that brings swag, flair, and an awesome experience. There are 94 rooms in total, so it is near the larger end of the boutique spectrum. Now, this is not a bad thing depending on what you want your experience to be like. Although there are a good amount of rooms, it still has that small accommodation feel.
Along with that welcoming feel, there are a few features that separate it from the competition. One of which is the awesome rooftop bar. Smoothed over with an astroturf floor and incredible views of the skyline, this location is the perfect spot to end a night in.
There is also a restaurant on site. This is an important perk because you will not have to go far to have a really delicious meal. The restaurant is called Tiny Lou's and it takes on a French-American style. Although you will most likely want to embark out into Atlanta and find some local spots, having this still be an option is a really good perk.
Hotel details
Address: 
789 Ponce De Leon Avenue Northeast, Atlanta, GA 30306, United States of America.
Guest rating:
4.6 out of 5
Price per night:
From $135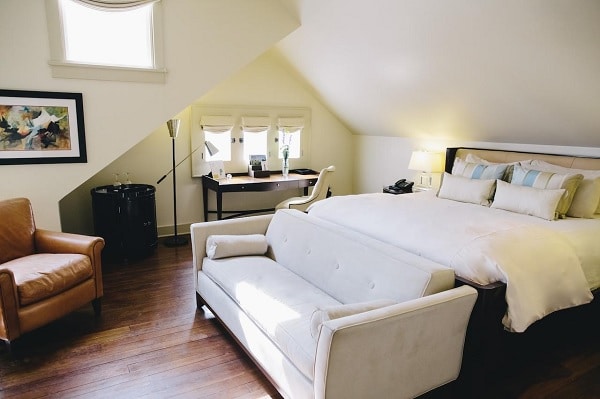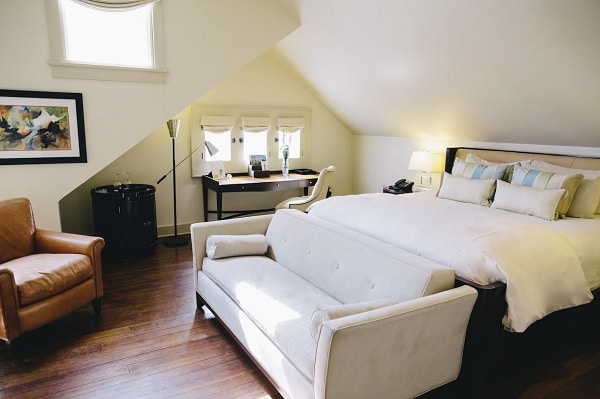 Stonehurst Place
Now, Stonehurst Place is a location that fits more into the traditional boutique hotel style. With only eight rooms in total, you are getting a super exclusive experience that can be specified to what you are looking for in an experience. This is a big deal because that is the type of value brought by boutique locations.
Since there are so few people staying at any one time, you can have access to top-notch service. This size is more important than what you initially may think. Atlanta is a very big city, and it is important to slow it down sometimes. This is exactly what comes with the stay.
In terms of this hotel specifically, there are a few points worth mentioning. Firstly, the amenities within the rooms and the rest of the hotel are very updated. There is nothing worse than having to deal with aged, old things regularly. There is also the option to upgrade into one of the two suites available. If your budget allows, you can get a bit more space and better features with a suite.
At the end of the day, Stonehurst Place is a spot that keeps it modern, simple, and can ensure you have a quality stay.
Hotel details
Address: 
4108, 923 Piedmont Ave NE, Atlanta, GA 30309, USA.
Guest rating:
4.9 out of 5
Price per night:
From $229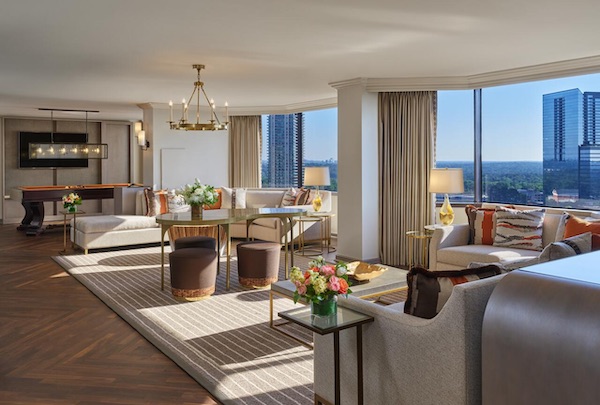 The Whitley
The last location on our list for the best boutique hotels in Atlanta is The Whitley. Now, this is a location that strays away from the general mold of a boutique hotel, but it hits the luxury and attention necessary to qualify.
This is a very large location with over 500 rooms. Now, this is not usually boutique-esque, but there are a few perks that steer it toward the grey area of that category.
Firstly, there is the luxury. This is an elegant spot that can make you feel good about the money being spent on a stay. What you sacrifice in size is made up in ambiance and extra perks. A couple of those perks include a spa and sauna. This is the type of value that cannot be found in really small locations, so the high numbers make up for a few things.
Another couple of those perks include a swimming pool and restaurant. Although you will probably want to spend most of your time away from the hotel, there are certainly enough things to keep you in the house for a bit. This is important to consider because you have some awesome options to fall back on at the end of the day.
Hotel details
Address: 
3434 Peachtree Road Northeast, Atlanta, GA 30326, United States of America.
Guest rating:
4.2 out of 5
Price per night:
From $209
About our boutique hotel recommendations in Atlanta
We are a travel research company. We help you discover the best boutique hotels in Atlanta by researching the internet for you. It's not just our opinion, it's the opinion of many travelers who have been there before you.
We make it easy for you to find out about cool design hotels and unique design hotels in the city. Some of them might be so romantic you might not want to leave your room.
Please note, we only list hotels that have an aggregated guest review rating of at least 4.0 out of 5. We aggregate all reviews from different booking sites and other unbiased review websites. Hence, you can be certain all hotels listed above offer you a great stay in Atlanta.
Best price guarantee
We partner with Booking.com and Hotels.com to provide you with the lowest price guarantee on your stay in Atlanta! Both those websites offer price matching. That ensures that you are paying the lowest price available online. If you find a cheaper offer on another website for the same cool hotel in Atlanta at least 24 hours before check-in, contact them to claim a refund of the difference!
Save up to 40% after you've booked
Hotel prices tend to go down after reservations are made. By using our free Price Tracker you can save up to 40% after you've made your booking. It's really simple: book a hotel with free cancellation, then forward your hotel reservation to track@35.185.217.164. We will then track the rate of your booking and let you know when the price has gone down. All you have to do then is cancel your old booking and make a new reservation.
If you need more tips, check out our article about how to save money on hotel bookings.
Top 3 boutique hotels in Atlanta
Before you go, let's summarize this guide. Based on thousands of guest reviews and tips from travel experts, these are the best boutique hotels in Atlanta:
More Atlanta tips
If you like our guide above, you should also check out our other articles about Atlanta: