This Mediterranean city is rich in history and culture, with monuments such as Notre Dame de la Garde and the old harbor, making it ideal for exploration. Marseille, like many other ports across the world, had a reputation for seediness and crime for a long time. And there's still a shabby feel to the city today, which isn't always a bad thing. It gives Marseille a dapper air, as well as hypnotic energy and color. All of this may be seen in the stores, marketplaces, and cafes in neighborhoods like Le Panier, Noailles, and La Paine.
If you're inspired by France's oldest city's tremendous age, there's a magnificent selection of museums that will transport you back in time. With so much to see and do, you'll need a great place to base yourself on your sightseeing activities. And, when it comes to finding a place to stay in Marseille, France's oldest city has plenty of options.
Here are some of the top boutique hotels in Marseille for your visit.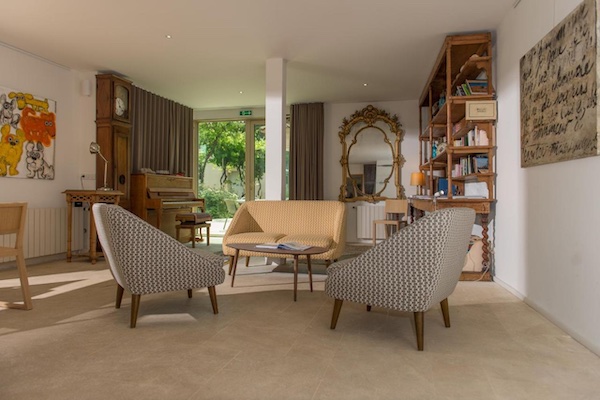 Hôtel 96
Hôtel 96 is a family-owned boutique establishment situated in a wide oak-shaded garden in a quiet residential district of Marseille, offering pleasant accommodations in a friendly, serene setting. A well-restored 19th-century mansion plus a new build annex make up this delightful boutique property. The Château Borély is 3 kilometers away, the Musée Cantini art museum is 10 kilometers away, and the Gare de Marseille Saint-Charles is 13 kilometers away. Hôtel 96 is just a short distance from the Parc des Calanques natural area and its famed streams and beaches, making it ideal for exploring this fascinating city.
Features:
Guests will like the hotel's balcony and patio, where breakfast is served.
The rooms are bright and whimsical, with unique themes. Each of the twelve rooms and one suite at Hôtel 96 is decorated and furnished under one of six themes: White, Marseille, Haute Couture, Retro, Mare Nostrum, and Wood and Iron.
The ground-floor rooms are spacious and comfortable, with terraces, while the larger upper-floor rooms have mansard roofs. Everyone in the room has a beautiful view of the garden.
There's also a vast shady garden with an orchard and lawns, as well as an outdoor pool.
The air-conditioned rooms include en-suite bathrooms, flat-screen satellite TVs, minibars, and iPod docking stations, as well as a variety of modern conveniences.
Hotel details
Address:
96 avenue de la Soude, 13009 Marseille, France.
Guest rating:
4.6 out of 5
Price per night:
From $125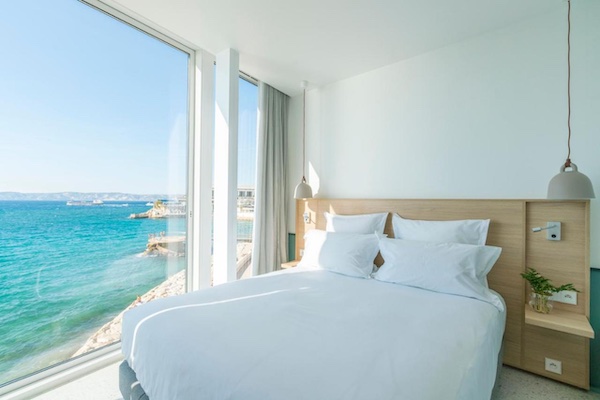 Hotel Les Bords De Mer
Les Bords de Mer literally means "the seaside," and it's an apt moniker for this hotel, which is situated right on Marseille's waterfront. It has the best of both worlds in some ways: the ocean views and Mediterranean exposure that make the Côte d'Azur a perennially desirable destination, as well as close proximity to Marseille, one of France's most diverse and vibrant cities. It's only a five-minute walk from the Vieux-Port and the old town center.
The style of Hotel Les Bords de Mer is influenced by both the optimistic modernism of the 1950s and the current trend for unadorned simplicity. It's a rare hotel that offers a resort-style experience in the heart of a vibrant and fascinating city, replete with a spa and day trips by boat to the coast's famous Calanques.
Features:
All the 19 rooms face the sea and because of the sea views, the rooms are far more relaxing.
The restaurant's dining area, rooftop patio, and heated swimming pool have stunning views.
Free Wi-Fi, sea views, flat-screen TVs, minibars, and safes are all included in the minimalist rooms and suites.
A restaurant, a cafe, and a wine cellar are among the amenities.
Massages, a sauna, and a hammam, as well as an indoor pool and an exercise area, are available at this chic spa.
Hotel details
Address:
52 corniche Kennedy, 13007 Marseille, France.
Guest rating:
4.3 out of 5
Price per night:
From $220
La Residence du Vieux Port
The hotel's rooms provide a spectacular front-row view of Marseille's gorgeous, fortified old harbor, and the hotel itself has a nice residential feel about it. The Hotel La Residence du Vieux Port is a splash of vibrant local color, with its modernist concrete structure, a deliberate homage to Le Corbusier. There are subtle references to France's cultural history throughout, such as artworks honoring the Provençal masters and even a smidgeon of Art Deco.The Vieux-Port Hôtel de Ville metro station is a 2-minute walk away, while the Basilique Notre-Dame de la Garde is 2.3 kilometers away. La Residence is a wonderful boutique hotel and is plenty for a weekend getaway on its own.
Features:
The hotel blends timeless attractions like private terraces and plenty of Mediterranean sunshine with modernist furniture and pared-down contemporary décor. Most rooms have balconies with city or water views.
Free Wi-Fi, flat-screen TVs, and minibars are included in the modern rooms.
The upgraded rooms and apartments have bright, 1950s-era décor, giving them a unique yet trendy vibe. Separate living rooms are available in suites.
A cheerful bistro-style restaurant with a terrace is available. The hotel also includes two meeting rooms and two colorful lounge spaces.
Hotel details
Address:
18 Quai Du Port, 13002 Marseille, France.
Guest rating:
4.4 out of 5
Price per night:
From $150
About our boutique hotel recommendations in Marseille
We are a travel research company. We help you discover the best boutique hotels in Marseille by researching the internet for you. It's not just our opinion, it's the opinion of many travelers who have been there before you. We make it easy for you to find out about cool design hotels and unique design hotels in the city. Some of them might be so romantic you might not want to leave your room.
Please note that we only list hotels with an aggregated guest review rating of at least 4.0 out of 5. We aggregate all reviews from different booking sites and other unbiased review websites. Hence, you can be certain all hotels listed above offer you a great stay in Marseille.
Best price guarantee
Get the best deals and prices for your stay in Marseille with Booking.com and Hotels.com! They offer price matching, which means you'll be getting the lowest price available online, guaranteed! If you find a cheaper offer on another website for the same hotel room at least 24 hours before check-in, contact them to claim a refund of the difference.
Top 3 boutique hotels in Marseille
Let's quickly summarize this guide. Based on thousands of guest reviews and tips from travel experts, these are the best boutique hotels in Marseille:
More Marseille tips
Get more great content like the guide above! Check out these other articles about Marseille:
Best cheap hotels in Marseille