Copenhagen isn't one of the first travel destinations many people have on their must-visit list. Yet, the capital of Denmark really should be atop their list. Why? Copenhagen is an incredibly beautiful city and avoids the trappings that so many major cities across Europe fall into.
The Danish destination is a forward-thinking place and showcases its liberal views by being eco-friendly with parks, beaches and other outdoor attractions. Copenhagen is regularly ranked high on the list of European Cities with the Highest Quality of Life report. It is highly livable and for tourists, a great place to spend a weekend city break or extended holiday.
Here are the 5 nicest neighborhoods to stay in Copenhagen!

Vesterbro
If you want to stay in the coolest, trendiest part of Copenhagen, then look no further than Vesterbro. The neighborhood is popular with backpackers and young travelers. It is a favorite spot to snap photos and you will be able to fill up your Instagram stories on a day out in Vesterbro.
The neighborhood is filled with great bars, coffee shops and music venues. The area is happening and experiencing a renaissance. Vesterbro has undergone some gentrification after experiencing a down period. Today, it is a paradise for local hipsters.
Even though it has undergone a transformation over the last 10 years, there are still a number of great budget accommodation locations. You will find private apartments in the neighborhood as well. A stay in Vesterbro will bring you close to one of Copenhagen's top tourist attractions, Tivoli Garden. A 19th-century theme park, Tivoli Garden is home to an antique rollercoaster that thousands flock to see.
Vesterbro's trendy, hipster vibe makes it a fun place to stay for couples and solo travelers. It is a neighborhood that doesn't sleep and offers a range of restaurants, bars, and cafes that are sure to delight.
Best place to stay in Vesterbro
Nimb Hotel. Address: Bernstorffsgade 5, 1577 Copenhagen, Denmark.
Cheaper alternative:
Hotel Scandic Kødbyen. Address: 3 Skelbækgade, Vesterbro, 1717 Copenhagen, Denmark.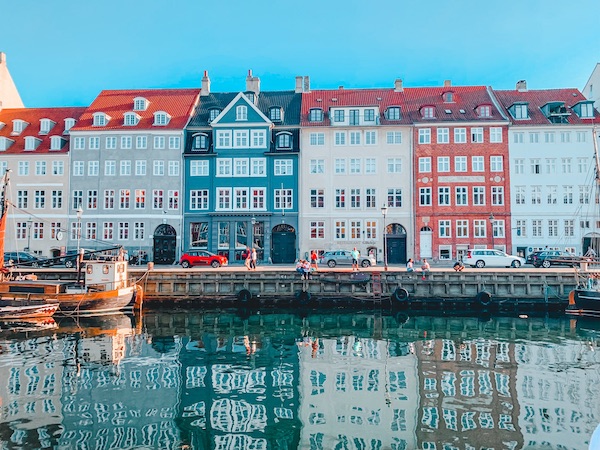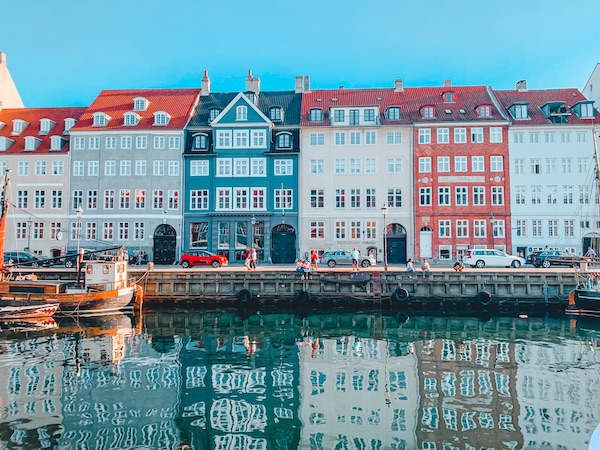 Nyhavn
Nyhavn is a port area in Copenhagen and the buildings that surround it are colorful. The area, also known a New Harbour, is filled with charm and the atmosphere around it is ideal for first-time visitors. One of the great reasons to stay in the neighborhood is the abundance of accommodation, which comes at all price points. You can find a luxury hotel or a hip Airbnb for a night or weekend.
It is no secret that Nyhavn is one of the most touristy places in all of Copenhagen. Due to it attracting tourists, day and night, expect prices to be a bit high. Like most major cities in Europe, you can expect to pay more for a pint of beer, a cup of coffee, or meals in Nyhavn than in other neighborhoods in the Danish capital.
Nyhavn offers Instagram-perfect images of boats lined up down the canal and gorgeous sunsets in which the sky is turned orange, yellow and pink. The neighborhood is perfect to visit in the summertime. You can enjoy a cold beer on the quay looking out at the water along with the locals. The area recently received some renovation over the last few years turning it into the fantastic tourist spot it is today. Once a place where sailors came to get drunk and meet prostitutes, it is now a wonderful area for culture vultures to explore.
Best place to stay in Nyhavn
Hotel Sanders. Address: Tordenskjoldsgade 15, 1055 Copenhagen, Denmark.

East Amager
Amager is described as where "the sea meets the city". It is actually an island with part of Copenhagen's geographical lines falling onto it. East Amager is one of the neighborhoods that fall within Copenhagen's districts and is a place where locals go to escape the hustle and bustle of the capital.
East Amager is perfect for individuals seeking a beach life. Copenhagen residents head to Amager Beach to take a dip in the sea or to enjoy a variety of watersports. Strandpark is a four-kilometer piece of man-made beach that is often busy with locals and tourists alike.
East Amager sees many locals head its way during Denmark's summer months. It is just 15 minutes from the city center of Copenhagen, making it ideal for travelers staying on Amager, who want to visit the capital's main landmarks. It is also easy to access from the middle of the city.
Copenhagen Cable Car is one of the popular tourist attractions on the island. Northern Europe's largest aquarium, The Bue Planet, is also located on Amager. Quaint local cafes and restaurants are scattered about East Amager and are perfect for foodies seeking something tasty.
Best place to stay in East Amager
CPH Studio Hotel. Address: Krimsvej 29, Amager Øst, 2300 Copenhagen, Denmark.

City Center
Most travelers would seek out the City Center as potentially being the first place to look for accommodation. However, Copenhagen is such a beautiful city with so much to offer, the City Center may not be the best option. That said, Copenhagen's City Center district is quite fantastic.
The neighborhood doesn't sleep and there is something going on at all hours of the day. The streets of the City Center district are brilliant for photo taking. There isn't congested traffic like you would see in New York City or London. Rather, tourists and locals walk the streets while cyclists enjoy spacious cycling lanes.
History buffs will love the district thanks to sites such as King's New Square, which dates back to the early 20th century. A large number of hotels reside in the City Center and meet a variety of budgets.
Best place to stay in City Center
Hotel SP34. Address: Sankt Peders Stræde 34, 1453 Copenhagen, Denmark.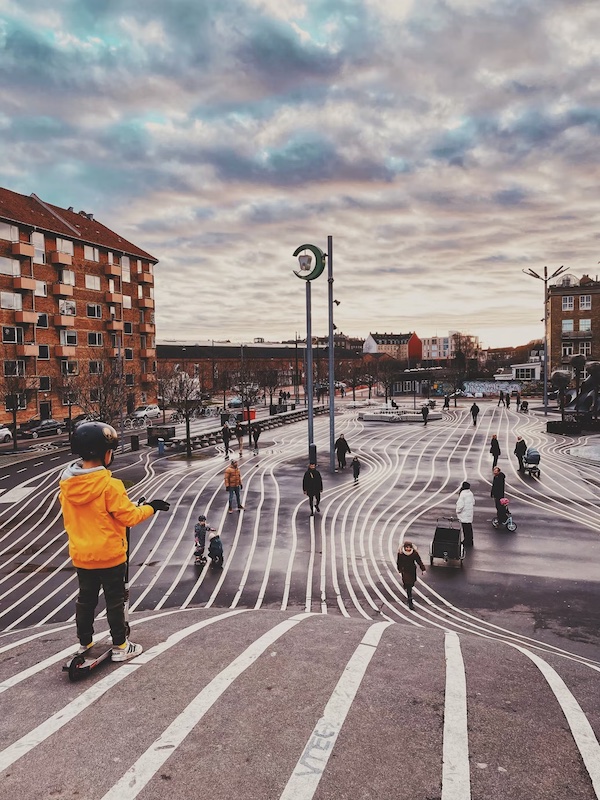 Nørrebro
Situated to the City Center's north is Nørrebro. The neighborhood is well-known as a multicultural part of Copenhagen. Culture Vultures should base their stay in Nørrebro as it offers a variety of excellent museums and art galleries to visit. If you want to get under the surface of Copenhagen and see how the locals really live, then Nørrebro is the place to visit and stay.
There are a few parks in the neighborhood offering you the chance to escape the crowds. Nørrebro is located on a canal that runs through the heart of the district. The combination of parks, cool atmosphere and feeling of safety make Nørrebro an area where young people come out. You may see a large number of kids playing in the parks and running about.
As a multicultural hub, the neighborhood is flush with excellent restaurants, bars and cafes. Jægersborggade is a street known around the district for its incredible eats. Restaurants on Jægersborggade are popular with people seeking delicious street food.
Like in other parts of Copenhagen, hotels come in several different price ranges. So, you should be able to find something that meets your budget.
Best place to stay in Nørrebro
Avenue Hotel. Address: Åboulevard 29, 1960 Frederiksberg, Denmark.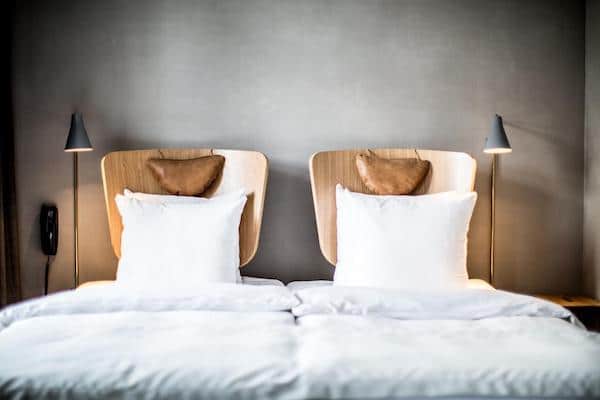 Where travel critics stay in Copenhagen
Want to know where travel critics from publishers like The New York Times, Frommer's, Fodor's and Lonely Planet stay in Copenhagen? Check out our overview of all recommended hotels, hostels and B&Bs in Copenhagen.
Budget
"The conveniently situated Generator blurs the lines between hostel and hotel, with design-led interiors, buzzy communal areas and a combination of private rooms and en-suite dorms. All of the main city centre attractions are within a 10-minute walk and evenings play host to live music and social events." — Telegraph.
Address: Adelgade 5 -7, 1304 Copenhagen, Denmark.
Mid-range
"The revamped Danmark is a svelte boutique hideaway steps away from major sights. Though most of its 88 rooms are rather petite, they're all flawlessly chic and ensconcing, with heavenly beds, tactile fabrics and restrained, elegant Danish furniture." — Lonely Planet.
Address: Vester Voldgade 89, 1552 Copenhagen, Denmark.
Luxury
"Widely considered the best luxury hotel in Copenhagen, this elegant establishment dates back to 1755 and has been brought back up to its peak with a complete renovation. Gorgeous rooms and impeccable service." — Fodor's.
Address: Kongens Nytorv 34, 1050 Copenhagen, Denmark.
FAQ: Copenhagen hotel recommendations
If you're looking for a budget, boutique, or luxury hotel in Copenhagen, or maybe your travel plans require a splendid hostel? Want to know which hotel serves the best breakfast? Here are all those answers and more about where to stay in Copenhagen.
What is the best budget hotel in Copenhagen?
If you're looking for a cheap hotel in Copenhagen, then book Cityhub Copenhagen. It's an excellent budget hotel offering great value for money. It's in a good location, it's been recommended by travel experts and the hotel has excellent customer reviews. Make sure you check our shortlist of the best cheap hotels in Copenhagen.
What is the best boutique hotel in Copenhagen?
You like some luxury but don't like the famous chain hotels. If you're looking for the best boutique hotel in Copenhagen, you should check out Hotel Sanders. It's a very cool hotel that has been highly recommended by travelers and experts. Also check out our list of the best boutique hotels in Copenhagen, it's a manually curated list of the most unique and romantic hotels in the city.
What is the best luxury hotel in Copenhagen?
If money isn't a problem and you're looking for a luxury hotel in Copenhagen, then go for Hotel d'Angleterre. The hotel offers excellent service, it's in a top location, it has been rated very highly by previous guests and renowned travel critics have recommended it. Make sure you check our shortlist of the best luxury hotels in Copenhagen, it's a manually curated list of the most exclusive 5-star hotels in the city.
What is the best hostel in Copenhagen?
If you're looking for a great hostel in Copenhagen, then you should check out Steel House Hostel. The hostel has magnificent reviews by backpackers, it has been recommended by well-known travel experts and it's in a good location. Also check out our guide about the best hostels in Copenhagen.
Which Copenhagen hotels serve great breakfast?
There are plenty of hotels in Copenhagen that serve a good breakfast. Try The Avenue Hotel, Hotel Sanders or The Nimb Hotel if you're looking for a delicious breakfast. All those hotels have excellent customer review ratings for their breakfast.
How much does it cost to stay in a Copenhagen hotel?
For a 3-star hotel, you have to pay around $175 per night and for a 4-star hotel, you would be looking at $240 per night. If you're after a luxury 5-star Copenhagen hotel then you can expect to pay around $450 per night.
Which Copenhagen hotel offers great views?
Try The Nimb Hotel for great views of Copenhagen. The hotel has received excellent customer review ratings for views recently.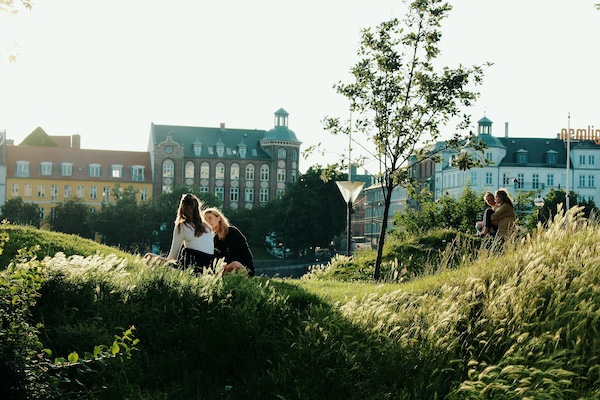 Best time to visit Copenhagen
The best time to visit Copenhagen is during the months of May to September when the days are longer, the weather is warmer, and the city is bursting with life and vibrant colors.
With temperatures ranging from 15°C to 21°C (59°F to 70°F), you can comfortably explore the city without breaking a sweat. Plus, with up to 17 hours of daylight during the summer months, you'll have plenty of time to take in all the sights and sounds of the city.
From the breathtaking castles and historical landmarks to the picturesque parks and waterfronts, there's no shortage of things to do and see in Copenhagen.
During this period, the city comes alive with numerous cultural events and festivals, adding to the already electric atmosphere. From the Copenhagen Jazz Festival to the Roskilde Festival, there's always something happening to keep you entertained.
Additionally, the summer months allow you to experience the open-air markets and outdoor dining options, making it a food lover's paradise. Grab a bite at the famous Copenhagen Street Food Market and savor the mouthwatering flavors of the local cuisine.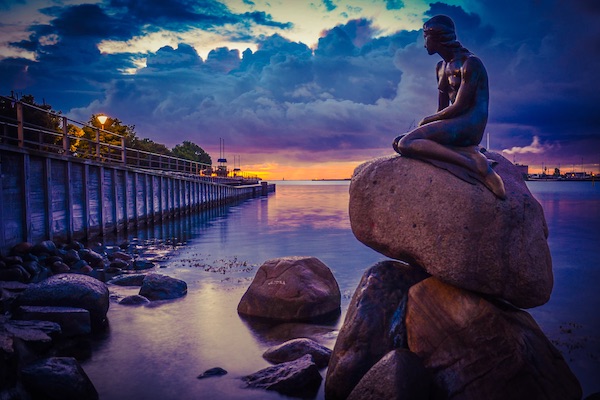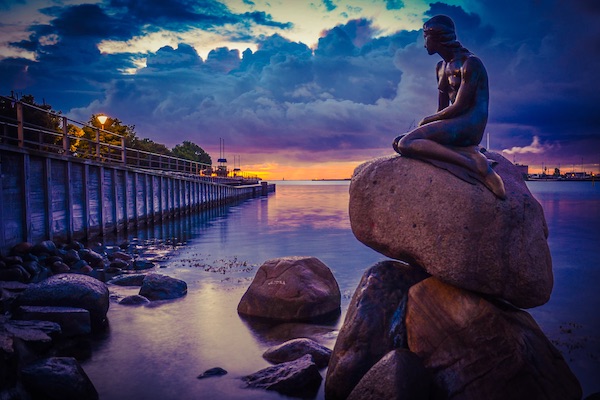 Best things to do in Copenhagen
There are a lot of things to do in Copenhagen and surrounding areas, including day trips, attractions, museums, sightseeing tours and many other activities. Here's our list of 3 things you should definitely do when you're in and around Copenhagen:
Copenhagen: 1-Hour Canal Cruise from Ved Stranden or Nyhavn
See the sights of Copenhagen on a 1-hour boat tour along the main harbor and adjoining canals. Depart from Ved Stranden or Nyhavn and see lovely houses, ancient castles, and beautiful churches along the way. Price: $16. More info.
Grand Day Trip around Copenhagen
Head out of Copenhagen for the day on this guided small-group tour, visiting UNESCO World Heritage-listed Kronborg Castle, the setting for Shakespeare's Hamlet, and then Frederiksborg Castle, the largest Renaissance-era castle in Scandinavia. Price: $166. More info.
Copenhagen Tivoli Gardens Fast-Track Ticket & Optional Rides
Discover Copenhagen's world-famous Tivoli Gardens, the world's second-oldest amusement park. Enjoy fast-track access with your skip-the-line admission ticket. Explore the park, enjoy the beautiful gardens and flowers, and stop for refreshments at a café. Price: $21. More info.
More things to do in Copenhagen
Deciding where to stay in Copenhagen
In conclusion, this travel guide has covered the best areas and hotels in Copenhagen and how to get around. Now it is up to you to decide which area suits your needs the most.
Top 5 areas to stay in Copenhagen
Nørrebro
City Center
East Amager
Vesterbro
Nyhavn
As you have seen in this travel guide, there are a lot of things to explore, and deciding where to stay in Copenhagen is important. Whether you stay in Nørrebro, City Center, East Amager, Vesterbro or Nyhavn, all those neighborhoods are in good locations.
The atmosphere of the area, whether you travel for leisure or business, whether you travel with your family or friends, and proximity to the attractions you prefer to visit should probably be the deciding factors. Whatever your preference is, you'll have a great time in Copenhagen.
Check out our other guides about the best places to stay in Copenhagen: