New Orleans is known around the world for its vibrant live music scene, delicious and unique cuisine, and its main tourist attraction the Mardi Gras which takes place in the late winter. Often known as "The Big Easy" tourists often think that the city revolves around Bourbon Street and liquor stores, however, this city is really at its best when you explore the hidden gems it has to offer.
You will mainly find locals dining on delicious creole cuisine that reflects the cities French, African, and American heritage, listening to music artists in small; jazz bars, and visiting unique boutique stores found down tiny laneways.
One of the great things about the city is the friendly locals and there's no better place to experience this friendliness than by staying at a hostel. There are many great options for places to stay in the city so let's go through five of the best hostels in New Orleans.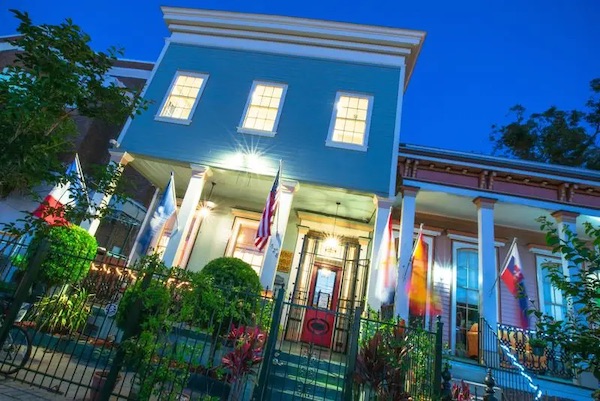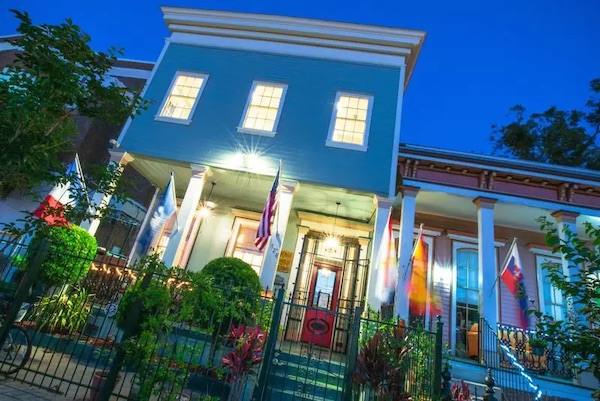 Auberge NOLA Hostel
New Orleans is a great city known for its party culture, and the Auberge NOLA Hostel is a true reflection of that spirit. Nightly parties are held within the hostel so you can have a great time both inside and outside your accommodation.
This three-time Hoscar winning hostel features free w-fi, games, tv with Netflix, a cinema room, several indoor common areas, and an outdoor courtyard with a BBQ – you'll never be bored at the Auberge! Both private rooms and dorm accommodation are available.
The location of this hostel is great as well being in between the Garden District and the French Quarter.
Hostel details
Address: 
1628 Carondelet Street, New Orleans, USA.
Guest rating:
4.7 out of 5.
Price per night:
from $21.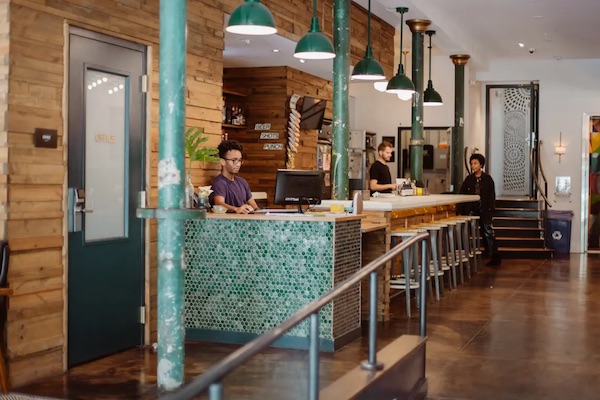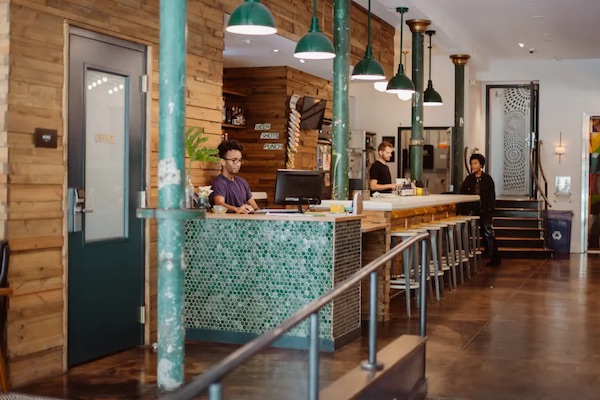 The Quisby
This upscale hostel is perfect for those who want creature comforts for an affordable price. Housed in a historic building from 1929 and completely renovated in 2016, The Quisby is located within the Garden District close to many famous restaurants and bars.
Sightseeing spots are also close by with the WWII Museum, The Ogden Museum of Southern Art, and the Contemporary Arts Centre only a few steps away. Also, the French Quarter is less than one mile away. If you're coming during the Mardi Gras, you're in luck as the big parades pass right by the front door!
Offering both shared dorm-style accommodation as well as private rooms you're sure to get a great night's sleep whatever you choose. Each bed comes with a reading light and multiple power outlets, and wi-fi is available for free. Reception is also available 24 hours a day.
Hostel details
Address: 
1225 St. Charles Avenue, New Orleans, USA.
Guest rating:
4.4 out of 5.
Price per night:
from $16.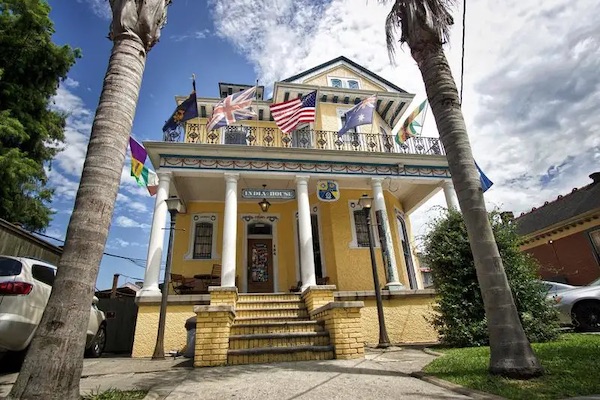 India House Backpackers Hostel
This unique hostel is decorated in a boho vibe and keep the friendly and laid-back atmosphere running throughout. India House is also the only hostel in New Orleans that has a swimming pool — perfect for relaxing on those warm summer days.
There's also a deck for sunbathing and a stage that hosts live music that is fitting for when you're staying at the world's jazz capital. Located in Mid City it's an easy journey into the famous French Quarter and if you're coming to take part in the Mardi Gras the parade passes by the front of the hotel – a sight not to be missed!
Accommodation is offered in either private rooms or dorm rooms, and wi-fi is available for free.
Hostel details
Address: 
124 South Lopez Street, New Orleans, USA.
Guest rating:
4.6 out of 5.
Price per night:
from $20.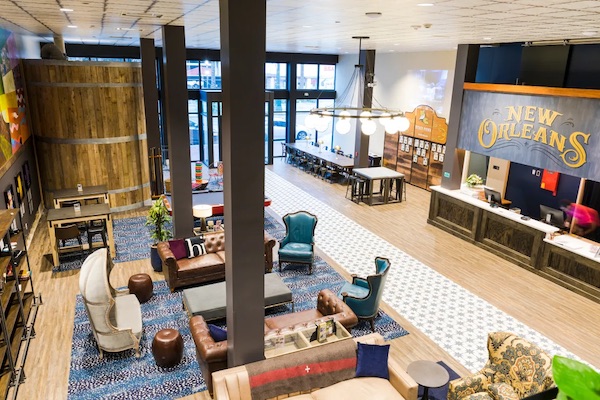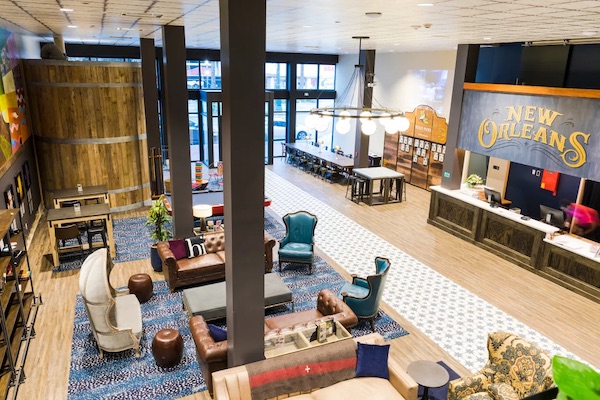 HI New Orleans
Awarded as the Best New Hostel in the world for 2020, this completely renovated and modernized hostel has a beautiful reception and lounge area, large kitchen and dining room, and spacious common areas. Located just across the street from the French Quarter makes sightseeing easy and gives you access to many of the city's other vibrant neighborhoods.
HI New Orleans has the option of either dorm accommodation or private rooms that feature Queen sized beds. If you book the dorm option you will have access to your own locker with built-in charging ports, bunk lights, and privacy curtains. Included in your stay are free breakfast, organized tours and events, and free wi-fi.
Hostel details
Address: 
1028 Canal Street, New Orleans, USA.
Guest rating:
4.8 out of 5.
Price per night:
from $40.
Madame Isabelle's House in New Orleans
Right from the moment you walk up to the front door of this hostel you can tell by the exterior façade that this Madame Isabelle's is unique. Built-in 1831 the building still retains much of its original details. It has been modernized in a way that still allows its heritage features to shine through.
Set within a vibrant neighborhood Madame Isabelle's is within easy reach of Frenchmen street which is only five minutes away on foot. Dormitory rooms, as well as private rooms, are available.
When you would like to socialize with your fellow travelers you can't go past the hidden courtyard garden or the outdoor jacuzzi hot tub. Free wi-fi is available so you can chat with your friends and family back home.
Hostel details
Address: 
1021 Kerlerec Street, New Orleans, USA.
Guest rating:
4.9 out of 5.
Price per night:
from $20.
About our New Orleans hostel recommendations
Are you a solo traveler looking for a private room? Or a backpacker traveling around in a group wanting to stay in a cheap and cozy dorm? Above, you will find the best hostels in New Orleans for all your needs.
Please note, we only list hostels that have an aggregated guest review rating of at least 4.0 out of 5. We aggregate all reviews from different booking sites and other unbiased review websites. Hence, you can be certain all hostels listed above offer an excellent value-for-money stay in New Orleans.
Best price guarantee
For our hostel recommendations, we work together with Hostelworld and Booking. These partnerships don't have any influence on the recommendations we make or on the order in which our recommended hostels are listed. The reasons why we have chosen to partner with these companies is that they're trustworthy, offer excellent service and they both apply the best price guarantee. This means you can claim a refund for the difference if you find your reservation cheaper on another website. It has to be for the same property, accommodation type, dates, cancellation policy and conditions, otherwise, you can't claim the refund for the difference. If you book through Booking.com then all you need to do is contact them at least 24 hours before your check-in date. If you book through Hostelworld you must claim the refund within 24 hours after you made the booking.
Top 5 hostels in New Orleans
To summarize again, based on thousands of guest reviews, these are the best hostels in New Orleans:
Why you should be careful when booking the cheapest hostel available
The cheapest hostels available are typically not in a great location. If you want to go sightseeing or go for a night out in central New Orleans, you probably end up having to pay for public transport or a taxi to get there. So your stay could end up being more expensive compared to a stay in a central location. For first-time travelers, we recommend staying central anyway, but also for frequent visitors, it's probably worth it to pay a bit more to stay in a central location.
Another reason why you shouldn't stay at the cheapest hostel is that the people staying at the cheapest hostels are often not the people that can afford to travel like you. Because a very cheap hostel is often cheaper than renting a flat, these places tend to attract migrant workers or local misfits. That's probably not the crowd you want to hang out with, especially if you're a solo traveler looking for friends.
The third reason why you should avoid the cheapest hostels is safety. Some of the cheapest hostels don't check IDs, don't ask for signatures, or only accept cash at check-in. The hostel won't know who is actually staying there.
Lastly, the service at these hostels isn't great. For instance, if you choose to store your luggage, your bags will be unattended in a public space. It won't be recorded anywhere or tagged and stored in a locked room.
Get to know the city even better and check out our other articles about New Orleans:
Best cheap hotels in New Orleans
Best boutique hotels in New Orleans