Las Vegas, the City of Sin, is one of the most unique destinations that exists in the United States for a variety of reasons. Located in the desert of Nevada, Las Vegas is truly a place with endless entertainment, places to eat, and luxurious hotels.
In fact, Las Vegas has more hotel rooms than any other city in the entire country. People from all over the world make their way here to stay in these world-renowned hotels and spend time in their massive casinos, see some of the jaw-dropping shows that are offered at them, and eat at the divine restaurants that can be found in these establishments.
Las Vegas is one of those places you can visit time and time again and still not see or do everything that is available, but this is what makes the city so fantastic.
Staying in one of the numerous luxury hotels in Las Vegas is without a doubt the way to go when you make your way here, and we are going to let you in on some of the best ones offered.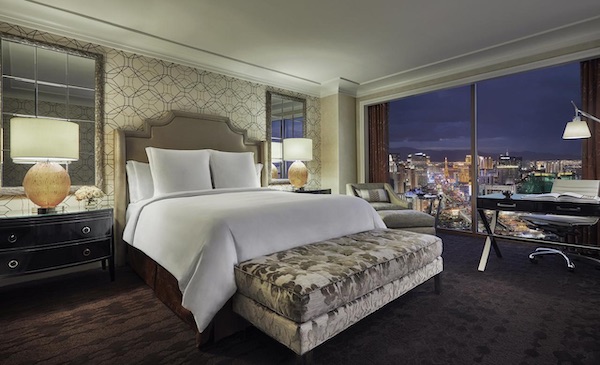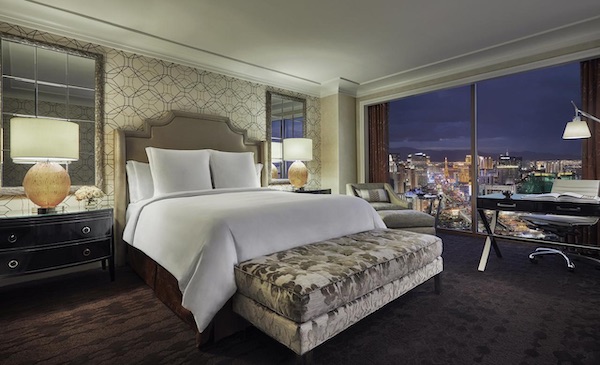 Four Seasons Hotel Las Vegas
The Four Seasons Hotel Las Vegas is the epitome of complete luxury, comfort, and outstanding service that is expected during a visit to this city. If you want the full Vegas experience without the loud and smokey casinos, the Four Seasons Las Vegas is one of the few accommodations on the bustling Strip that can offer such.
The 424 rooms at this hotel are designed with complete comfort in mind while still completely upholding the fabulous charm that the Four Seasons is known for. Enjoy immaculate views of the surrounding city all lit up before your head hits the plush pillow. The on-site restaurant and bar serve up modern twists on American dishes and classic cocktails, ensuring that there is something that will appeal to everyone.
Hotel details
Address: 
3960 Las Vegas Boulevard, Las Vegas Strip, Las Vegas, NV 89119, United States of America.
Guest rating:
4.6 out of 5
Price per night:
From $225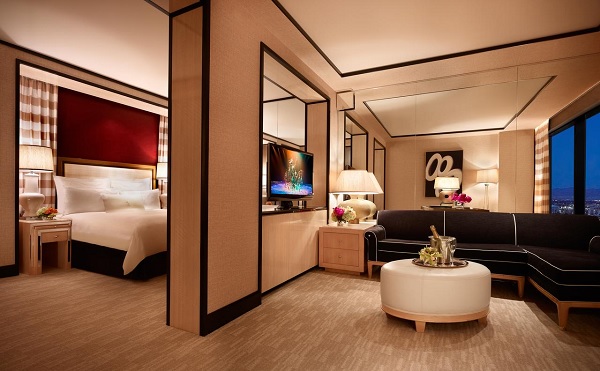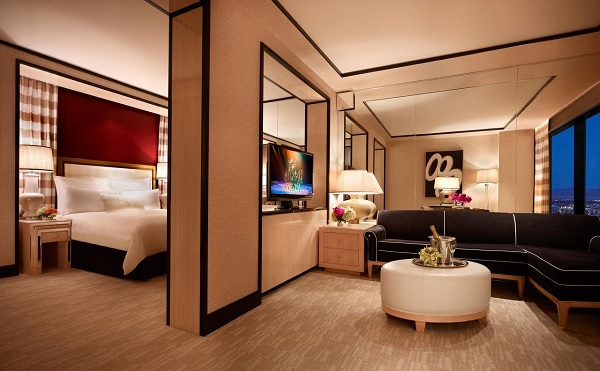 Wynn Las Vegas and Encore
The Wynn Las Vegas and Encore are under the same umbrella company and are located adjacent to one another, and they each offer their own perks and amenities that appeal to an extremely wide variety of guests. If you are looking for a hotel that is a bit quieter and focused on the food scene, then the Wynn would be the best choice for you. The Encore is more geared towards the party crowd with its daytime and night clubs available.
There is a staggering number of rooms between the Wynn and Encore towers, as the Encore clocks in at 2034 rooms and the Wynn at an even higher 2716 rooms. No matter which hotel you opt to stay at, you will be met with sheer luxury, comfort, and opulence either way. The Wynn has more than enough restaurants available to choose from, whether you feel like authentic Chinese fare or a hearty steak dinner.
Hotel details
Address: 
3121 Las Vegas Boulevard, Las Vegas Strip, Las Vegas, NV 89109, USA.
Guest rating:
4.5 out of 5
Price per night:
From $135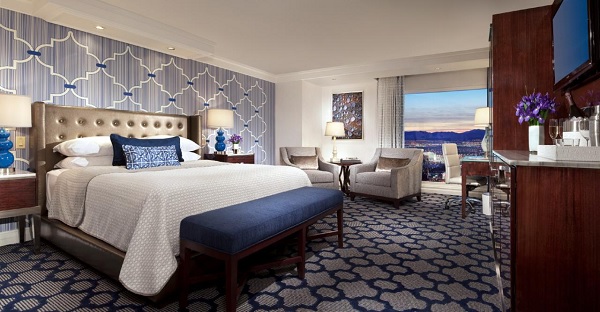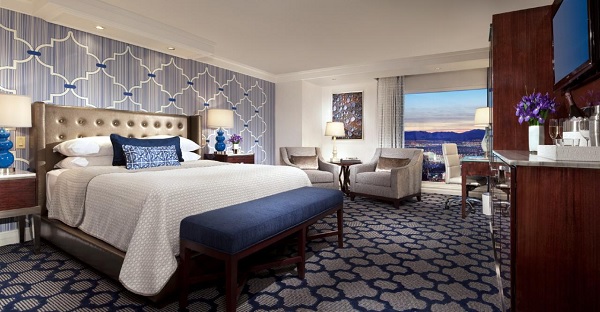 Bellagio
One of the most incredibly iconic hotels within Vegas is undoubtedly the Bellagio, situated centrally on the Las Vegas Strip. The first thing you will notice when you arrive at the Bellagio is the massive body of water in front of it that puts on fountain shows that are synced to music at scheduled times throughout the day. Seeing these fountains in all their glory is a crucial part of the Vegas experience.
The ornate and lavish interior of the Bellagio is so meticulously designed that you will likely not know how to take it all in. There are nearly 4000 different rooms located here that all provide superior comfort with their large beds and cozy bathrobes. Guests may choose from several different restaurants and bars to hit within the grounds of the Bellagio, or they can hit the pool that resembles a rustic Italian getaway.
Hotel details
Address: 
3600 S Las Vegas Blvd, Las Vegas, NV 89109, USA.
Guest rating:
4.3 out of 5
Price per night:
From $150
The Cosmopolitan of Las Vegas
Located right next to the Bellagio is where you will find the towering Cosmopolitan of Las Vegas. This chic and trendy hotel is anything but simple and quaint, but this is a huge part of what attracts so many visitors here each year. The enormous casino can be explored for hours on end, and there are 20 different restaurants here to take your pick from, as well.
The 3000 rooms located here are all sleek, modern, and fashionable. Take in the sweeping views of Vegas below from your room when you are not exploring everything else that the Cosmopolitan has to offer. Catch a show or stop by one of the several nightclubs when the sun goes down to make the most out of every minute you have in Las Vegas.
Hotel details
Address: 
3708 S Las Vegas Blvd, Las Vegas, NV 89109, USA.
Guest rating:
4.5 out of 5
Price per night:
From $199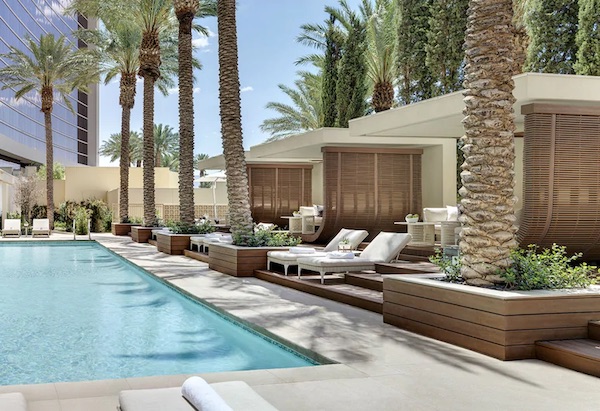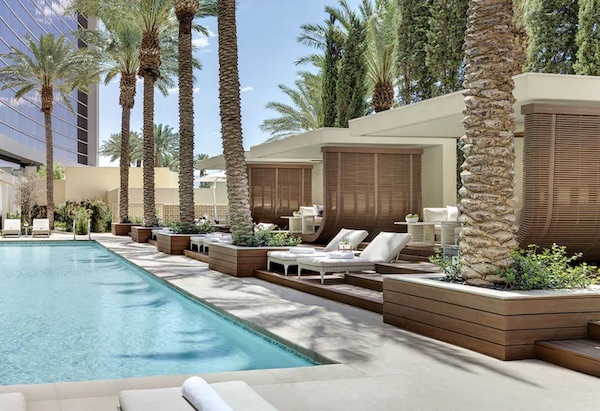 Red Rock Casino Resort and Spa
The Red Rock Casino Resort and Spa is an utterly refined spot that has been thoughtfully laid out and designed. Guests are able to take full advantage of the excellent fitness center, casino, and beautiful sun terrace that are all situated here. There is of course a remarkable restaurant and bar on the property that should not be missed out on.
The various rooms at Red Rock Casino Resort and Spa are truly contemporary and complemented with wood accents and earth tones. Room service is available for those late Vegas nights, and there are flat-screen TVs in each room for those moments you feel like relaxing a bit more. The rooms are also equipped with spacious bathrooms, kitchenettes, and coffee machines for any early mornings.
Hotel details
Address: 
11011 W Charleston Blvd, Las Vegas, NV, 89135, United States of America.
Guest rating:
4.3 out of 5
Price per night:
From $129
It can be overwhelming to choose a luxury hotel in a place that specializes in such, but you truly cannot go wrong no matter where you decide to go with. The best part about spending time in Vegas is taking time to pop into each different hotel along the Strip so that no matter what, you can get a taste of the infinite luxury that exists within Sin City.
About our luxury hotel recommendations in Las Vegas
We are a travel research company. Our team helps you discover the best luxury hotels in Las Vegas by researching the internet for you. We have also visited some of these places. Hence, it's not just our opinion, it's the opinion of many travelers who have been there before you. We make it easy for you to find out about the most luxurious and exclusive 5-star hotels in the city.
Please note, we only list hotels that have an aggregated guest review rating of at least 4.0 out of 5. We aggregate all reviews from different booking sites and other unbiased review websites. Hence, you can be certain all hotels listed above offer you a great stay in Las Vegas.
Best price guarantee
We have partnered with Booking.com and Hotels.com to offer the best price for your stay in Las Vegas! Both sites offer price matching, so you can be sure that you are getting the cheapest rates possible for a luxury hotel in Las Vegas. If you find an even lower rate on another site at least 24 hours before check-in, contact them to claim a refund of the difference!
Top 5 luxury hotels in Las Vegas
Having read this guide, now let's summarize what we learned. We found the best 5-star hotels in Las Vegas thanks to reviews and tips from thousands of guests and travel experts:
More Las Vegas recommendations
We hope you enjoy the advice we've given to you above. If so, be sure to check out some of our other articles about Las Vegas:
Best cheap hotels in Las Vegas
Best boutique hotels in Las Vegas