One of the most underrated areas of the world to travel to is Scandinavia. This area is made up of Norway, Sweden, and Denmark. Although there are some fantastic cities throughout these three countries, Copenhagen is one of the coolest in the entire area.
Copenhagen is the capital of Denmark and also the most populous city in the country, so there is a ton packed into its streets. This includes cuisine, art, sociality, and so much more. The world is your oyster when exploring Copenhagen.
If all of this sounds interesting to you, one of the best ways to indulge it all is by staying in a boutique hotel. This will slow things down while in the busy city. Here are five of the best boutique hotels in all of Copenhagen!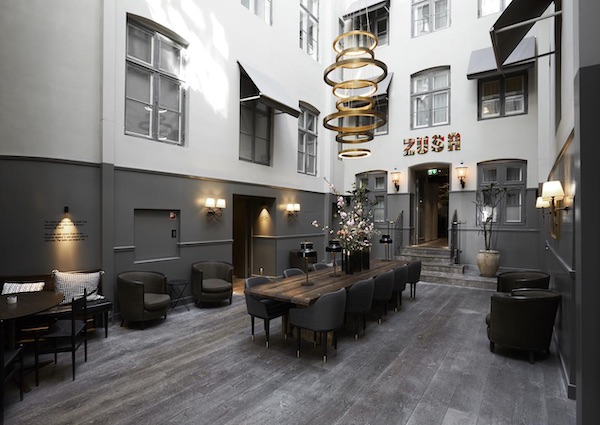 Hotel Skt. Annæ
With a few social areas and great individual rooms, we have the Hotel Skt. Annæ to kick off the list. A big part of boutique hotels that add to the experience is the social and open spaces that can be enjoyed. This hotel has an awesome rooftop terrace as well as various courtyards that are both inside and outside.
There are a total of 144 rooms with one being a penthouse and three being apartments. The penthouse is really something special as it features a private balcony and a full kitchen. If you can spare the extra money, this is an incredible option to consider.
The style and vibe are meant to remind you of old-time Copenhagen which is still around to this day in some areas. For example, some of the original Copenhagen street lights have been repurposed into lamps in the lobby.
Hotel details
Address: 
Sankt Annae Plads 14-20, 1250 Copenhagen, Denmark.
Guest rating:
4.4 out of 5
Price per night:
From $120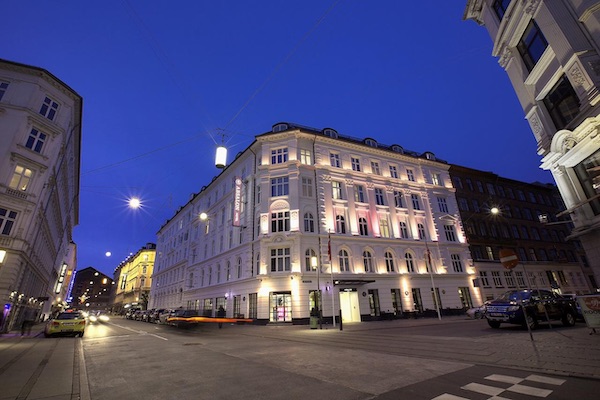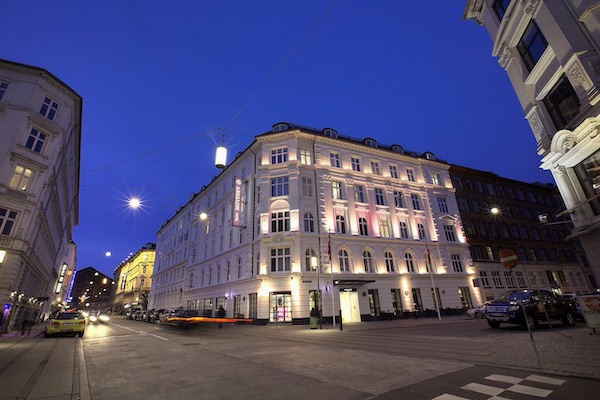 Absalon Hotel
Located in the area of Vesterbro, the Absalon Hotel is a sleek, clean boutique spot that is perfect for posting up for a few nights. This location is special because it butts up against the famous meatpacking district. Now, this area is really artsy and has a ton to do for everyone who makes their way over to this area.
This is also a family-owned establishment, so you can feel good about giving them your business. The staff and management do a great job of catering to your interests. With staff around 24/7 and access to all of their information, you can create a trip that will best fit your interests.
Hotel details
Address: 
Helgolandsgade 15, Vesterbro, 1653 Copenhagen, Denmark.
Guest rating:
4.4 out of 5
Price per night:
From $100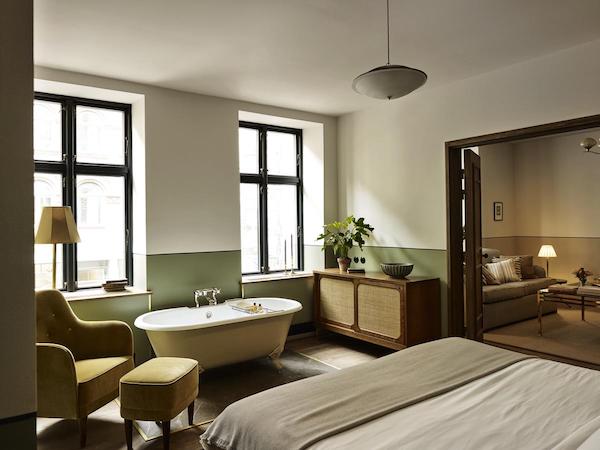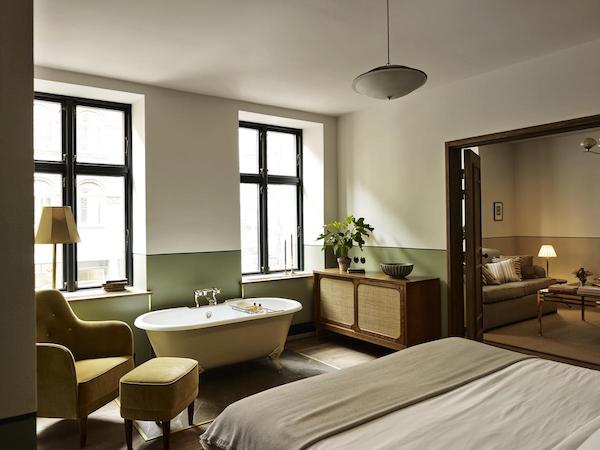 Hotel Sanders
One of the smaller boutique hotels on this list is Hotel Sanders. Although this is not that small by other boutique standards, a lot of the options in Copenhagen have over 100 rooms. This one has just 54, so you are going to get a more inclusive experience. At the end of the day, this personability is what you want.
The Kitchen restaurant downstairs is a great dining option when you don't feel like venturing out. There is also an awesome bar to grab a late-night drink with some friends. These are important perks because they add even more convenience. So, get ready to enjoy some great amenities and a great location in Copenhagen.
Hotel details
Address: 
Tordenskjoldsgade 15, 1055 København, Denmark.
Guest rating:
4.6 out of 5
Price per night:
From $225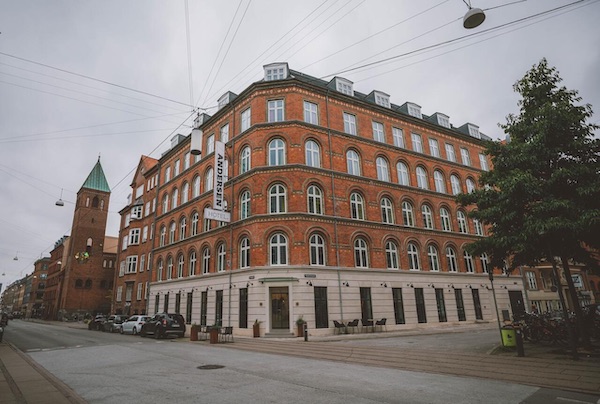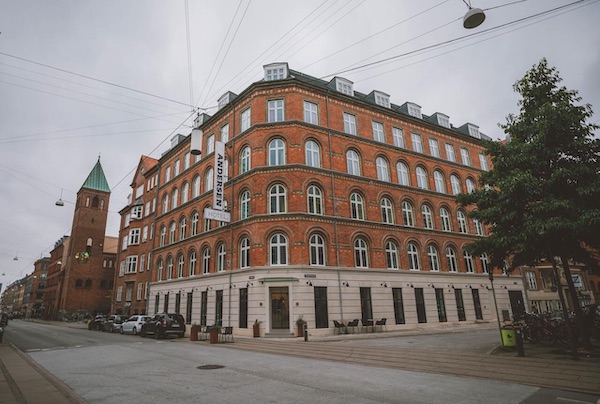 Andersen Boutique Hotel
The Andersen Boutique Hotel has an interesting twist to the classic boutique look in Copenhagen. A lot of this establishment's competitors go for sleek, modern architecture that is there to wow with luxury. This style is fantastic, but it is not one that the Andersen hotel goes for.
This hotel focuses more on the experience rather than the fancy looks. It is full of plush carpet, bright colors, and a fun atmosphere. This is quite refreshing considering what a lot of the other options bring.
With 73 rooms, the Andersen is fairly middle-of-the-road in terms of accommodations. So, it isn't' super small, but you will still have access to world-class service.
Hotel details
Address: 
Helgolandsgade 12, Vesterbro, 1653 Copenhagen, Denmark.
Guest rating:
4.5 out of 5
Price per night:
From $105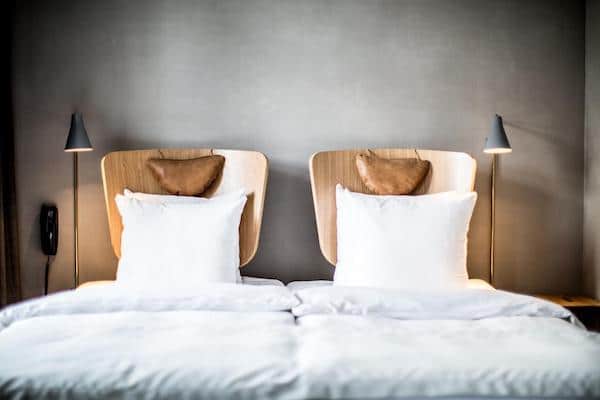 Hotel SP34
To round out our list for the best boutique hotels in Copenhagen, we have the Hotel SP34. The wow factor of this hotel is the diversity in the types of rooms being offered. There are 118 rooms in total, which is a good amount. Where the uniqueness comes in is when you discover the types of rooms being offered. Some of the options include a small single room, superior double room, suite, penthouse suite, loft suite, and even more.
If you want to mix it up and splurge on an awesome room, this is definitely the place to do it. This hotel also gives you great comfort amongst the cool design and decor. So, you will not be sacrificing any relaxation in the name of style.
Hotel details
Address: 
Sankt Peders Stræde 34, 1453 København, Denmark.
Guest rating:
4.2 out of 5
Price per night:
From $160
About our boutique hotel recommendations in Copenhagen
We are a travel research company. We help you discover the best boutique hotels in Copenhagen by researching the internet for you. It's not just our opinion, it's the opinion of many travelers who have been there before you. We make it easy for you to find out about cool design hotels and unique design hotels in the city. Some of them might be so romantic you might not want to leave your room.
Please note, we only list hotels that have an aggregated guest review rating of at least 4.0 out of 5. We aggregate all reviews from different booking sites and other unbiased review websites. Hence, you can be certain all hotels listed above offer you a great stay in Copenhagen.
Best price guarantee
We partner with Booking.com and Hotels.com to provide you with the lowest price guarantee on your stay in Copenhagen! Both those websites offer price matching. That ensures that you are paying the lowest price available online. If you find a cheaper offer on another website for the same cool hotel in Copenhagen at least 24 hours before check-in, contact them to claim a refund of the difference!
Top 5 boutique hotels in Copenhagen
Before you go, let's summarize this guide. Based on thousands of guest reviews and tips from travel experts, these are the best boutique hotels in Copenhagen:
More Copenhagen tips
If you like our guide above, you should also check out our other articles about Copenhagen:
Best luxury hotels in Copenhagen
Best cheap hotels in Copenhagen