As the biggest city in Michigan, Detroit is a hub for culture, history, and attractions for your time in the city. Also known as the Motor City, Detroit has deep historical roots that provide some great focal points and things to do while you're there.
Although Detroit does not have the best reputation and can be dangerous in certain areas, there is a revitalization going on. The number of abandoned homes and sketchy areas is dwindling as young, wealthy investors are moving in and trying to turn around the city. This proves it is a great time to experience Detroit and all it has to offer.
All of this considered, it is important for you to know where to stay. Each area of the city has a different perspective on what you have access to easily. Here are five of the best areas to stay in while visiting Detroit!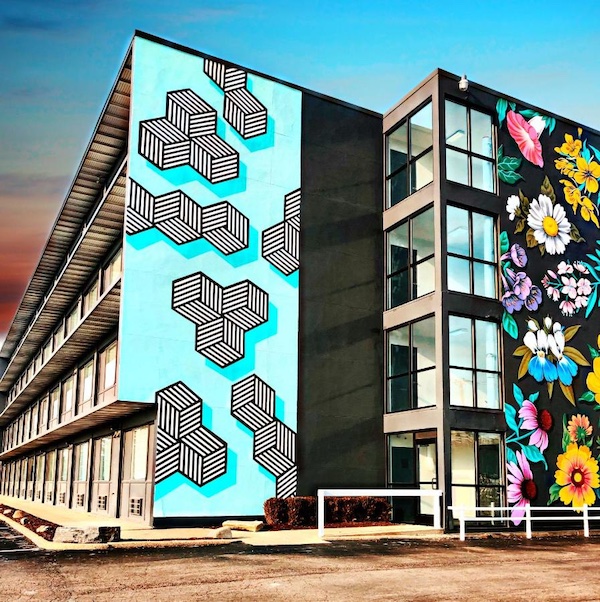 Corktown
The first and oldest neighborhood on this list is Corktown. This is most definitely the historical portion of Detroit as old architecture and cobblestone roads are everywhere. This makes Corktown feel very homey and inviting. While here, the main attractions revolve around professional sports. Comerica Park, Caesars Arena, and Ford Field are all a short commute from Corktown. Some of the bars and restaurants in Corktown offer free shuttles to these games as long as you give them business beforehand. This is a great perk to getting out and being social while in Corktown.
Other than being social, there are plenty of shopping opportunities. In the summer, the main drag is filled with shops, cafes, food trucks, and live music in the evening. Even if you do not choose to stay in Corktown, spending an evening strolling through the streets and eating great food with your friends. Overall, Corktown is a great place to be for people of all backgrounds and desires.
Best place to stay in Corktown
Hotel Trumbull & Porter. Address: 1331 Trumbull Street, Detroit, MI 48216, United States of America.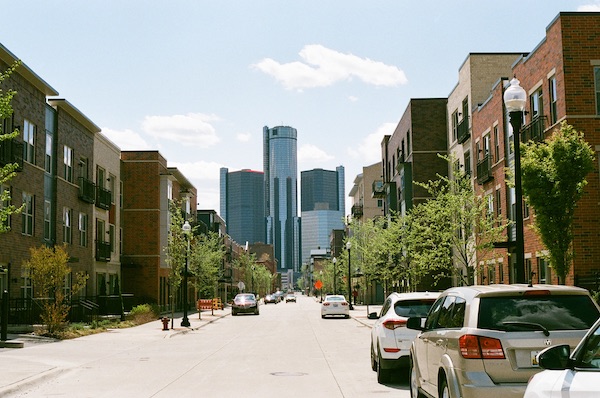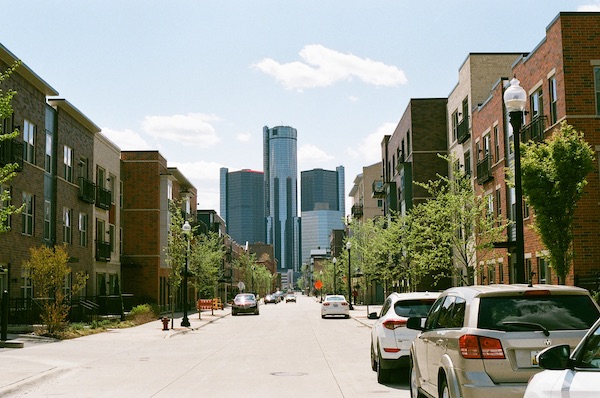 West Village
The West Village is a more historic neighborhood that is broken up into six small areas and is largely residential. Given the residential area, you are fairly safe in the West Village. Throughout the neighborhood, there are some awesome boutiques and cafes that add to the small-town vibe of the West Village.
The biggest activity to do while staying in the West Village is walking around and admiring the unique architecture that makes up this area. You can even rent a bike and enjoy the weather while exploring West Village and all it brings to its visitors.
After a day of exploring or visiting different areas of Detroit, be sure to visit one of the few awesome restaurants in West Village. There are some awesome fine dining options as well as vibrant bars that are very welcoming to visitors. Luckily, many of these options are just a short walk away from your accommodations!
Best place to stay in West Village
Hotel Sonder The Randolph. Address: 139 Cadillac Square, Downtown Detroit, Detroit, 48226, United States of America.
Note: this hotel is not located in West Village but not too far from the area.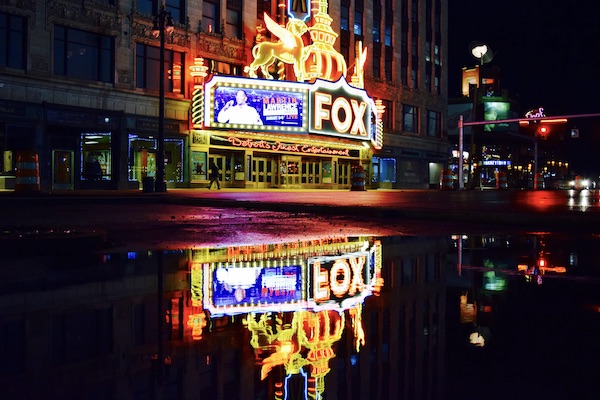 Midtown
If you don't want to have to drive around all the time, staying in Midtown may be for you. That is because this is a very easy neighborhood to walk through and get to where you need to go quickly. There are a couple of top attractions, but just exploring the neighborhood is the best part. There is so much to look at and so much good food to enjoy, that paying a visit to the big locations might be second on your list. Plus, you are a short train ride away from Downtown Detroit.
After you have explored as much as you would like, there is the Detroit Institute of Arts, Museum of Contemporary Art, and the Majestic Theater all in Midtown. One of the most unique attractions in all of Detroit is Schvitz. Schvitz is an authentic Russian Bathhouse that will give you an adventure you will never forget!
Overall, Midtown is a place that keeps you close to downtown but without the heavy traffic that can come with big cities.
Best place to stay in Midtown
The Inn on Ferry Street. Address: 84 E Ferry St, Detroit, MI 48202, USA.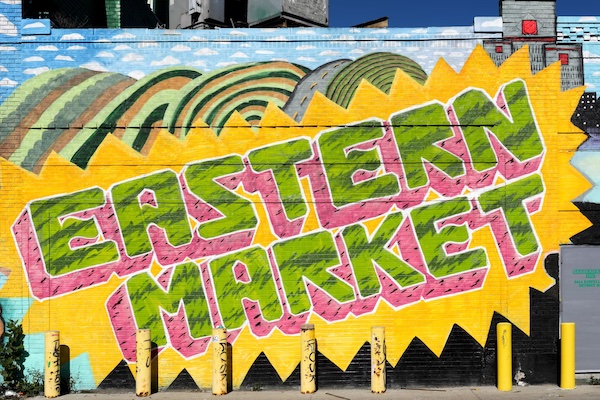 Eastern Market
As the name implies, Eastern Market's biggest focal point is the farmers market which is open every Saturday and Sunday during the summer. This is an awesome way to spend a few hours and get ahold of homemade and locally grown goods. Everything from produce to baked goods can be found here. This is a must-see attraction that is a great use of your Saturday.
When the farmers market is not up and running, enjoying the local art is what Eastern Market is also known for. In fact, there are over 40 public pieces of art placed throughout the neighborhood and intertwined with the markets and public spaces. There is also the Red Bull House of Art which has lovely exhibits and works of art.
Because of its contemporary nature, this is a popular spot to go out and enjoy the nightlife. In addition to the various restaurants and bars, Bert's Market Place is a live music venue that offers yet another feature of the nightlife.
Best place to stay in Eastern Market
Atheneum Suite Hotel. Address: 1000 Brush Avenue, Downtown Detroit, Detroit, MI 48226, United States of America.
Note: this hotel is not located in East Market but not too far from the area.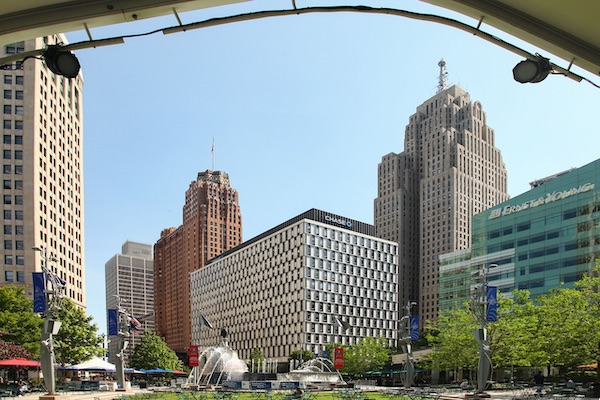 Downtown
To round out this list, we have Downtown. Being in the heart of any big city is a good way to see all that it has to offer. By staying in the hustle and bustle of Detroit, you can experience what this lifestyle is truly like. While here, be sure to check out the Detroit Riverfront that has over three miles of walking trails along the river. Throughout the trails are fantastic seating areas and public green spaces.
Once you see that, be sure to go out on the town and be social in the evenings. In the summer, you can find live music and bustling bars that take advantage of the warm weather. Plus, there are some fantastic fine dining opportunities and nightclubs that are worth checking out.
No matter the reason you find yourself in Detroit, Downtown is a focal point of the entire city. Even if you choose to stay in a quieter region outside of the city center, spending a day Downtown is a must.
Best place to stay in Downtown
Aloft Hotel at the David Whitney. Address: One Park Ave, Detroit, MI 48226, USA.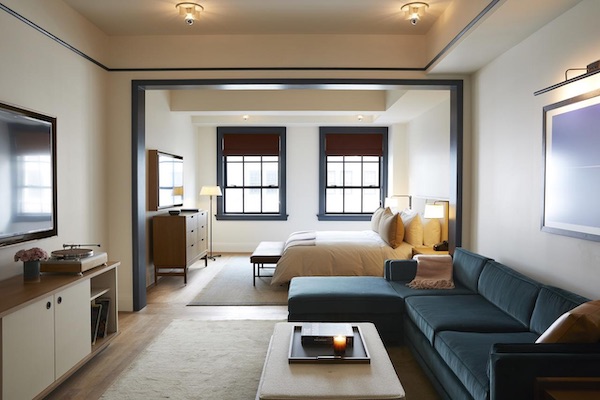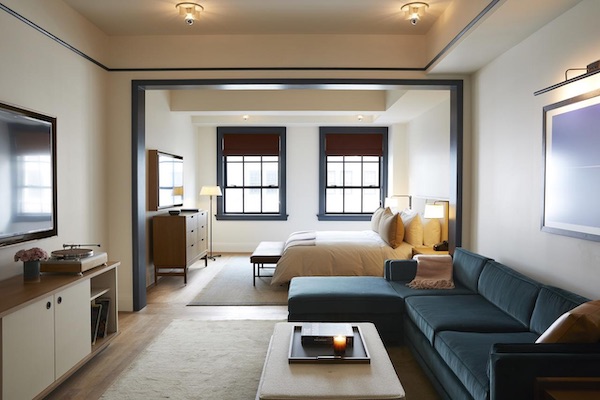 Where travel critics stay in Detroit
Want to know where travel critics from publishers like The New York Times, Frommer's, Fodor's and Lonely Planet stay in Detroit, Michigan? Check out our overview of all recommended hotels, hostels and B&Bs in Detroit.
Budget
"One of Detroit's more modern hotels, the Courtyard is connected by skyway to the Renaissance Center; the People Mover links the hotel to the rest of Downtown." — Fodor's.
Address: 333 East Jefferson Avenue, Detroit, MI 48226, United States of America.
Mid-range
"In 2017, this 1929 fire station in the heart of the city was transformed into a boutique hotel that blends modern convenience and style with original architectural features and a strong sense of history. Rooms are spacious and comfortable." — Lonely Planet.
Address: 250 W Larned St, Detroit, MI 48226, USA.
Luxury
"New independent hotels have played a vital part in Detroit's regeneration. Though none embraces the city's past, present and future as holistically as Shinola. It uses contemporary elements to highlight the city's history." — CN Traveler.
Address: 1400 Woodward Ave, Detroit, MI 48336, United States of America.
FAQ: Detroit hotel recommendations
If you're looking for a budget, boutique, or luxury hotel in Detroit-or maybe your travel plans require an excellent hostel? Want to know which hotel serves the best breakfast? Here are all those answers and more about where to stay in Detroit.
What is the best budget hotel in Detroit?
If you're looking for a cheap hotel in Detroit, then book Holiday Inn Express & Suites Allen Park. It's an excellent budget hotel offering great value for money. It's in a good location, it's been recommended by travel experts and the hotel has excellent customer reviews. Also check out our list of the best cheap hotels in Detroit.
What is the best boutique hotel in Detroit?
You like some luxury but don't like the famous chain hotels. If you're looking for the best boutique hotel in Detroit, you should check out Foundation Hotel. It's a very cool hotel that has been highly recommended by travelers and experts. Make sure you check our shortlist of the best boutique hotels in Detroit, it's a manually curated list of the most unique and romantic hotels in the city.
What is the best luxury hotel in Detroit?
If money isn't a problem and you're looking for a luxury hotel in Detroit, then go for The Detroit Club. The hotel offers excellent service, it's in a top location, it has been rated very highly by previous guests and renowned travel critics have recommended it. Also check out our list of the best luxury hotels in Detroit, it's a manually curated list of the most exclusive 5-star hotels in the city.
What is the best hostel in Detroit?
Looking for a good and affordable private room or cozy dorm in Detroit? Check out Hostel Detroit. The hostel has been highly rated by backpackers. Make sure you check our shortlist of the best hostels in Detroit.
Which Detroit hotel serves great breakfast?
Try The Inn on Ferry Street if you're looking for a delicious breakfast. The Detroit hotel has excellent customer review ratings for breakfast.
How much does it cost to stay in a Detroit hotel?
For a 3-star hotel, you have to pay around $200 per night and for a 4-star hotel, you would be looking at $230 per night. If you're after a luxury 5-star Detroit hotel then you can expect to pay around $300 per night.
Which Detroit hotel is the best for a romantic getaway?
If you're looking for a romantic Detroit hotel for couples then try Foundation Hotel. The hotel has excellent customer review ratings by couples.
What is the best hotel near the MGM Grand Casino in Detroit?
If you're planning a night out in the casino and want to stay in that area, then try Foundation Hotel, which has one of the best customer review ratings for that area.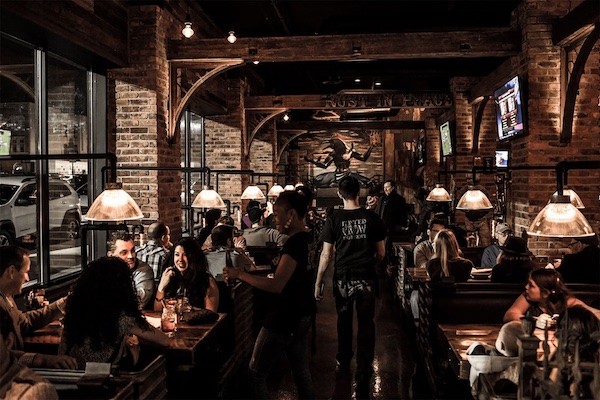 Best time to visit Detroit
The best time to visit Detroit is undoubtedly between the months of June and September. During these warm, sunny months, you'll find that Detroit truly comes alive with a plethora of outdoor festivals, concerts, and events that cater to every taste and interest.
One of the city's most renowned events is the annual Detroit River Days Festival, which takes place in June and features live music, delicious food, and awe-inspiring tall ship tours. In July, the city plays host to the exhilarating Detroit Grand Prix, where you can witness high-speed racing action along the picturesque Detroit River.
And if you're a fan of all things automotive, you simply cannot miss the Woodward Dream Cruise in August, which showcases over 40,000 classic cars cruising down the iconic Woodward Avenue.
Not only are the summer months the best time to visit Detroit for the incredible lineup of events, but they also offer the perfect weather to explore the city's many attractions. Take a leisurely stroll through the beautiful Detroit Riverwalk, or spend a day on the water with a kayak tour of the Detroit River.
Art enthusiasts will be captivated by the stunning murals in Eastern Market and the impressive collection at the Detroit Institute of Arts. Sports fans can catch a Detroit Tigers baseball game at Comerica Park, while music lovers can discover the birthplace of Motown at the Hitsville U.S.A. museum.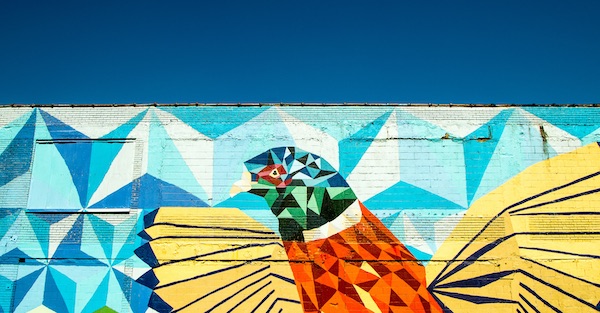 Best things to do in Detroit
There are a lot of things to do in Detroit and surrounding areas, including day trips, attractions, museums, sightseeing tours and many other activities. Here's our list of 3 things you should definitely do when you're in and around Detroit:
Detroit's Rise Fall and Renewal
See why this city that's officially filed for bankruptcy is still one of America's greatest underdog stories on a tour that showcases the rise, fall and renewal of Detroit. Price: $29. More info.
Downtown Detroit Walking Tour with a Local
See the real Detroit on this downtown adventure with a local guide. Ride on the elevated People Mover train, see landmarks like Comerica Park, Fox Theater, and the Guardian Building, and sample a Detroit-style Coney dog and baklava in lively Greektown. Price: $29. More info.
Explore the undiscovered beauty of Detroit
Whether you are a visitor or someone who lives in the Detroit Metropolitan area, you will be amazed at the wonderful things Detroit has to offer: history, great architecture, gorgeous places like the Guardian and Fisher building and etc. Price: $97. More info.
Deciding where to stay in Detroit
To summarize, this article has covered the best areas of Detroit, as well as some hotel tips and things you can do. It's now up to you to decide which area you prefer.
Top 5 neighborhoods to stay in Detroit
Corktown
Downtown
Midtown
Eastern Market
West Village
As you have seen in this travel guide, there are a lot of things to explore, and deciding where to stay in Detroit is important. Whether you stay in Corktown, Downtown, Midtown, Eastern Market or West Village, all those neighborhoods are in good locations.
The atmosphere of the area, whether you travel for leisure or business, whether you travel with your family or friends, and proximity to the attractions you prefer to visit should probably be the deciding factors. Whatever your preference is, you'll have a great time in Detroit.
Check out our other guides about the best places to stay in Detroit: