Detroit is a diverse, historical city in the midwestern United States with a lot of heart, soul, and culture. Founded in 1701, it is older than its home country. It is a complex city that has been through many ups and downs throughout the years with its auto industry's rise and fall.
However, Detroit has been remarkably resilient, rising from the ashes each time it goes through hard times. Today, visitors can explore a fascinating city with deep roots in the process of reinventing itself.
You can see evidence of its many cultural influences on music, architecture, art, and design. It has contributed significantly to Motown, techno, hip hop, rock, and punk music. Museums, such as the Motown Museum and the Detroit Institute of Arts memorialize this impact.
The city has exciting neighborhoods to visit. You can discover places like Corktown, Detroit's oldest neighborhood, which has historic buildings, cobblestone streets, and plenty of sights to see. Visitors interested in local shopping love exploring the Eastern Market, known for its thriving art scene, excellent dining, and local vendors. Every Sunday, there is a Farmer's Market.
Places like Midtown highlight the city's historical roots with museums, including the Motown Museum and the Museum of African American History. There are plenty of natural spaces to explore, including the Detroit riverfront and Belle Isle Park.
If you plan on visiting this vibrant city, there are a few excellent hostels where you can stay. Here are our picks for the three best hostels in Detroit: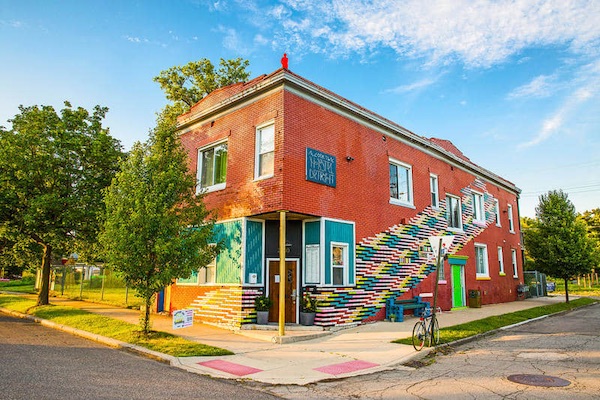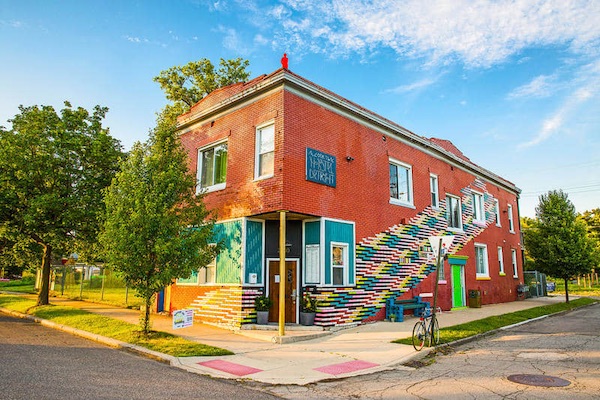 Hostel Detroit
This vibrant hostel, located in a colorful 100-year-old building, is located near numerous ground-breaking projects and urban farms. It is simple to get around because it's just two blocks away from the FAST Michigan Bus line and 10-minutes from the Greyhound bus station. Most of Detroit's attractions are just a short Uber/Lyft ride away from Hostel Detroit.
Hostel Detroit has a cozy and eclectic feel. Rooms include large and small mix-gender dorm rooms, private bunk rooms, and private rooms with double beds. Parking is available in a gated lot for $5 each day.
This non-profit hostel aims to bring Detroit together with the international community. Many people often misunderstand this city, so the hostel tries to challenge those misconceptions through sharing resources and carefully designed free tours.  Staff members are happy to educate guests about Detroit's history and culture.
Visitors love this hostel's cozy environment, excellent tours, and knowledgeable staff.
Hostel details
Address:
2700 Vermont, Detroit, USA.
Guest rating:
4.6 out of 5.
Price per night:
from $35.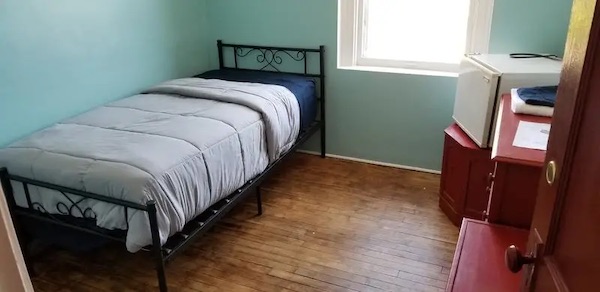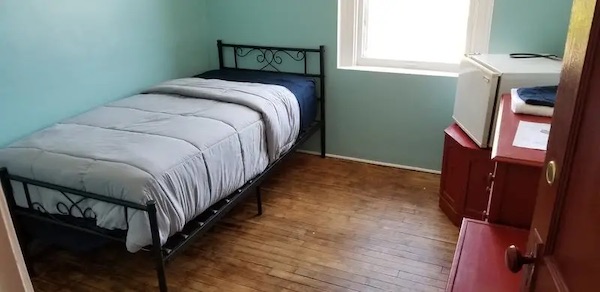 Hamtramck Hostel
This hostel's location is in Hamtramck, a vibrant immigrant neighborhood in the heart of Detroit. Coined "the whole world in two miles," this area has rich cultural diversity. You can find people from almost every nationality, ethnicity, and background in the area. It is also very centrally located and only a short bike ride away from Downtown Detroit.
This warm and welcoming youth hostel offers private rooms with shared bathrooms for the same price as most dorm-style rooms. Each room has 15-inch mattresses, new sheets, new blankets, and towels. If you want to socialize and meet other guests, there is a common room where you can watch Netflix and relax. If you want to cook, you can use the fully-equipped communal kitchen. Guests enjoy the hostel's social atmosphere with free weekly barbecues and organized parties.
Hamtramck Hostel has high ratings because of its exciting neighborhood, friendly management, and great value.
Hostel details
Address: 
2699 Holmes, Detroit, USA.
Guest rating:
4.6 out of 5.
Price per night:
from $32.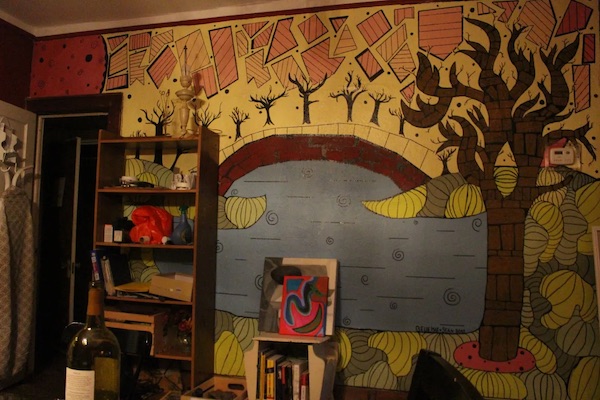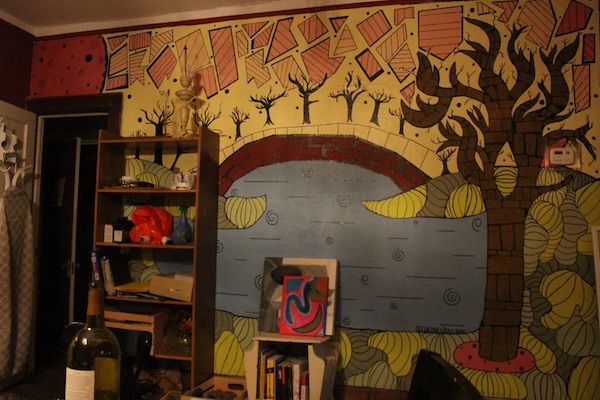 Detroit International House
The Detroit International House has a convenient location within the city. The neighborhood surrounding it is a small area right outside of downtown. It's less than 5 miles, or a short Uber/Lyft ride away from numerous museums, theaters, and marketplaces. You can also reach many popular spots by taking the bus outside the hostel.
This hostel is a refurbished house that is now a haven for international and domestic travelers. The owners themselves redesigned this hostel, and it has very personal and artsy touches. There are two types of room selections for guests. One is a private room with a shared bath, and the other is a mixed, female-only, or male-only dorm room.  If you are driving, there is free parking there. For those who need to wash their clothes, there are laundry facilities at this hostel.
Detroit International House visitors love the family atmosphere, comfortable rooms, and exceptional value.
Hostel details
Address:
5746 Burns Avenue, Detroit, USA.
Guest rating:
4.3 out of 5.
Price per night:
from $20.
About our Detroit hostel recommendations
Are you a solo traveler looking for a private room? Or a backpacker traveling around in a group wanting to stay in a cheap and cozy dorm? Above you will find the best hostels in Detroit for all your needs.
Please note, we only list hostels that have an aggregated guest review rating of at least 4.0 out of 5. We aggregate all reviews from different booking sites and other unbiased review websites. Hence, you can be certain all hostels listed above offer an excellent value-for-money stay in Detroit.
Best price guarantee
For our hostel recommendations, we work together with Hostelworld and Booking. These partnerships don't have any influence on the recommendations we make or on the order in which our recommended hostels are listed. The reasons why we have chosen to partner with these companies is that they're trustworthy, offer excellent service and they both apply the best price guarantee. This means you can claim a refund for the difference if you find your reservation cheaper on another website. It has to be for the same property, accommodation type, dates, cancellation policy and conditions, otherwise, you can't claim the refund for the difference. If you book through Booking.com then all you need to do is contact them at least 24 hours before your check-in date. If you book through Hostelworld you must claim the refund within 24 hours after you made the booking.
Top 3 hostels in Detroit
To summarize again, based on thousands of guest reviews, these are the best hostels in Detroit:
Why you should be careful when booking the cheapest hostel available
The cheapest hostels available are typically not in a great location. If you want to go sightseeing or go for a night out in central Detroit, you probably end up having to pay for public transport or a taxi to get there. So your stay could end up being more expensive compared to a stay in a central location. For first-time travelers, we recommend staying central anyway, but also for frequent visitors, it's probably worth it to pay a bit more to stay in a central location.
Another reason why you shouldn't stay at the cheapest hostel is that the people staying at the cheapest hostels are often not the people that can afford to travel like you. Because a very cheap hostel is often cheaper than renting a flat, these places tend to attract migrant workers or local misfits. That's probably not the crowd you want to hang out with, especially if you're a solo traveler looking for friends.
The third reason why you should avoid the cheapest hostels is safety. Some of the cheapest hostels don't check IDs, don't ask for signatures, or only accept cash at check-in. The hostel won't know who is actually staying there.
Lastly, the service at these hostels isn't great. For instance, if you choose to store your luggage, your bags will be unattended in a public space. It won't be recorded anywhere or tagged and stored in a locked room.
Get to know the city better and check out our other articles about Detroit:
Best boutique hotels in Detroit