When most people think of Brazil, they imagine sunshine, miles of beaches, tropical fruit, and a lively atmosphere. This judgment would not be far off, as Rio de Janeiro, one of the largest cities in Brazil, certainly boasts all of these things.
Rio de Janeiro is seriously a magical getaway, especially if you are looking for world-renowned hiking trails, stunning beaches, out-of-this-world cuisine, and endless photo ops. It is worth noting that the best time to visit Rio is between the months of December and March, which is this country's summer.
A trip to Rio de Janeiro would not be complete without paying a visit to the absolutely towering Christ the Redeemer statue atop Mount Corcovado.
Opting to stay in one of the many fabulous boutique hotels in Rio de Janeiro is a sure-fire way to have the best vacation here imaginable, and we will let you in on some of the very best ones that can be found in this outstanding city.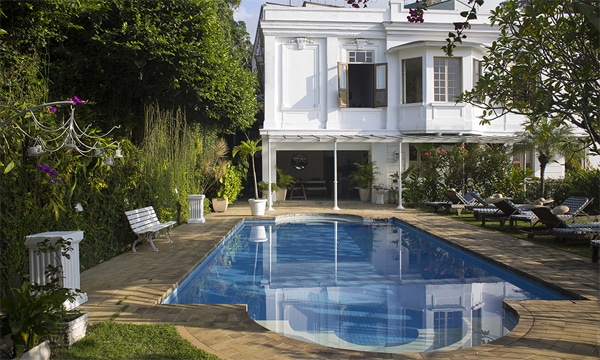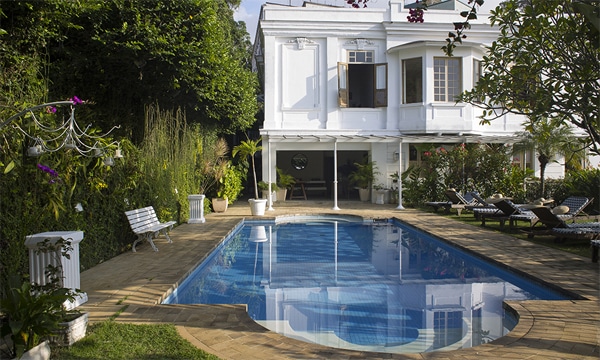 Mama Ruisa Boutique Hotel
Mama Ruisa Boutique Hotel is a place that provides supreme tranquility with its fabulously bohemian layout and design. The area that this hotel resides in, known as Santa Teresa, is quieter than a lot of other portions of Rio, but it is not lacking in fun or excitement in any way, shape, or form. The terrace of the hotel offers guests breathtaking views of the bay below, and there is a divine pool and lounge area for laid-back days.
There are only 7 different rooms at Mama Ruisa, and they are all refined and adorned with carefully selected furniture pieces and boast large French doors that lead out to beautiful balcony spaces. The beds are plush and perfect for sinking into after thrilling days spent out in Rio.
Hotel details
Address: 
R. Santa Cristina, 132 – Santa Teresa, Rio de Janeiro – RJ, 20241-250, Brazil.
Guest rating:
4.7 out of 5
Price per night:
From $137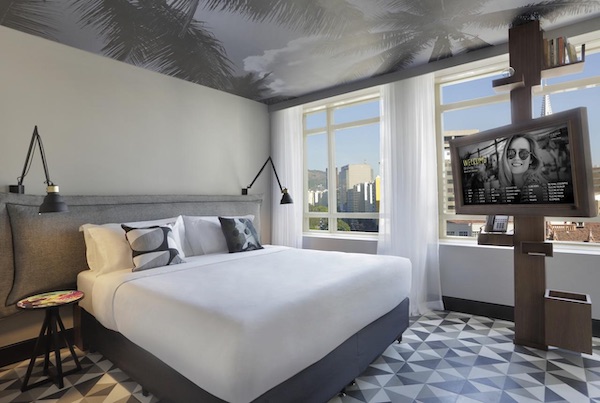 Yoo2 Rio de Janeiro
Yoo2 Rio de Janeiro is nestled right on the water of Guanabara Bay and it overlooks the magnificent Sugarloaf Mountain. This sleek and modern setting is able to offer significant luxury and views that cannot be beaten. The restaurant on the property serves up authentic Brazilian dishes, and the rooftop bar is an ideal place to swing by after an unforgettable meal.
The stylish rooms here at Yoo2 Rio de Janeiro are equipped with televisions, deluxe bath products, outstanding beds, scented candles, and breathtaking views of Rio below. Be sure to spend some time at the rooftop pool here so you can catch some rays while gaining some of the best vistas of the surrounding city and beaches, as well.
Hotel details
Address: 
Praia do Botafogo, 242 , Botafogo, Rio de Janeiro, CEP 22250-145, Brazil.
Guest rating:
4.3 out of 5
Price per night:
From $115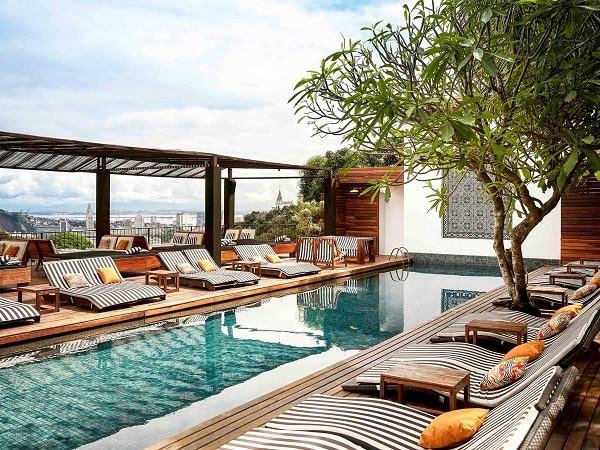 Hotel Santa Teresa Rio MGallery
The Hotel Santa Teresa Rio MGallery is a stunning hillside hotel that is utterly appealing and inviting. The region of Rio de Janeiro that Hotel Santa Teresa is positioned in is a quiet district that really cultivates its love and appreciation for art. Wooden accents and locally sourced art makes up the interior at Hotel Santa Teresa, which is just stunning. You will not want to miss the amazing pool or the incredible spa facility here, either.
There are 44 rooms at this boutique hotel that are tremendously tropical with tons of natural sunlight beaming in. All of the rooms come with a television and a well-stocked minibar, and many others have balconies attached and even swaying hammocks to unwind in.
Hotel details
Address: 
R. Alm. Alexandrino, 660 – Santa Teresa, Rio de Janeiro – RJ, 20241-260, Brazil.
Guest rating:
4.4 out of 5
Price per night:
From $270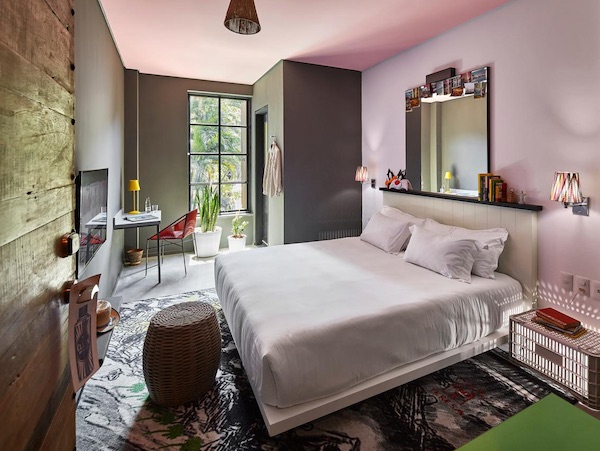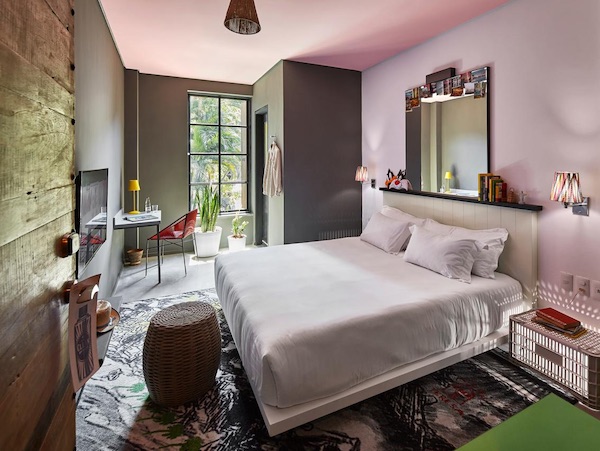 Mama Shelter Rio de Janeiro
Up next, we have Mama Shelter Rio de Janeiro, a trendy establishment in the hilltop neighborhood of Santa Teresa. Amenities here include a rooftop bar, a tasty restaurant that serves up Brazilian food with a twist, a lounge space, and games like foosball and chess for added entertainment. The crowd here is lively and always having a great time.
There are 55 rooms at Mama Shelter Rio de Janeiro, and they range from small to extra-large. The quarters all come with deluxe bedding, organic bath products, mini-fridges, and free movies to stream on the provided TV. Some of the larger rooms come with work desks and attached terraces for a breath of fresh air, as well.
Hotel details
Address: 
Rua Paschoal Carlos Magno Numero 5, Santa Teresa, Rio de Janeiro, CEP 20240 290, Brazil.
Guest rating:
4.4 out of 5
Price per night:
From $60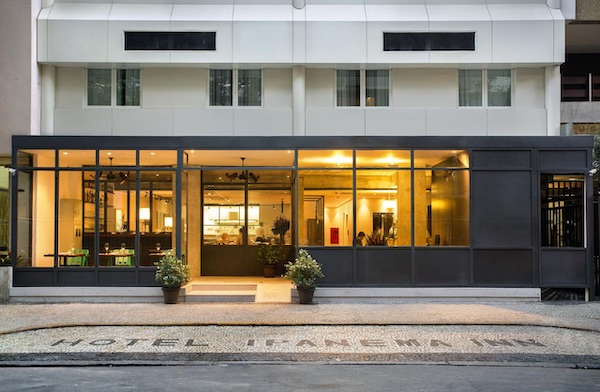 Ipanema Inn
Lastly, Ipanema Inn is located within very close proximity to the infamous Ipanema Beach and is a minimalistic, yet supremely cozy space. There is a wonderful restaurant on the property that cooks with fresh, local ingredients, and there is even a complimentary breakfast available. There is also ample lounge and workspace in the common areas for guests to utilize.
The rooms at Ipanema Inn vary from standard to duplex suites, yet they all come with splendid amenities. All of the rooms are set up with carefully curated art from local vendors, soft bedding, work desks, minibars, and large bathtubs. The duplex suites come with their own outdoor terrace that allows that lovely sea breeze to drift right in.
Hotel details
Address: 
Rua Maria Quitéria, 27 – Ipanema, Ipanema, Rio de Janeiro, CEP 22410-040, Brazil.
Guest rating:
4.5 out of 5
Price per night:
From $80
Whether you wish to stay somewhere that is a bit quieter and more secluded, or in an area that is not far from the thrills of Rio de Janeiro, there is absolutely a boutique hotel within this guide for you.
About our boutique hotel recommendations in Rio de Janeiro
We are a travel research company. We help you discover the best boutique hotels in Rio de Janeiro by researching the internet for you. It's not just our opinion, it's the opinion of many travelers who have been there before you. We make it easy for you to find out about cool design hotels and unique design hotels in the city. Some of them might be so romantic you might not want to leave your room.
Please note, we only list hotels that have an aggregated guest review rating of at least 4.0 out of 5. We aggregate all reviews from different booking sites and other unbiased review websites. Hence, you can be certain all hotels listed above offer you a great stay in Rio de Janeiro.
Best price guarantee
We partner with Booking.com and Hotels.com to provide you with the lowest price guarantee on your stay in Rio de Janeiro! Both those websites offer price matching. That ensures that you are paying the lowest price available online. If you find a cheaper offer on another website for the same cool hotel in Rio de Janeiro at least 24 hours before check-in, contact them to claim a refund of the difference!
Top 5 boutique hotels in Rio de Janeiro
Before you go, let's summarize this guide. Based on thousands of guest reviews and tips from travel experts, these are the best boutique hotels in Rio de Janeiro:
More Rio de Janeiro tips
If you like our guide above, you should also check out our other articles about Rio de Janeiro:
Best cheap hotels in Rio de Janeiro
Where to stay in Rio de Janeiro
Best hostels in Rio de Janeiro
Best luxury hotels in Rio de Janeiro