Rio de Janeiro is located in Brazil and it's one of the most popular tourist destinations in South America. You will be able to enjoy immaculate beaches, gorgeous forests with towering mountains, and a bustling city when visiting this lively place.
Rio de Janeiro is quite unique in the sense that you can come here to enjoy the tropics, the countless hiking and other outdoor opportunities, or to enjoy the lively city during the day and at night. The iconic Christ the Redeemer statue, which is a massive 125-feet, is found in the heart of Rio near the beach. This statue is a must-see for many tourists and is the subject of many incredible photos.
Other exciting activities in Rio de Janeiro include visiting Tijuca National Park, which is a breathtaking expanse of the rainforest with lush tropical foliage and many cascading waterfalls. Taking a visit to the enormous Sugarloaf Mountain is another great adventure, and you can do this by riding up in a cable car for some of the absolute best views possible you can get of Rio. You cannot leave Rio without trying a refreshing and delectable açai bowl, as this nutritious fruit is native to Brazil.
Staying in a hostel will give you the chance to meet some fellow travelers and also save you some money. So let's go over some of the best hostels you will find in Rio de Janeiro.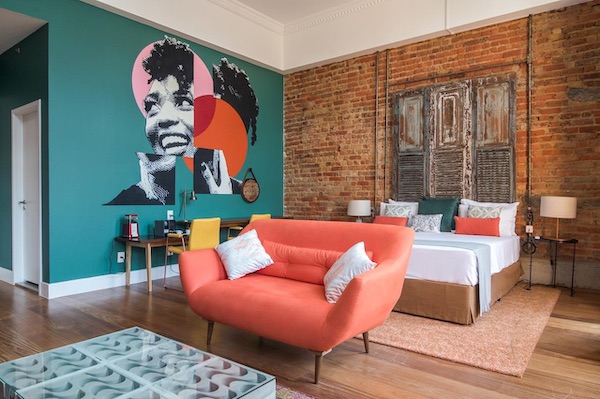 Selina Lapa Rio de Janeiro
The first hostel on our list in Rio is the Selina Lapa Rio de Janeiro. This hostel is located very conveniently within the Lapa district, which is only a few short miles from Sugarloaf Mountain and Copacabana Beach. There is a café available within the hostel, as well as a lounge, bar, kitchen, and terrace. You can be sure to rely on the free Wi-Fi throughout Selina Lapa, too.
When it comes to the room situation, there are multiple options you can choose to go with. There are private rooms that can sleep between 1 and 6 guests, and shared rooms where you will be set up with a comfortable bunk bed. If you prefer a night in, there are books and movies available to borrow, and even yoga classes on certain days.
Hostel details
Address:
Largo da Lapa, Downtown Rio de Janeiro, Rio de Janeiro, CEP 20021-390, Brazil.
Guest rating:
4.5 out of 5.
Price per night:
from $14.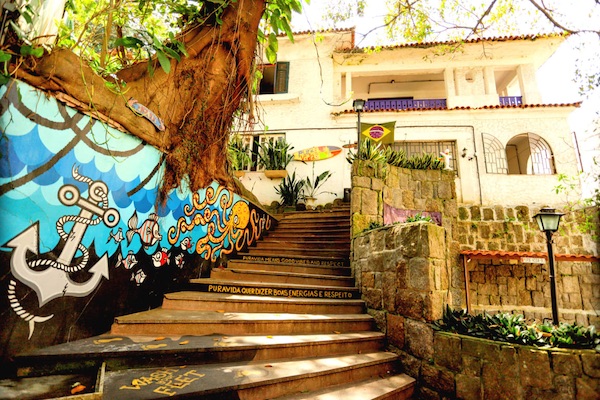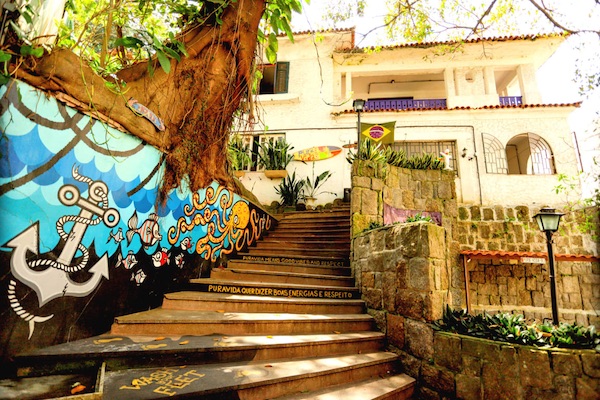 Pura Vida Hostel Rio de Janeiro
The Pura Vida Hostel Rio de Janeiro is next up, and it is situated in extreme proximity to Copacabana Beach and Ipanema Beach. You can walk to either of these beaches and take in the remarkable views of the immense mountains. You will be provided with everything you need here, including kitchen facilities, Wi-Fi, games, books, a bar, and a café. The hostel is kept nice and clean, too.
There are several private rooms available that can fit 1 and 5 guests. The private chalets come with a balcony, and the suites are set up with microwaves, a fridge, and a television. There are of course mixed dorms or female-only dorms, and these are complete with bunk beds and lockers for any items you wish to keep extra safe.
Hostel details
Address:
Rua Saint Roman 20, Rio de Janeiro, Brazil.
Guest rating:
4.6 out of 5.
Price per night:
from $5.
Discovery Hostel
Discovery Hostel is a clean and cozy choice during your stay in Rio de Janeiro, and it is located in a prime spot and very close to several means of public transportation. The hostel has a full kitchen set up, a café, a computer station, free breakfast, laundry facilities, a terrace, and they will provide you with clean linens.
Whether you are on the search for a private room or a shared dorm where you can meet some new friends, Discovery Hostel is complete with both. You will receive lockers for any luggage in your room, too. The beds at this hostel are renowned for being nice and comfortable, which is always an amazing thing to have when you are tired after a long day of traveling.
Hostel details
Address:
Rua Benjamin Constant 26, Glória, Rio de Janeiro, Brazil.
Guest rating:
4.6 out of 5.
Price per night:
from $9.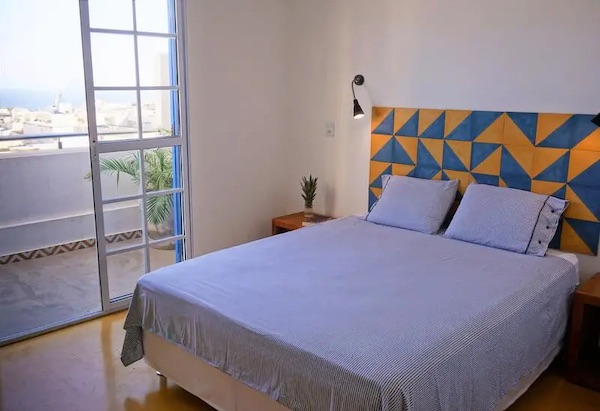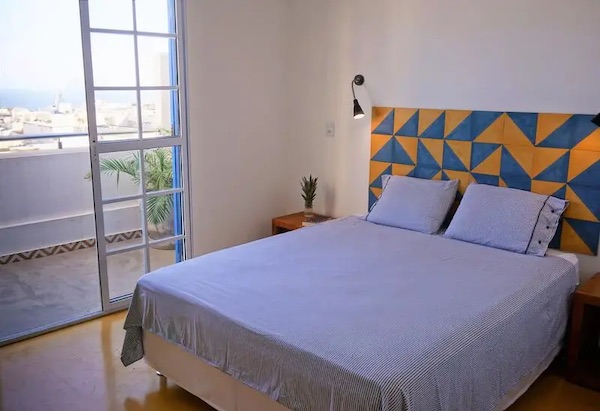 Aquarela do Leme
Last up on our list of Rio hostels is Aquarela Do Leme, which is a colorful new hostel on the Rio de Janeiro scene. Each room comes with a balcony where you can gaze at the beautiful Brazilian landscapes, and there is a rooftop terrace where guests can relax as well. Aquarela do Leme provides free breakfast and Wi-Fi for visitors, and there is a lounge for nights you would rather just chill out.
You can choose between either a private room or a shared dorm at Aquarela do Leme. There are lockers conveniently placed under the bunk beds here, and each bed in the shared rooms has a privacy curtain, so you can fully relax when it is time for bed.
Rio de Janeiro is a lovely travel destination and any of the above-mentioned hostels will complement your stay. Each one has affordable prices, so you can have some extra spending money while out and about in Rio.
Hostel details
Address:
Ladeira Ary Barroso, Rio de Janeiro, Brazil.
Guest rating:
4.7 out of 5.
Price per night:
from $11.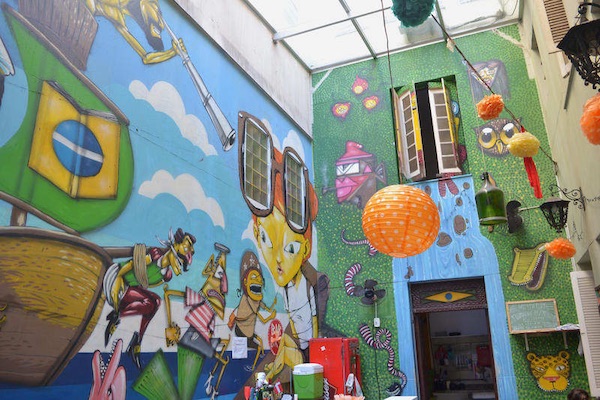 Books Hostel
Books Hostel is up next, which is located in the heart of Rio de Janeiro and within walking distance to many popular spots within the city. The beaches are a short drive away, and the Escadaria Selarón can be reached after a quick walk. You can start your days off with a tasty free breakfast. Or, end your days at their bar for happy hour. Books Hostel also provides its guests with linens.
There are mixed or female-only rooms with bunk beds and private rooms that sleep 2. Lockers are accessible for guests who need to stow away items, as well. There is a useful lounge and common area. Plus a communal kitchen that has everything you need to cook a delicious meal. If you need to get onto the computer but you do not have one with you, Books Hostel has you covered with that, as well.
Hostel details
Address:
Rua Francisco Muratori 10, Santa Teresa, Rio de Janeiro, Brazil.
Guest rating:
4.3 out of 5.
Price per night:
from $7.
About our Rio de Janeiro hostel recommendations
Are you a solo traveler looking for a private room? Or a backpacker traveling around in a group wanting to stay in a cheap and cozy dorm? Above you will find the best hostels in Rio de Janeiro for all your needs.
Please note, we only list hostels that have an aggregated guest review rating of at least 4.0 out of 5. We aggregate all reviews from different booking sites and other unbiased review websites. Hence, you can be certain all hostels listed above offer an excellent value-for-money stay in Rio de Janeiro.
Best price guarantee
For our hostel recommendations, we work together with Hostelworld and Booking. These partnerships don't have any influence on the recommendations we make or on the order in which our recommended hostels are listed. The reasons why we have chosen to partner with these companies is that they're trustworthy, offer excellent service and they both apply the best price guarantee. This means you can claim a refund for the difference if you find your reservation cheaper on another website. It has to be for the same property, accommodation type, dates, cancellation policy and conditions, otherwise, you can't claim the refund for the difference. If you book through Booking.com then all you need to do is contact them at least 24 hours before your check-in date. If you book through Hostelworld you must claim the refund within 24 hours after you made the booking.
Top 5 hostels in Rio de Janeiro
To summarize again, based on thousands of guest reviews, these are the best hostels in Rio de Janeiro:
Why you should be careful when booking the cheapest hostel available
The cheapest hostels available are typically not in a great location. If you want to go sightseeing or go for a night out in central Rio de Janeiro, you probably end up having to pay for public transport or a taxi to get there. So your stay could end up being more expensive compared to a stay in a central location. For first-time travelers, we recommend staying central anyway, but also for frequent visitors, it's probably worth it to pay a bit more to stay in a central location.
Another reason why you shouldn't stay at the cheapest hostel is that the people staying at the cheapest hostels are often not the people that can afford to travel like you. Because a very cheap hostel is often cheaper than renting a flat, these places tend to attract migrant workers or local misfits. That's probably not the crowd you want to hang out with, especially if you're a solo traveler looking for friends.
The third reason why you should avoid the cheapest hostels is safety. Some of the cheapest hostels don't check IDs, don't ask for signatures, or only accept cash at check-in. The hostel won't know who is actually staying there.
Lastly, the service at these hostels isn't great. For instance, if you choose to store your luggage, your bags will be unattended in a public space. It won't be recorded anywhere or tagged and stored in a locked room.
So, it's probably worth it to spend a bit more on your hostel stay in Rio de Janeiro.
And finally, a tip: always read the latest reviews of the hostel! All places have good and bad reviews, but the most recent reviews matter the most.
More Rio de Janeiro tips
Get to know the city even better and check out our other articles about Rio de Janeiro:
Best cheap hotels in Rio de Janeiro
Where to stay in Rio de Janeiro
Best boutique hotels in Rio de Janeiro
Best luxury hotels in Rio de Janeiro