Porto is one of those cities that most people only know about from reading books. A city steeped in history, known for its gothic cathedrals and medieval walls, Porto has all the elements of a great city; it's just not somewhere many people think to go.
Porto is an incredible city with a lot to offer. The second-largest city in Portugal, Porto is overlooked by almost everyone because it doesn't have the beaches or blue sky that Lisbon is known for. However, there's a lot more to this city than meets the eye.
Booking a room in one of Porto's luxury hotels will allow you to experience only the best of this vibrant city. With top-notch customer service, stunning design elements, and unbeatable amenities, a room in a luxury hotel can be your tranquil oasis after a day of strolling and exploring the city.
Luxury hotels offer perks you won't find in standard hotels or hostels, like luxurious spas, high-end onsite dining options, and elegant ensuite marble bathrooms with oversized soaking tubs. If that's not enough, some of these hotels even offer one-of-a-kind decor in every room, plush bathrobes, and in-room espresso makers. At a luxury hotel, no detail has been overlooked.
Whether you're visiting Porto for the nightlife and wine scene or the colorful buildings and intriguing history, there's no better place to unwind after a day (or night) of sightseeing than in a luxury hotel suite – the best way to recharge in comfort. Keep reading to discover the best luxury hotels in Porto.
Torel 1884
Set in a 19th-century townhouse in Porto's historic center, Torel 1884 encompasses 12 luxury rooms and 11 exclusive apartments. This former palace-turned-hotel is just a few minutes away from Avenida dos Aliados, Ribeira do Porto, and other major Porto landmarks.
Torel's interior design perfectly blends its architectural heritage with a modern boutique style. You'll notice luxurious touches like crown molding, vibrant wallpaper, elegant archways, patterned tile floors, and eclectic artwork. Each room has been individually decorated with art and styles from all over the world.
Room options at Torel 1884 are vast, ranging from studio apartments to four-person suites. Every room includes air conditioning, WiFi, a minibar, housekeeping, a TV, and bathrobes. Some rooms include espresso makers and jacuzzis. Each floor of Torel is centered around a different destination – the ground floor has an African theme, the first floor has an American theme, and the second floor is themed around Asia.
Torel 1884 is home to Bartolomeu Bistro & Wine, an excellent spot to grab tapas and drinks. The wine-focused menu features French cuisine made with local Portuguese ingredients. Rich colors, a marble bar area, indoor greenery, and different seating options make this restaurant feel elevated.
Hotel details
Address:
Rua de Mouzinho da Silveira 228, União de Freguesias do Centro, 4050-417 Porto, Portugal.
Guest rating:
4.7 out of 5
Price per night:
From $255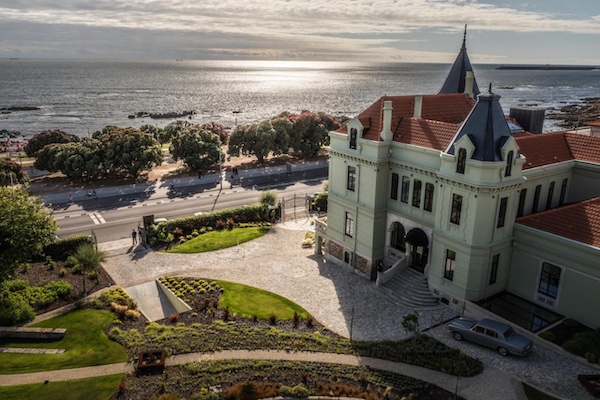 Vila Foz Hotel & Spa
Nestled in a stunning 19th-century manor house on Porto's Atlantic coast, the Vila Foz Hotel & Spa is the perfect setting for relaxation. This architecture has been beautifully restored to its original form, but the interior still includes modern design and amenities.
With white linens, warm lighting, unique statement pieces, and marble bathrooms, guest rooms feel particularly luxurious. All rooms fit two guests, but some upgraded rooms include more square footage and ocean views. Every room has WiFi, flat-screen TVs, minibars, and coffee makers.
The Vila Spa is one of the most serene spots on this property. Set in a tranquil garden atmosphere, the spa is home to a Turkish bath, sauna, fitness center, and indoor pool with abundant natural light. You can also book beauty treatments, body therapy sessions, and massages.
You won't need to leave this property to find incredible food – one of the hotel restaurants, Vila Foz Restaurant, has been awarded a Michelin star. Fresh seafood, fantastic ingredients, and a top-notch chef make this more than a restaurant; it's a gastronomic experience. Other places to eat at Vila Foz include Fleur De Lis Restaurant, serving a seasonal tasting menu, and Villa Foz Bar, with several cocktails, wine, and beer options.
Hotel details
Address:
236 Avenida de Montevideu, Aldoar – Foz do Douro – Nevogilde, 4150-516 Porto, Portugal.
Guest rating:
4.6 out of 5
Price per night:
From $285
Intercontinental Palacio Das Cardosas
This former convent is now a 105-room hotel with luxurious amenities, 18th-century architecture, and a fantastic location. Situated on the vibrant Avenida dos Aliados, the heart of the city center, this hotel is only a six-minute walk from the Se do Porto Cathedral and a quick walk to the train station, making it easy to access all of Porto's main attractions.
Intercontinental Porto was thoughtfully designed to feel regal and extravagant. The lobby welcomes guests with marble flooring, crystal chandeliers, and elegant furniture. Rooms feature white linens, wooden floors, and plush furniture for a truly timeless look.
This 5-star hotel has no shortage of room options. There are a variety of floor plans that include twin, queen, and king beds, along with suites and rooms for families. Each room is elegantly decorated, featuring marble bathrooms, high ceilings, flat-screen TVs, and WiFi. Upgrade to a suite to add a pull-out sofa, separate living areas, and two-story layouts.
Hotel guests can enjoy a complimentary breakfast in Astoria, the upscale hotel restaurant. This eatery feels serene and trendy with an abundance of greenery, earthy hues, and stylish lighting. For lunch and dinner, you can order Portuguese and Mediterranean fare or head to the hotel bar for cocktails and Port wines in a British library setting.
Hotel details
Address:
Praca da Liberdade, 25, União de Freguesias do Centro, 4000-322 Porto, Portugal.
Guest rating:
4.5 out of 5
Price per night:
From $190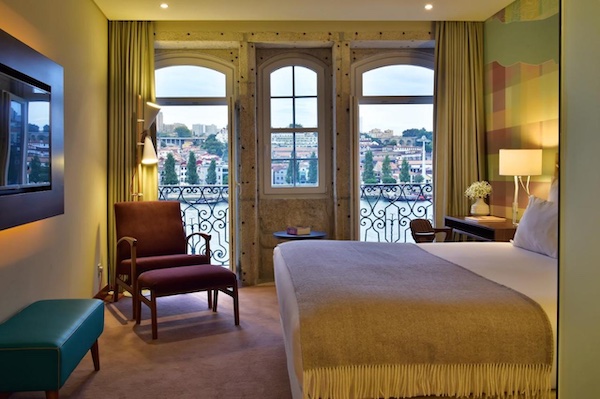 Pestana Vintage Porto
Situated in a colorful and historic building overlooking the Douro River, Pestana Vintage Porto has everything you need and more for a magical stay in Portugal. While this hotel was originally 18 separate buildings, these UNESCO World Heritage Sites were combined to create one incredible hotel.
Outside this hotel, you can marvel at the spectacular views of the river and nearby wine caves. On the interior, enjoy modern style mixed with wooden accents, stonework, and abundant natural light.
All 103 guest rooms accommodate between two and three guests. There are a variety of floor plans, but the most extravagant room includes a lovely private balcony, a view of the water, an espresso machine, and a separate sitting area. Every room in this hotel comes with WiFi, minibars, flat-screen TVs, and safes.
Although there are plenty of delicious restaurants nearby, this hotel is home to two fantastic eateries: The RIB Beef & Wine Restaurant and Heritage Bistro & Bar. The RIB is one of the best beef restaurants in Portugal, and even boasts a stunning outdoor patio. At Heritage Bistro & Bar, you'll find modern-style tapas, mixed drinks, and DJ entertainment.
Hotel details
Address:
Praça Da Ribeira, 1, União de Freguesias do Centro, 4050-513 Porto, Portugal.
Guest rating:
4.4 out of 5
Price per night:
From $220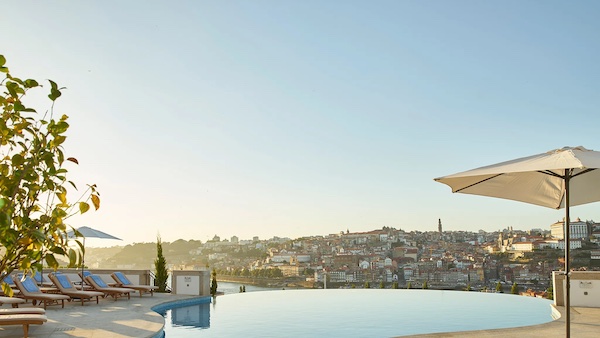 The Yeatman Hotel
Known as one of the best hotels in Porto, The Yeatman provides luxury accommodations, an elegant environment, and top-notch onsite dining options. The lobby welcomes visitors with a stately and grandiose staircase, a massive skylight, and an airy color scheme. Set on top of a hill overlooking the Douro River, this hotel has some of the best waterfront views of the city.
This hotel has 82 rooms, and all room options have king beds, flat-screen TVs, WiFi, minibars, and furnished balconies. The marble bathrooms in each guest room feature separate standing showers and bathtubs. Some rooms have incredible views of the river and city skyline. This hotel's suites come with extra-luxurious amenities, like gas fireplaces, free-standing tubs, wine-barrel beds, and four-poster beds.
One of The Yeatman's best features is the incredible dining options, one of which, The Yeatman Gastronomic Restaurant, has been awarded two Michelin stars. Pairing local wine and produce, this restaurant offers a delicious tasting menu. A more informal hotel restaurant, The Orangerie, is perfect for families, while Dick's Bar and Bistro has light bites and sandwiches. From fantastic amenities to delicious dining, no detail has been spared at The Yeatman.
Hotel details
Address:
Rua do Choupelo (Santa Marinha), 345, 4400-088 Vila Nova de Gaia, Portugal.
Guest rating:
4.7 out of 5
Price per night:
From $245
About our luxury hotel recommendations in Porto
We are a travel research company. Our team helps you discover the best luxury hotels in Porto by researching the internet for you. We have also visited some of these places. Hence, it's not just our opinion, it's the opinion of many travelers who have been there before you. We make it easy for you to find out about the most luxurious and exclusive 5-star hotels in the city.
Please note that we only list hotels that have an aggregated guest review rating of at least 4.0 out of 5. We aggregate all reviews from different booking sites and other unbiased review websites. Hence, you can be certain all hotels listed above offer you a great stay in Porto.
Best price guarantee
We partner with Hotels.com and Booking.com to ensure you get the best price for your stay in Porto! Both sites offer price matching. That means you pay the lowest prices for your stay. If you find a cheaper offer on another website for the same luxury hotel in Porto at least 24 hours before check-in, contact them to claim a refund of the difference!
Best 5-star hotels in Porto
Now that you've gone over this guide, let's summarize it. We got to know what the best 5-star hotels in Porto are thanks to thousands of guest reviews and tips from travel experts:
More Porto guides
If you like the advice we've given you above, make sure to check out some of our other articles about Porto: