If you ask anyone about the best places to visit in Portugal, most of them will probably mention Porto. The second-biggest city in Portugal, located on the banks of the River Douro, is home to some of the country's most beautiful buildings and monuments.
It also boasts unique neighborhoods like Vila Nova, with its cobblestone streets and ancient wooden houses; or Calçada do Gaivota and its monumental 19th-century houses. But that's not all Porto has to offer. This city is teeming with hidden gems waiting to be discovered: from awesome viewpoints to secret passages and old cellars.
Not only are boutique hotels a trendy option, but they are also a great way to experience the authentic side of your destination city. Because boutique hotels typically house only 25 to 100 rooms, they allow travelers to have a cozier, more personalized experience. As an independent hotel, a boutique hotel doesn't have to answer to a corporate structure, which helps the management to keep amenities and furnishings as up-to-date as possible.
Boutique hotels usually take advantage of the surrounding area, often popping up in the city's trendiest neighborhoods. Because of this, many of Porto's boutique hotels are nestled on the cobblestone streets of the city center, so guests can easily access this city's iconic attractions, great shopping centers, and fantastic restaurant scene.
With a great location, thoughtful interior design, personalized customer service, and top-notch amenities, Porto's boutique hotels offer the best of everything. Keep reading to learn more about the three best boutique hotels in Porto.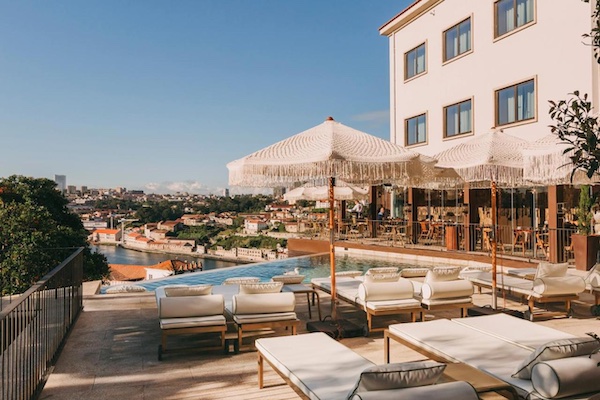 Hotel Torel Avantgarde
This award-winning, five-star boutique hotel is situated near the city center, featuring incredible views of the Douro River. Set in a charming 1940s building that has been updated to include modern amenities, Hotel Torel Avantgarde's interior design is incredibly stylish, with influences that date back to when it was built.
Comprised of 60 rooms, this upscale hotel has rooms and suites accommodating between two and three guests. Decorated with warm tones, bold artwork, and unique lighting, each room comes with WiFi, tea and coffee makers, smart TVs, and minibars. You can upgrade your room to enjoy an outdoor balcony with water views.
The outdoor pool and hot tub feel trendy and bohemian, showcasing an incredible view of the city below. The hotel restaurant, serving contemporary Portuguese cuisine, also opens up to this magnificent view. Still, the restaurant's interior is just as impressive, showcasing rose-covered walls, greenery hanging from the ceiling, and wooden floors. If you don't want to leave your room to grab a bite to eat, room service is available every day. Before enjoying your meal, relax in the onsite sauna and gym, or book a massage treatment, facial, or body treatment for some extra relaxation.
Hotel details
Address:
336 Rua da Restauração, União de Freguesias do Centro, 4050-506 Porto, Portugal.
Guest rating:
4.5 out of 5
Price per night:
From $135
Cale Guest House
Located just a short walk away from several main attractions, including the cathedral, several museums, and Casa dos Maias, the Cale Guest House is one of the best places to stay while exploring Porto. Housing only seven guest rooms, this boutique hotel provides a quiet and intimate stay in the heart of the city.
Each room feels upscale and elegant, boasting high ceilings, French doors with views of the town, and parquet flooring. There are three kinds of rooms: double rooms, superior double rooms, and triple rooms. These three room options accommodate between two and three guests, and all showcase abundant natural light and timeless decor. Most rooms include a private balcony or terrace, and all rooms have WiFi, flat-screen TVs, and private bathrooms.
A daily breakfast buffet is included in the price of your stay – you can choose from local pastries, homemade jams, and freshly squeezed juice. This hotel's communal lounge is a great spot to meet other travelers, grab a drink from the bar, use the WiFi, or watch a movie on the flat-screen TV. The furnished terrace is an even better spot for socializing and unwinding in the sun.
Hotel details
Address:
Largo de S. Domingos, 28, União de Freguesias do Centro, 4050-454 Porto, Portugal.
Guest rating:
4.5 out of 5
Price per night:
From $144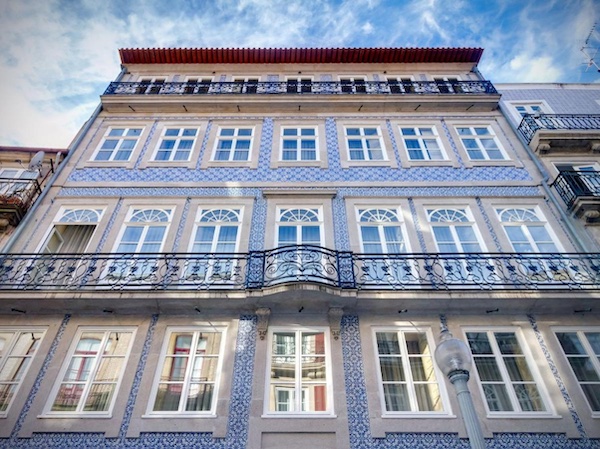 Oca Flores Boutique Hotel
With a blue and white tiled facade, the Oca Flores Boutique Hotel boasts incredible design in the heart of Porto. This 18th-century building features a mix of modern and antique decor, including hand-carved detailing, wooden floors, antique accents, fireplaces, and picturesque views. The interior garden creates a serene environment where guests can enjoy the fountains and incredible views of the nearby cathedral.
Oca Flores Hotel offers guest rooms and apartment-style rooms, accommodating from two guests to an entire family. Every room includes WiFi, minibars, flat-screen TVs, coffeemakers, and sofas. For sofabeds and kitchenettes, you can upgrade to a suite. Larger suites offer separate lounges and contemporary decor. Private bathrooms in every room have all the comforts of home – including a bath, a bidet, and complimentary toiletries.
Breakfast is included in the price of your stay, and room service is also available. After a day of exploring Porto, you can spend the evening relaxing and socializing in the hotel bar. The onsite spa is another great place to recharge; enjoy the hammam, fitness center, or one of the many body treatments available.
Hotel details
Address:
Rua das Flores, 139, União de Freguesias do Centro, 4050-266 Porto, Portugal.
Guest rating:
4.3 out of 5
Price per night:
From $125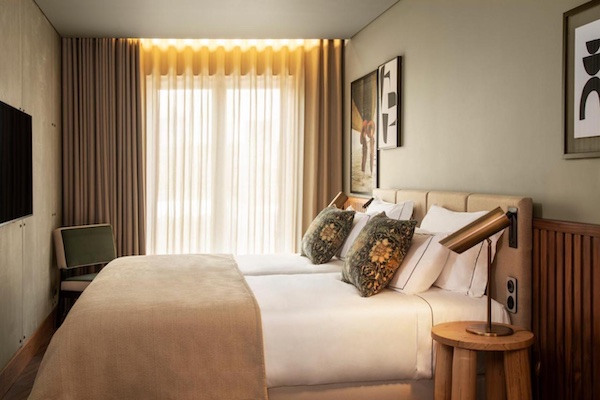 Fontinha Hotel
Situated close to one of Porto's busiest streets, the Fontinha Hotel offers stylish, four-star accommodations in one of the city's best locations. This hotel is within walking distance of the Lello Bookshop, Majestic Bar, and plenty of restaurants, cafes, and nightlife.
With a neutral color palette, indoor greenery, and comfortable furniture, this hotel feels extra homey, yet still trendy. Room options include the Standard Room, Accessible Room, Deluxe Room, and Suite. Each room includes a mini fridge, coffee maker, HDTV, and high-speed WiFi. Upgrade your room to enjoy a private terrace and lovely city views. Suites include outdoor spaces and separate sitting areas.
The outdoor garden bar is one of the most charming spaces in the Fontinha Hotel, showcasing ivy-covered walls, trendy furniture, and a variety of seating options. The menu features several snack options, cocktails, and other drink options. The indoor lounge is just as charming, with funky artwork, indoor plants, and patterned tile flooring.
Breakfast is available for hotel guests, and pets are welcome for an additional fee. Thoughtfully designed rooms, excellent customer service, relaxing lounge spaces, and an unbeatable location make the Fontinha Hotel one of the most coveted places to stay in Porto.
Hotel details
Address:
Rua da Fontinha 79, União de Freguesias do Centro, 4000-243 Porto, Portugal.
Guest rating:
4.7 out of 5
Price per night:
From $85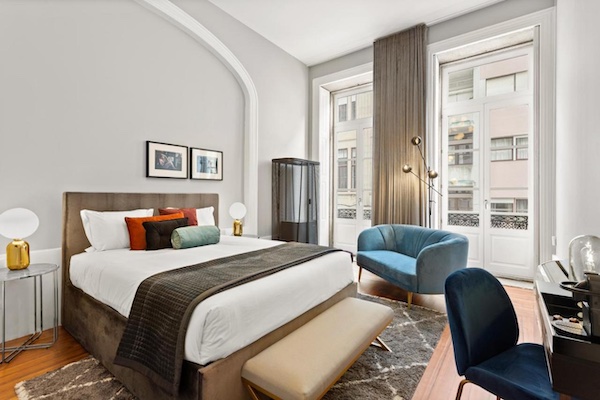 The White Box Boutique House
Nestled in the União de Freguesias do Centro district, The White Box Boutique House only has six guest rooms, ideal for a quiet and personal stay in Porto. The White Box Boutique House is situated on a serene residential street just a few minutes from a premier shopping district, Vio Catarina Shopping. This hotel is about a six-minute walk to City Market Bolhao, a short walk to the Coliseum, and about a mile from Ferreira Borges Market.
High ceilings, wooden hues, earthy tones, pops of color, and funky lighting creates an inviting and playful environment throughout the hotel property. Rooms include a personal safe, a workspace, crisp linens, WiFi, flat-screen TVs, air conditioning, and a coffee maker. The fully-equipped private bathrooms include bath sheets, bathrobes, and hair dryers. Guests can choose between deluxe or quadruple rooms, offering queen or twin beds.
Hotel guests get the choice of a complimentary hot or continental breakfast, serving pastries, fruit, jam, juice, bread, and more. A shared hotel kitchen is fully-equipped so that you can prepare your own meals during your stay.
Hotel details
Address:
Rua de Santa Catarina 575, União de Freguesias do Centro, 4000-226 Porto, Portugal.
Guest rating:
4.4 out of 5
Price per night:
From $105
About our boutique hotel recommendations in Porto
We are a travel research company. We help you discover the best boutique hotels in Porto by researching the internet for you. It's not just our opinion, it's the opinion of many travelers who have been there before you. We make it easy for you to find out about cool design hotels and unique design hotels in the city. Some of them might be so romantic that you might not want to leave your room.
Please note that we only list hotels with an aggregated guest review rating of at least 4.0 out of 5. We aggregate all reviews from different booking sites and other unbiased review websites. Hence, you can be certain all hotels listed above offer you a great stay in Porto.
Best price guarantee
Get the best deals and prices for your stay in Porto with Booking.com and Hotels.com! They offer price matching, guaranteeing you'll get the lowest online price. If you find a cheaper offer on another website for the same hotel room at least 24 hours before check-in, contact them to claim a refund of the difference.
Top 5 boutique hotels in Porto
Let's quickly summarize this guide. Based on thousands of guest reviews and tips from travel experts, these are the best boutique hotels in Porto:
More Porto tips
Get more great content like the guide above! Check out these other articles about Porto: