From its ancient castle to its vibrant culture, Edinburgh is a city full of delights and surprises. Nestled in the Lothian region of Scotland, Edinburgh has a long and storied history, and the city is alive with culture, art, music and entertainment. Whether you're looking for a thrilling adventure or a relaxed holiday, Edinburgh has something for everyone.
If you're looking for a unique and memorable experience in Edinburgh, consider booking a room in a boutique hotel. Boutique hotels offer a much more personalized stay than the typical chain hotel. They are often locally owned and operated, so you can be sure that the service you receive will be friendly and tailored to your individual needs.
Boutique hotels are also known for their stylish interiors, which often feature custom-designed furniture, artwork, and decor to create a truly one-of-a-kind atmosphere. In addition, many of these boutique hotels are situated in prime locations in the heart of the city, so you'll be right in the middle of all the action.
The best part about staying in a boutique hotel in Edinburgh is that you'll have the opportunity to explore the city like a local, with the advantage of having all of the comforts and amenities of a high-end hotel.
From delicious onsite restaurants to spa services, you'll be able to indulge in all that the city has to offer without ever leaving the hotel.
If you're looking for a boutique hotel in Scotland, look no further! Here are the five best boutique hotels in Edinburgh.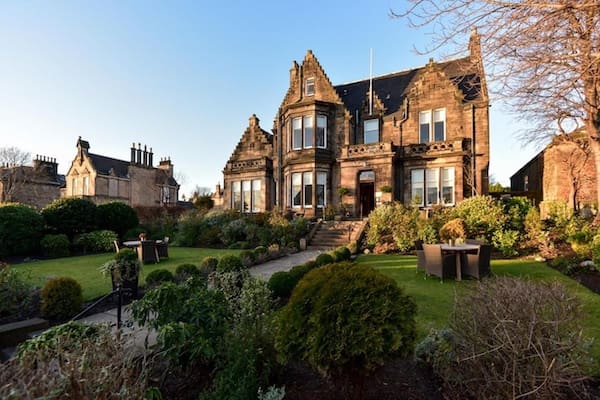 The Roseate
The Roseate is a newly renovated hotel in the heart of Edinburgh. Located just a few minutes from the city center, this hotel offers guests a unique experience with a blend of traditional Scottish hospitality and modern luxury.
The hotel also features a range of luxurious rooms and suites, all of which come with modern amenities and stunning views. Guests have access to a 24-hour concierge service, complimentary WiFi, complimentary breakfast, and a variety of other amenities.
The hotel has two distinct dining options, The Ba' Bar and The Skerries, each offering a different atmosphere and style. The Ba' Bar is a welcoming and modern bar serving various drinks and snacks. It also provides a relaxed atmosphere where guests can enjoy a chat and a game of pool. The Skerries, on the other hand, is a classic Scottish restaurant and bar. Here, guests can enjoy traditional Scottish dishes with a modern twist, accompanied by a great selection of beers, wines, and spirits.
With its blend of traditional and modern decor, luxurious rooms, and excellent service, this hotel provides a truly unique experience. Whether you're looking for a romantic getaway, a business trip, or simply a weekend city break, The Roseate is sure to provide a stay you won't forget.
Hotel details
Address:
4 West Coates, Edinburgh, EH12 5JQ, United Kingdom.
Guest rating:
4.5 out of 5
Price per night:
From $170
The Witchery by the Castle
The Witchery by the Castle is an iconic Edinburgh boutique hotel located in the heart of the city. This stunning hotel is nestled in a historic building, originally constructed over 400 years ago, combining traditional elegance with modern sophistication.
Guests can enjoy the luxurious and unique suites, which offer views of the castle and the Edinburgh skyline. Each room accommodates two guests, and interior design elements include opulent fabrics, rich colors, four-poster beds, and red velvet, making it feel like you've been transported to a fairy-tale castle. This hotel has received numerous awards and accolades, including the Condé Nast Johansens Most Excellent Hotel Award and the Visit Scotland Five Star Hotel award.
The Witchery by the Castle is well-known for its fine dining experience, featuring fresh, local ingredients and a menu inspired by traditional Scottish cuisine.
Hotel details
Address:
Castlehill, Royal Mile, Old Town, Edinburgh, EH1 2NF, United Kingdom.
Guest rating:
4.6 out of 5
Price per night:
From $300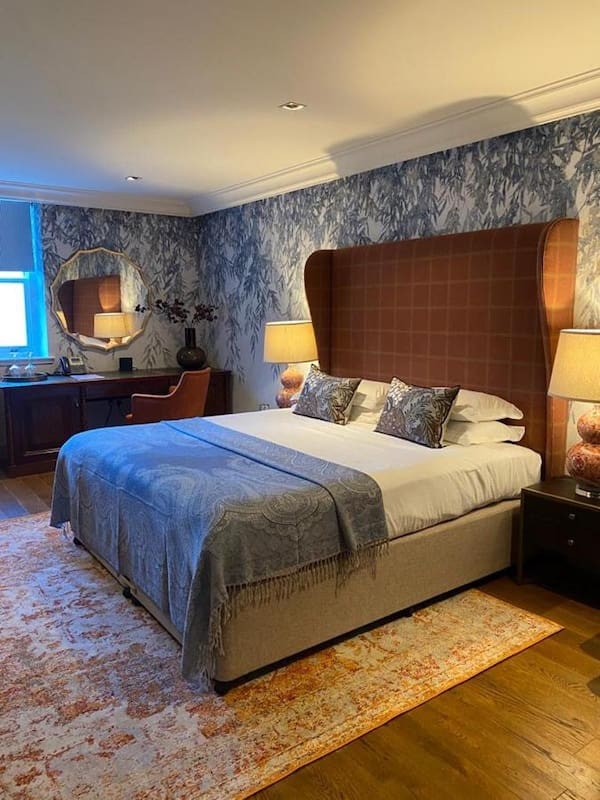 The Raeburn
The Raeburn is a luxurious boutique hotel located in the heart of Edinburgh, Scotland. This charming hotel is nestled amid the city's vibrant and historical Stockbridge neighborhood, which has been referred to as one of Edinburgh's most desirable residential addresses. This hotel's convenient location allows easy access to all of the city's attractions, from the iconic Edinburgh Castle to the beautiful Forth Bridge.
Inside, guests will find a modern and stylishly appointed interior, with cozy bedrooms that are perfect for relaxation. All ten guest rooms have minibars, flat-screen TVs, and wood floors. The hotel features a range of amenities, such as complimentary WiFi, in-room Nespresso machines, and complimentary tea and coffee available throughout the day.
The Raeburn also boasts a restaurant serving delicious regional Scottish cuisine and a bar with a selection of wines and spirits. The hotel's staff are renowned for their commitment to excellent hospitality and service and pride themselves on creating a warm and friendly atmosphere for all guests. The hotel also offers a range of additional services, such as private tours of the city and the nearby areas.
With friendly staff, modern amenities, and delicious cuisine, this boutique hotel offers the perfect base for exploring the city's culture and attractions.
Hotel details
Address:
112 Raeburn Place, Edinburgh, EH4 1HG, United Kingdom.
Guest rating:
4.6 out of 5
Price per night:
From $115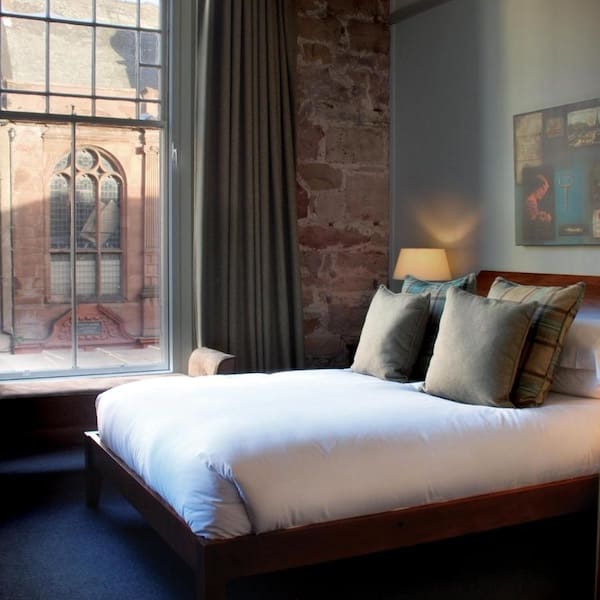 Hotel du Vin
Next up, we've got Hotel Du Vin Edinburgh, a luxurious boutique hotel in the heart of Edinburgh. It is located in the historic and picturesque Old Town, a few minutes' walk from Edinburgh Castle and the Royal Mile. This stunning hotel offers an unforgettable experience with its unique blend of French and Scottish styles.
The hotel features an impressive range of luxurious amenities, including an in-house bistro and bar offering an extensive selection of fine wines, craft beers, and signature cocktails. There is also an award-winning spa, a cigar terrace, a private cinema, and an outdoor terrace. The hotel offers free WiFi and complimentary newspapers in the lobby.
Accommodation options are equally impressive, offering both classic and contemporary rooms and suites. Each room has been carefully designed with exquisite décor and modern amenities, such as flat-screen TVs, Nespresso machines, luxury bath products, and more. All rooms also have a private balcony, providing a serene atmosphere for relaxation.
Hotel details
Address:
11 Bristo Place, Old Town, Edinburgh, EH1 1EZ, United Kingdom.
Guest rating:
4.4 out of 5
Price per night:
From $105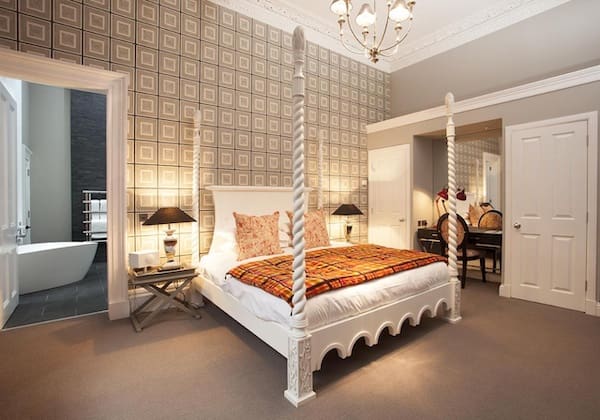 The Rutland Hotel
The Rutland Hotel is a boutique hotel located in central Edinburgh. Situated in the historic Old Town district, the hotel is within walking distance of the city's best attractions and activities.
As soon as you enter The Rutland, you'll be greeted by the warm and inviting atmosphere of the hotel's stunning décor. The hotel's interiors feature a mix of traditional and modern design, with original artwork, luxurious fabrics, and a warm color palette.
The Rutland has a variety of rooms and suites, all with modern amenities and beautiful views of the city. Guests can choose from a range of options, from Superior Double Rooms to Deluxe Suites. All rooms have a flat-screen TV, complimentary WiFi, and a luxurious ensuite bathroom.
This hotel also boasts several superb facilities that make your stay extra special. There's a restaurant, bar, fitness center, spa, and business center for those looking to get some work done. With a convenient location and top-notch facilities, The Rutland is the ideal base for exploring all Edinburgh offers.
Hotel details
Address:
1-3 Rutland Steet, Edinburgh, EH12AE, United Kingdom.
Guest rating:
4.6 out of 5
Price per night:
From $135
About our boutique hotel recommendations in Edinburgh
We are a travel research company. We help you discover the best boutique hotels in Edinburgh by researching the internet for you. It's not just our opinion, it's the opinion of many travelers who have been there before you. We make it easy for you to find out about cool design hotels and unique design hotels in the city. Some of them might be so romantic that you might not want to leave your room.
Please note that we only list hotels with an aggregated guest review rating of at least 4.0 out of 5. We aggregate all reviews from different booking sites and other unbiased review websites. Hence, you can be certain all hotels listed above offer you a great stay in Edinburgh.
Best price guarantee
Get the best deals and prices for your stay in Edinburgh with Booking.com and Hotels.com! They offer price matching, guaranteeing you'll get the lowest online price. If you find a cheaper offer on another website for the same hotel room at least 24 hours before check-in, contact them to claim a refund of the difference.
Top 5 boutique hotels in Edinburgh
Let's quickly summarize this guide. Based on thousands of guest reviews and tips from travel experts, these are the best boutique hotels in Edinburgh:
More Edinburgh tips
Get more great insights like the guide above! Check out these other articles about Edinburgh: