Edinburgh – Scotland's ancient and beautiful capital – is one of the most incredible cities in Europe. It has a long, intriguing history with a vibrant, modern city center. But there's far more to Edinburgh than just its central area; the city extends far beyond this, offering a range of different neighborhoods, each with its own unique character and attractions.
Whether you want to enjoy historic attractions and architecture or sample the local cuisine and dance at the local pub, Edinburgh's vibrant neighborhoods have something for everyone. From medieval castles and winding streets to modern museums and art galleries, there is no shortage of places to see and things to do. Keep reading to discover some of the best areas to stay in Edinburgh!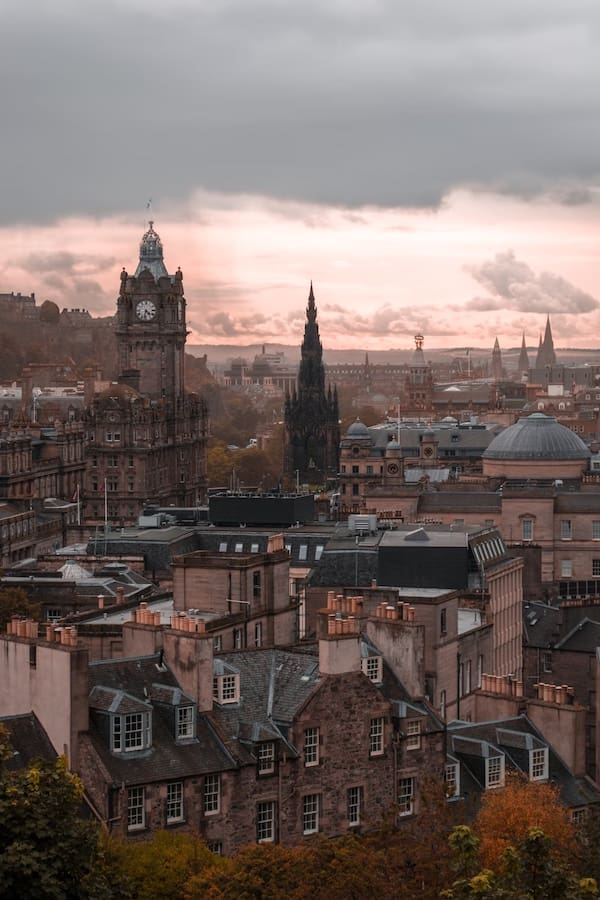 Old Town & Royal Mile
Edinburgh's Old Town, or Royal Mile, is one of Scotland's most iconic and historical areas. Located between Edinburgh Castle and the Palace of Holyroodhouse, the Royal Mile is a mile-long stretch of cobblestone streets that has been a major thoroughfare since the 12th century.
This neighborhood is home to some of Edinburgh's oldest and most impressive buildings, including St. Giles Cathedral, the John Knox House, and the Church of Scotland Assembly Hall. The Royal Mile is filled with shops, bars, and restaurants, and is a popular tourist destination, making this a great place to stay during your first visit. The area is also home to numerous festivals and events, such as the Edinburgh International Festival, the Royal Edinburgh Military Tattoo, and the Fringe Festival.
The Old Town boasts several historic sites, such as Mary King's Close, a hidden network of underground streets and alleyways, and the Real Mary King's Close, a museum dedicated to the area's history. The Royal Mile is also great for finding unique souvenirs and gifts, such as traditional Scottish tartans, jewelry, and cashmere wool garments.
This area is steeped in history and is a must-see for anyone visiting Edinburgh. Whether you're looking for a unique souvenir or simply want to stroll down the cobblestoned streets, you won't regret staying in Edinburgh's Old Town.
Best place to stay in Old Town & Royal Mile
The Witchery by the Castle. Address: Castlehill, Royal Mile, Old Town, Edinburgh, EH1 2NF, United Kingdom.
Cheaper alternative:
Apex City of Edinburgh Hotel. Address: 61 Grassmarket, Old Town, Edinburgh, EH1 2HJ, United Kingdom.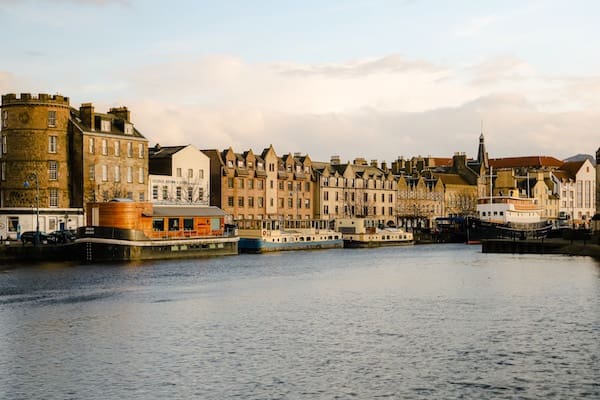 Leith
Leith is located in the northern section of Edinburgh. Situated on the shore of the Firth of Forth, the area is home to a vibrant community of locals and visitors alike.
Established as a royal burgh in the 12th century, Leith was a key port of trade during the medieval period and a thriving district during the industrial revolution. Today, Leith is known for its unique character and culture, boasting a range of restaurants, galleries, pubs, and independent shops that attract visitors from far and wide.
Leith has long been a major entry point for immigrants into Scotland, many of whom have made a lasting impact on the area. This can still be seen today in its diverse population, which includes people of many different backgrounds, nationalities, and ethnicities.
Leith is also home to several significant historic sites and tourist attractions, such as the Royal Yacht Britannia and the Ocean Terminal shopping center. The area also has a rich literary heritage, having been the birthplace of the novelist Sir Walter Scott and the setting of Robert Louis Stevenson's novel Kidnapped.
Leith has numerous galleries and museums where you can learn more about the area's history and culture, while the waterfront is home to a range of restaurants, pubs, and bars. You can even take a boat trip along the Forth to see some of the area's stunning coastal scenery. Leith also hosts several annual festivals and events, including the Leith Festival and Leith Late, which offer an excellent opportunity to experience Edinburgh's vibrant culture.
Best place to stay in Leith
Sheridan Guest House. Address: 1 Bonnington Terrace, Edinburgh, EH6 4BP, United Kingdom.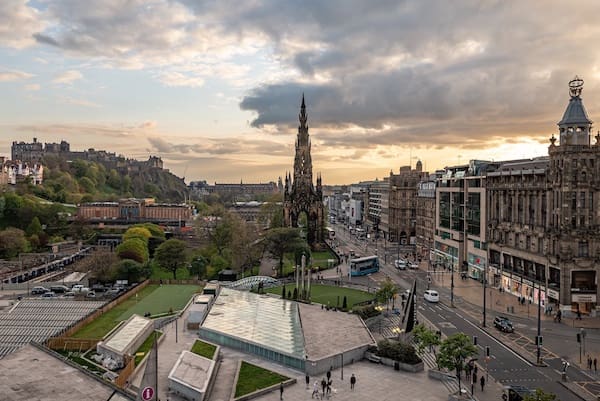 New Town
The New Town neighborhood of Edinburgh, Scotland is an exciting and vibrant part of the city. Situated between the Old Town and the West End, New Town is home to a mix of locals and visitors.
This UNESCO World Heritage Site features wide boulevards and symmetrical streets lined with green open spaces and historic homes. Designed in the late 18th century, this neighborhood is the epitome of incredible urban planning. From the stunning architecture to the beautifully-manicured gardens, this is one of the most impressive areas in Edinburgh.
This lively district offers a variety of activities and attractions, from historic buildings and monuments to art galleries, museums, and a variety of shops and restaurants. In fact, this area is a prime shopping destination with several boutiques, designer, and chain stores. With its close proximity to the city center, visitors can easily explore the local culture and take in some of the city's most famous sights.
Best place to stay in New Town
Sonder Royal Garden Apartments. Address: 2 York Buildings, Edinburgh, EH21HY, United Kingdom.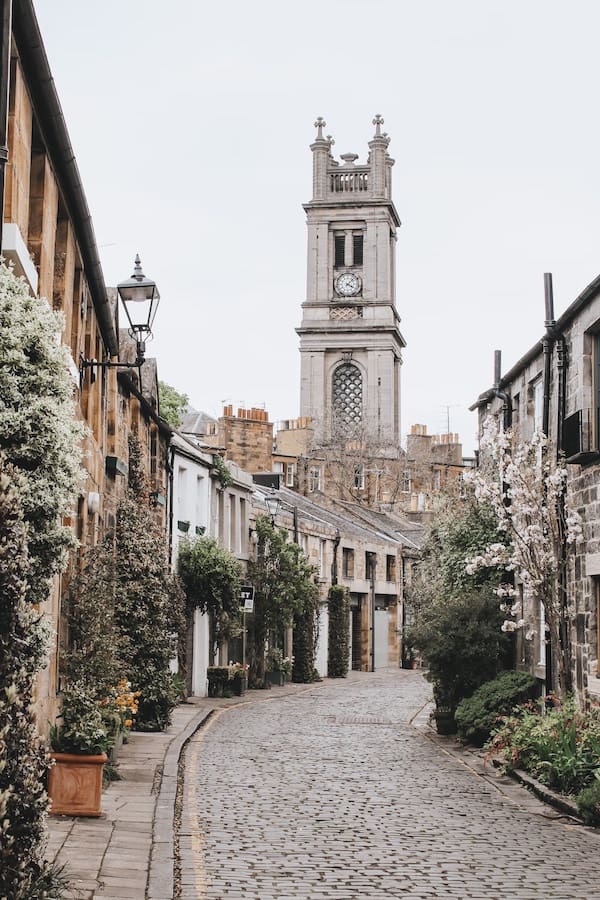 Stockbridge
Stockbridge is a charming and vibrant suburb of Edinburgh, situated to the north of the city center, near the River Forth and the water of Leith. Historically, Stockbridge was an independent village, but its popularity as a desirable area and its proximity to the city center has seen it become an increasingly popular area of Edinburgh.
This neighborhood is filled with a range of independent shops, cafes, bars, and restaurants, as well as a variety of businesses, from antique dealers to art studios. It is an excellent destination for shoppers, with a wide selection of high-end stores, along with retro and vintage boutiques.
There are regular farmers' markets in the area, and many local craftspeople also have shops here. Stockbridge houses some of Edinburgh's most popular attractions, such as the Royal Botanic Garden, which is home to a large selection of plants and flowers, and the Scottish National Gallery of Modern Art, which showcases the work of some of Scotland's most renowned artists.
The streets of Stockbridge are full of life and color, and the area is popular with locals and travelers. There are plenty of green spaces to explore, including Inverleith Park, which is a great place to sit and relax. Many festivals and events are held throughout the year, including the Stockbridge Village Festival, which celebrates the community and its history.
Stockbridge is a great place to live, work, and visit. It is a hub of creativity, with a great selection of independent businesses, restaurants, and attractions. With its unique atmosphere and charm, it is no wonder why Stockbridge continues to be a popular destination.
Best place to stay in Stockbridge
The Raeburn. Address: 112 Raeburn Place, Edinburgh, EH4 1HG, United Kingdom.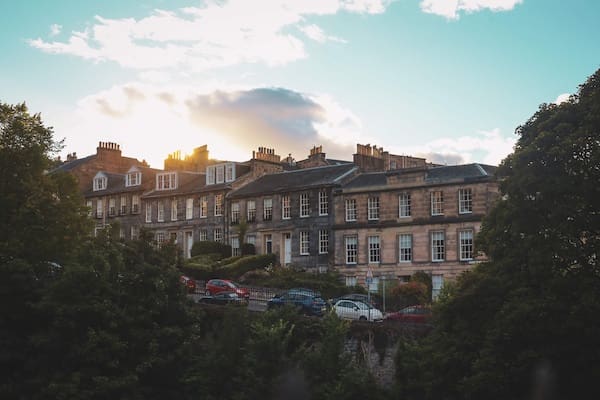 Morningside & Bruntsfield
Morningside and Bruntsfield are vibrant and historic areas in the southwest of Edinburgh, Scotland. This area is well known for its independent shops, cafes, and restaurants, as well as its unique architecture.
Situated between the Meadows and the Pentland Hills, this area is a popular destination for visitors to Edinburgh. This neighborhood was historically part of the Barony of Morningside, which was owned by the Monypenny family during the 17th and 18th centuries. It wasn't until the 19th century that development began in the area, and eventually, it became a vibrant suburb of Edinburgh.
Morningside and Bruntsfield include several buildings of architectural and historical importance, such as the Bruntsfield Links, the St. Catherine's Church, and the former Bruntsfield Hospital. Today, it is home to a great range of independent shops, cafes, and restaurants, along with many popular pubs and bars.
The area is known for its lively atmosphere, and there are often street performers and events taking place in the area. There are also plenty of green spaces, including Bruntsfield Links Park and Bruntsfield Links Golf Course. This neighborhood is also well known for its annual Midsummer Fair, which takes place each July and includes a variety of food stalls, music, and activities.
Best place to stay in Morningside & Bruntsfield
Black Ivy Hotel. Address: 4 Alvanley Terrace, Whitehouse Loan, Edinburgh, EH9 1DU, United Kingdom.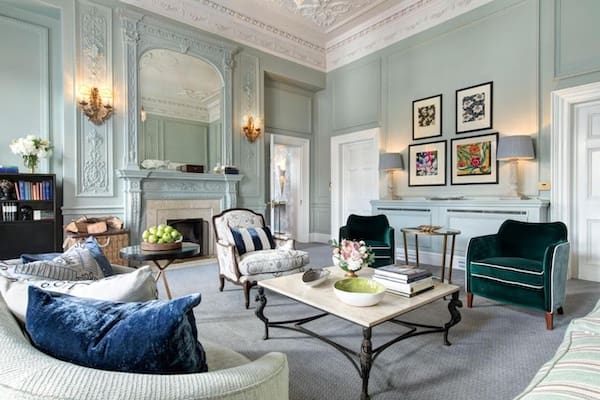 Where travel critics stay in Edinburgh
Want to know where travel critics from publishers like The New York Times, Frommer's, Fodor's and Lonely Planet stay in Edinburgh? Check out our overview of all recommended hotels and accommodations in Edinburgh.
Budget
"This boutique hotel in the city center is just a few minutes' walk from nearly every tourist site. Each room has a custom-made sleigh bed and a hand-sprung mattress, but the hotel's best feature might be the ultra-cozy, tartan-carpeted whiskey "snug," a cozy room, all too tempting on a gray Scottish day." – New York Times.
Address: 11 Bristo Place, Old Town, Edinburgh, EH1 1EZ, United Kingdom.
Mid-range
"Flowerpots filled with colorful blooms line the steps of this little haven hidden away north of the New Town. The eight bedrooms (all en suite) blend crisp colors with contemporary furniture, stylish lighting and colorful paintings, which complement the house's clean-cut Georgian lines." – Lonely Planet.
Luxury
"For sheer class, this grande dame still has the edge. Yes there are other luxury hotels in the Scottish capital but they haven't got the Olga Polizzi pizzazz. Taste, style and luxury seep out of the walls." – Frommer's.
Address: 1 Princes Street, Old Town, Edinburgh, EH2 2EQ, United Kingdom.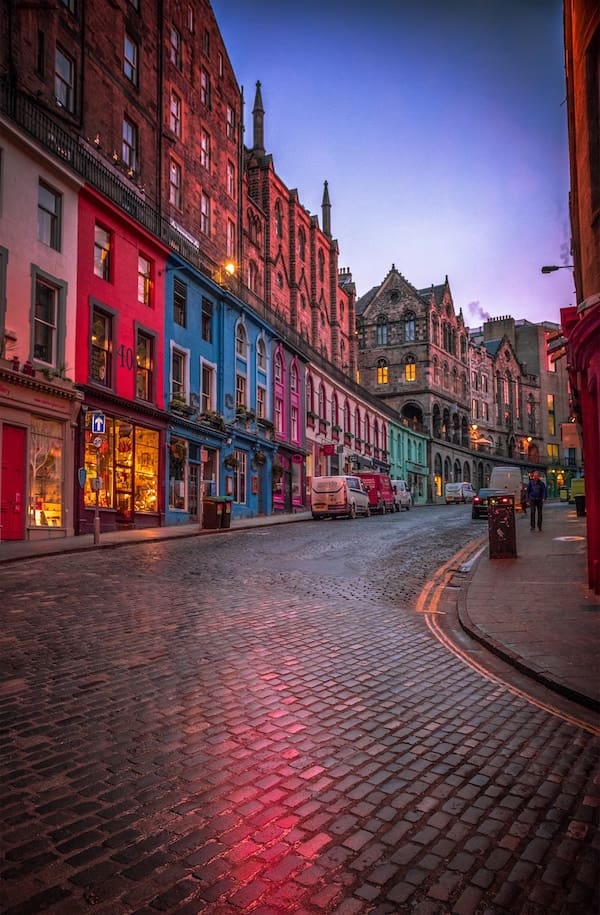 FAQ: Edinburgh hotel tips
Looking for the best budget, boutique, or luxury hotel in Edinburgh? Or maybe you're a backpacker looking for an excellent hostel? Want to know which hotel serves a great breakfast? Here are the answers to all those and other questions about where to stay in Edinburgh.
How much does a night in a hotel in Edinburgh cost?
If you want to stay in a 3-star hotel in central Edinburgh, you would be looking at an average price of $120 per night. For 4-star hotels, the average price is around $190 per night. For a 5-star hotel in central Edinburgh, the average rate is around $280 per night.
What is the best affordable hotel in Edinburgh?
If you're looking for an affordable hotel, then check out Point A Edinburgh. It's an excellent budget hotel offering great value for money. It's in a good location, it's been recommended by travel experts and the hotel has excellent customer reviews. You should also check out our list of the best cheap hotels in Edinburgh.
What is the best boutique hotel in Edinburgh?
You like some luxury but don't like famous chain hotels. If you're looking for the best boutique hotel in Edinburgh, you should check out The Raeburn Hotel. It's a very cool hotel that has been highly recommended by travelers and experts. For more cool hotels, check out our list of the best boutique hotels in Edinburgh.
What is the best luxury hotel in Edinburgh?
If money isn't a problem and you're looking for a luxury hotel in Edinburgh, then go for The Balmoral. The hotel offers excellent service, it's in a top location, it has been rated very highly by previous guests and renowned travel critics have recommended it. For more 5-star hotel recommendations, check out our list of the best luxury hotels in Edinburgh.
What is the best hostel in Edinburgh?
Looking for a good and affordable private room or cozy dorm in Edinburgh? Check out Castle Rock Hostel. The hostel has been highly rated by backpackers. Also check out our shortlist of the best hostels in Edinburgh, it's based on thousands of reviews from backpackers.
Which Edinburgh hotel serves great breakfast?
Try Sheridan Guest House if you're looking for a delicious breakfast at a hotel in Edinburgh. It has magnificent guest review ratings for its breakfast.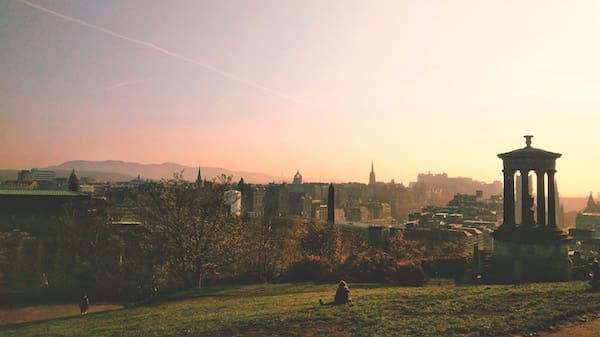 Best time to visit Edinburgh
The months of May to September are generally considered the best time to visit Edinburgh because the weather is mild and pleasant, and the days are longer.
During these months, you can enjoy outdoor activities such as hiking, cycling, and exploring the city's beautiful parks and gardens. Plus, Edinburgh hosts several festivals during this time, including the Edinburgh International Festival and the Edinburgh Fringe Festival, which attract thousands of visitors from around the world.
If you want to experience Edinburgh's famous Hogmanay celebrations, then the best time to visit is during New Year's Eve. Edinburgh's Hogmanay is one of the biggest New Year's Eve celebrations in the world, and it features a spectacular fireworks display, live music, and street parties.
However, if you are looking for a budget-friendly option, then the best time to visit Edinburgh is during the shoulder season, which is from March to April and October to November. During these months, you can find cheaper flights and accommodation, and the crowds are much smaller than during the peak season.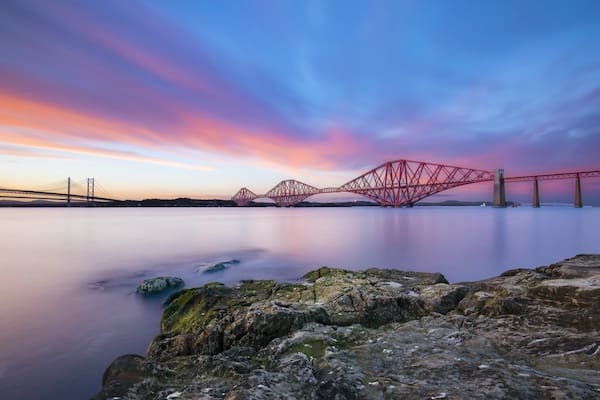 Best things to do in Edinburgh
There are a lot of things to do in Edinburgh and the surrounding areas, including day trips, attractions, museums, sightseeing tours and many other activities. Here's our list of 3 things you should definitely do when you're in Edinburgh:
Underground Vaults Tour
Visit the vaults beneath Oldtown in Edinburgh, dating back to the early 18th century. Your guide will tell you about murders, witches and the people who inhabited this supposedly haunted location. Price: $19. More info.
Loch Ness, Glencoe & the Scottish Highlands Tour
Head for the Highlands, whether in search of the Loch Ness Monster or just a scenic day trip from Edinburgh. After pickup, relax on the bus and listen to the guide's entertaining commentary. Price: $64. More info.
Harry Potter Magical Guided Walking Tour
Take a magical walking tour of Edinburgh and discover the city where the world of Harry Potter was conceived. Test your knowledge with an audio-visual quiz, find out your Hogwarts House, and visit Tom Riddle's grave. Price: $17. More info.
More things to do in Edinburgh
Deciding where to stay in Edinburgh
Let's recap what we just learned in this article. We've covered the best areas of Edinburgh above. Now you can decide where to stay while visiting!
Top 5 neighborhoods to stay in Edinburgh
Old Town/Royal Mile
New Town
Stockbridge
Morningside/Brunsfield
Leith
As you have seen in this travel guide, there are a lot of things to explore, and deciding where to stay in Edinburgh is important. Whether you stay in Old Town/Royal Mile, New Town, Stockbridge, Morningside/Brunsfield or Leith, all those neighborhoods are in good locations.
The atmosphere of the area, whether you travel for leisure or business, whether you travel with your family or friends, and proximity to the attractions you prefer to visit should probably be the deciding factors. Whatever your preference is, you'll have a great stay in Edinburgh.
More Edinburgh tips
Check out our other guides about the best places to stay in Edinburgh: