Seville is the largest city in the autonomous community of Andalusia and the fifth largest in Spain. As well as being one of the most populous cities in Andalusia, it is also one of its most important. Seville has been continuously inhabited since at least 10,000 BC – making it one of the oldest continually inhabited sites in Western Europe.
It was once an important trading post thanks to its location on the banks of the Guadalquivir River, which connects Seville with cargoes coming up from Gibraltar or traveling west from Cartagena and vice versa. Today it still thrives as a cultural center thanks to its architecture and nightlife that attracts tourists worldwide.
There's no better way to experience Seville than from the comfort of a luxury hotel! Luxury hotels offer only the best with incredible views, unbeatable locations, high-end amenities, thoughtful design, and fantastic customer service. After a full day of experiencing Seville's winding cobblestone streets, magnificent architecture, and delicious cuisine, or an evening of bar hopping, pub crawling, drinking, and dancing, the best place to unwind and recover is at a high-end hotel.
Seville has several luxury hotels to choose from, providing rooftop pools, high-end spa services, top-notch bedding, luxury bathrooms, and more. Close to all of Seville's major sights, these hotels are located on some of Seville's most charming streets, making sightseeing and exploration as easy as can be.
For all of these perks, and more, keep reading to discover the 5 best luxury hotels in Seville.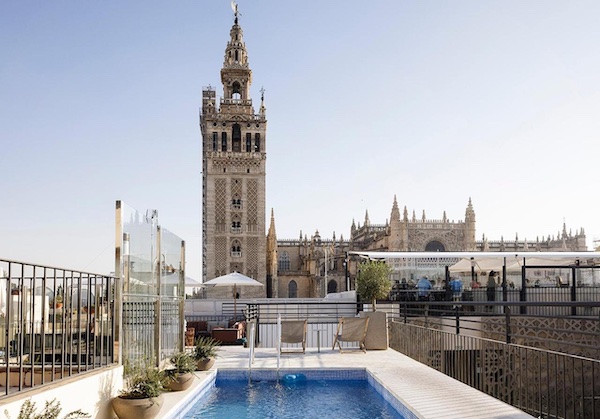 Eme Catedral Hotel
Nestled across the street from the Giralda cathedral, in the heart of the Old Town, Eme Catedral Hotel offers the perfect blend of modern and historic architecture, giving you the best of both worlds. On the outside, this hotel looks like a charming, whitewashed, 16th-century building. However, the inside boasts minimalist stone interiors, wooden features, glass showers, and contemporary furnishings.
Eme Catedral Hotel offers several room options, with 58 rooms in total, all of which accommodate two guests. Each room features white linens, luxurious private bathrooms, WiFI, 24-hour room service, plush bathrobes, and flatscreen TVs. One of this hotel's most luxurious rooms, Suite Views, boasts marble floors, stucco walls, exposed brick, a rain shower, a separate bathtub, and cathedral views.
Dining options abound at Eme Catedral Hotel. For city views, grab dinner at La Terrazza del EME, located on the rooftop terrace, which is also home to a rooftop pool with incredible views. AL LADO Restaurant is ideal for a casual lunch, while Milagritos Restaurant has a streetside location near all the hustle and bustle.
On the ground floor of this hotel, guests can enjoy the M SPA, home to a heated pool, cervical cascade, water jets, a hammam, an ice fountain, and a relaxation area. Relish this hydrothermal experience after enjoying one of the spa's beauty or body treatments.
Hotel details
Address:
Alemanes, 27, Old Town, 41004 Seville, Spain.
Guest rating:
4.2 out of 5
Price per night:
From $200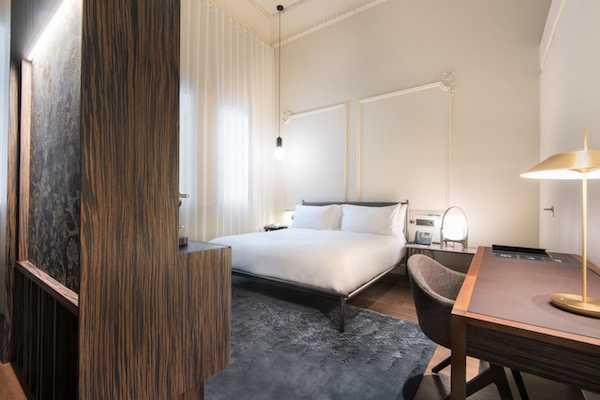 Hotel Mercer
With only four rooms and eight suites, Hotel Mercer Sevilla is one of Seville's most luxurious and intimate hotels. Situated in a restored 19th-century palace on a charming street, Hotel Mercer's rooms are centered around an ornate courtyard. Grand archways, a magnificent staircase, and marble flooring make the courtyard lobby feel elegant and regal. While several features of Hotel Mercer's interior design nod to the building's rich history, there are just as many contemporary amenities and features.
Guest rooms and suites boast high ceilings, funky furnishings, wooden floors, and luxurious bathrooms. Choose from three rooms: the Deluxe, the Junior Suite, and the Suite. As the largest room option, the suite features 678 square feet of space, oak floors, a designer bathroom, flat screen TV, and flowers in-room.
The rooftop plunge pool feels almost spa-like, surrounded by a luxurious wooden platform and an outdoor bar with snacks and cocktails. Several other dining options are onsite, including Maria Luisa Restaurant, serving Mediterranean fare. Two other hotel bars include Fizz Bar and Hall Bar. Breakfast is served each morning in the hotel's lovely vertical garden. Choose from à la carte dishes or the breakfast buffet, featuring fresh coffee, juice, pastries, and fruit.
Hotel details
Address:
Calle Castelar 26, Old Town, 41003 Seville, Spain.
Guest rating:
4.7 out of 5
Price per night:
From $310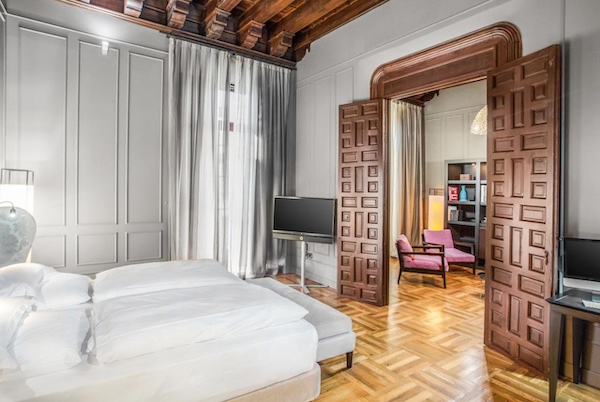 CoolRooms Palacio Villapanés
What was once an 18th-century mansion is now the Palacio Villapanes, one of Seville's most stylish boutique hotels. This structure is an ideal example of the Mudejar style, and the building's original features have been left intact as much as possible. Trendy furnishings and bold colors have occasionally been added to provide a touch of contemporary style.
Comprising 50 rooms, this hotel has four rooms to choose from: the Deluxe Room, Premium, Palacio, and Suite. Each room accommodates two guests, but as you upgrade, the square footage increases with an added sitting area. Suites offer separate living spaces and iMac computers. Some rooms come with balconies and city views. Each room includes WiFi, flatscreen TVs, high-end toiletries, air conditioning, and mini-fridges.
Coolrooms Palacio Villapanes is situated near several attractions, including the Indias Archive Building, Bario de Santa Cruz, and the Contemporary Art Museum. Alcazar Palace and the Cathedral are only about a 12-minute walk, and the metro station is a 13-minute walk, so the entire city will be at your fingertips.
Hotel details
Address:
Santiago, 31, Old Town, 41003 Seville, Spain.
Guest rating:
4.5 out of 5
Price per night:
From $230
Hotel Unuk
Surrounded by all of Seville's top attractions, providing luxurious accommodations, and designed with every detail in mind, Hotel Unuk is one of the best high-end hotels in Seville. The lobby of Hotel Unuk feels elegant, yet welcoming, with indoor greenery, a fireplace, upscale furnishings, and funky lighting.
Hotel Unuk houses several room types, with 39 rooms total, ranging from a Premium Room, a double room with a luxurious ensuite bathroom, to the Suite Room, equipped with two double bedrooms, a living room, and three full bathrooms. Some rooms include private jacuzzis and private terraces with spectacular city views. Each room has air conditioning, a minibar, flatscreen TV, 24-hour room service, and WiFi. With bright colors, unique lighting, and high-end materials, these rooms are inviting and elegant at the same time.
Lounge spaces abound at this hotel, including the vast lobby, with plenty of seating options, and the hotel restaurant, a bright and upscale atmosphere serving Andalusian cuisine. More notably, the rooftop saltwater pool and terrace provide panoramic views of Seville. Grab a drink at the rooftop bar and relax on a sun lounger in the vast solarium.
Hotel details
Address:
C/ Ortiz de Zúñiga 8 C/ Ortiz de Zúñiga 8, Old Town, 41004 Seville, Spain.
Guest rating:
4.6 out of 5
Price per night:
From $250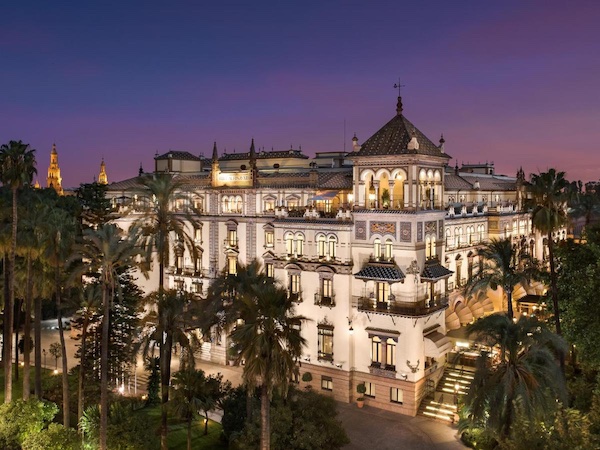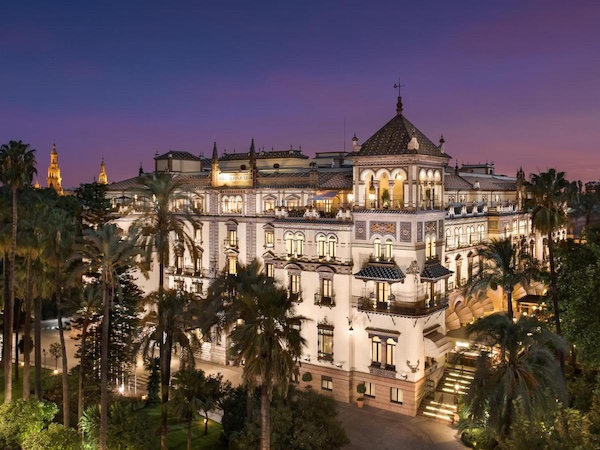 Hotel Alfonso XIII
Hotel Alfonso XIII comprises 148 rooms and suites, with plenty of modern amenities and a fantastic location in the city center. Initially constructed by King Alfonso XIII for the royals attending the 1929 World Fair, this hotel is not only historical, but also provides a taste of luxury. You'll notice several Instagram-worthy details around the property, like an orange blossom courtyard with a Moorish fountain, magnificent towers, and mosaic-lined arches.
Hotel Alfonso has several rooms to choose from, ranging from deluxe queen rooms to several ornate suites. The design of the suites and rooms was influenced by Moorish, Andalusian, and Castillian styles, just like the rest of the city. Each room includes a flatscreen TV, minibar, in-room safe, air conditioning, a coffeemaker, a tea maker, and a complimentary newspaper. The largest room, Suite Alfonso XIII, boasts over 1500 square feet of space on the first floor. This ornate suite has a bathtub, shower, and a balcony or terrace.
Hotel details
Address:
San Fernando, 2, Old Town, 41004 Seville, Spain.
Guest rating:
4.5 out of 5
Price per night:
From $210
About our luxury hotel recommendations in Seville
We are a travel research company. Our team helps you discover the best luxury hotels in Seville by researching the internet for you. We have also visited some of these places. Hence, it's not just our opinion, it's the opinion of many travelers who have been there before you. We make it easy for you to find out about the most luxurious and exclusive 5-star hotels in the city.
Please note that we only list hotels that have an aggregated guest review rating of at least 4.0 out of 5. We aggregate all reviews from different booking sites and other unbiased review websites. Hence, you can be certain all hotels listed above offer you a great stay in Seville.
Best price guarantee
We partner with Hotels.com and Booking.com to make sure you get the best price for your stay in Seville! Both sites offer price matching. That means you pay the lowest prices for your stay. If you find a cheaper offer on another website for the same luxury hotel in Seville at least 24 hours before check-in, contact them to claim a refund of the difference!
Best 5-star hotels in Seville
Now that you've gone over this guide, let's summarize it. We got to know what the best 5-star hotels in Seville are thanks to thousands of guest reviews and tips from travel experts:
More Seville guides
If you like the advice we've given you above, make sure to check out some of our other articles about Seville:
Best boutique hotels in Seville