As the fourth-largest city in Spain, Seville is packed with historic sites, vibrant nightlife, incredible food, and fantastic shopping. Known for its lively flamenco scene, ornate architecture, cobblestone streets, and tapas bars, Seville offers something for every kind of traveler.
With a large population and less than 80 days of rain per year, Seville is an lovely area for vacationing, sightseeing, or simply soaking up the sun. Arabian heritage, Moorish architecture, and Roman history make this city feel different from other European cities.
Built around the Old Town, stretching out of either side of the River Guadalquivir, Seville's districts each have their own unique personality. While the neighborhoods near the Old Town have a similar atmosphere of winding alleyways and historic architecture, each barrio offers something a little different.
This city has plenty of diverse and unique neighborhoods, ranging from ancient opulence and historical sites to modern residential districts and bustling nightlife areas. However, with so many options, it can be challenging to know where to stay. Luckily, we've made it easy! Keep reading to discover the five best areas to stay in Seville.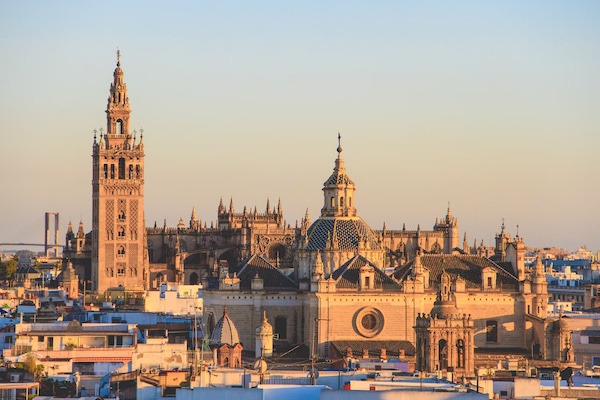 Centro
Also known as the City Center, Centro offers a fantastic location near all the main attractions, an abundance of shopping opportunities, and plenty of bars, restaurants, and cafes. Whether you visit Seville to explore, eat, or go shopping, you can't go wrong with staying in Centro.
Located next to Barrio Santa Cruz, Centro is one of the best centrally-located neighborhoods. Around Calle Sierpes, you'll find a massive shopping center with well-known brands, local shops, and designer boutiques.
You can even purchase traditional Spanish goods, which make for fantastic souvenirs. Another great shopping street is Calle Tetuan, home to several authentic shops selling classic hats, flamenco dresses, and lacy fans.
Within walking distance, you will find the magnificent Town Hall, also known as Ayuntamiento. Another attraction in this neighborhood is Iglesia Colegial del Divino Salvador, which was constructed over the site of a traditional Moorish mosque in the 1600s.
There are countless cafes, restaurants, and bars to choose from in Centro, but one of the best places to eat is El Librero Tapas y Quesos. This eatery offers a rotating menu of, as the name implies, cheeseboards and tapas.
Best place to stay in Centro
Boutique Hotel Casa de Colón. Address: Hernando Colón, 3, Old Town, 41004 Seville, Spain.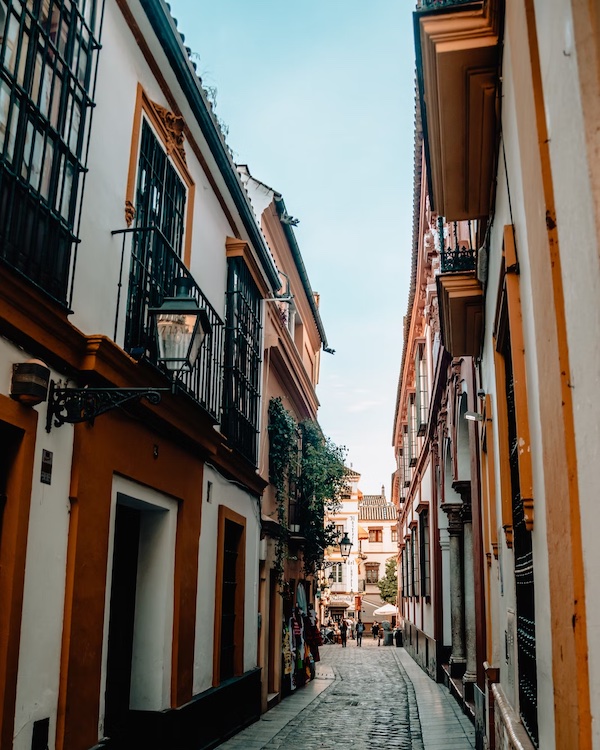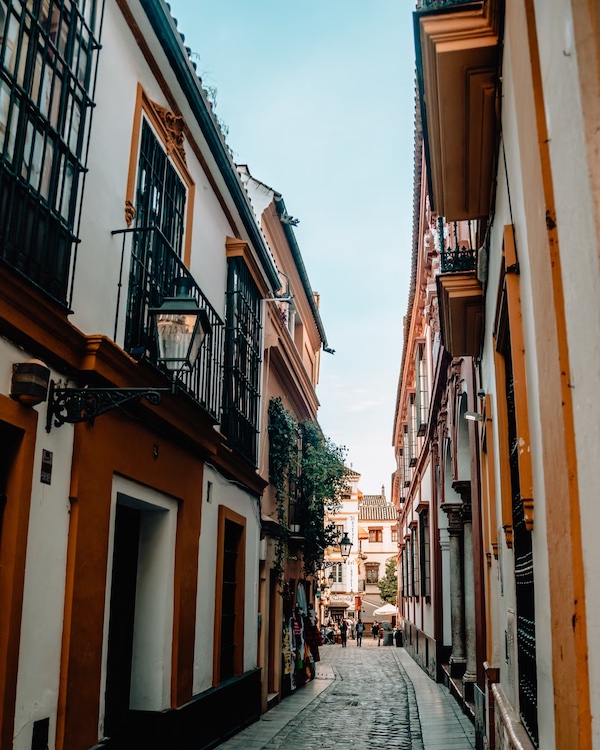 Barrio Santa Cruz
With cobblestone streets, colorful houses, and plenty of attractions, Barrio Santa Cruz is the oldest district in the city, and it is also one of the best places to stay if it's your first time in Seville.
While this area was formerly the Jewish Quarter, it is now one of the most popular areas in the city. You'll find many of Seville's main attractions throughout Santa Cruz, including the Seville Cathedral, the Alcazar Palace, Flamenco Museum, Plaza de Espana, and more.
The attractions in Santa Cruz barely scratch the surface of this historic neighborhood. While attractions abound, there are even more incredible restaurants to choose from.
One of the neighborhood's best eateries is La Azotea, serving creative Andalusian cuisine paired with an elegant and modern atmosphere. For more of an old-school vibe, check out Bodega Santa Cruz, where the gruff waitstaff serves traditional tapas.
Barrio Santa Cruz is also home to several gardens and adorable alleyways, so you'll never run out of places to discover. While staying in this neighborhood might be a little pricier, the abundance of things to do and see makes it worth it.
Best place to stay in Barrio Santa Cruz
Hotel Casa 1800. Address: Rodrigo Caro, 6, Old Town, 41004 Seville, Spain.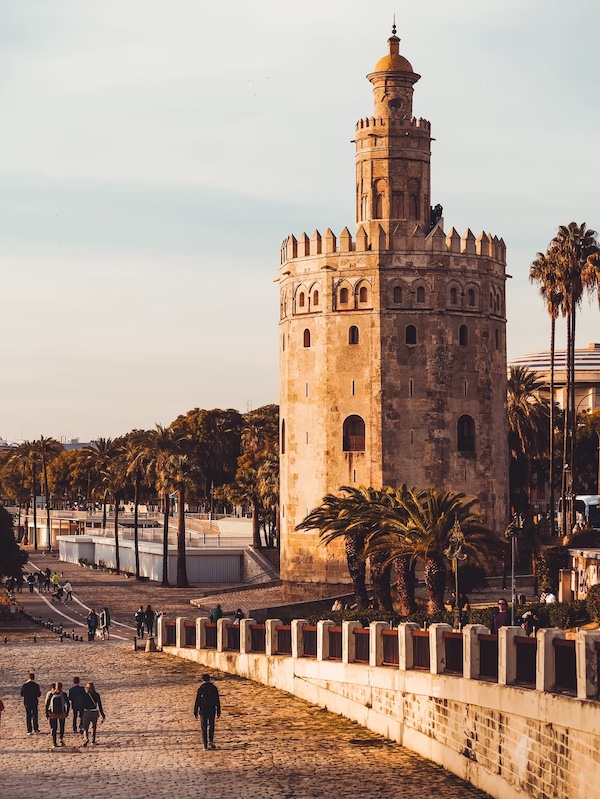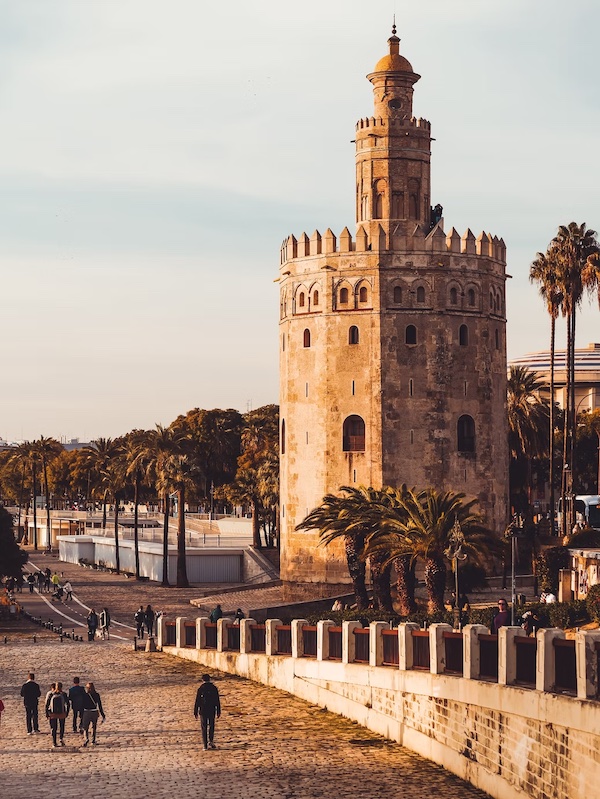 El Arenal
Sitting on the left side of the river, El Arenal used to be Seville's port area, meaning that this neighborhood is perfect for those who love history. Arenal is bordered by Barrio Santa Cruz and El Centro, stretching from the cathedral to the river.
This neighborhood's tight and winding streets are home to several well-known historic landmarks, including Torre del Oro, a watchtower, and Plaza de Toros de la Maestranza, Spain's most famous bull ring.
You can also stroll along the Paseo Christobal Colon, a charming riverside walkway. Visit Plaza del Cabildo, a magnificent semi-circular square with a fountain and creatively painted arches. At the Baroque Hospital de la Caridad, a historic charity hospital, you can view artworks by renowned artists like Valdes and Murillo.
This charming neighborhood is lined with plenty of tapas bars, adorable cafes, and flamenco venues. One of the best tapas bars is Baratillo Bar, located on Adriano Street. This eatery is themed around bullfighting and southern Spain, and with rustic decor, you'll feel like you've gone back in time.
Postiguillo Bar, one of Seville's top-rated restaurants, is also located in Arenal. This joint has high ceilings, wrought iron lamps, and wooden footbridges, creating an incredibly unique atmosphere.
Best place to stay in El Arenal
Boutique Hotel Adriano. Address: Adriano, 12, Old town, 41001 Seville, Spain.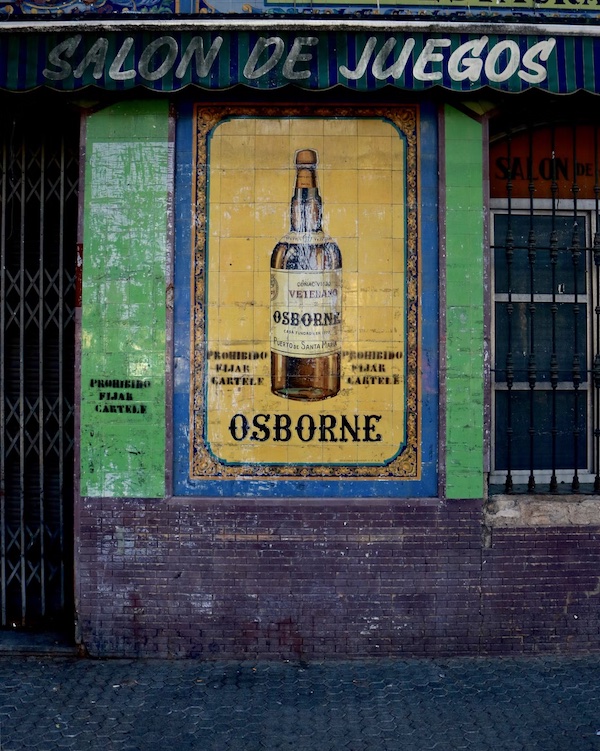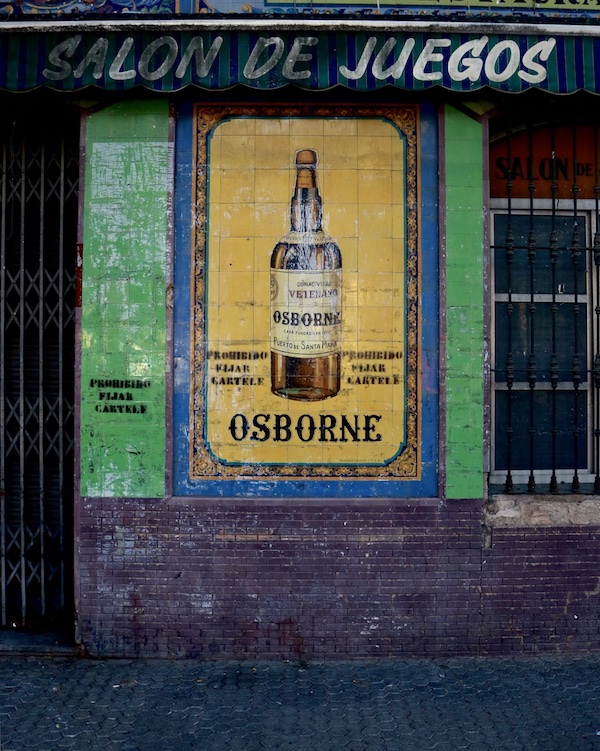 Alameda
Perfect for those who love the exciting nightlife, staying in Alameda will be anything but boring. Alameda is Seville's premier hipster destination, home to an abundance of concert halls and venues, cozy cafes, tapas bars, trendier bars, and an excellent restaurant scene.
Alameda is centered around a plaza that was formerly one of the oldest public gardens in Europe, featuring Roman columns and a Hercules statue. Today, the square is surrounded by clubs, bars, and international restaurants that attract LGBTQ and student communities.
While this area was formerly a less-desired destination, it has flipped in recent years, becoming Seville's hottest bohemian area. This neighborhood is also known as the birthplace of Andalusian rock music.
Known for international cuisine, Alameda offers an abundance of eateries. One of the best spots is Nikkei Bar, a fusion restaurant combining Spanish, Peruvian, and Asian cuisines for incredibly unique options.
For a more traditional experience, check out La Nina Bonita, which opened as a small food shop in 1931. Today, it serves tapas and wine.
Alameda is about a 20-30 minute walk from the center of Seville, so be aware that it may take some time to get to many of the main attractions. However, because this neighborhood isn't as central as other districts, you may be able to find some great discounts!
Best place to stay in Alameda
Hotel Casa 95. Address: 95 Alameda de Hércules, Old town, 41002 Seville, Spain.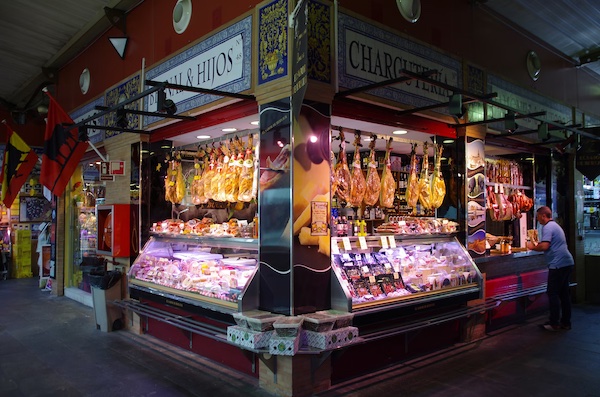 Triana & Los Remedios
Nicknamed the 'Independent Republic of Triana,' Triana is one of the most unique neighborhoods in Seville. This district's streets are incredibly charming, featuring 'cervezerias' (beer places), authentic restaurants, and traditional ceramic shops.
Triana is less popular with tourists but is home to a thriving community of musicians, dancers, and artists. This is the best place to stay if you want to experience Seville like a local.
One of the best areas of Triana is Calle Betis, featuring colorful homes, fantastic nightlife, and a riverfront view. Further into the neighborhood, you can find historic pottery and tile workshops, which you can still visit today, like Centro Ceramica Triana.
Los Remedios, located right next to Triana, is more of a modern residential neighborhood, one of Seville's most important commercial areas.
The streets are beautiful and expansive, and you'll find several green spaces, parks, boutiques, and contemporary buildings. One of the best places for some relaxation is Parque de Los Principes, home to a large lake.
Both Triana and Los Remedios are very close to El Arenal, and are only about 20-25 minutes to the main attractions in the heart of the city. Because this area is generally less crowded, offering more outdoor spaces, it is a great place to stay with kids.
Best place to stay in Triana & Los Remedios
Triana House. Address: Rodrigo de Triana, 94, Triana, 41010 Seville, Spain.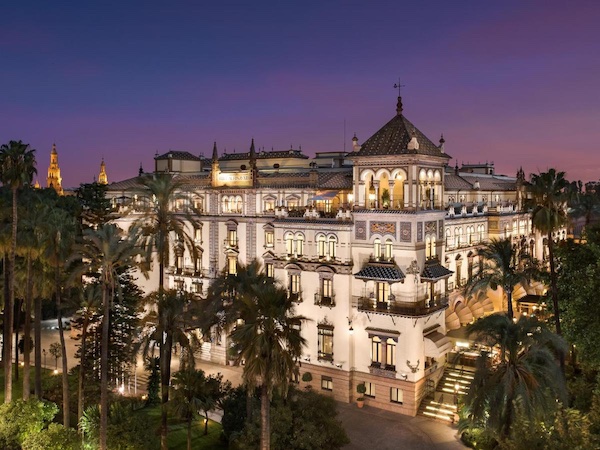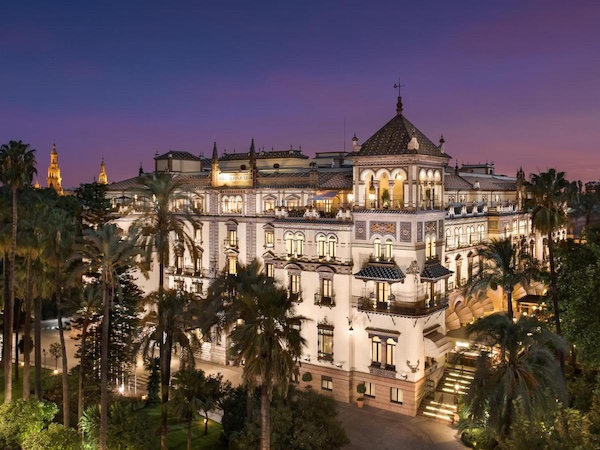 Where travel critics stay in Seville
Want to know where travel critics from publishers like The New York Times, Frommer's, Fodor's and Lonely Planet stay in Seville? Check out our overview of all recommended hotels and accommodations in Seville.
Budget
"A superb location, warm service, and quirky decorative features combine to winning effect at this charming, family-run hotel. Look out for white cast-iron pillars, bedsteads made from old doors and cobalt blue stained glass in the neo-Mudéjar windows." – Lonely Planet.
Address: Hernando Colón, 3, Old Town, 41004 Seville, Spain.
Mid-range
"With regular classical concerts, a music room off the central patio, and instruments for guests to use, including pianos in some of the soundproofed rooms, this 18th-century manor house is ideal for touring professional musicians and music fans in general." – Fodor's.
Address: Farnesio, 6, Old Town, 41004 Seville, Spain.
Luxury
"No question about it, this is the swankiest address in town. Hotel Alfonso XIII is a palace built for King Alfonso XIII of Spain to host important guests when Seville hosted its great exhibition in 1929." – Frommer's.
Address: San Fernando, 2, Old Town, 41004 Seville, Spain.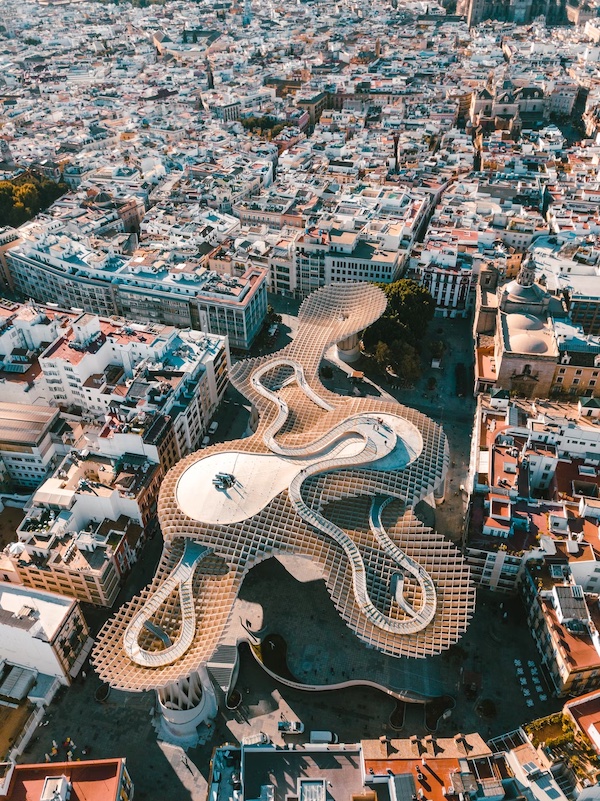 FAQ: Seville hotel tips
Looking for the best budget, boutique, or luxury hotel in Seville? Or maybe you're a backpacker looking for an excellent hostel? Want to know which Seville hotel serves a great breakfast? Here are the answers to all those and other questions about where to stay in Seville.
How much does a night in a hotel in Seville cost?
If you want to stay in a 3-star hotel in central Seville, you would be looking at an average price of $90 per night. For 4-star hotels, the average price is around $130 per night. For a 5-star hotel in central Seville, you'll have to spend around $230 per night.
What is the best affordable hotel in Seville?
If you're looking for an affordable hotel, then book Urban House Siurot 33. It's an excellent budget hotel offering great value for money. It's in a good location, it's been recommended by travel experts and the hotel has excellent customer reviews. You should also check out our list of the best cheap hotels in Seville.
What is the best boutique hotel in Seville?
You like some luxury but don't like the famous chain hotels. If you're looking for the best boutique hotel in Seville, you should check out Hotel Casa 1800. It's a very cool hotel that has been highly recommended by travelers and experts. For more cool hotels, check out our list of the best boutique hotels in Seville.
What is the best luxury hotel in Seville?
If money isn't a problem and you're looking for a luxury hotel in Seville, then go for Hotel Unuk. The hotel offers excellent service, it's in a top location, it has been rated very highly by previous guests and renowned travel critics have recommended it. For more 5-star hotels, check out our list of the best luxury hotels in Seville.
What is the best hostel in Seville?
Looking for a good and affordable private room or cozy dorm in Seville? Check out Hostel One Catedral. The hostel has been highly rated by backpackers. Also, check out our shortlist of the best hostels in Seville; it's based on thousands of reviews from backpackers.
Which Seville hotel serves great breakfast?
Let's start the day with some good food. Hotel Casa 1800 is an excellent option if you're looking for a Seville hotel offering a great breakfast. Recent guests have given great ratings for the breakfast service at this hotel.
Which Seville hotel is the best for couples?
Try Hotel Casa 1800 if you're looking for a romantic getaway in Seville; the hotel has excellent recent customer reviews by couples.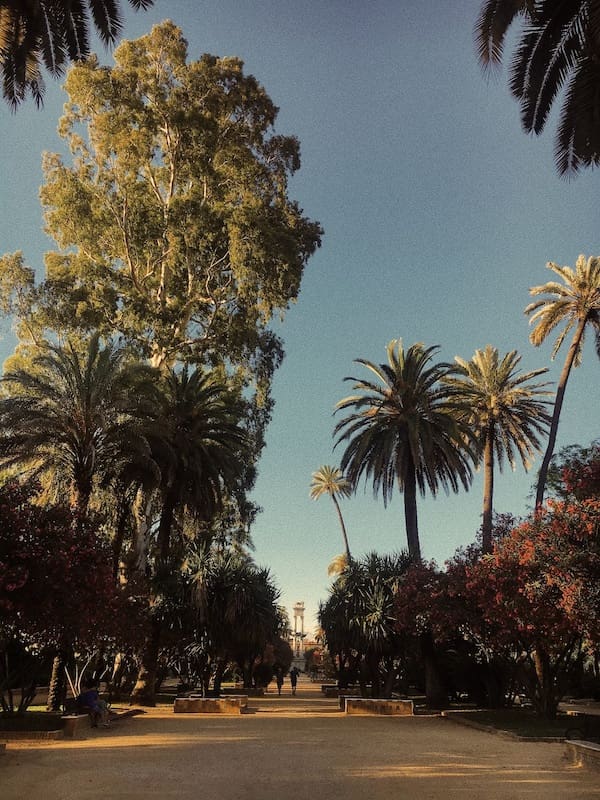 Best time to visit Seville
Spring is the best time to visit Seville due to comfortable temperatures that typically range from 15 to 25 degrees Celsius (59 – 77 °F).
This period also coincides with two of Seville's most anticipated festivals: Semana Santa (Holy Week), a deeply ingrained religious celebration marked by grand processions, and Feria de Abril, a week-long fair filled with traditional flamenco dancing, bullfighting, and other festivities.
These events offer an immersive experience of Seville's distinct cultural traditions.
Similarly, fall is another favorable season to visit Seville. The city's scorching summer heat subsides, paving the way for milder weather that's perfect for exploring the city's notable landmarks such as Plaza de España and the Alcazar of Seville.
The city is less crowded during this period, allowing visitors to enjoy a more relaxed and intimate experience.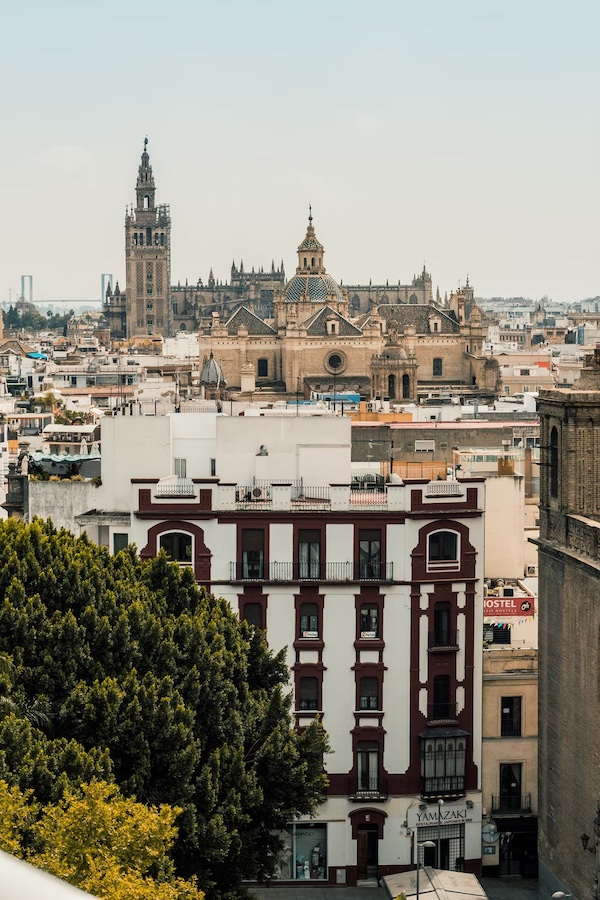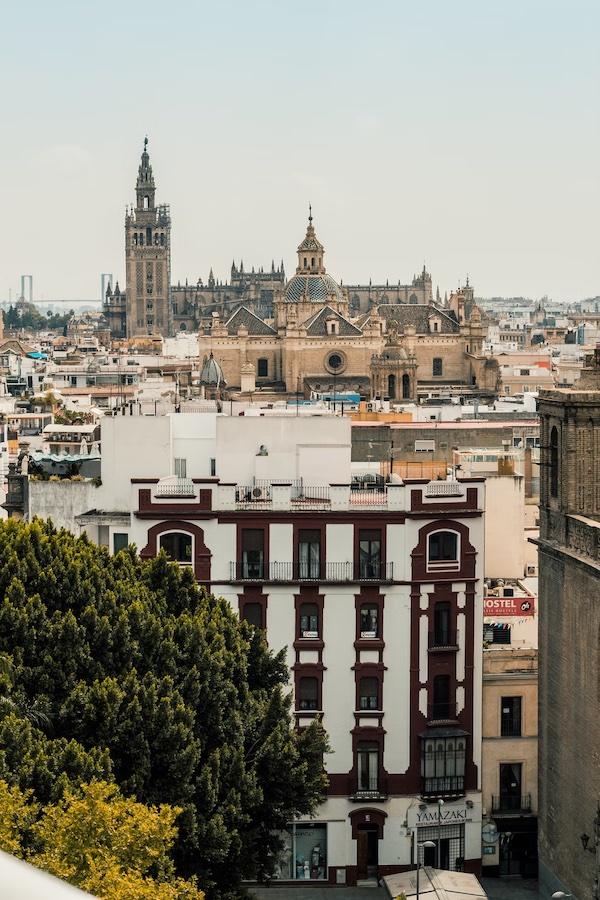 Best things to do in Seville
There are a lot of things to do in Seville and surrounding areas, including day trips, attractions, museums, sightseeing tours and many other activities. Here's our list of 3 things you should definitely do when you're in and around Seville.
Seville Cathedral and Giralda: Skip-the-Line Ticket
Skip the long lines to one of Seville's most popular monuments with a fast-track entry ticket to the impressive cathedral and bell tower of La Giralda. Upgrade to include an audio guide. Price: $16. More info.
Royal Alcázar Skip-the-Line Entry Ticket
Enjoy this skip-the-line ticket to the Royal Alcázar of Seville, a beautiful medieval palace that was declared a World Heritage Site in 1987. Price: $19. More info.
From Seville: Pueblos Blancos and Ronda Full-Day Trip
Travel through the ancient Andalusian kingdoms of Castille and Granada, while enjoying the natural beauty and learning about the region's history. Visit the white villages, the Grazalema forest and mountains, and the ancient town of Ronda. Price: $79. More info.
Deciding where to stay in Seville
Let's recap what we just learned in this article. We've covered the best areas of Seville above. Now you can decide where to stay while visiting!
Top 5 neighborhoods to stay in Seville
Centro
Arenal
Barrio Santa Cruz
Triana & Los Remedios
Alameda
As you have seen in this travel guide, there are a lot of things to explore, and deciding where to stay in Seville is important. Whether you stay in the Centro, Triana, Alameda, Santa Cruz or Arenal, all those neighborhoods are in good locations.
The atmosphere of the area, whether you travel for leisure or business, whether you travel with your family or friends, and proximity to the attractions you prefer to visit should probably be the deciding factors. Whatever your preference is, you'll have a great time in Seville.
More Seville tips
Check out our other articles about the best places to stay in Seville: