Abu Dhabi is United Arab Emirates' exciting capital and the country's second most populated city after Dubai. You can find this metropolis off the central west coast on an island in the Persian Gulf. Its spectacular skyline, stunning beaches, and fascinating cultural sights draw in worldwide visitors.
There's no absence of things to do in Abu Dhabi. Travelers interested in exploring its historical sights would love the Sheikh Zayed Grand Mosque and Qasr Al-Hosn. Thrill-seekers love Abu Dhabi's activity choices. The city has the world's fastest rollercoaster, catamarans, hot air balloons, and a racetrack.
The city also houses several exciting points of interest for visitors. If you want to see outstanding art collections and exhibitions, head to the Louvre Abu Dhabi. Don't forget to visit the dazzling Observation Deck at 300's for breathtaking views.
Travelers hoping to visit can stay in one of these five best luxury hotels in Abu Dhabi.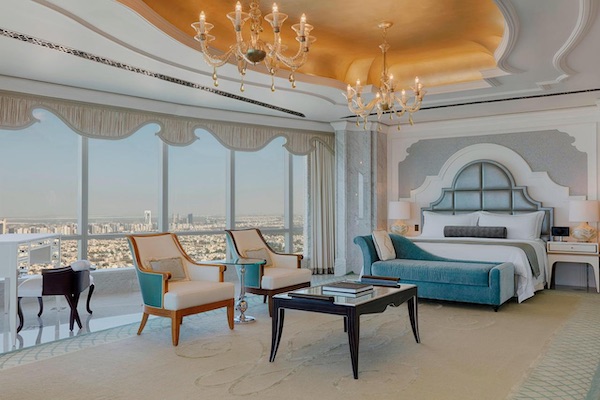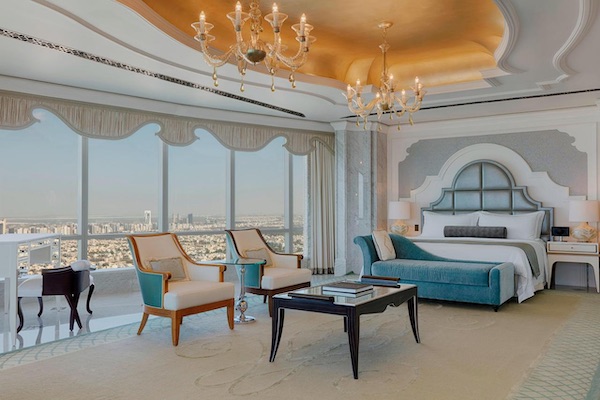 St. Regis Abu Dhabi
This hotel is a reminder not to judge a book by its cover. From the outside, its building looks stark. Step inside the building, and you'll find a palatial lobby full of glamour. Some of the city's best Arabian Sea views are visible from this remarkable property.
All rooms provide a luxurious experience for guests. Accommodations are bright, airy, and spacious. The property boasts numerous amenities to put visitors into relaxation mode. The Remede Spa offers massages, a hammam, a sauna, and a jacuzzi. If guests need more time to unwind, they can enjoy the private beach, outdoor pool, fitness center, and nine restaurants and bars.
Highlights at St. Regis are its outstanding service, a relaxing spa, and tasty buffet.
Hotel details
Address: 
Nation Towers, Corniche, P.O. Box 60476 Abu Dhabi, United Arab Emirates.
Guest rating:
4.7 out of 5
Price per night:
From $180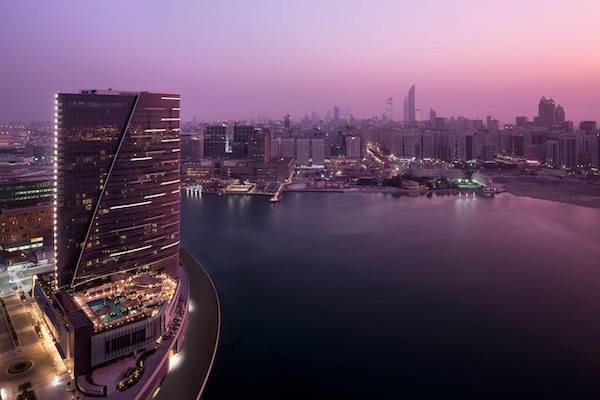 Rosewood Abu Dhabi
Rosewood is a luxury hotel experience that is suitable for the entire family. The sleek and modern property is right on the waterfront, offering outstanding views. Guests are met with a welcome drink as they arrive, immediately putting them at ease.
Each one of its 189 rooms and sweets is well-appointed and comfortable. However, you won't want to stay in your room the entire time. If you go out and explore, you'll find a spa, 24-hour fitness center, and swimming pool. Your little ones can enjoy the Rose Buds children's program. Food lovers won't be disappointed by the hotel's outstanding dining choices at its ten restaurants and bars.
Rosewood's best features include its delicious dining, attentive staff, and luxurious rooms.
Hotel details
Address: 
Al Maryah Island – 41184 , Al Maryah Island, 41184 Abu Dhabi, United Arab Emirates.
Guest rating:
4.6 out of 5
Price per night:
From $134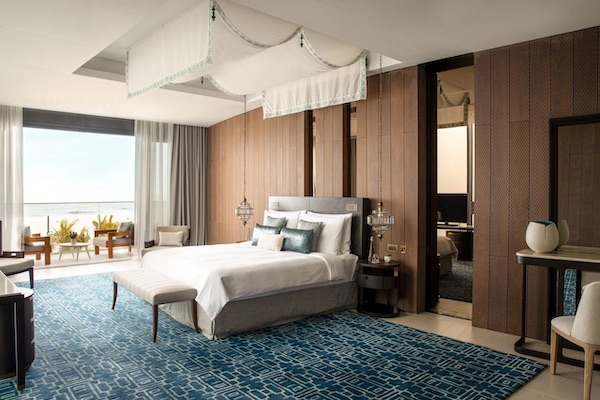 Jumeirah at Saadiyat Island Resort
Jumeirah at Saadiyat Island is a premier destination for eco-conscious travelers looking for a bit of responsible luxury. This beautifully designed resort sits on Saadiyat Island's best beach, just 10 minutes from the city center. Its views and seaside location are a draw for those who visit.
Throughout the hotel, you'll find a natural aesthetic that reflects the environment surrounding it. Spending time in one of their rooms will make you feel like you're at your summer home. However, a typical summer home doesn't come with perks like Jumeirah's. There is a spa, three infinity pools, a private beach, and fitness facilities. Guests can also spend time with dolphins and hawksbill turtles!
Guests loved this hotel's amenity selection, panoramic views, and private beach.
Hotel details
Address: 
Saadiyat Island East, Saadiyat Island, Abu Dhabi, United Arab Emirates.
Guest rating:
4.6 out of 5
Price per night:
From $210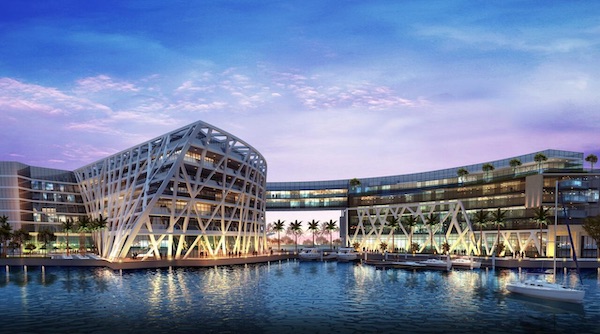 The Abu Dhabi Edition
Abu Dhabi Edition is cutting edge even for an ultra-modern city like Abu Dhabi. It has an ideal location within the Al Bateen Marina district. The hotel is a relaxing retreat that is still close to everything Abu Dhabi has to offer.
Rooms at this hotel are minimalistic and peaceful. It has a very bright and airy design with a neutral color palette, which complements the ocean views. Like many hotels in the area, the Abu Dhabi Edition also offers superb massage, hammam, sauna, and jacuzzi experiences. If you want to play some golf, there is a course nearby. The hotel has a Mediterranean restaurant and steakhouse onsite.
Visitors enjoyed Abu Dhabi Edition's interior design, friendly staff, and tasty brunch.
Hotel details
Address: 
Al Bateen Marina, Abu Dhabi, United Arab Emirates.
Guest rating:
4.6 out of 5
Price per night:
From $160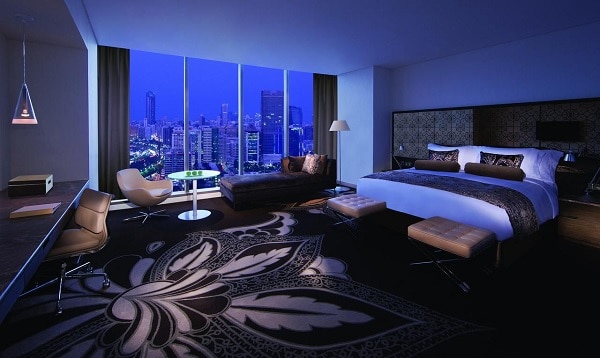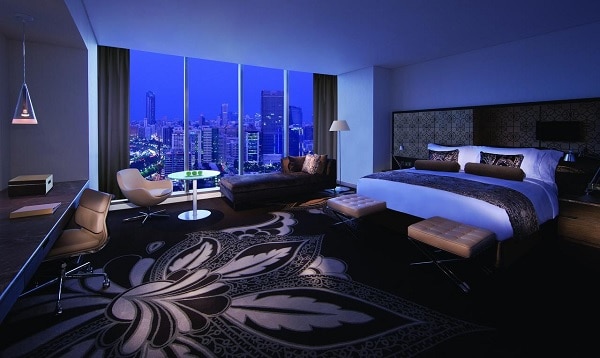 Jumeirah at Etihad Towers
This hotel is another one of the Jumeirah hotel group's shining jewels. The Jumeirah at The Etihad Towers hotel is massive, occupying five glistening skyscrapers on Corniche Beach. Travelers are consistently impressed by this high-tech getaway that soars into the sky.
A perk of its five-tower setting is that there is plenty of space to play around with here. Rooms are massive, and all have jaw-dropping views from its floor-to-ceiling windows. If you want the ultimate extravagant experience, you can rent the Royal Etihad suite that occupies the entire 60th floor. The property provides endless entertainment because it is a self-contained city, with 30 retailers and twelve restaurants and bars to explore.
Jumeirah's best features are its overall atmosphere, superb decoration, and plentiful shopping opportunities.
Hotel details
Address: 
Corniche Road, Abu Dhabi, United Arab Emirates.
Guest rating:
4.6 out of 5
Price per night:
From $185
About our luxury hotel recommendations in Abu Dhabi
We are a travel research company. Our team helps you discover the best luxury hotels in Abu Dhabi by researching the internet for you. We have also visited some of these places. Hence, it's not just our opinion, it's the opinion of many travelers who have been there before you. We make it easy for you to find out about the most luxurious and exclusive 5-star hotels in the city.
Please note, we only list hotels that have an aggregated guest review rating of at least 4.0 out of 5. We aggregate all reviews from different booking sites and other unbiased review websites. Hence, you can be certain all hotels listed above offer you a great stay in Abu Dhabi.
Best price guarantee
We have partnered with Booking.com and Hotels.com to offer the best price for your stay in Abu Dhabi! Both sites offer price matching, so you can be sure that you are getting the cheapest rates possible for a luxury hotel in Abu Dhabi. If you find an even lower rate on another site at least 24 hours before check-in, contact them to claim a refund of the difference!
Top 5 luxury hotels in Abu Dhabi
Having read this guide, now let's summarize what we learned. We found the best 5-star hotels in Abu Dhabi thanks to reviews and tips from thousands of guests and travel experts:
More Abu Dhabi recommendations
We hope you enjoy the advice we've given to you above. If so, be sure to check out some of our other articles about Abu Dhabi:
Best things to do in Abu Dhabi
Best boutique hotels in Abu Dhabi