With the world becoming more conscious of the growing pollution problem and taking efforts to do their bit, tourists believe traveling sustainably is vital. With sustainable and eco-friendly hotels popping up at every other corner, the dream is closer to realization.
If you, too, are a conscious traveler planning a trip, here are reasons why you must visit Glasgow and 5 sustainable hotels.
Why Visit Glasgow
The largest city in Scotland must be at the top of your list of must-visit places for several reasons. The city has topped the charts and gained many titles, like "UNESCO City of Music," "UK City of Architecture and Design," and "the European Capital of Culture."
Glasgow also secured the number one spot in the Cultural and Creative Cities Monitor for Europe's top destination. It is a true cultural hotspot with world-class museums and other attractions, many of which are free to explore.
The city lives up to its musical expectations and has established artists as well as emerging musicians. Glasgow has a legendary music scene with live music events, music festivals, and restaurants and bars playing live music.
If you harbor a love for architecture and history, Glasgow's historic haunts and neo-Gothic and Gothic structures will impress you. Plus, there is the ever-evolving food scene. With great restaurants and mouth-watering street foods, the food scene is unrivaled. Also, if you feel homesick, the restaurants offer many cuisines from all over the world. So, if you are a foodie, enjoy world-famous dishes with a Scottish twist.
But the most amazing part of touring Glasgow is the friendliness you receive from the locals. Glaswegians are recognized for their funny and friendly side that always makes you feel welcome. The helpful tour guides, taxi drivers, store owners, and bartenders will always be around with a smile to lend a hand.
And if you want a dose of laughter, you can attend the Glasgow International Comedy Festival.
Kimpton Blythswood Square Hotel
Kimpton is located in the center of Glasgow, Blythswood square. It is a prime location, just a short walk from Sauchiehall Street. The hotel is just behind one of the four listed facades at St. Vincent Street, facing the square.
This part of the city has a Georgian charm and a gorgeous green space. The hotel is an 1823 renovated structure that was once the Royal Scottish Automobile Club. So, once you step into the building, you become a part of history spanning two centuries. The renovation is beautifully done, preserving the Georgian character and adding modern innovations that blend smoothly.
The hotel has recently observed some more alterations as well. It now has renovated rooms, reimagined spa (a wellness area and a unique snowfall feature), and additions like a winter spa garden.
All the rooms are beautifully decorated, and the plush bedding and spacious and well-lit space make them inviting, comfortable, and relaxing. There are also three extravagant signature suites for people who enjoy luxury.
All bedrooms have an mp3 system, digital TV, and beautifully furnished marble bathrooms. Every room has bathrobes, and the curtains and upholstery have Scottish touches. Plus there is a bar, restaurant, and salon where you can enjoy food and drinks or just appreciate the elegance.
What makes Blythswood Square Hotel sustainable?
Kimpton is the only hotel in the city with AA accreditation, easily taking the top spot for the best hotel in Glasgow. The 5-star hotel is taking steps toward more sustainable living.
It stocks eco-friendly soap, shampoo, and cleaning products. The hotel also uses energy-efficient lighting, provides the option to reuse towels and linens, and does not have single-use plastic straws and toiletries.
It uses fresh fruits and vegetables sourced from local farms and reduces and composts food waste. Kimpton also helps the local community by purchasing from local businesses, hiring locally, and providing volunteer opportunities for guests and staff. It also trains its staff in local culture, heritage, and sustainability practices.
Hotel details
Address: 
11 Blythswood Square, Glasgow, G2 4AD, United Kingdom.
Guest rating:
4.4 out of 5
Price per night:
From $155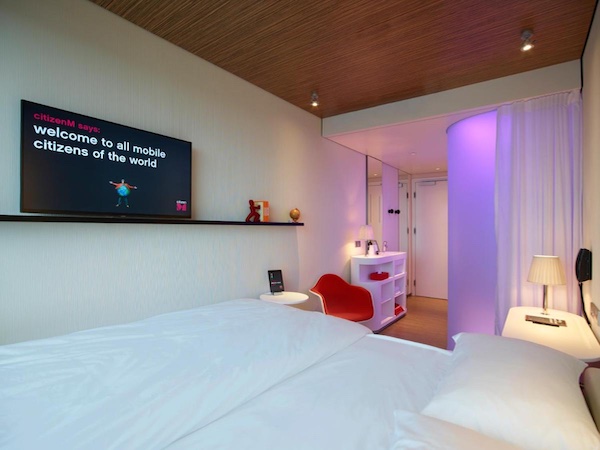 CitizenM Glasgow
The CitizenM Hotel is located in the heart of Glasgow, 400 meters from the Royal Concert Hall. It is an ideal location for both business and pleasure. The location offers easy access to subway and train stations, Buchanan Street shopping, and the Buchanan bus station.
It is a small chain, the first of which started in Amsterdam. From the outside, the hotel looks like a black box with a chic and sleek look. And once inside, you will be hit by how cool, fun, and breezy the vibe is.
The 21st-century design of the spacious lobby is artsy, and the spiral staircase leads to another inviting and relaxing open space. The spaces have an abundance of natural light and a cheerful layout.
The public spaces are the main highlights of the hotel. The canteenM has 24/7 service where you can enjoy delicious food, coffee, beer, cocktails, and more. Then there is a fitness facility and a screening room for your health and entertainment needs.
The rooms are inviting and comfortable, with simple modern and minimalist finishes. But the rooms are quite tiny, with an area of 150 square feet, and very little walking space left around the king-sized bed.
Like other open spaces in the building, there is plenty of natural light due to big wall-to-wall windows. All the rooms have flat-screen TV sets, so you can control what you stream through bedside mini-iPads.
What makes citizenM Glasgow sustainable?
CitizenM has taken steps towards environment-friendly and sustainable travel. It has taken steps to reduce and treat waste, reduce water wastage, save electricity, and more. It has made sure the local community benefits from them by investing a percentage of its revenue in sustainability and community projects. They offer tours and guides to promote local artists, craftsmen, and other local shops and businesses.
Hotel details
Address: 
60 Renfrew Street, Glasgow, G2 3BW, United Kingdom.
Guest rating:
4.3 out of 5
Price per night:
From $88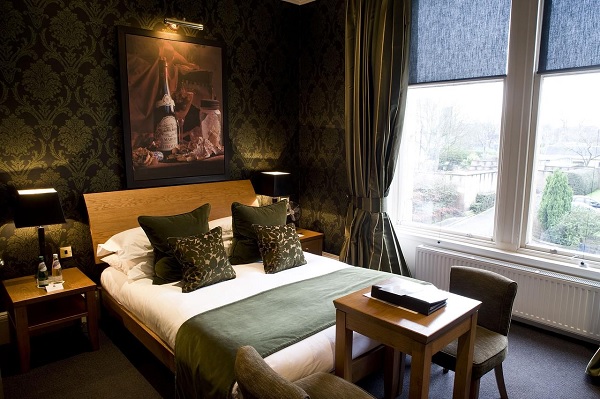 Hotel Du Vin At One Devonshire Gardens
This small luxury building has converted a row of Victorian townhouses into a beautiful hotel. It resides on the tree-lined streets and has easy access to car parking but is a 15-minute drive from the city center, and there is not much within walking distance.
The luxurious hotel has many repeat celebrities, and the charm seems to lie in the simplicity and maturity that many hip hotels lack. Hotel du Vin does not have a flashy design, but the period features that are maintained to this day impart an air of elegance, sophistication, and class.
The property maintains the old times' charm with old mosaics, wood paneling, crown molding, stained-glass windows, antique furnishings, vintage wallpaper, and more.
While the bay windows and high ceilings help retain the originality of the rooms, other amenities like minibars, iPod docs, and espresso machines have been added. Among the best features of the rooms are the vintage-style bathrooms with rainfall showers and roll-top tubs.
Suites take luxury to another level with four-poster beds, jetted tubs, saunas, and more. Belonging to the Hotel du Vin chains, the focus is on dining with amazing food and drinks. It has a bistro where you can enjoy a variety of food options throughout the day, including the seven-course tasting menus.
It also has a great and long list of wines from a wide range of labels, as well as a whiskey bar with a huge selection.
What makes Hotel du Vin sustainable?
The hotel has received green tourism certification for its travel sustainability measures. The hotel has taken precautions to save water by allowing you to reuse towels and opt out of daily room cleaning.
Hotel details
Address: 
1 Devonshire Gardens, Glasgow G12 0UX, Scotland.
Guest rating:
4.5 out of 5
Price per night:
From $139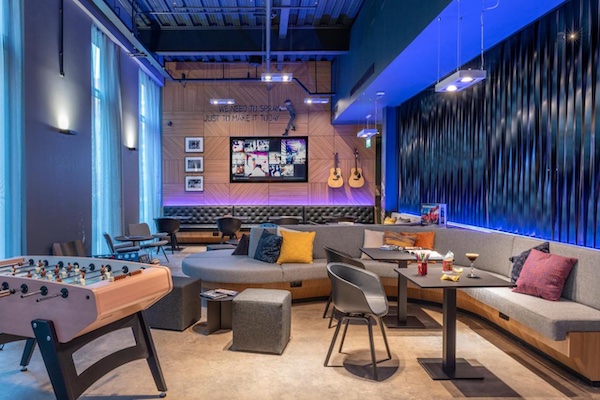 Moxy Glasgow Merchant City
The Moxy Hotel is located on the high street, very close to the city center. It is a short distance from George Square and only 600 meters away from Glasgow Cathedral. It is the closest hotel to the Emirates Arena, so whether you want to attend a concert at the Royal Concert Hall or a football game at Celtic Park, the thrills are at your fingertips. The hotel is in a prime location where many must-see sites are a short walk away.
The Queen Street station is not even 1 km away, and a 15-minute walk from the main property takes you to the central station. If you travel by air, Glasgow airport is 13 kilometers away.
The 5-story hotel building is sleek and stylish with a shiny white exterior. The hotel exudes "cool" vibes even before you step foot in the foyer. The reception desk doubles as a bar, and you receive complimentary cocktails as you register yourself.
The interior is very modern with a funky and artsy look. The lounge area has a cool and soothing ambience where you can enjoy drinks while getting some work done on your laptop. The hotel offers light bites but does not have a restaurant. However, it is not that big of a deal as there are endless dining options just outside the hotel.
All the rooms are super comfortable, spacious, and inviting. Along with the regular TV and internet access, rooms also have coffee makers so you can brew your own cup when you wake up.
What makes Moxy Glasgow sustainable?
LEED has certified the property for its travel sustenance measures. It has taken numerous steps to provide environmentally friendly travel. The hotel makes sure there is a minimum waste by restricting single-use plastic for straws, plates, and stirrers and even recycling waste.
Water and electricity are also conserved with high-efficiency measures. The hotel supports the local community by offering them a platform to display their talents.
Hotel details
Address: 
210 High Street, Glasgow, G4 0QW, United Kingdom.
Guest rating:
4.3 out of 5
Price per night:
From $80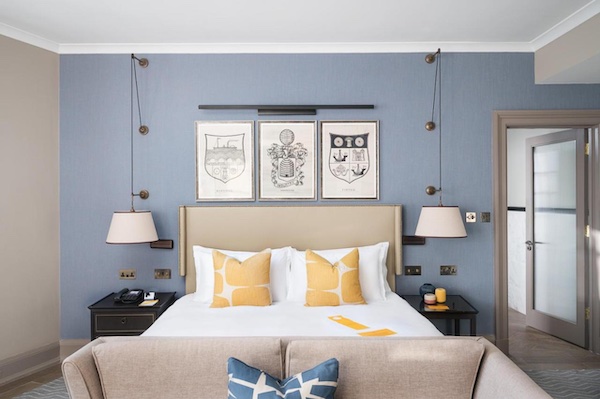 Voco Grand Central
You cannot get a much better location than the Voco Grand Central, as it is attached to the Glasgow central station. And the subway is nearby too, so all the attractions, markets, and other places are just minutes away.
The building has a vintage feel with its 19th-century architecture but also has modern touches. And even though it is part of a train station, once inside, you will appreciate the serenity and soothing environment.
The rooms are comfortable, and the recent redecoration in 2010 has modernized them with smart styling. The hotel is distinguished by plush patterned fabrics and contemporary dark wood furnishings.
All the rooms let in plenty of natural light and have high ceilings. They are spacious and comfy, with all the amenities one could need. Also, new room additions are more modernized and have marble-finished bathrooms.
The public spaces have wood paneling, chandeliers, and high ceilings, which give the place a Victorian charm. The bar is a relaxing place to spend some time and enjoy delicious drinks. It also has tea and other menu items to choose from.
What makes Voco Gran Central sustainable?
The hotel also offers space for occasions, events, meetings, private dining, and more. It has received IHG Green Engage due to its sustainability program.
They reduce their food waste and recycle waste. The hotel avoids single-use plastics, like shampoo and conditioner bottles, straws, stirrers, and beverage bottles, at all costs.
They invest a percentage of their revenue back into sustainability and community projects. Furthermore, they offer local artists opportunities to grow.
Hotel details
Address: 
99 Gordon Street, Glasgow, G1 3SF, United Kingdom.
Guest rating:
4.3 out of 5
Price per night:
From $95
How we select the best eco-friendly hotels in Glasgow
We are a travel research company. We check a lot of details and guest reviews before making a selection. First, we check which hotels follow eco-travel principles. Are they recycling their waste? Do they work with local communities? Are they using renewable energy? Are they not using single-using plastics?
Secondly, we check guest reviews across multiple websites and only list hotels with an aggregated review rating of at least 4 out of 5. So you can be confident you will stay at an eco-friendly hotel in Glasgow.
More and more people recognize the importance of sustainable travel. Not only is it better for the environment and our planet, but it also often leads to more meaningful experiences. If you're interested in learning more about eco-tourism, here are some eco-friendly travel tips to get you started.
More Glasgow recommendations
Get to know the city even better by reading our other articles about Glasgow: