Geneva is without a doubt one of the most beautiful cities to visit in all of Switzerland. The city of Geneva is surrounded by a breathtaking mountain backdrop and is better known as the city of parks.
Besides its architectural charm, Switzerland's second-largest city is also known for its new, trendy vibe that invites tourists and locals alike to explore the captivating city. So, what are some activities and destinations that Geneva has to offer? This European city boasts stunning scenery and rich cultural heritage. A few top things to explore while in Geneva include:
— Taking in the scenery with a helicopter ride over Geneva
— Immerse yourself in the watchmaking culture
— Take a bike ride through the many vineyards Geneva has to offer
— Explore Old Town: in fact, while you're in Old Town, be sure to also visit the Tower of Saint Pierre Cathedral
— Visit the Red Cross Museum
— Don't forget to marvel at the Reformation Wall which is located just inside the Parc des Bastions, a botanical garden that can be found directly in the center of Geneva
These are only a few destinations in Geneva. This beautiful and historically rich city has so much to offer, one cannot simply appreciate all of its beauty in just one day.
If you want to truly immerse yourself in the city for a few nights, you will need a place to stay. Geneva is one of the most expensive cities in Europe, but luckily there are some excellent hostels as well. Here are the 3 best hostels.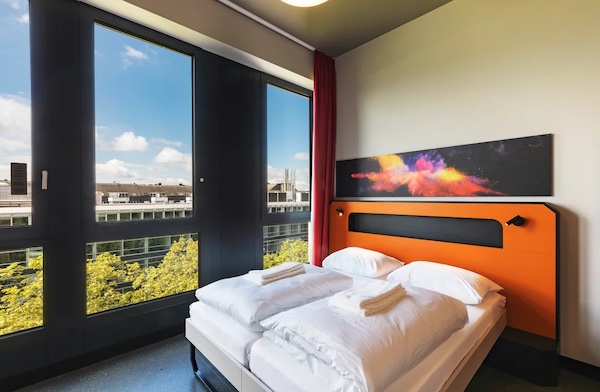 Meininger Geneve Centre Charmilles
First up on the list we have the Meininger Geneve Centre Charmilles. This one is not exactly a hostel, but we still recommend this stay for your next trip to Geneva. If you are looking for a comfortable base while exploring the historical city of Geneva, consider booking your stay at this place.
This hotel is located in the Charmilles district on the right bank of the Rhône river. It is very much connected with the downtown area, permitting visits to the must-see destinations very efficiently and rapidly. When in Geneva, you will definitely want to visit Lake Geneva, Jardin Botanique, Jet d'Eau and Palais des Nation, which is perfect considering these are located close to the hotel. There are also plenty of bars, eateries, boutiques and local markets that can be found close to the lodging, in the enchanting neighborhood of Charmilles. This is the perfect place to lodge with so much to see and do nearby.
Additionally, as with all Meininger hotels, it provides modern facilities to make sure your stay is perfect. Guests enjoy 24-hour reception, free WiFi, a washing machine, dryer, luggage storage, and lockers, in addition to spacious rooms. Other public areas include the bar, guest kitchen and game zone, where you can relax and socialize.
Hostel details
Address:
118 rue de Lyon, Geneva, Switzerland.
Guest rating:
4.6 out of 5.
Price per night:
from $24.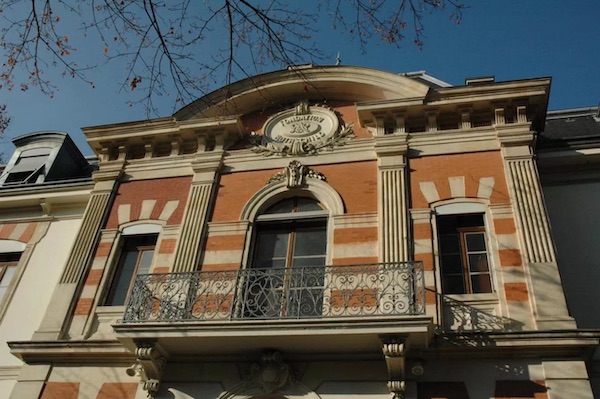 Geneva Hostel
Next on our list is the highly-rated Geneva Hostel. Known for its fantastic location, friendly staff, and clean accommodations, this hostel is worth checking out. You will find the Geneva Hostel conveniently located in the midst of a variety of different 5-star hotels and very close to Mont Blanc as well as Lake Geneva, meaning you will have the best views in town.
If you are considering staying at the Geneva Hostel, it is also worth mentioning that it is best set up for larger groups. The Geneva Hostel is, therefore, a great option if you are traveling with a few friends or if you just want to socialize. To top it all off, breakfast is also included at this budget-friendly establishment!
Geneva Hostel has consistently ranked among the highest-rated hostels in all of Geneva, so it is certainly understandable why it is so highly rated. So what do the rooms look like inside? You have the option to choose between either a single, twin or triple private room.
There is also a separation of female and male dorms as well as an optional quad room with its own private bathroom. Typically, the dorms come with a range of 3-8 or 3-12 beds which you are free to choose from depending on how social you're feeling during this vacation.
Hostel details
Address:
Rue Rothschild, 28-30, Paquis, 1202 Geneva, Switzerland.
Guest rating:
4.4 out of 5.
Price per night:
from $30.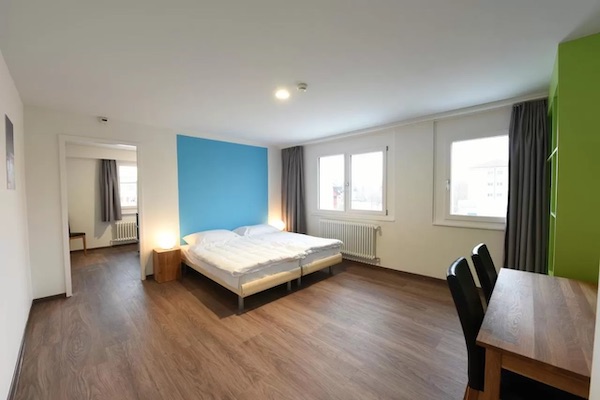 Nyon Hostel
Last on our list is the Nyon Hostel. The hostel is located in Nyon, a town north of Geneva on the borders of Lac Leman. It will only take you roughly 15 minutes to get to the city if you're driving.
This hostel is definitely the most minimalist on our list, as it does not have its own organized events for the guests who are visiting. In addition to this, the overall design of the hostel itself has a very minimalist tone with a modern twist, which makes it especially great for those who are searching for this type of vibe. The Nyon Hostel also understands that most of your time will be spent traveling or on the go, therefore, they have a fantastic coffee machine set up for you to enjoy as you prepare for your next adventure in the morning.
Furthermore, the hostel also offers free breakfast as well as discounted rates for a few of the nearby museums. They certainly have your back! Now, what does the inside of this hostel look like? There is no shortage of accommodations at this Nyon Hostel with your choice of a double room with a balcony, a standard family room for up to 8 people, a private suite with a balcony, an economy quadruple room, and the male and female dorms with six beds each. The common areas will have a TV, a kitchen and a beautiful terrace garden.
Hostel details
Address:
Chemin des Plantaz 47, 1260 Nyon, Switzerland.
Guest rating:
4.5 out of 5.
Price per night:
from $25.
Now that you are more familiar with the best places to stay in Geneva, are you ready to book your next trip? With so much to see and do, you may never want to leave!
About our Geneva hostel recommendations
Are you a solo traveler looking for a private room? Or a backpacker traveling around in a group wanting to stay in a cheap and cozy dorm? Above you will find the best hostels in Geneva for all your needs.
Please note, we only list hostels that have an aggregated guest review rating of at least 4.0 out of 5. We aggregate all reviews from different booking sites and other unbiased review websites. Hence, you can be certain all hostels listed above offer an excellent value-for-money stay in Geneva.
Best price guarantee
For our hostel recommendations, we work together with Hostelworld and Booking. These partnerships don't have any influence on the recommendations we make or on the order in which our recommended hostels are listed. The reasons why we have chosen to partner with these companies is that they're trustworthy, offer excellent service and they both apply the best price guarantee. This means you can claim a refund for the difference if you find your reservation cheaper on another website. It has to be for the same property, accommodation type, dates, cancellation policy and conditions, otherwise, you can't claim the refund for the difference. If you book through Booking.com then all you need to do is contact them at least 24 hours before your check-in date. If you book through Hostelworld you must claim the refund within 24 hours after you made the booking.
Top 3 hostels in Geneva
To summarize again, based on thousands of guest reviews, these are the best hostels in Geneva:
Why you should be careful when booking the cheapest hostel available
The cheapest hostels available are typically not in a great location. If you want to go sightseeing or go for a night out in central Geneva, you probably end up having to pay for public transport or a taxi to get there. So your stay could end up being more expensive compared to a stay in a central location. For first-time travelers, we recommend staying central anyway, but also for frequent visitors, it's probably worth it to pay a bit more to stay in a central location.
Another reason why you shouldn't stay at the cheapest hostel is that the people staying at the cheapest hostels are often not the people that can afford to travel like you. Because a very cheap hostel is often cheaper than renting a flat, these places tend to attract migrant workers or local misfits. That's probably not the crowd you want to hang out with, especially if you're a solo traveler looking for friends.
The third reason why you should avoid the cheapest hostels is safety. Some of the cheapest hostels don't check IDs, don't ask for signatures, or only accept cash at check-in. The hostel won't know who is actually staying there.
Lastly, the service at these hostels isn't great. For instance, if you choose to store your luggage, your bags will be unattended in a public space. It won't be recorded anywhere or tagged and stored in a locked room.
So, it's probably worth it to spend a bit more on your hostel stay in Geneva.
And finally, a tip: always read the latest reviews of the hostel! All places have good and bad reviews, but the most recent reviews matter the most.
More Geneva tips
Check out our other articles about Geneva: