Geneva isn't typically thought of as one of Europe's premier travel destinations. It is a diplomatic hub and is often considered a sterile city to visit. But Geneva's reputation as sterile is not its true reality, however.
Once you scratch the surface of Geneva, you will find a city beaming with history, great restaurants and luxury accommodation. Geneva's tourist attractions are breathtaking and one of a kind. You won't find the same sites in another European city.
Geneva may not be the first city on your European list of must-visits list, but these five areas are the perfect reason to book a vacation today. Geneva might just surprise you.

Old Town
Old Town gives you the chance to stay in a luxury hotel in the heart of the historical part of the city. Geneva's Old Town dates back more than 2,000 years and much of its amazing history can be seen in the neighborhood's architecture. Maison Tavel is situated in Old Town and it is the oldest house in Geneva. It is certainly worth a visit to see how people lived long ago. Geneva has one of Europe's largest old town areas. You can spend an entire day in the area exploring the historic district.
Not only can you find the oldest house in Geneva in the area, but the oldest square in the city as well. The Place du Bourg de Four is a great spot to sit around sipping coffee or dining on a meal from a local cafe.
The Old Town can be visited all year-round. Each season offers its own great backdrop to a visit. The neighborhood is also home to Roman ruins. The Geneva Music Festival takes place every June and is the chance to hear awesome jams and party in the streets.
If it is your first time in Geneva, don't miss out on a stay in the Old Town at one of its five-star hotels. Conversely, there are some unique Airbnb properties in the area.
Best place to stay in Old Town
Hotel Les Armures. Address: Rue Otto Barban, 1204 Geneva, Switzerland.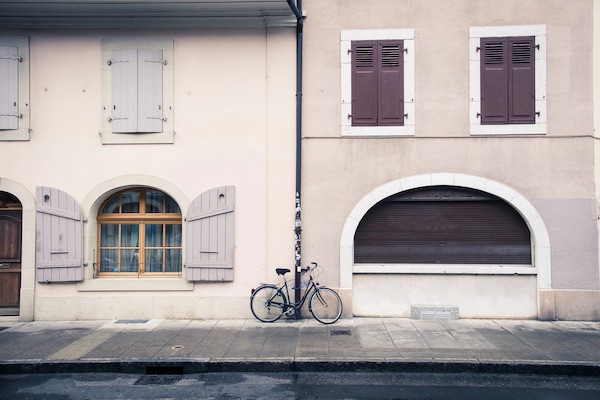 Carouge
Situated outside of Geneva's center is Carouge, the alternative neighborhood of the Swiss city. Carouge is the hip, trendy place to stay on a visit to Geneva. You can certainly find cool accommodation in Carouge along with vibrant nights out.
Carouge is young and vibrant thanks to its art galleries, clothing boutiques, and cafes. Nights out in Carouge are top-notch. You will find nightclubs of various sizes along with trendy bars. Carouge has a much different atmosphere compared to other parts of Geneva. Why? Carouge was its own small-town before Geneva grew into it.
In 2020, the Musee de Carouge reopened after undergoing a makeover. The museum traces the history of the town. Of course, the reason most tourists visit Carouge is the vibe. Its cafes are Swiss cool. There is a pub on nearly every corner now. You can sample locally produced beers and wines in many of these establishments.
Best place to stay in Carouge
Hotel Ramada Encore by Wyndham. Address: 10-12 route des jeunes, 1212 Geneva, Switzerland.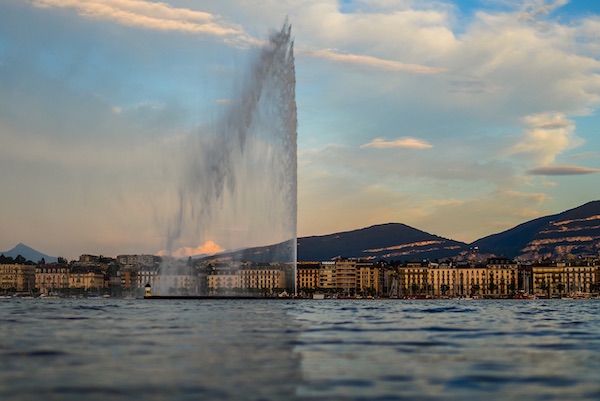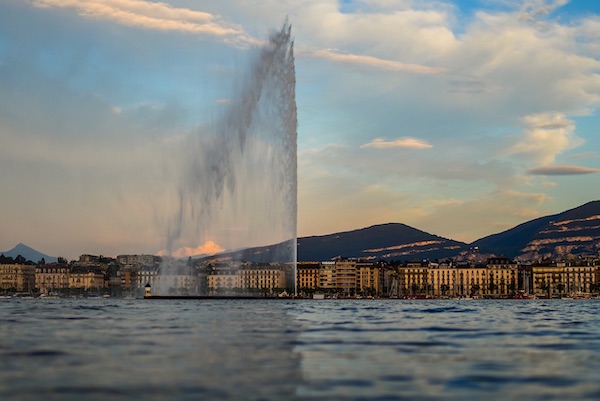 Eaux Vives
You will find Geneva's largest green space in Eaux Vives. The Parc de la Grange is a great place to spend an afternoon dining on a picnic lunch. It is also perfect for tourists needing a morning jog to sweat off their nights out in the city.
Situated next to Geneva's Old Town neighborhood, you will find the city's famous water fountain. The Jet d'Eau is one of the most popular tourist attractions in all of Geneva. It shoots water into the air 460ft (140m). You can see it all over Geneva and low-flying aircraft can also see it when going over the city. The Jet d'Eau is located on Lake Geneva and is just one of the reasons to visit the waterfront.
Eaux Vives has an old feel to it. The architecture and atmosphere will make you think of the early 1900s. The neighborhood is home to vintage shops with great souvenirs to take home with you.
Best place to stay in Eaux Vives
Hôtel Résidence Parc des Eaux Vives. Address: 82, Quai Gustave Ador, Eaux-Vives, 1211 Geneva, Switzerland.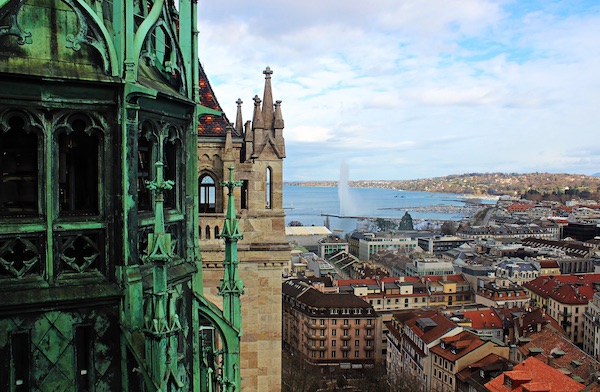 Plainpalais
If you want a fun night out, then head down to Plainpalais. It is the university area of Geneva and is full of life. Geneva, like much of Switzerland, isn't a cheap city to visit. But Plainpalais is considered a budget-friendly part of Geneva.
Rue de l'Ecole de Médecine is where much of the nighttime excitement can be found. You will find an assortment of young and old, local and foreign in the bars and restaurants on the street. Plaine de Plainpalais is a square located within the neighborhood. It hosts a circus during the year and weekly flea markets.
The vintage vibe of Plainpalais isn't just found at the area's flea market. You can sit at a 1930s era cafe for a hot coffee on a cold day.
Best place to stay in Plainpalais
La Cour Des Augustins Boutique Hotel. Address: Rue Jean-Violette 15, 1205 Genève, Switzerland.

Paquis
Although you can find budget-friendly accommodation and nights out in Plainpalais since it is the student area of Geneva, Paquis is considered the neighborhood for financially conscious travelers. The diverse area of Geneva is situated near the main train station. This allows you to base a stay on Paquis before heading out on day trips outside of Geneva.
Paquis is not known as a family-friendly area as it is the long-time red-light district. It isn't necessarily a place you want to take your kids during the day or night. However, solo travelers and/or couples may fancy a stay in Paquis due to the lower prices for accommodation.
You can experience a spa day or two while staying in Paquis. Geneva is known for its number of great spas. The Bains des Paquis is not one of the city's most luxurious, but it is one of the best to visit for other reasons. The 1930s era swimming baths are located on Lake Geneva. You can go year-round no matter the temperature to enjoy the sauna, pools, or a nice Swiss massage.
The area is a multicultural part of the city. Its multicultural nature is reflected all around the neighborhood. The area is known as the "District of a Thousand Flavors" and it is certainly easy to see why on an excursion.
Best place to stay in Paquis
Hotel d'Angleterre. Address: Quai du Mont-Blanc 17, 1201 Genève, Switzerland.
Cheaper alternative:
Hotel D Geneva. Address: 16 Rue de Fribourg, Paquis, 1201 Geneva, Switzerland.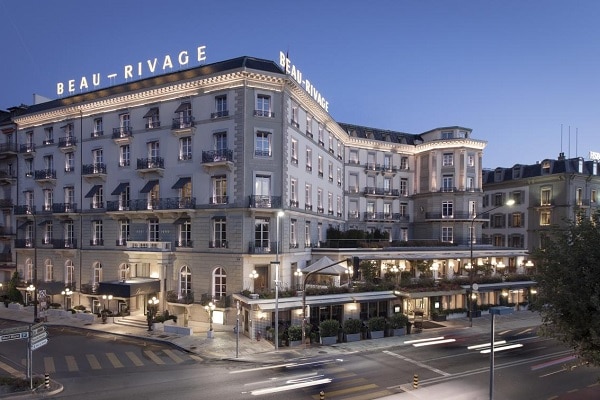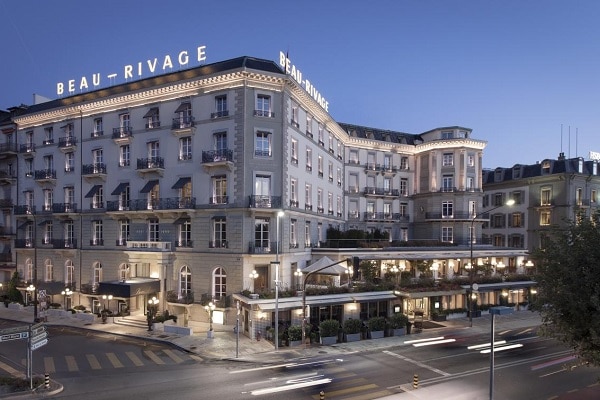 Where travel critics stay in Geneva
Want to know where travel critics from publishers like The New York Times, Frommer's, Fodor's and Lonely Planet stay in Amsterdam? Check out our overview of all recommended hotels, hostels and B&Bs in Geneva.
Budget
"For something different, this low-cost option operated by Geneva's hotel-management school offers excellent value. Service levels are exceptional and the spacious rooms, studios and fully-fledged apartments are modern and spotlessly clean." — Lonely Planet.
Address: Route des Acacias 4, 1227 Genève, Switzerland.
Mid-range
"If you'd like to brush shoulders with some international pooh-bahs, then book a room at the InterContinental, Geneva's go-to spot for high-level peace talks and news conferences." — New York Times.
Address: 7 – 9 Chemin du Petit Saconnex, Petit-Saconnex / Servette, 1209 Geneva, Switzerland.
Luxury
"Nestled on the shores of Lac Léman, this contemporary resort in a residential suburb resembles a grand African lodge. Spacious rooms, most with a balcony or patio, are dressed in warm browns with punches of vibrant reds and purples." — Fodor's.
Address: Route de Lausanne 301, 1293 Bellevue, Switzerland.
FAQ: Geneva hotel recommendations
If you're looking for a budget, boutique, or luxury hotel in Geneva-or maybe your travel plans require a splendid hostel? Want to know which hotel serves the best breakfast? Here are all those answers and more about where to stay in Geneva.
What is the best budget hotel in Geneva?
If you're looking for a cheap hotel in Geneva, then try Hôtel Les Arcades. It's an excellent budget hotel offering great value for money. It's in a good location, it's been recommended by travel experts and the hotel has excellent customer reviews. Make sure you check our shortlist of the best cheap hotels in Geneva.
What is the best boutique hotel in Geneva?
Not a fan of big chain hotels? No problem. If you want to stay in a boutique hotel in Geneva, then you should book La Cour des Augustins. The hotel has been rated highly by previous guests for its boutique style. It has also been recommended by influential travel journalists. Also check out our list of the best boutique hotels in Geneva, it's a manually curated list of the most unique and romantic hotels in the city.
What is the best hostel in Geneva?
Looking for a good and affordable private room or cozy dorm in Geneva? Check out City Hostel Geneva. The hostel has been highly rated by backpackers. Make sure you check our shortlist of best hostels in Geneva.
What is the best luxury hotel in Geneva?
If money isn't a problem and you're looking for a luxury hotel in Geneva, then go for Mandarin Oriental Hotel Geneva. The hotel offers excellent service, it's in a top location, it has been rated very highly by previous guests and renowned travel critics have recommended it. Also check out our list of the best luxury hotels in Geneva, it's a manually curated list of the most exclusive 5-star hotels in the city.
Which Geneva hotel offers a great spa?
If you're looking to relax in a spa in Geneva, then try La Réserve Hotel & Spa. Customers have given the spa excellent review ratings recently.
How much does it cost to stay in a Geneva hotel?
Geneva is an expensive city. For a 3-star hotel, you have to pay around $210 per night and for a 4-star hotel, you would be looking at $270 per night. If you're after a luxury 5-star Geneva hotel then you can expect to pay around $610 per night.
Which Geneva hotels are the best for families?
If you're looking to stay in Geneva with your family, then try Hotel d'Angleterre or Hotel Beau-Rivage. Both hotels have excellent review ratings by families.
Which Geneva hotel is the best for a romantic getaway?
If you're looking for a romantic Geneva hotel for couples then try Hotel d'Angleterre. The hotel has excellent customer review ratings by couples.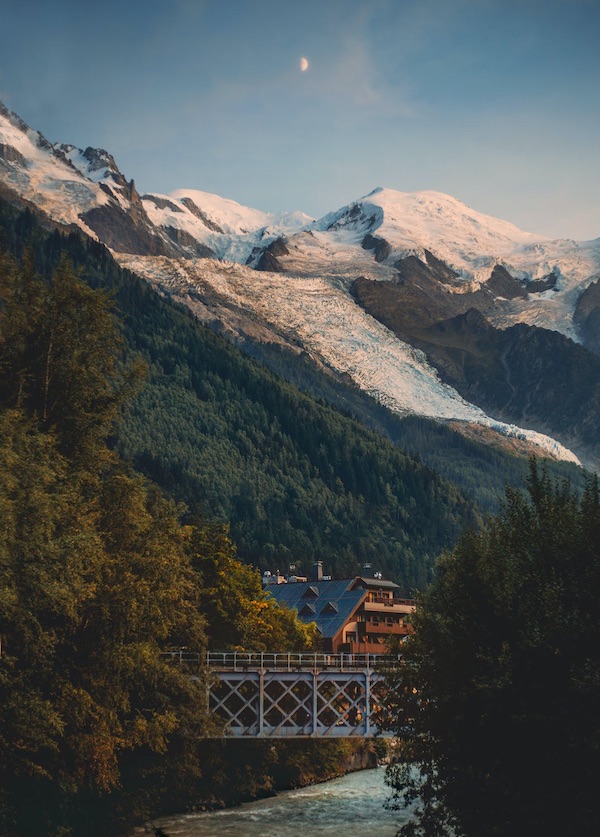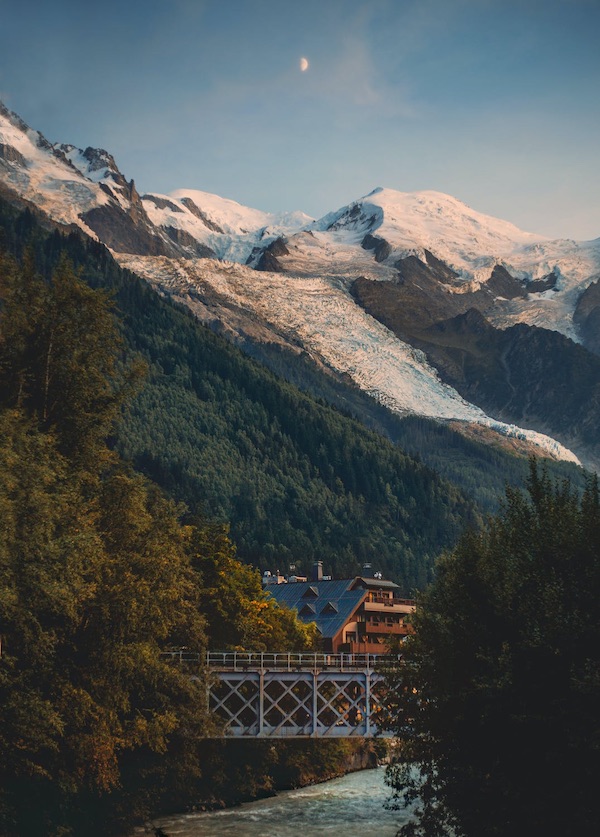 Best things to do in Geneva
There are a lot of things to do in Geneva and the surrounding areas, including day trips, attractions, museums, sightseeing tours and many other activities. Here's our list of 3 things you should definitely do when you're in and around Geneva:
Chamonix and Mont Blanc Day Trip from Geneva
Discover the allure of the European Alps on a full-day trip to Chamonix and Mont Blanc, the highest mountain in Europe, from Geneva. With a guide, travel through the splendor of the countryside to Chamonix, a picturesque Alpine town. Price: $123. More info.
Geneva City Tour and Boat Cruise
Explore the old town and international districts of Geneva on a 3-hour sightseeing tour by foot, boat, and tramway. See top attractions, such as the fountain of Jet d'Eau in Lake Geneva, St. Pierre's Cathedral, the Flower Clock, and more. Price: $84. More info.
Geneva Pass: Discounts and Free Offers at 40 Sights
Make the most of your time in Geneva with the awesome Geneva Pass, and receive free offers, preferential rates, great discounts, and surprise gifts at over 40 of Geneva's favorite attractions, including museums, cruises, and guided city tours. Price: $29. More info.
Deciding where to stay in Geneva
To summarize, this travel guide has covered the best areas of Geneva, as well as some hotel tips and things you can do. It's now up to you to decide which area you prefer.
Top 5 neighborhoods to stay in Geneva
Old Town
Paquis
Carouge
Eaux Vives
Plainpalais
As you have seen in this article, there are a lot of things to explore, and deciding where to stay in Geneva is important. Whether you stay in Old Town, Paquis, Carouge, Eaux Vives or Plainpalais, all those neighborhoods are in good locations.
The atmosphere of the area, whether you travel for leisure or business, whether you travel with your family or friends, and proximity to the attractions you prefer to visit should probably be the deciding factors. Whatever your preference is, you'll have a great time in Geneva.
Check out our other guides about the best places to stay in Geneva: