If you are arranging a trip to South Korea, you are likely planning to schedule at least some time in the lively city of Seoul, the capital of this beautiful country. Seoul is a remarkable city that has an abundance of towering skyscrapers and futuristic attractions, while also offering numerous ornate temples and palaces that create a significant contrast to everything else found in this city.
The best time to head to Seoul is in the mild spring months or in the comfortable months of autumn. There is so much to experience during your time in Seoul, from visiting palaces such as the Gyeongbokgung Palace to strolling through the magnificent Seoul Forest that explodes with vibrant cherry blossoms in the spring.
There is no shortage of marvelous and extravagant hotels to settle into in Seoul, and today we will discuss a few of the best ones that you can possibly find in this thrilling city.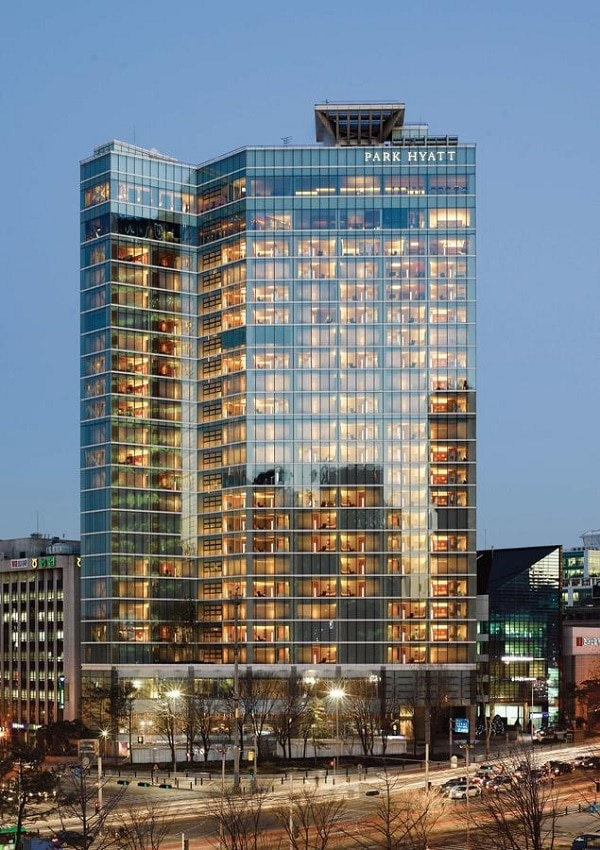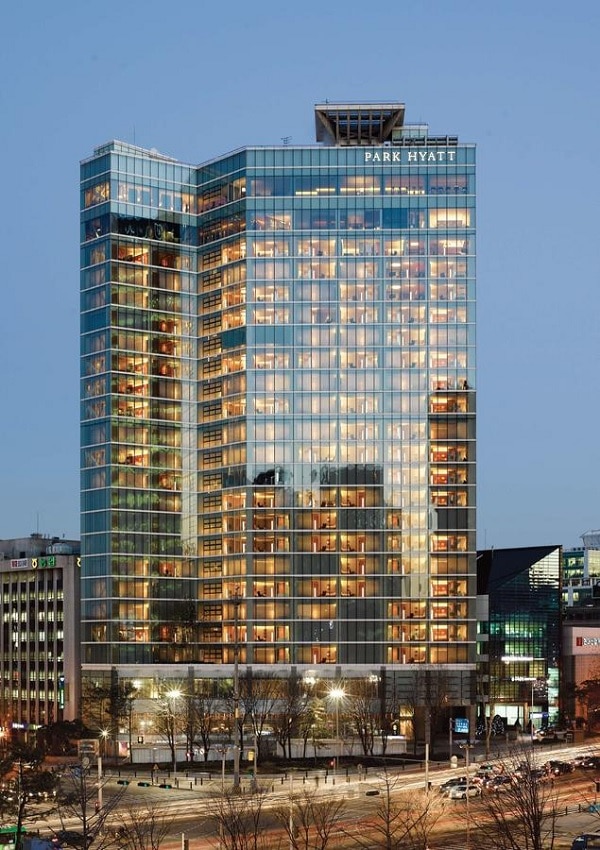 Park Hyatt Seoul
Centrally located in Seoul's financial district, the Park Hyatt Hotel provides visitors easy access to the rest of the city via the Samseong Station right next door. Towered with contemporarily yet elegantly designed rooms with floor-to-ceiling windows and views of the city, this is the perfect place to stay while on business in Seoul whether you check into the diplomatic suit or a regular room.
The three unique restaurants and indoor swimming pool create a relaxing oasis for the hotel's guests. Room service is available 24 hours a day for those that are busy late into the night and the sauna and fitness center are perfect for destressing after back-to-back meetings, and they provide a level of unparalleled tranquility that will keep you coming back time after time.
Hotel details
Address: 
606 Teheran-ro, Daechi-dong, Seoul, South Korea.
Guest rating:
4.4 out of 5
Price per night:
From $280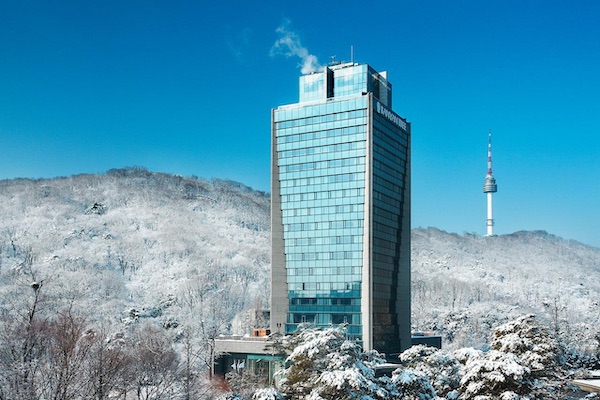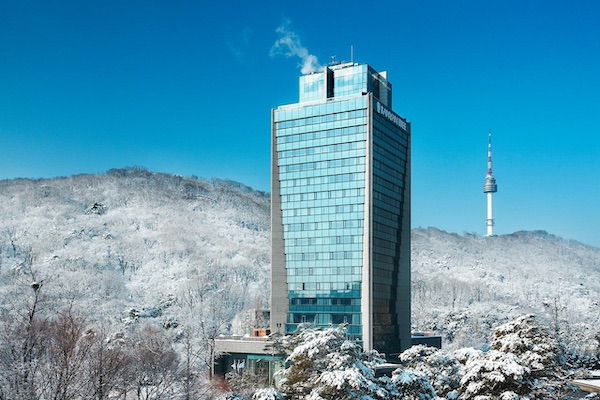 Banyan Tree Club & Spa
Encased in the stunning nature of Namsan Park, Banyan Tree Club & Spa is a municipal oasis in South Korea's lively capital city. With its unique location on the slopes of Mt. Namsan, visitors easily forget they are in one of the largest cities in the world. With fresh, crisp mountain air and the stunning views of Seoul, you might feel as though you were transported to a secret haven. The style throughout is similar to the Banyan brand that originated in Singapore and is known globally for its chic and contemporary design.
This specific location has a few nods to Korean culture in the rooms that contain plush furnishings and simple, sophisticated neutral color schemes. The 110 rooms give the hotel an intimate yet luxurious feel. There is much to love about this Seoul resort from the gorgeous, scenic pool to a luxury spa is frequented by the city's elite. The hotel also offers extensive sporting and fitness facilities to guests and members alike.
Hotel details
Address: 
60, Jangchungdan-ro, Jung-gu, Jung-Gu, 04605 Seoul, South Korea.
Guest rating:
4.1 out of 5
Price per night:
From $335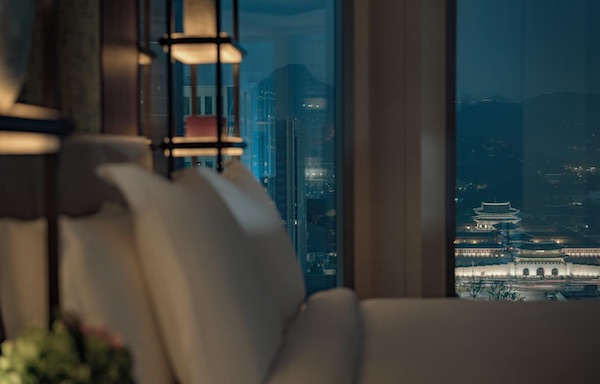 Four Seasons Hotel Seoul
At the Four Seasons Hotel Seoul, guests are welcomed with outstanding service and amenities the instant they walk in the doors. The Four Seasons is the epitome of luxury and extravagance, and they do not waste a single opportunity to ensure that their valued patrons are well taken care of. Sleek and modern trends meet conventional designs at this Four Seasons location, creating a space that is unmatched in its comfort and appearance.
There are 317 different rooms within the Four Seasons Hotel Seoul that are all equipped with the components needed for utmost relaxation and a restful night of sleep. There are numerous dining options to choose from on the property here as well, each serving up their own exquisite dishes that range from traditional Korean fare to rustic Italian plates.
Hotel details
Address: 
97, Saemunan-ro, Jongno-gu, Jongno-Gu, 03183 Seoul, South Korea.
Guest rating:
4.7 out of 5
Price per night:
From $250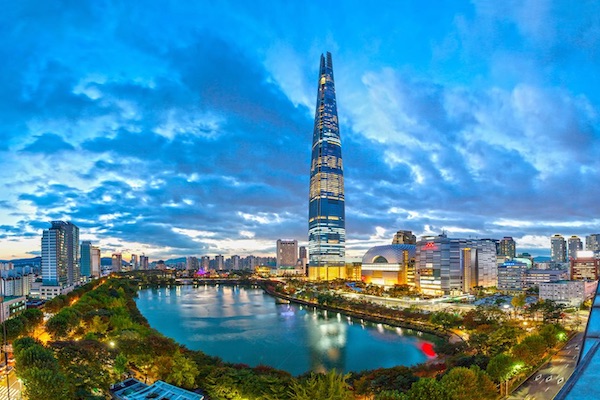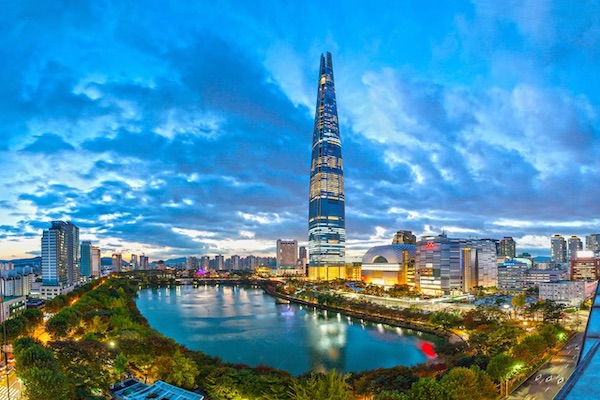 Signiel Seoul
While Seoul has a plethora of five-star hotel options, Signiel brings luxury travelers unmatched knowledge and quality hospitality services in a complete package that features some of the city's top dining and wellness facilities. This 235-room hotel has panoramic views of the surrounding cityscape. The expansive accommodations also have modern, refined furnishings.
As far as facilities and services are concerned, the hotel features some of the most impressive amenities citywide including the Evian Spa, a sauna, a gym, a swimming pool, and a boutique salon. The spa includes 6 private treatment rooms each containing its own locker and shower, a relaxation lounge with an "Evian Aquabar," and a VIP suite for couples with a private jacuzzi.
Dining choices at the hotel range from gourmet French cuisine to traditional Korean food, as well as a classical French pastry salon that serves artisan deserts by Michelin-starred chef Yannick Alleno.
Hotel details
Address: 
300, Olympic-ro, Songpa-gu, Songpa-Gu, 05551 Seoul, South Korea.
Guest rating:
4.6 out of 5
Price per night:
From $295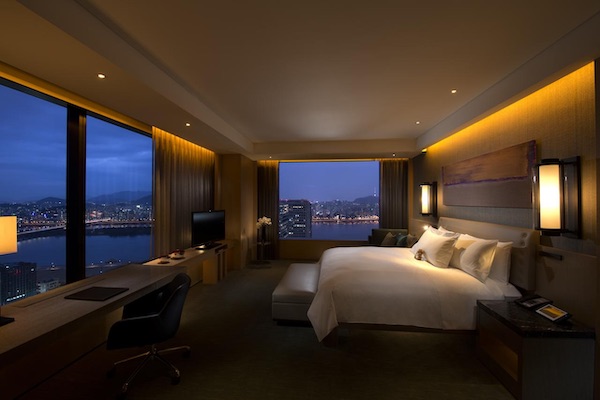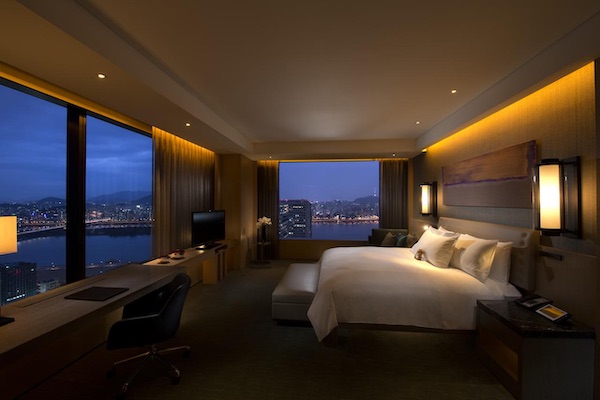 Conrad Seoul
Conrad Seoul is the epitome of a new world of extravagance, refinement and high-quality service in Korea. Intentionally located, Conrad Seoul inhabits one of the four towers of the notorious International Finance Centre. Suitably attached to the city's subway system and close to the International Lifestyle Mall, this hotel is the closest to both International Airports of all the places to stay in Seoul.
A landmark in many ways, this hotel offers 434 striking, spacious guest rooms with breathtaking views and smart in-room technology. The banquet facilities stimulate and inspire those utilizing them and the exotic dining options and luxurious wellness center are perfect for a smart balanced lifestyle. The gorgeous Conrad Seoul is as unique as each one of its visitors and guests.
Hotel details
Address: 
10, Gukjegeumyung-ro, Yeongdeungpo-gu, Yeongdeungpo-Gu, 07326 Seoul, South Korea.
Guest rating:
4.3 out of 5
Price per night:
From $200
A trip to Seoul is guaranteed to be an unforgettable and exhilarating time. Especially when you opt to stay in one of the many luxury accommodations that are offered in this amazing city.
About our luxury hotel recommendations in Seoul
We are a travel research company. Our team helps you discover the best luxury hotels in Seoul by researching the internet for you. We have also visited some of these places. Hence, it's not just our opinion, it's the opinion of many travelers who have been there before you. We make it easy for you to find out about the most luxurious and exclusive 5-star hotels in the city.
Please note, we only list hotels that have an aggregated guest review rating of at least 4.0 out of 5. We aggregate all reviews from different booking sites and other unbiased review websites. Hence, you can be certain all hotels listed above offer you a great stay in Seoul.
Best price guarantee
We have partnered with Booking.com and Hotels.com to offer the best price for your stay in Seoul! Both sites offer price matching, so you can be sure that you are getting the cheapest rates possible for a luxury hotel in Seoul. If you find an even lower rate on another site at least 24 hours before check-in, contact them to claim a refund of the difference!
Top 5 luxury hotels in Seoul
Having read this guide, now let's summarize what we learned. We found the best 5-star hotels in Seoul thanks to reviews and tips from thousands of guests and travel experts:
More Seoul recommendations
We hope you enjoy the advice we've given to you above. If so, be sure to check out some of our other articles about Seoul: