Athens is an ancient city and even now you can see many landmarks from its formative years back in 5th century BC. Apart from visiting the iconic Acropolis, there is an abundance of things to see and do in Athens.
Foodies will rejoice at the abundance of fresh cuisine that is available, history buffs will marvel at ancient structures and museums depicting the cities glorious past, and those that love a night out will be spoiled for choice with a huge selection of bars and clubs scattered throughout various neighborhoods.
Athens is not the cheapest European city to visit, and traditionally the prices surge around the peak holiday season around July to August. However, there are definitely bargains to be had, and there are many places to stay that bring travelers great value, and hostels especially can be a great option here.
Here are the top five recommendations for hostels in Athens.
Athens Hawks Hostel
This funky and modern hostel is located right in the heart of Athens. All rooms have been recently renovated and feature private bathrooms. Several of the rooms (especially on the top floor) offer magnificent views over the city center. If you are choosing the dorm accommodation, there are either mixed or female-only rooms, both of which are spacious and include lockers.
There are activities every day for guests which are mostly free at the Athens Hawks Hostel. There are daily walking tours of the city hosted every morning and a cooking session running every evening. Other activities include pub crawls, beer pong, and other drinking games hosted in the hostel's bar after 6 pm. On arrival, don't forget to enjoy your free welcome shot!
Hostel details
Address: 
25 Menandrou, Athens, Greece.
Guest rating:
4.5 out of 5.
Price per night:
from $8.
Bedbox Hostel
This hostel is great for those who like a truly modern kind of accommodation. Featuring a terrace, free wi-fi, 24-hour reception, onsite bar, shared lounge area, and a large well-equipped kitchen, Bedbox Hostel has everything you need for a comfortable and pleasant stay. Located within the heart of the city, it is within easy reach of Athens' main attractions, as well as being close enough to less touristy areas that will show you a completely different side to Athens.
Accommodation options include private rooms, mixed dorms, or make or female-only dorm rooms. All dorms include privacy curtains around the beds.
Hostel details
Address: 
Poliklitou 11, Athens, Greece.
Guest rating:
4.8 out of 5.
Price per night:
from $19.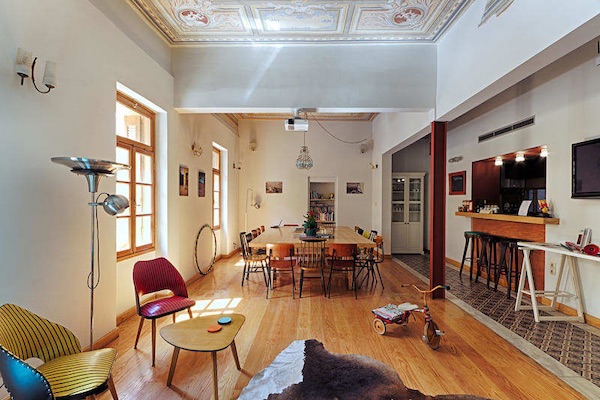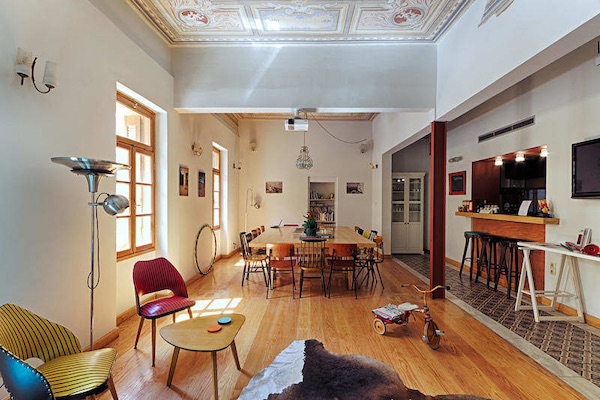 City Circus Athens
Based within a lovingly resorted neoclassical building, you will feel right at home once you step into City Circus. The vibe inside echo's the building's heritage with the retro furniture, hand-painted murals, and quirky atmosphere. Located within the Psirri neighborhood, there is a wide variety of bars and restaurants to keep you entertained.
The Acropolis is a 20-minute walk away, while the flea markets and tavernas of the Monastiraki district are only 5 minutes away. If you need to travel further out, the nearest metro stop is only 250 meters away. There is also plenty to do within the hostel as well, with board games available in the lounge, and a large selection of DVDs to watch.
If you enjoy having space to yourself you can book a private room, or alternatively, there are mixed or female-only dorms.
Hostel details
Address:
16 Sarri Street, Athens, Greece.
Guest rating:
4.8 out of 5.
Price per night:
from $23.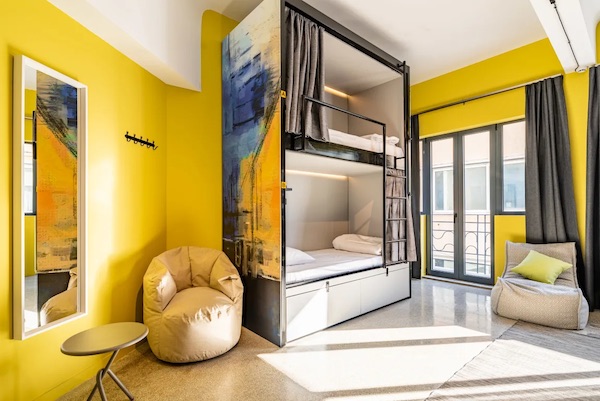 Athens Hub Hostel
Wonderfully modern, this boutique hostel is located in the Psyri area, which is close to the Acropolis, Monastiraki and Syntagma squares. Housed within a fully renovated historical building, the Athens Hub Hostel is a beautiful mix of the old and new, much like the city itself.
There are many dorm configurations available, mixed dorms to sleep 4, 6, or 8 people, female-only dorms, and private rooms. All dorm rooms come with your own personal locker to use and a personal power supply and light.
Athens Hub Hostel also boasts a cozy bar and roof garden where you can chat with your fellow travelers or use the free wi-fi to chat with friends and family back home.
Hostel details
Address: 
Agias Eleousis 7, Athens, Greece.
Guest rating:
4.8 out of 5.
Price per night:
from $21.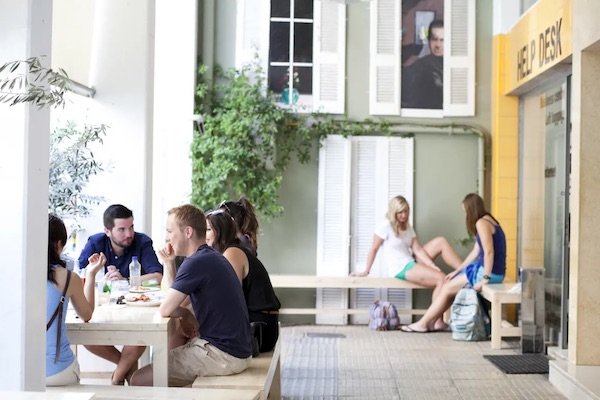 Athens Studios
Mentioned by Lonely Planet in 2019 as a fantastic place to stay, boasting excellent facilities and an unbeatable location, Athens Studios has everything you need in one place. Even their restaurant/café is award-winning, so you don't have to travel far for remarkable cuisine! Take your pick from dorm rooms, studios, or apartments that all have their own ensuite and balcony.
On the level below the accommodation, you will find an area dedicated to all the services and amenities you could possibly need. These include a sports bar with cheap beers and delicious cocktails, as well as a laundromat, and dedicated help desk area that is open 24 hours a day. This hostel is truly in a league of its own when it comes to the range of facilities it offers.
Hostel details
Address: 
3A Veikou St, Makrigyianni, Athens, Greece.
Guest rating:
4.7 out of 5.
Price per night:
from $22.
About our Athens hostel recommendations
Are you a solo traveler looking for a private room? Or a backpacker traveling around in a group wanting to stay in a cheap and cozy dorm? Above you will find the best hostels in Athens for all your needs.
Please note, we only list hostels that have an aggregated guest review rating of at least 4.0 out of 5. We aggregate all reviews from different booking sites and other unbiased review websites. Hence, you can be certain all hostels listed above offer an excellent value-for-money stay in Athens.
Best price guarantee
For our hostel recommendations, we work together with Hostelworld and Booking. These partnerships don't have any influence on the recommendations we make or on the order in which our recommended hostels are listed. The reasons why we have chosen to partner with these companies is that they're trustworthy, offer excellent service and they both apply the best price guarantee. This means you can claim a refund for the difference if you find your reservation cheaper on another website. It has to be for the same property, accommodation type, dates, cancellation policy and conditions, otherwise, you can't claim the refund for the difference. If you book through Booking.com then all you need to do is contact them at least 24 hours before your check-in date. If you book through Hostelworld you must claim the refund within 24 hours after you made the booking.
Top 5 hostels in Athens
To summarize again, based on thousands of guest reviews, these are the best hostels in Athens:
Why you should be careful when booking the cheapest hostel available
The cheapest hostels available are typically not in a great location. If you want to go sightseeing or go for a night out in central Athens, you probably end up having to pay for public transport or a taxi to get there. So your stay could end up being more expensive compared to a stay in a central location. For first-time travelers, we recommend staying central anyway, but also for frequent visitors, it's probably worth it to pay a bit more to stay in a central location.
Another reason why you shouldn't stay at the cheapest hostel is that the people staying at the cheapest hostels are often not the people that can afford to travel like you. Because a very cheap hostel is often cheaper than renting a flat, these places tend to attract migrant workers or local misfits. That's probably not the crowd you want to hang out with, especially if you're a solo traveler looking for friends.
The third reason why you should avoid the cheapest hostels is safety. Some of the cheapest hostels don't check IDs, don't ask for signatures, or only accept cash at check-in. The hostel won't know who is actually staying there.
Lastly, the service at these hostels isn't great. For instance, if you choose to store your luggage, your bags will be unattended in a public space. It won't be recorded anywhere or tagged and stored in a locked room.
So, it's probably worth it to spend a bit more on your hostel stay in Athens.
Get to know the city even better and check out our other articles about Athens:
Best boutique hotels in Athens