Fes, Morocco's second-largest city, is a city filled with old-world charm. The Medina, or old part of town, is a UNESCO World Heritage site and one of the world's largest car-free zones. This colorful city is known as the spiritual center of Morocco and the oldest of its imperial cities.
Fes is a city with a rich history where you can see some stunning sights. There are spectacular 13th and 14th-century mosques, Moorish palaces, beautiful gardens, and thriving marketplaces. Walking through the market, you will see that traditional Moroccan craft is still very much alive. Vendors sell world-famous Fes leather, which you can see people making around the city. There is also a variety of metalwork, rainbow-glass lamps, and tiles sold in abundance at the markets.
There are some fantastic hostels you can stay at in the city. Here is a list of the five best hostels in Fes: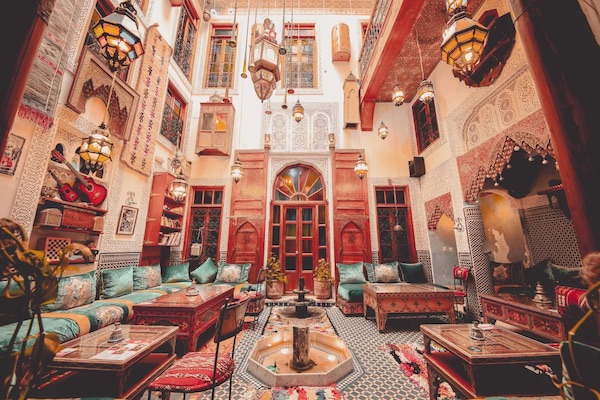 Riad Verus
Riad Verus is located in Fes El Bali, a neighborhood at the heart of the Medina. You can reach all of the city's main attractions on foot from this hostel. This area is filled with exciting marketplaces, delicious street food, and ancient historical sites.
The hostel itself is a marvel. It has traditional Moroccan geometric architecture, a stunning indoor courtyard, and a rooftop terrace overlooking the city. It offers many complimentary amenities, including coffee and tea, city maps, luggage storage, towels, board games, a cinema room, and Netflix. They also provide free breakfast and a family dinner once a week. Their friendly staff is eager to help guests plan their visit.
Guests love the family atmosphere, beautiful spaces, and central location.
Hostel details
Address:
Riad Verus, 1 Derb Arset Bennis Douh., Batha, Fes, Morocco.
Guest rating:
4.8 out of 5.
Price per night:
from $10.
BackHome Fez
BackHome Fez is located in the northwest end of the Medina near the Medina Gates, tanneries, Jnan Sbil Gardens, and Kings Palace. You can find a variety of budget-friendly eateries and shops nearby. Suppose you want to see more than just Fes. In that case, the hostel organizes trips to the Sahara Desert, Chefchaouene, Meknes, and the Atlas Mountains.
The hostel itself is a backpacker's haven, and the owner himself is an avid backpacker. It is a cozy and beautifully designed space with traditional Moroccan décor. You can choose between their three-dorm room or two private room options depending on your needs. The hostel provides a continental breakfast for guests.
Visitors love the welcoming staff, delicious food, and prime location.
Hostel details
Address:
15 Derb Bennani, Douh Batha, Fes, Morocco
Guest rating:
4.6 out of 5.
Price per night:
from $6.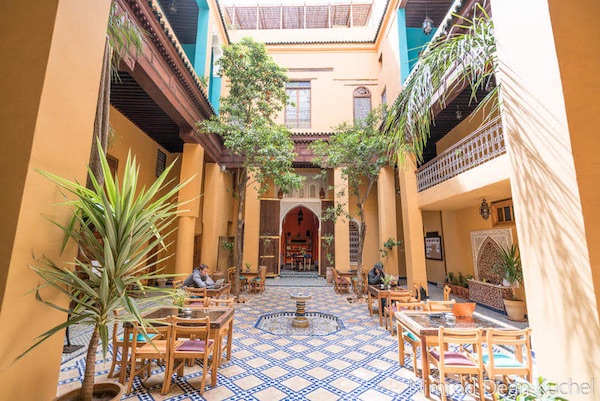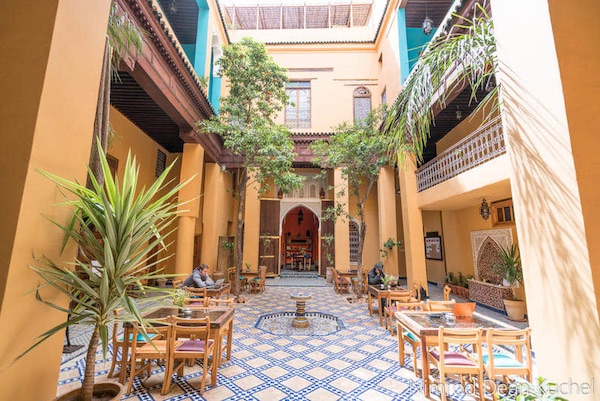 Medina Social Club
The Medina Social Club is conveniently located near a major shopping street in the Medina. You can find plenty of restaurants and shops in this neighborhood. If you want to explore Fes, the hostel staff organizes tours for visitors, complete with drivers and guides.
The building itself is a renovated riad or traditional Moroccan house. There is a fabulous outdoor courtyard with tables to dine at, several common spaces to mingle, and a rooftop patio with a view. Breakfast is complimentary at the restaurant. The hostel hosts performances with local artists and musicians that are free for guests. Visitors can either stay in dorms or private rooms.
Guests enjoy the beautiful property, tasty food at the restaurant, and well-organized staff.
Hostel details
Address:
11, Derb el Menia el Wosta, Talaa Kebira, Medina, Fes, Morocco.
Guest rating:
4.8 out of 5.
Price per night:
from $12.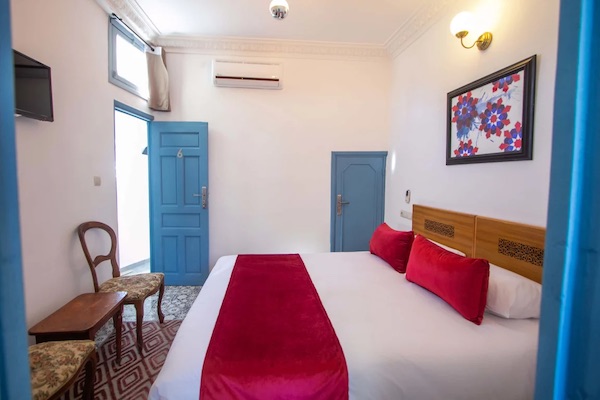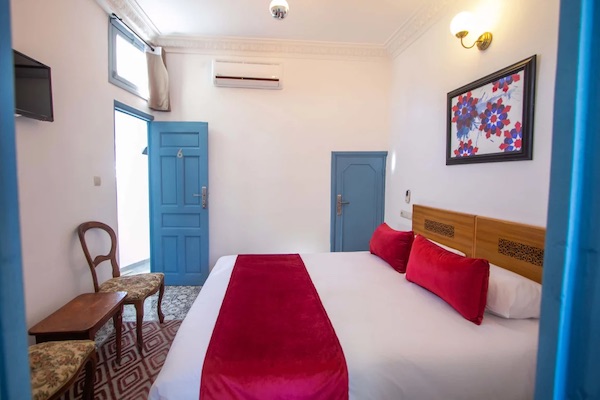 Cine House
The Cine House is located in the Medina near famous sights such as the Blue Gate, University of Al Quaraouiyine, Tombs of the Merenides, and the Medersa Bou-Inania. You can find many great bites to eat in this area or taste the hostel's delicious restaurant on-site called the Cinema Café.
The facilities have a clean, minimalistic aesthetic with a touch of Moroccan flair. Every room in the guesthouse has an ensuite private bathroom. Guests can enjoy views of Fes from a table on the rooftop terrace. Amenities include a common room with televisions, dry cleaning/laundry service, Wi-Fi service, blackout curtains, and daily housekeeping.
This location is rated highly by guests because of its welcoming staff, clean facilities, and hot showers.
Hostel details
Address:
8 Sidi El khanate, Batha, Fez, Morocco.
Guest rating:
4.9 out of 5.
Price per night:
from $15.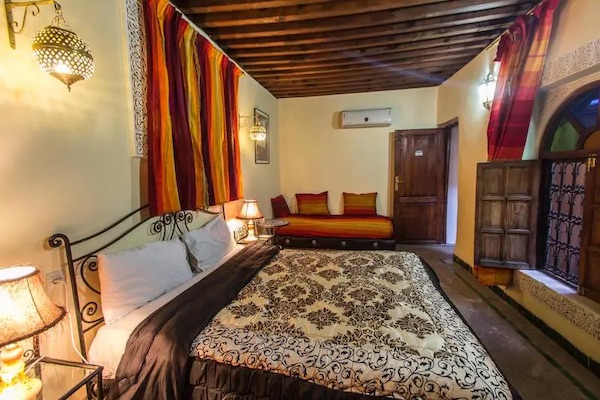 Dar El Yasmine
Dar El Yasmine is as central as you can get. It has a prime location next to the Blue Gate on the main street. If you want to explore the area, the hostel staff will help you arrange your visit or organize trips to other Moroccan cities.
The hostel is located in a beautiful 17th-century building. Its decor is traditional and homey, with beautiful colors and patterns. There is a rooftop terrace with spectacular views. You can spend time getting to know other guests in the interior courtyard. Room options include private and shared rooms with ensuite bathrooms. The hostel serves hearty complimentary breakfasts daily.
Dar El Yasmine attracts visitors because of its luxurious setting, central location, and generous breakfasts.
Hostel details
Address:
34 Talla Sghira Derb Ahl Tadl, Fes, Morocco.
Guest rating:
4.8 out of 5.
Price per night:
from $11.
About our Fes hostel recommendations
Whether you're a solo traveler looking for a private room, or a backpacker traveling around in a group wanting to stay in a cheap and cozy dorm, above you will find the best hostels in Fes for all your needs.
Please note, we only list hostels on our website that have an aggregated guest review rating of at least 4.0 out of 5. We aggregate all reviews from different booking sites and other unbiased review websites. Hence, you can be certain all hostels listed above offer an excellent value-for-money stay in Fes.
Best price guarantee
For our hostel recommendations, we work together with Hostelworld and Booking. These partnerships don't have any influence on the recommendations we make or on the order in which our recommended hostels are listed. The reasons why we have chosen to partner with these companies is that they're trustworthy, offer excellent service and they both apply the best price guarantee. This means you can claim a refund for the difference if you find your reservation cheaper on another website. It has to be for the same property, accommodation type, dates, cancellation policy and conditions, otherwise, you can't claim the refund for the difference. If you book through Booking.com then all you need to do is contact them at least 24 hours before your check-in date. If you book through Hostelworld you must claim the refund within 24 hours after you made the booking.
Top 5 hostels in Fes
To summarize again, based on thousands of guest reviews, these are the best hostels in Fes:
Why you should be careful when booking the cheapest hostel available
The cheapest hostels available are typically not in a great location. If you want to go sightseeing or go for a night out in central Fes, you probably end up having to pay for public transport or a taxi to get there. So your stay could end up being more expensive compared to a stay in a central location. For first-time travelers, we recommend staying central anyway, but also for frequent visitors, it's probably worth it to pay a bit more to stay in a central location.
Another reason why you shouldn't stay at the cheapest hostel is that the people staying at the cheapest hostels are often not the people that can afford to travel like you. Because a very cheap hostel is often cheaper than renting a flat, these places tend to attract migrant workers or local misfits. That's probably not the crowd you want to hang out with, especially if you're a solo traveler looking for friends.
The third reason why you should avoid the cheapest hostels is safety. Some of the cheapest hostels don't check IDs, don't ask for signatures, or only accept cash at check-in. The hostel won't know who is actually staying there.
Lastly, the service at these hostels isn't great. For instance, if you choose to store your luggage, your bags will be unattended in a public space. It won't be recorded anywhere or tagged and stored in a locked room.
So, it's probably worth it to spend a bit more on your hostel stay in Fes.
And finally, a tip: always read the latest reviews of the hostel! All places have good and bad reviews, but the most recent reviews matter the most.
More Fes tips
Get to know the city even better and check out our other articles about Fes: