As our world continues to be in the throes of an urgent climate crisis, more and more people around the world are opting for various ways to reduce their carbon footprint — this includes low-impact travel.
Tourists and businessmen alike are looking for eco-friendly hotels that use renewable energy sources to do their bit for the environment.
If you are planning a trip to Munich and want to be environmentally friendly as you take in the spectacular beauty of this city, we've curated a list of the top 5 best sustainable hotels in Munich to help you out.
Germany's third-largest city and the capital of Bavaria, Munich is renowned for the famous annual beer festival Oktoberfest — but there's so much more that this city has to offer.
Munich has a rich history depicted through beautiful historic buildings and structures dating as far back as the 12th century. The city is a wonderful amalgamation of modern and ancient, as jaw-droppingly beautiful glass towers blend in with the neo-gothic architecture.
But did you know Munich is also one of the greenest cities in the world? In fact, by 2025, the city aims to fulfill 100% of its electricity demands through renewable sources — and it's already well on its way to achieving this goal!
So, if you are on your way to Munich, we are sure that historical museums, the iconic city center, the famous clock of Munich, and the English Garden have all made their way to your itinerary. As has local breweries and delectable cuisine!
But, to make your trip even more memorable, take a look at our top picks of the best sustainable hotels in Munich.
The Soulmade Hotel
The Soulmade Hotel is made for eco-conscious souls. The hotel aims to show its guests that they do not have to sacrifice sustainability for comfort — you can have both without compromising your values. The hotel is located in the heart of Munich, in Garching.
From the aesthetics to the construction to its amenities, the Soulmade Hotel stays true to its motto — "At home, only elsewhere."
What Makes The Soulmade Hotel Sustainable?
One of the best eco-friendly hotels in Munich, the Soulmade Hotel is a place where technology and nature blend in together beautifully. The hotel is completely made of certified and sustainably grown wood (oak, spruce, and ash).
Everything in this hotel is made from natural materials. Expect to find wooden window frames, natural sisal carpets, ash wood beds, natural linen from eucalyptus and beech wood, and more! The entire hotel is also powered by renewable energy,
But none of this comes at the cost of your comfort.
The living place is welcoming and offers a great view of nature, with the Pocket Park just outside your window. The room has beautiful modern and light decor imparting a modern and stylish aesthetic to the space, which is illuminated by the warm, soft glow of the paper lamp in a corner.
Every room also has a fully equipped small kitchenette where you can brew your own coffee. And the hotel also offers breakfast featuring regional and seasonal produce, where you can even make your own almond milk!
The lobby is the heart of the place, with a large open fireplace to thaw your chilly bones on cold winter evenings. It also has a huge bookshelf that's completely stacked for book lovers to spend hours perusing through. In fact, there are tiny book niches everywhere you look — even in the bathroom!
The Soulmade Hotel is incredibly well thought-out, with sustainability at the forefront. One tree is planted for every booking.
Hotel details
Address: 
Mühlfeldweg 46-48, 85748 Garching bei München, Germany.
Guest rating:
4.5 out of 5
Price per night:
From $88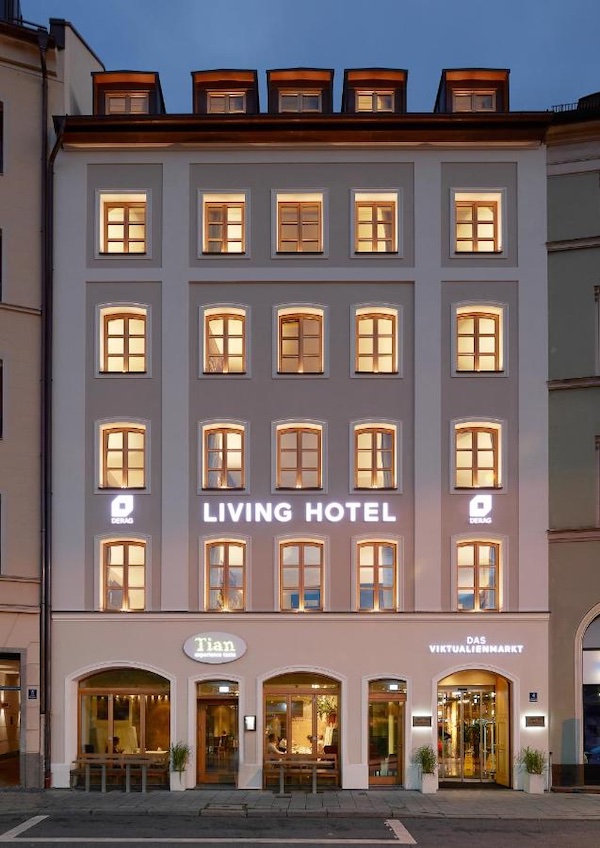 Living Hotel Das Viktualienmarkt
Located right in the city center of Munich, just a 10-min walk from Viktualienmarkt, the Living Hotel is perfectly located to help you explore the neighborhood.
But when you're done exploring the city and want to wind down in a peaceful space you can temporarily call home, Living Hotel Das Viktualienmarkt is a lovely place to come back to. Whether you want to work or relax, the fully equipped rooms and the welcoming hotel staff will make sure all your needs and wants are fulfilled.
The rooms are cozy and comfortable with fittings and furnishings that have kept up with modern times, offering all the comforts and conveniences that'll make you feel at home. Many rooms even offer a breathtaking view of Viktualienmarkt!
What Makes Living Hotel Das Viktualienmarkt Sustainable?
Wanting to do their bit to help the environment, the Living Hotels searched hard and found the perfect — Green Globe, a worldwide certification program that focuses on the travel and tourism industry.
By the first quarter of 2019, all the Living Hotels had taken steps for more sustainable and ecological living and had received certification from Green Globe.
All of the hotels and the headquarters have 100% green electricity. The carbon footprint of each hotel is calculated and balanced. They have replaced photocopy paper with recycled paper, and two of their hotels even keep bees on their roof!
Many of their locations even offer electric car charging points, and they have stopped using disposable batteries and solely rely on chargeable batteries.
The hotel aims to contribute to "making our world a bit greener again […] For us as a company. And hopefully for you too, as our valued guest."
Hotel details
Address: 
Frauenstraße 4, 80469 München, Germany.
Guest rating:
4.2 out of 5
Price per night:
From $178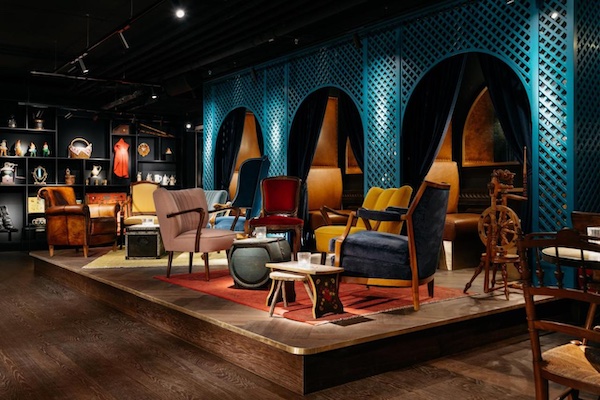 Ruby Rosi Hotel
Just a few steps away from the Munich Central Station is the Ruby Rosi Hotel, which is also just a short stroll away from Maximiliansplatz and Königsplatz, as well as the banks of Isar.
It's the design of the hotel however that's truly awe-inspiring.
Inspired by Bally Prell, a beauty queen and singer, the Ruby Rosi hotel is a combination of rustic village life and stately castles. The hotel offers spacious rooms that are well-furnished and welcoming. They are designed in the lean luxury style, so you can have a great night's sleep with extra comfy beds, ultimate relaxation with powerful showers, and a great connection — both to the city and WiFi!
The bar on the fourth floor is open 24/7 and is furnished with classic fairy tales in mind. The area is cozy and comforting and is perfect for unwinding as well as a meeting.
However, the highlight is tucked away on the fifth floor — the 260-square-foot rooftop garden. Here, you can forget about your worldly woes and put your feet up as you take in the serenity of this green oasis.
What Makes the Ruby Rosi Hotel Sustainable?
The Ruby Rosi hotel is a part of the Travel Sustainable Program, taking steps towards a better environment. They try to reduce their food waste as much as possible, have recycling bins for guests, recycle their waste, and avoid single-use plastic as much as possible.
To reduce greenhouse gasses and sustain energy, the property has double-glazed windows, uses LED bulbs, and has a key card or motion-controlled electricity.
The rooms are all equipped with smart lighting and feature renewable natural wood paneling. They also try to add second-hand, restored furniture where possible to reduce waste. The hotel also sources its beer, wine, and food from local suppliers.
Guests are also encouraged to rent a Ruby bike when they want to explore Munich!
Hotel details
Address: 
Bayerstrasse 21, Ludwigsvorstadt, 80335 Munich, Germany.
Guest rating:
4.1 out of 5
Price per night:
From $125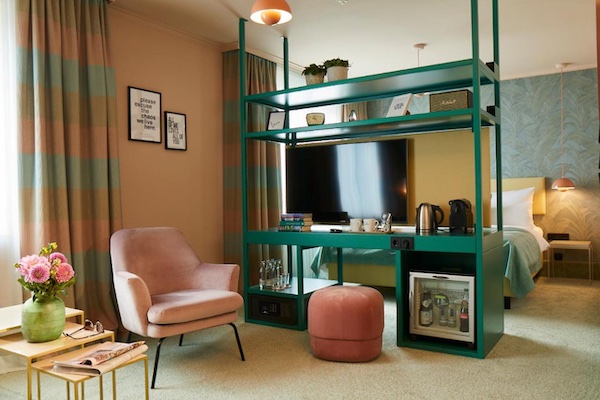 Hotel Metropol
Centrally located, Hotel Metropol is only a three-minute walk from Hauptbahnhof, Munich's main train station. It is also just a short stroll away from the city's main squares and just an 8-minute walk away from Theresienwiese, the place that hosts Oktoberfest every year!
With a stylishly understated ambiance, the hotel screams comfort the moment you step through the front door. From the wood-paneled front desk to the multilingual staff, Hotel Metropol does its best to make its guests feel welcome.
They offer five room categories — superior, comfort, deluxe, business, and suites — all spacious and equally comfortable. Their rooms are modern, with an open-space aesthetic that features wall-to-wall carpeting. The rooms also include tablet computers as well as flat-screen TVs that are subscribed to Netflix and other streaming services.
What Makes Hotel Metropol Sustainable?
The hotel follows a number of sustainable practices, like offering bicycle parking and in-house charging stations for e-cars. They recycle waste, make efforts to reduce food wastage, and avoid single-use plastic.
The rooms feature sustainable furniture, along with water-saving toilets, energy-optimized air conditioning and heating technology, and energy-saving illumination.
The property uses 100% renewable electricity and invests a percentage of revenue back into community projects or sustainability projects.
Hotel details
Address: 
Mittererstr. 7, Ludwigsvorstadt, 80336 Munich, Germany.
Guest rating:
4.5 out of 5
Price per night:
From $85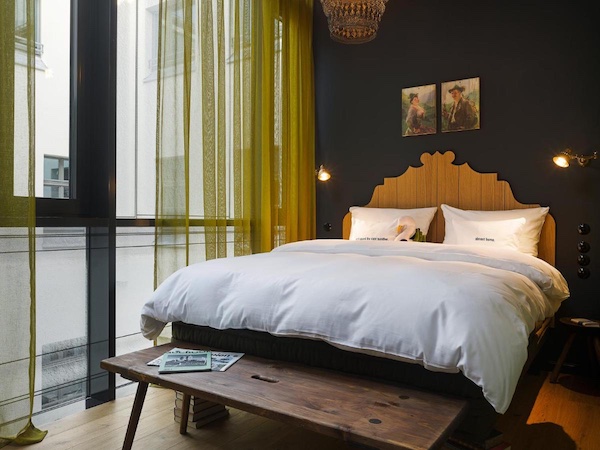 25Hours Hotel The Royal Bavarian
Located at Bahnhofplatz 1, 25Hours Hotel The Royal Bavarian is a few minutes away from the city center and right opposite the Munich Central Station.
All 25Hours Hotels are known for their tailor-made decor, which gives each of their locations unique personalities of the city they're located in.
In the last century, the hotel was used as a royal telegraph station and a building for the postal. Today, The Royal Bavarian hosts travelers and explorers from all around the world. The building is brimming with history and local Bavarian design cues, with every corner telling a story. It's safe to say that a stay at the Royal Bavarian will give you tons of Instagram-worthy pictures!
The hotel has 165 rooms that are categorized from small to extra-large, along with the Peacock and Swan Suites. The interior varies drastically from room to room, but all of them will make you feel at home. So, no matter which room you choose, rest assured you'll have the most comfortable experience.
What Makes 25Hours Hotel The Royal Bavarian Sustainable?
The best feature of the 25Hours Hotel is its sustainable culture. The hotel does not use single-use plastic and makes consistent efforts to reduce food wastage.
Every room is equipped with water-efficient toilets, and guests are given the opportunity of saving water by opting out of daily room cleaning.
They have efficient LED bulbs and are double-glazed to save energy. It also has an electric car charging station and bicycle rental.
The Royal Bavarian invests a percentage of revenue back into community projects or sustainability projects.
Hotel details
Address: 
Bahnhofplatz 1, Ludwigsvorstadt, 80335 Munich, Germany.
Guest rating:
4.3 out of 5
Price per night:
From $130
We hope our list of these five sustainable hotels helps you enjoy your stay in Munich with comfort and luxury while being mindful of our environment. When choosing sustainable hotels, consider hotels that prioritize renewable energy and reduce waste.
How we select the best eco-friendly hotels in Munich
We are a travel research company. We check a lot of details and guest reviews before making a selection. First, we check which hotels follow eco-travel principles. Are they recycling their waste? Do they work with local communities? Are they using renewable energy? Are they not using single-using plastics?
Secondly, we check guest reviews across multiple websites and only list hotels with an aggregated review rating of at least 4 out of 5. So you can be confident you will stay at an excellent eco-friendly hotel in Munich.
More and more people recognize the importance of sustainable travel. Not only is it better for the environment and our planet, but it also often leads to more meaningful experiences. If you're interested in learning more about eco-tourism, here are some eco-friendly travel tips to get you started.
More Munich tips
Get to know the city even better and check out our other articles about Munich: