One of Canada's most well-known and visited cities is Toronto. Home to great cuisine, multiple professional sports teams, and so much more, Toronto is truly a traveler's favorite.
As the fifth-largest city in all of North America, there is a lot packed into its streets. Toronto is also home to a diverse cultural landscape, so there are a ton of experiences to be had across the spectrum. You will have an enriching experience as you explore the various parts of the city.
So, when planning your next trip to the city, you need to have an idea of where to stay. A really popular and up-and-coming way to stay is in a boutique hotel. Boutique hotels offer personalized, upgraded service so your time in town will be fantastic. Here are five of the best boutique hotels in all of Toronto!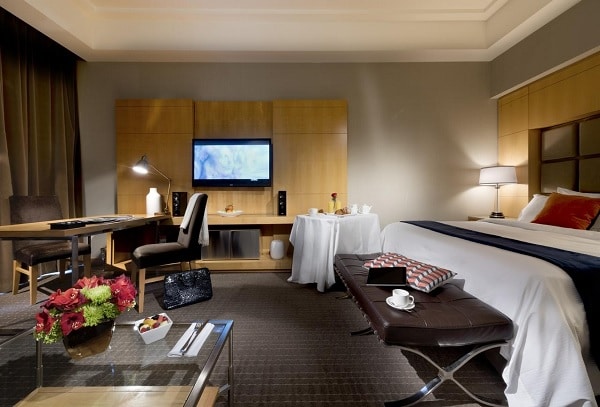 The SoHo Hotel and Residences
To kick off our list of boutique hotels, we have the SoHo Hotel and Residences. This is a super stylish property that focuses on the consumer's experience over everything else. This is the biggest aspect that falters with the big hotel chain corporations.
With top-notch accommodations, the merging of luxury and functionality happens here. You no longer have to sacrifice nice things in the name of practicality, and vice versa.
SoHo is right downtown and you will have easy access to so many of Toronto's hotspots. In fact, it is within walking distance of the Prince of Wales Theatre, the main convention center in the city, so many restaurants, and the famous CN Tower.
So, staying at the SoHo Hotel and Residences will keep you close to the good stuff, provide immense value that is not found in many boutique hotels, and more!
Hotel details
Address: 
318 Wellington St W, Toronto, ON M5V 3T4, Canada.
Guest rating:
4.6 out of 5
Price per night:
From $227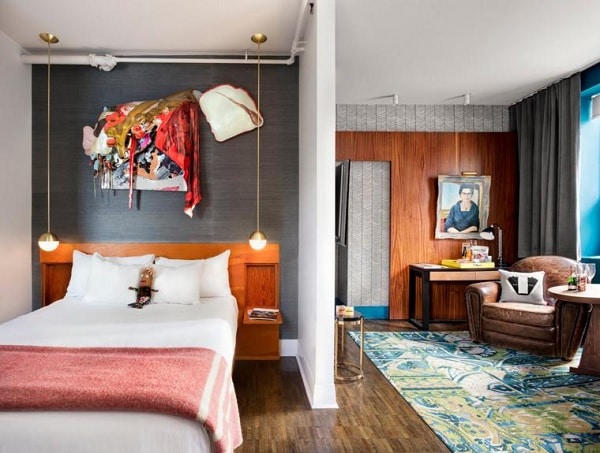 The Drake
If you are looking for a hip, fun experience without even having to leave the hotel, The Drake is an excellent option. This is because there are fantastic food and entertainment options right downstairs from where you will be sleeping.
This hotel is also located in the Art and Design District of Parkdale. So, there are a lot of artsy, fun things to check out in this area. Every September, the Toronto International Film Festival comes to this area and it beams with life. So, if you plan on staying in this time of the year, you have to make reservations far in advance because it fills up quickly.
Hotel details
Address: 
1150 Queen St W, Toronto, ON M6J 1J3, Canada.
Guest rating:
4.5 out of 5
Price per night:
From $170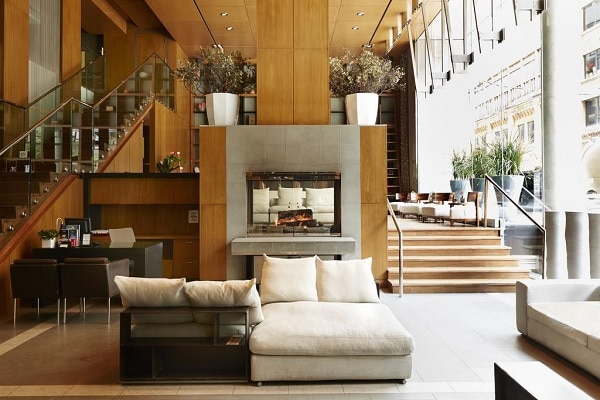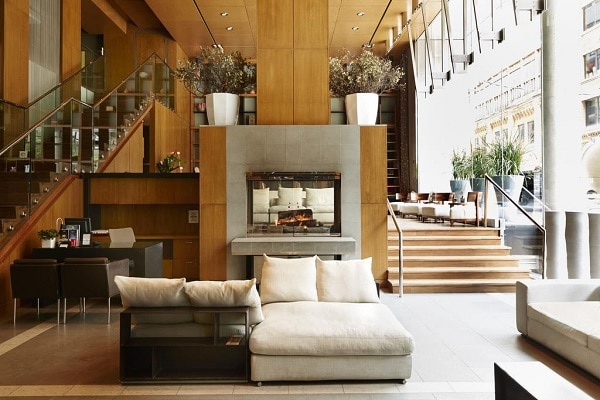 Le Germain Hotel Toronto-Mercer
One of the larger boutique hotels on this list is the Le Germain Hotel Toronto-Mercer. With 122 rooms, this hotel is super popular and adds a hint of style to the area. There are also a few different types of rooms, so you have plenty of options to choose from.
There is a restaurant downstairs, but you are also in a great location to quickly access some incredible others. Do you want some high-end sushi? No problem. What about a quick, but amazing burger? That is an option as well.
You will also be within walking distance of the convention center, Clarence Square, and more. So, there is no getting bored when staying at the Le Germain Hotel.
Hotel details
Address: 
30 Mercer Street, M5V 1H3 Toronto, Canada.
Guest rating:
4.6 out of 5
Price per night:
From $201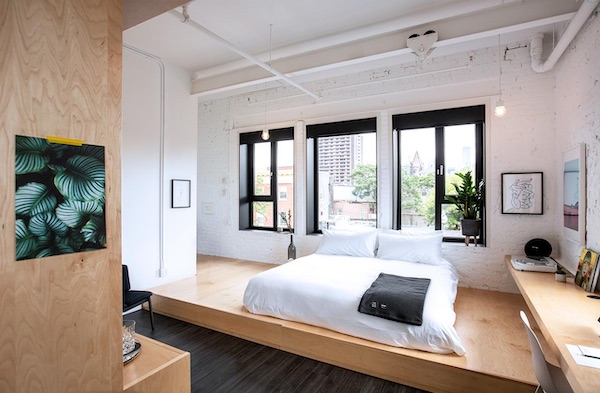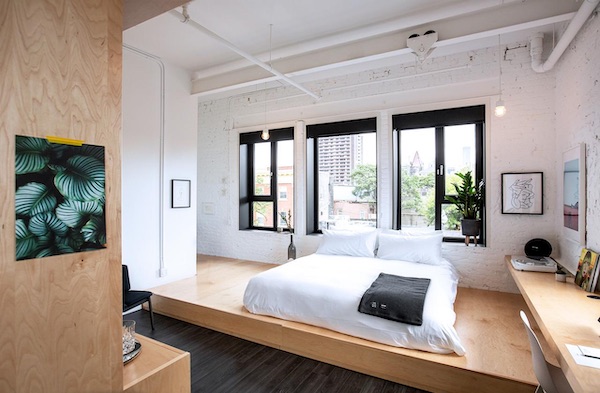 The Annex Hotel
A super unique boutique hotel that is set in Toronto is the Annex Hotel. What makes the Annex so unique is its apartment-style room design. This is a new, popular wave in the boutique hotel world. Although you are just setting up shop for a day or two, it will feel like you are in your own apartment rather than a hotel room.
This is a super hip spot where you can even contact the front desk for info via text message. This new way of accommodation is being perfected by the Annex and is setting the tone for other locations.
Hotel details
Address: 
296 Brunswick Avenue, M5S 2M7 Toronto, Canada.
Guest rating:
4.3 out of 5
Price per night:
From $130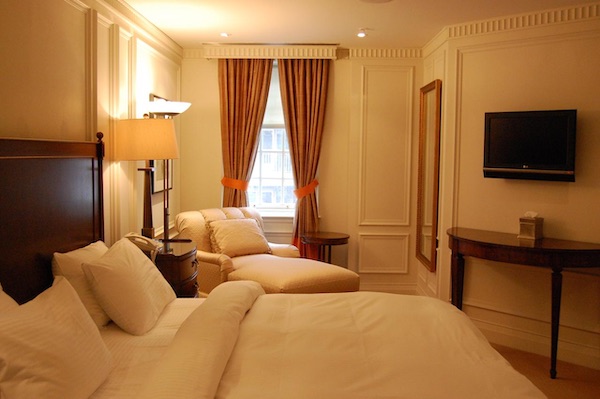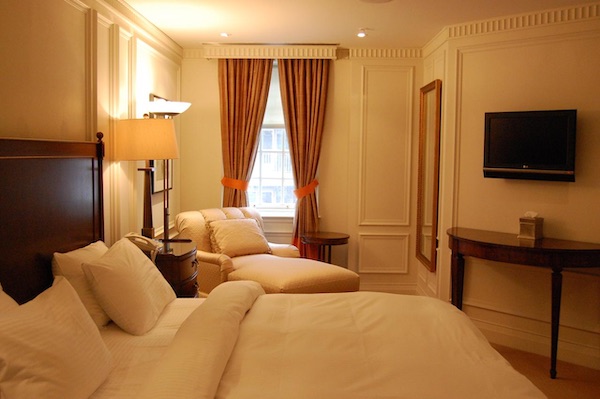 Windsor Arms
To round out our list, we have the Windsor Arms. This is a super cool spot that features a convergence of modern and traditional styles. When you walk in, you will be greeted by a magnificent chandelier that will take your breath away. 
There are only 28 rooms in the entire complex, so staying here can feel quite exclusive. In the morning and afternoon, there is a super cool tea room that becomes a champagne and caviar lounge at night. This is just one of the cool add-ons that come with staying here.
Also, check out the spa and sauna in between your Toronto adventures. Overall, this is a great option for any traveler looking for an exclusive, luxurious experience.
Hotel details
Address: 
18 Saint Thomas Street, M5S 3E7 Toronto, Canada.
Guest rating:
4.0 out of 5
Price per night:
From $300
About our boutique hotel recommendations in Toronto
We are a travel research company. We help you discover the best boutique hotels in Toronto by researching the internet for you. It's not just our opinion, it's the opinion of many travelers who have been there before you. We make it easy for you to find out about cool design hotels and unique design hotels in the city. Some of them might be so romantic you might not want to leave your room.
Please note, we only list hotels that have an aggregated guest review rating of at least 4.0 out of 5. We aggregate all reviews from different booking sites and other unbiased review websites. Hence, you can be certain all hotels listed above offer you a great stay in Toronto.
Best price guarantee
Get the best deals and prices for your stay in Toronto with Booking.com and Hotels.com! They offer price matching, which means you'll be getting the lowest price available online, guaranteed! If you find a cheaper offer on another website for the same hotel room at least 24 hours before check-in, contact them to claim a refund of the difference.
Top 5 boutique hotels in Toronto
Let's quickly summarize this guide. Based on thousands of guest reviews and tips from travel experts, these are the best boutique hotels in Toronto:
More Toronto tips
Get more great content like the guide above! Check out these other articles about Toronto: