Toronto, Ontario is known for many things. It is not only one of the most culturally diverse cities in the world, but it also has a beautiful waterfront skyline, immaculate towering buildings, and a bustling social environment. There's a reason why people travel from all around the world to experience this amazing city.
Located on Lake Ontario's northwestern shore, Toronto is Canada's largest city. It's also a world leader in business, finance, technology, entertainment and culture. The city is often referred to as the most multicultural in the world, with over 200 ethnic groups and more than 140 languages spoken. Visitors to Toronto are treated to delicacies from around the world. The food alone is especially something to remark upon, given that you can find dishes influenced by virtually any culture.
However, traveling to Toronto in an eco-friendly way is also an important factor. The world of travel has changed to support sustainable initiatives and many visitors want to ensure they're doing their part to preserve the environment while exploring new locations. Fortunately, Toronto is a very eco-conscious city, and many of its hotels focus on providing guests with this peace of mind.
With so many incredible hotels to choose from, you might think that it would be difficult to find the most eco-friendly hotels without sacrificing on comfort. That's where we come in. We've hand-selected the five best sustainable hotels in Toronto, so you can feel fully confident in your search. Booking an eco-friendly hotel in Toronto doesn't have to be difficult.
Read on to learn which hotels were in our top five!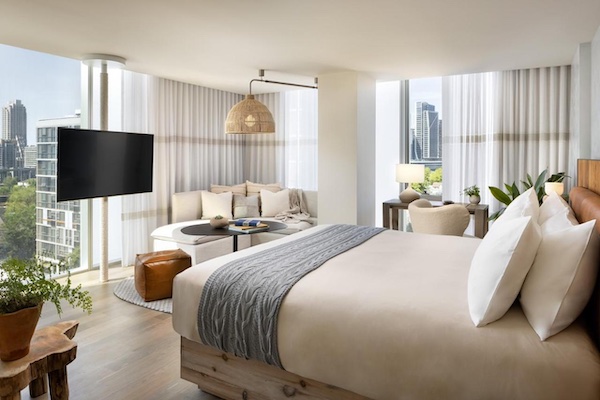 1 Hotel Toronto
The 1 Hotel chain has quickly become a world-renown name in the hotel industry. 1 Hotel Toronto is no exception to the brand's well-respected sustainability practices and top-tier accommodations. Located in the Fashion District of Toronto, 1 Hotel is just a few blocks away from the CN tower, the largest tower in Canada. You'll also find that you're within walking distance of the Art Gallery of Ontario, Chinatown, Little Italy, and several waterfront parks.
The hotel is also decorated to resemble the natural diversity of Toronto's surrounding environment. They capture the beauty of Lake Ontario with lakeside views while also drawing on a selection of colors from Toronto's changing seasons. In the warmer months, guests can take advantage of a rooftop pool as well as a rooftop bar. There are also several hotel restaurants offering top-scale cuisine for guests, such as Flora Lounge, Casa Madera, and 1 Kitchen. 1 Hotel also offers special wine and dine events where you can enjoy fresh, direct farm-to-table food.
What makes 1 Hotel sustainable
As for its sustainability efforts, 1 Hotel is one of the worldwide leaders in eco-friendly hospitality. Every 1 Hotel location is LEED certified for sustainability and they're working diligently to become 100% carbon-neutral worldwide. In addition to their large-scale efforts as a brand, each hotel, including 1 Hotel Toronto, sources their ingredients from local, sustainable suppliers. They have also added LED lighting throughout the entire building, use low-flow water utilities, and have opted out of offering single-use plastics.
Hotel details
Address: 
550 Wellington Street West, M5V 2V4 Toronto, Canada.
Guest rating:
4.5 out of 5
Price per night:
From $310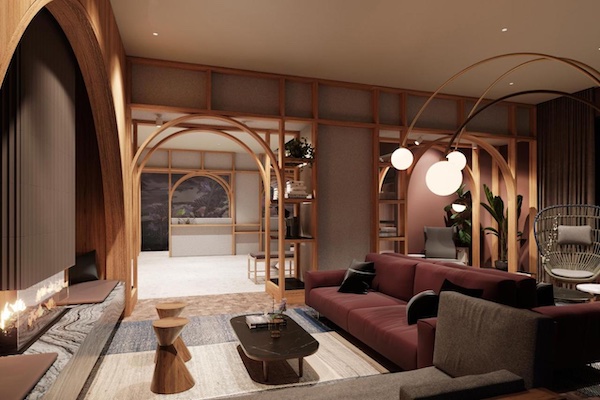 Kimpton Saint George
Just a few blocks northeast of the University of Toronto, you'll find the Kimpton Saint George Hotel. Nearby, you definitely won't want to miss out on the Royal Ontario Museum or the Gardiner Museum, both some of the most interesting architectural buildings in the city. For a stroll through the open air, be sure to check out the Queen's Park as well, which features several statues of eminent people & memorials since the 1860s. If you're looking to venture further out, there is also a bus stop within close walking distance of the hotel.
Throughout its hotel, Kimpton Saint George features custom art and furniture pieces from local artists and artisans. The craftsmanship of the decorations truly set the Kimpton apart from other hotels in the area. It's simply beautiful, and well-worth your time to appreciate the delicately considered aesthetics in the building. The 188 rooms are complete with natural materials like wood and stone, entirely complemented by warm rich tones inviting guests to fully unwind during their stay. Guests can also take advantage of the Kimpton's signature wine hour, rent cruiser bikes from the front desk, or eat at the hotel gastropub, the Fortunate Fox.
What makes Kimpton Saint George sustainable
What makes the Kimpton Saint George even better however is that it is also a leader in sustainability. The light fixtures in all guestrooms, corridors and public spaces each use energy-efficient LED bulbs. All recyclable materials are collected by the hotel to prevent them from entering the landfill, and the water utilities use low-flow valves to conserve water.
Hotel details
Address: 
280 Bloor Street West, M5S 1V8 Toronto, Canada.
Guest rating:
4.3 out of 5
Price per night:
From $237
Hotel X Toronto
Hotel X is another premier 5-star hotel, located in the Liberty Village district near the shore of Lake Ontario. There are also several historic landmarks nearby which are definitely worth checking out. Exhibition Place was built in 1879 and has dozens of monuments and modern cultural events. You can also enjoy the Princes' Gates nearby, another historic landmark. Located on a tiny island in Lake Ontario, you can also check out Trillium Park, along with several theaters, shows, and stages nearby.
Hotel X itself is truly a remarkable world-class hotel. They offer a luxury experience unmatched by any other hotel in Toronto. Their decorations are refined, elegant, and complement the skyline of Toronto exceedingly well. Hotel X also offers a film room, a fitness center, a full library, and a year-round, heated, rooftop swimming pool. Guests can also take advantage of the rooftop sushi bar, Valerie, offering resplendent views of the Toronto skyline. Alternatively, you could also dine in at the ROSES cocina restaurant on the second floor for some incredible continental North American cuisine.
What makes Hotel X sustainable
Although Hotel X Toronto is posher than other hotels on the list, they don't sacrifice their responsibility to remain environmentally friendly. Hotel X Toronto is a LEED Silver-certified building and is located on 192 acres of city parkland. The building is designed for optimal thermal regulation and energy efficiency, additionally harvesting rainwater for irrigation, decorated with green roofs to reduce heat radiation, and complete with 23 electric car charging stations. They also excel in food and waste disposal, have replaced several asphalt parking lots with parks, and source their food ingredients from local suppliers.
Hotel details
Address: 
111 Princes' Boulevard, M6K 3C3 Toronto, Canada.
Guest rating:
4.4 out of 5
Price per night:
From $320
Le Germain Hotel Toronto Mercer
Located midway between the Fashion District and Old Toronto, Le Germain Hotel Toronto Mercer resides squarely in Toronto's Entertainment District. The CN Tower can be seen in the skyline, located just a few blocks away, and there are dozens of mouth-watering restaurants in the area. The Old Toronto district nearby is also the city's longest-standing historic neighborhood, originally established in 1815. Beside the hotel, you'll also find David Pecaut Square, a large plaza with many modern sculptures. It's also a wonderful place to visit at night for a grand view of the surrounding buildings, each illuminated with thousands of interior lights.
The hotel rooms feel sleek, with charcoal and mahogany colors adorning the walls and furnished decoratively. They also offer a 24-hour fitness center, parking and valet service, continental breakfast, and in-room coffee machines. The Victor Restaurant & Bar is also open for breakfast and dinner, offering guests a rich selection of colorful flavors from French-inspired cuisine. Victor is the perfect destination for a pre-theater dinner, a family dinner or a romantic evening.
What makes Le Germain sustainable
Le Germain supports local businesses and designers by stocking more than just food ingredients. They also source products and services for the hotel from local providers. In the architectural design of the hotel, there is also a focus on geothermal heating and cooling as well as energy-efficient lighting systems.
Hotel details
Address: 
30 Mercer Street, M5V 1H3 Toronto, Canada.
Guest rating:
4.6 out of 5
Price per night:
From $201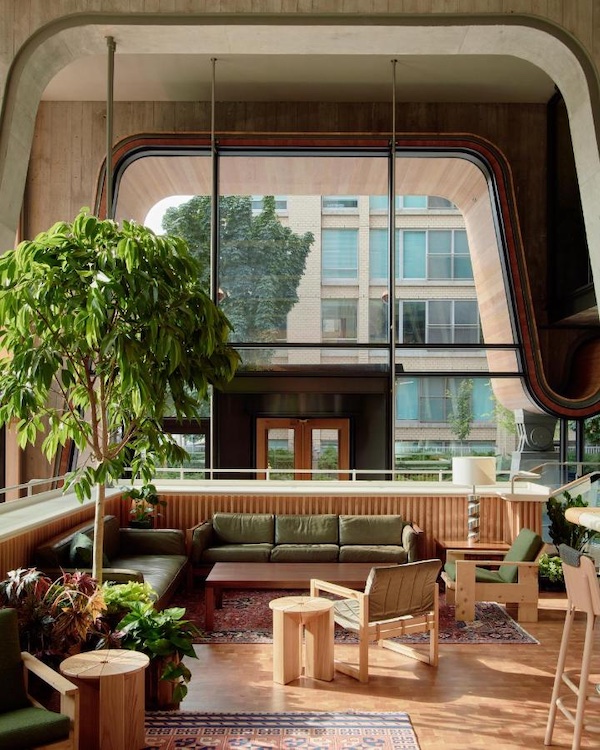 Ace Hotel Toronto
Ace Hotel is also located in the Fashion District, not far from several museums, parks, and world-class restaurants. If you're interested in taking an exciting day trip outside of the city, don't miss out on the Toronto Islands, which can only be reached by ferry in Lake Ontario. There are several exceptional beaches on the islands along with a number of great photo spots overlooking the coastline of Toronto's towering buildings. You'll be able to capture some of the most iconic images of the city from this location.
Ace Hotel, however, is also loved by locals and visitors alike. Its unique aesthetic is truly something that you must experience for yourself. The blonde wooden walls and curly artistic designs add an aura to the hotel unlike any other location on this list. Imagine the feeling you get from drinking a warm cup of coffee or tea–that's what Ace Hotel's rooms look like. If you're looking for some exceptional cocktails, don't miss out on the Lobby or Evangeline, and if you're looking for something to eat, Alder has signature food from a wood-fired grill.
What makes Ace Hotel sustainable
From a sustainability standpoint, Ace Hotel also excels as an industry leader. They're not overly explicit about their efforts, but they're continually doing a ton of work in the background to make their hotel as eco-friendly as possible. For starters, they've removed all single-use plastics and bottles, they have installed water-efficient utilities and LED lighting, and most of the food ingredients are locally sourced. To top things off, local artists are also offered space to display their talents within the hotel.
Hotel details
Address: 
51 Camden St, M5V 1V2 Toronto, Canada.
Guest rating:
4.5 out of 5
Price per night:
From $293
How we select the best eco-friendly hotels in Toronto
We are a travel research company. We check a lot of details and guest reviews before making a selection. First, we check which hotels follow eco-travel principles. Are they recycling their waste? Do they work with local communities? Are they using renewable energy? Are they not using single-using plastics?
Secondly, we check guest reviews across multiple websites and only list hotels with an aggregated review rating of at least 4 out of 5. So you can be confident you will stay at an excellent eco-friendly hotel in Toronto.
Sustainable travel is the key to enjoying a responsible and meaningful trip. You can make a difference in the environment and the communities you visit with the right sustainable travel tips. From packing light to choosing eco-friendly transportation and accommodations, there are plenty of ways to reduce your environmental impact.
More Toronto recommendations
Get to know the city even better by reading our other articles about Toronto: