Toronto is Canada's largest city and attracts nearly 30 million tourists each year. The city is vibrant and multicultural. Not only does it attract people from all over Canada, but individuals from around the world relocate to Toronto.
Its vibrancy is part of the reason so many tourists visit the Canadian city. There is a lot to see and do on a visit. There are also a lot of bars, restaurants, and cafes to explore. Whether you are a culture vulture, shopaholic, foodie, or sports fan, Toronto has something for everyone.
Toronto has a neighborhood for all tastes. If you want to book a trip to the Canadian city, then don't overlook any of these areas to stay in Toronto.

Downtown
Downtown is the heart and soul of Toronto. It is the commercial and economic hub of Canada's largest city and it is the most vibrant part of it. Downtown is huge and offers a lot of options for travelers. Restaurants, bars, shopping, and Canadian heritage sites are all on offer in Downtown.
Not only is Downtown a trendy spot, but it is perfect for culture vultures. There are a host of landmarks and attractions within walking distance. Downtown is ideal for first-time visitors to the city. Its wealth of tourist attractions will please everyone from solo travelers to families.
Downtown is convenient for tourists. It allows you to reach various points of Toronto easily. You won't spend hours on public transport or stuck in a taxi commuting from one neighborhood to another. The Eaton Centre is one of the most popular destinations in Downtown. It is one of Canada's largest indoor shopping malls.
Other must-visit destinations in Downtown are Bellwoods Brewery, Ossington Avenue, and Allan Gardens Conservatory. You will find the best selection of five-star hotels in Downtown.
Best place to stay in Downtown Toronto
Le Germain Hotel Mercer. Address: 30 Mercer Street, M5V 1H3 Toronto, Canada.
Midtown
Situated just north of Downtown, Midtown is Toronto's nightlife hotspot. The neighborhood combines Toronto's grand history with modern architecture and amenities. Midtown is flush with high-end shopping boutiques, five-star restaurants, and art galleries and museums that attract visitors in droves.
You will find the Annex in Midtown. It is a vibrant, dynamic part of the city. The Annex is the trendiest part of Toronto for bars, pubs, and nightclubs. If you want to party all night, then Midtown is the ideal place to go. Solo travelers and couples should book their accommodation in Midtown for a non-stop weekend of fun. Midtown is popular for its nightlife and you won't find it anywhere else.
Midtown has a range of hotels from mid-range to luxury. Book a room in the area to enjoy a base in the best area for nightlife.
Best place to stay in Midtown
Kimpton Saint George Hotel. Address: 280 Bloor Street West, M5S 1V8 Toronto, Canada.

West Queen West
Downtown is great for first-time visitors to Toronto. Midtown is the ideal locale for travelers seeking a vibrant, non-stop nightlife. West Queen West, on the other hand, is the best place to stay for travelers seeking the trendiest part of the city.
West Queen West has been labeled as one of the "coolest neighborhoods in the word". It is an energetic area set in central Toronto. It is the city's young, creative part of the city. You will find it to be full of students and 20-somethings. The energy in West Queen West is contagious and can be found at the bars throughout the neighborhood.
You will find a blend of historic and modern architecture in West Queen West. The neighborhood is ideal for foodies seeking the best eats in Toronto. West Queen West is the hipster part of Toronto with its pubs, bars, and restaurants. The hipster vibe oozes from all angles from street art to galleries to museums.
Young travelers will enjoy West Queen West. There is so much to see and do throughout the day. If you want to mingle with local artists, creatives, musicians, and writers, then don't miss West Queen West.
Best place to stay in West Queen West
The Gladstone Hotel. Address: 1214 Queen St W, Toronto, ON M6J 1J6, Canada.
Yorkville
Yorkville is located near Toronto's main landmarks. The neighborhood is centrally located in Toronto. You won't be far from the best places to visit when staying in Yorkville. The neighborhood is a popular destination for local celebrities. The bars are hotspots for people who want to be seen.
One of the most popular places to visit in Yorkville is the Mink Mile. It is one of the world's most expensive shopping districts. After perusing the Mink Mile, stop off at the Royal Ontario Museum. It is a must-visit museum in Toronto for culture vultures.
Now one of the city's most vibrant areas for Toronto's upper-middle-class and wealthy, you may see the streets packed with Porsche, Lamborghini, and Ferrari cars. While Yorkville is a playground for people with money today, a half-century ago, the neighborhood was a haven for hippies.
Yorkville is home to the Four Seasons' flagship hotel. The hotel chain started in Toronto and on Yorkville Avenue, you will find the flagship location. Along with the Royal Ontario Museum, don't miss the Gardiner Museums and the Bata Shoe Museum.
Best place to stay in Yorkville
The Hazelton Hotel. Address: 118 Yorkville Ave, Toronto, ON M5R 1C2, Canada.
Harbourfront
Situated near the Entertainment District, you will find Harbourfront on the shores of Lake Ontario. Harbourfront is within walking distance of Downtown. You will find a walking path along the lake and can spend time exercising around the area. The Water's Edge Promenade attracts people every day thanks to its views of the harbor and Toronto islands.
If you want to visit Toronto's islands, you can take on of the ferries from the Jack Layton Ferry Terminal. The terminal is a gateway to visit more of Toronto's amazing landmarks. Harbourfront is also flush with restaurants and bars. One of the best parts of Harbourfront is the greenspace provided to visitors. Bluffer's Park is a popular spot to spend time and even provides travelers a place to swim.
Harbourfront was Toronto's shipping hub. After a decline, the area has undergone gentrification and is now one of the ideal places to stay. Harbourfront Centre is a 10-acre area in the neighborhood featuring studios, galleries, markets, and theaters. The Power Plant is Toronto's premier art galleries and showcases contemporary art.
Best place to stay in Harbourfront
Delta Hotels by Marriott. Address: 75 Lower Simcoe Street, M5J 3A6 Toronto, Canada.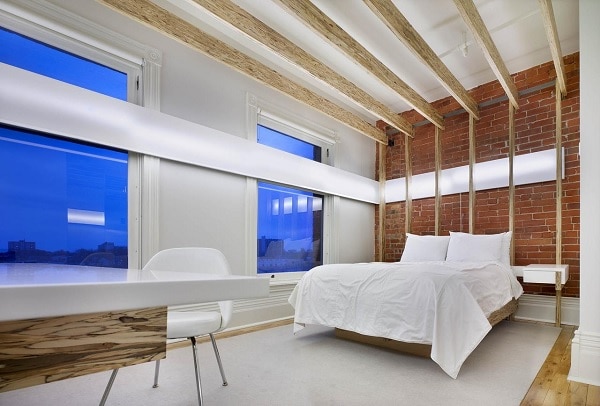 Where travel critics stay in Toronto
Want to know where travel critics from publishers like The New York Times, Frommer's, Fodor's and Lonely Planet stay in Toronto? Check out our overview of all recommended hotels, hostels and B&Bs in Toronto.
Budget
Hotel Ocho. Address: 195 Spadina Ave, Toronto, ON M5T 2C3, Canada.
Mid-range
Hotel Thompson. Address: 550 Wellington St W, Toronto, ON M5V 2V4, Canada.
Luxury
Four Seasons Hotel Yorkville. Address: 60 Yorkville Ave, Toronto, ON M4W 0A4, Canada.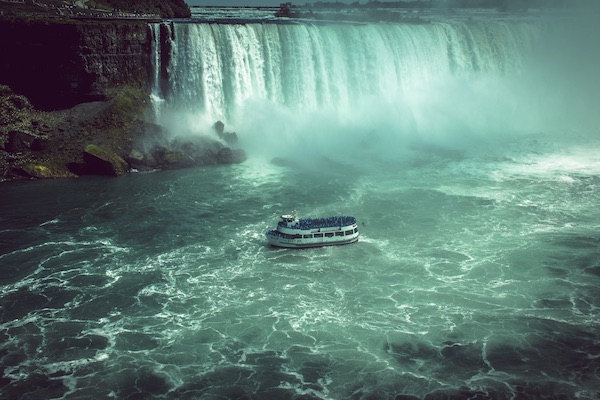 Best things to do in Toronto
There are a lot of things to do in Toronto and surrounding areas, including day trips, attractions, museums, sightseeing tours and many other activities. Here's our list of 3 things you should definitely do when you're in and around Toronto:
Niagara Falls Day and Evening Tour With Boat Cruise and Optional Fallsview Dinner
Appreciate the full grandeur of the Niagara Falls area by day and night on this full-day tour from Toronto. Price: $136. More info.
Toronto: Harbor and Islands Sightseeing Cruise
Enjoy a short cruise in the Toronto Harbour to enjoy views of the Toronto skyline and visit the Toronto Islands. This tour features live narration designed to entertain and inform as you explore the region. Price: $20. More info.
Downtown Toronto Bike Tour
Get to know the best of Toronto on this guided, 3.5-hour bike tour. Learn about the history, culture and architecture of the largest city in Canada. Price: $68. More info.
Deciding where to stay in Toronto
As you can see, there are a lot of things to explore, and deciding where to stay in Toronto is important. Whether you stay in Downtown, Midtown, West Queen West, Harbourfront or Yorkville, all those neighborhoods are in good locations. The atmosphere of the area, whether you travel for leisure or business, whether you travel with your family or friends, and proximity to the attractions you prefer to visit should probably be the deciding factors. Whatever your preference is, you'll have a great time in Toronto.