Canada is a vast country with several phenomenal cities that offer incredible experiences and adventures, and Toronto is without a doubt near the top of that list of places. Located right on stunning Lake Ontario, Toronto is one of the most perfect cities to spend time exploring and taking in all that it has to offer.
No visit to Toronto is complete without making your way to the soaring CN Tower, which offers unsurpassed sunset views, the beautiful and massive 400-acre High Park, and the Gothic-style Casa Loma estate. One of the staple indulgent food items throughout Canada that has to be eaten at least once during your say includes poutine, which is a combination of French fries, cheese curds, and rich gravy smothered on top.
There are many amazing luxury hotels that are positioned throughout lovely Toronto, and we have taken the time to let you in on five of the best ones that are available.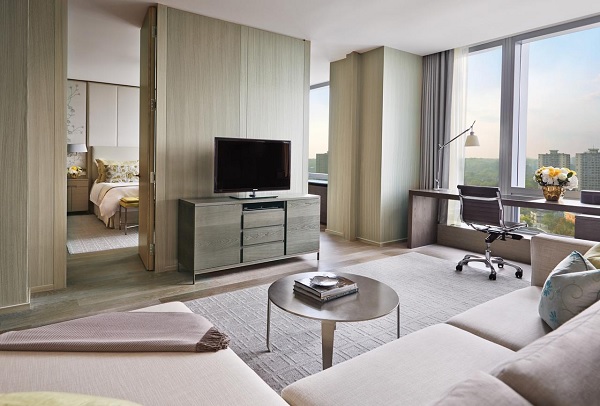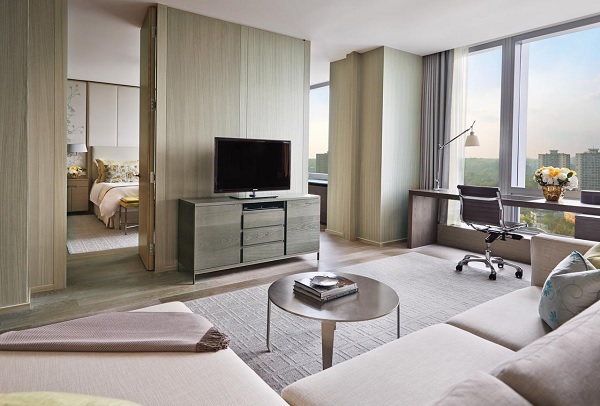 Four Seasons Toronto
The Four Seasons Toronto is the epitome of what it means to be an extravagant hotel, and it is situated in the center of the historic district of the city. There is an abundance of shopping and dining located within a short walk from this beautiful establishment, but if you want to stay in there is a fabulous restaurant and bar readily available on the property.
The rooms are pristine and fresh, and they will undoubtedly ensure that your visit is as cozy as can be. Large windows provide lovely views of the surrounding region, and there is an in-room dining service that cannot be beaten. The faultless spa offers an array of treatments to take relaxation to the next level.
Hotel details
Address: 
60 Yorkville Ave, Toronto, ON M4W 0A4, Canada.
Guest rating:
4.7 out of 5
Price per night:
From $429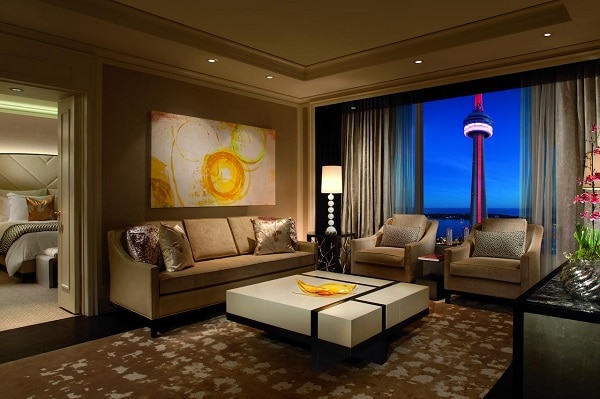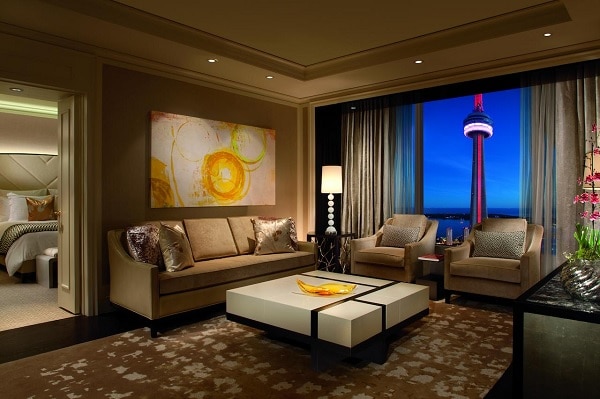 The Ritz Carlton Toronto
A staple in the luxury hotel world, The Ritz Carlton Toronto can be found steps away from the iconic CN Tower. This hotel is a tasteful escape in a bustling city, with its contemporary design and top-notch service. Head to the elegant spa for top-of-the-line rejuvenating treatments, or feel free to utilize the fully equipped gym that is provided so guests can get in a solid workout.
All of the 263 rooms at The Ritz Carlton Toronto offer their own charms that make them so special. Guests can expect views of either the waterfront of Lake Ontario, the CN Tower, or the beautiful city. They are contemporarily designed and downright sophisticated, making your stay as luxurious as possible.
Hotel details
Address: 
181 Wellington St W, Toronto, ON M5V 3G7, Canada.
Guest rating:
4.6 out of 5
Price per night:
From $405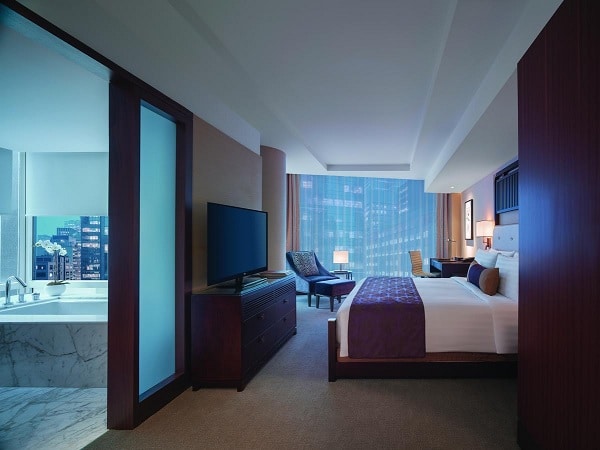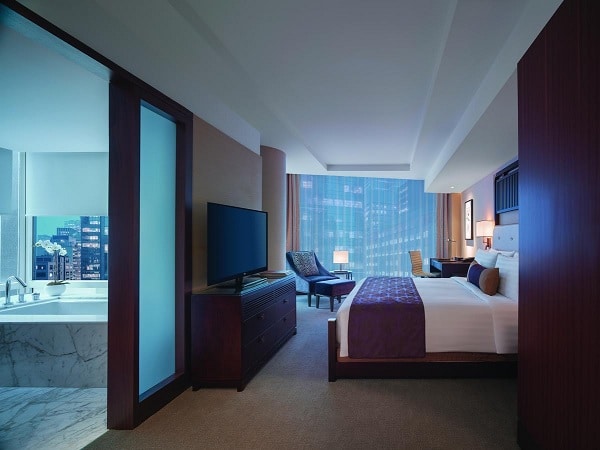 Shangri-La Hotel Toronto
At the Shangri-La Hotel Toronto, guests can truly expect to discover a tranquil oasis within this vicinity. The design throughout the building has clearly been so carefully thought out and executed, creating a space that is emanating peace and serenity. The lounge provides tasty small bites that are perfect to snack on while sipping on a skillfully crafted cocktail from the on-site bar.
There are 202 rooms available at Shangri-La Hotel Toronto, all of which are remarkably spacious and welcoming. The vast windows allow guests to gaze upon the stunning Toronto skyline, and the marble-accented bathrooms are the embodiment of extravagance. The spa is like none other, as a genius blend of old and new-world designs and techniques have been merged into one.
Hotel details
Address: 
188 University Ave, Toronto, ON M5H 0A3, Canada.
Guest rating:
4.7 out of 5
Price per night:
From $296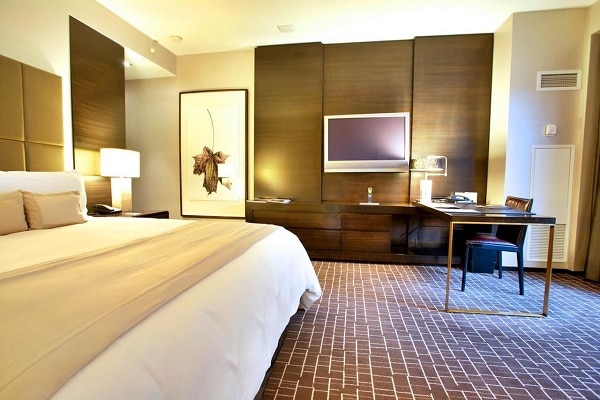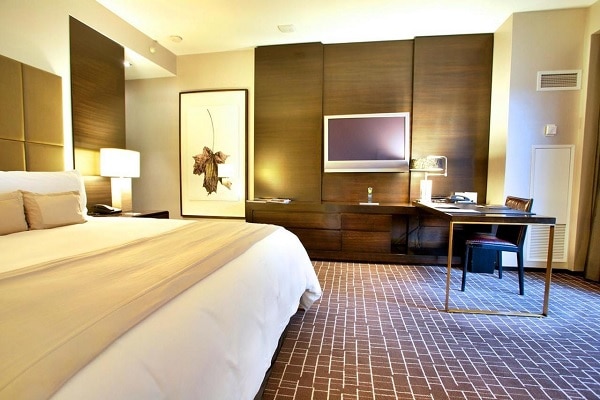 The Hazelton Hotel Toronto
When you make your way into The Hazelton Hotel Toronto, expect to be embraced by sheer warmth and an ambiance that cannot be easily matched. The contemporary layout is sumptuous and will elevate your stay in Toronto immensely. The restaurant that is stationed within The Hazelton serves up exquisite dishes curated by remarkable chefs.
There is a collection of 77 different rooms at The Hazelton, and they are all phenomenally sleek and lavish. Deluxe beds, sizable televisions, and marvelous bathrooms complete with granite surfaces that create an affluent feel. The peaceful spa offers personalized treatments, massages, and there is even a substantial and inviting indoor pool that guests are welcome to enjoy any time of year.
Hotel details
Address: 
118 Yorkville Ave, Toronto, ON M5R 1C2, Canada.
Guest rating:
4.7 out of 5
Price per night:
From $304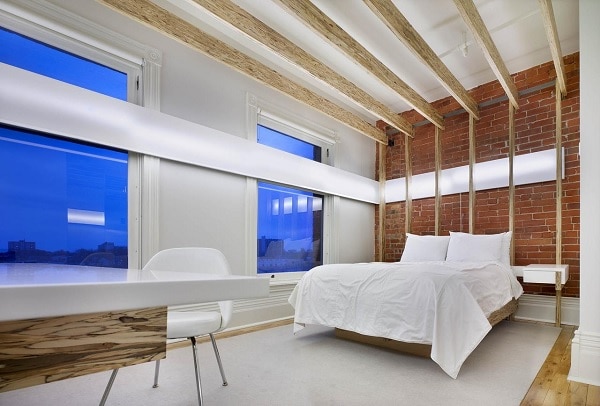 Gladstone Toronto
Gladstone Toronto is our final hotel, which is an entirely sleek and modern space that utilizes creativity in absolutely unique and astounding ways. Everyone that walks into the doors of the Gladstone is welcomed with open arms, from business travelers to locals arriving for a staycation. This establishment has been standing since 1889, and it has undergone impressive improvements to make this one of Toronto's top luxury spaces.
The 37 rooms available at the Gladstone are minimalistic, yet incredibly refined. Plush beds with superior linens, televisions, and spacious bathrooms can be discovered within the interior spaces of the suites here. What is even more noteworthy is the fact of how much the Gladstone has dedicated its mission to be as sustainable as possible, so you can rest easy and in luxury knowing you are being kind to the planet.
Hotel details
Address: 
1214 Queen St W, Toronto, ON M6J 1J6, Canada.
Guest rating:
4.2 out of 5
Price per night:
From $176
This concludes our guide of the five most luxurious and distinguished hotels that can be discovered within magnificent Toronto. You simply cannot beat the decision to stay in any of these astonishing hotels when you visit this remarkable city.
About our luxury hotel recommendations in Toronto
We are a travel research company. Our team helps you discover the best luxury hotels in Toronto by researching the internet for you. We have also visited some of these places. Hence, it's not just our opinion, it's the opinion of many travelers who have been there before you. We make it easy for you to find out about the most luxurious and exclusive 5-star hotels in the city.
Please note, we only list hotels that have an aggregated guest review rating of at least 4.0 out of 5. We aggregate all reviews from different booking sites and other unbiased review websites. Hence, you can be certain all hotels listed above offer you a great stay in Toronto.
Best price guarantee
We have partnered with Booking.com and Hotels.com to offer the best price for your stay in Toronto! Both sites offer price matching, so you can be sure that you are getting the cheapest rates possible for a luxury hotel in Toronto. If you find an even lower rate on another site at least 24 hours before check-in, contact them to claim a refund of the difference!
Top 5 luxury hotels in Toronto
Having read this guide, now let's summarize what we learned. We found the best 5-star hotels in Toronto thanks to reviews and tips from thousands of guests and travel experts:
More Toronto recommendations
We hope you enjoy the advice we've given to you above. If so, be sure to check out some of our other articles about Toronto:
Best boutique hotels in Toronto