Fes is for culture vultures. It is a Moroccan city full of history and the past can be seen all over Fes. The city is Morocco's most famous travel destination. Fes is also Morocco's oldest city, making it ideal for anyone seeking to discover a true taste of the North African country.
Fes offers travelers an authentic Morocco experience. From cobbled alleyways to stalls selling locally crafted goods, Fes is everything a traveler expects of Morocco before arriving. There is no other city quite like Fes and these areas to stay in the city offer you the best of a beautiful destination.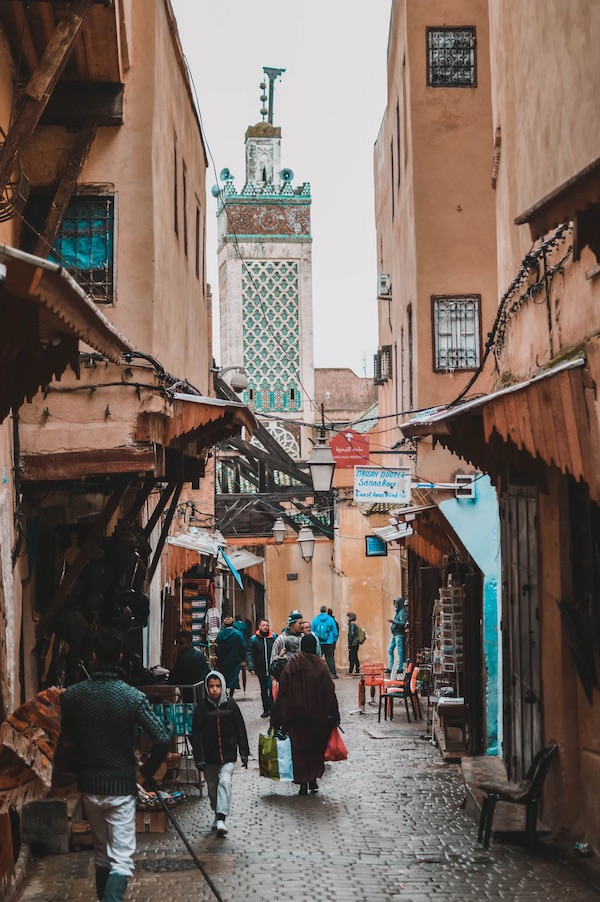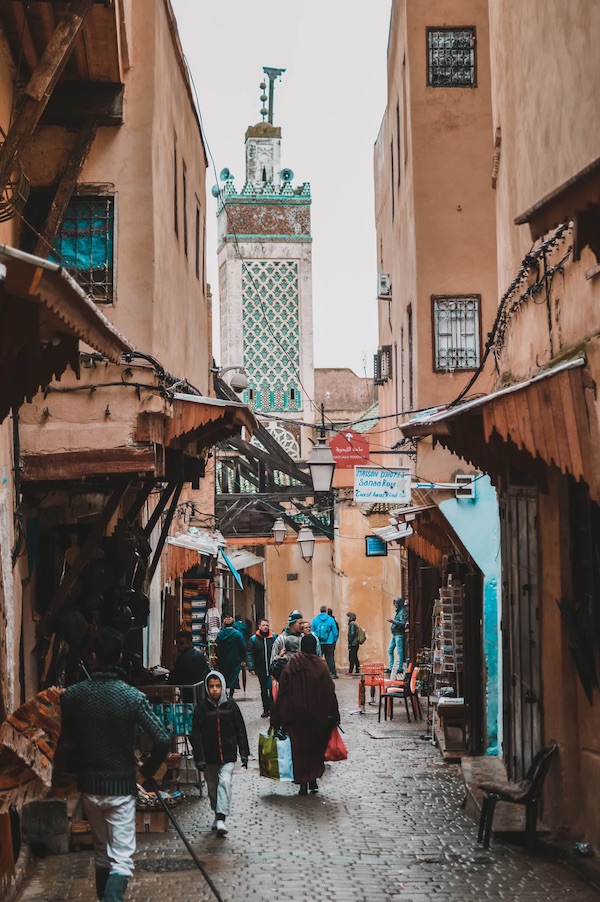 Old Medina
Locally known as Fes el-Bali, the Old Media is a neighborhood with narrow alleys, small shops, and riads. One of the great aspects of the Old Medina is that automobiles are not allowed in the neighborhood. This makes it perfect for pedestrians to walkabout.
There are around 9,400 alleys that cut through Old Medina. You will find large gatherings of locals and animals in many of these walkways. The area is also home to small traditional Moroccan gardens known as riads. Old Medina is a heaving area packed with people. If you want to visit a part of Fes that is full of typical Moroccan life, then this is the neighborhood to stay in.
Old Medina isn't just a popular area due to its shops but for its madrasas (schools that team Islam), mosques, and water fountains. It is easy to get lost walking around Old Medina due to the alleys that snake through the area.
In 1981, the Old Medina received World Heritage status. Due to Old Medina being a popular place for foreign tourists to stay in a hotel, the neighborhood has some of the best riads in all of Fes. Culture vultures have a lot to love about the Old Medina thanks to its historical significance.
Best place to stay in Old Medina
Karawan Riad. Address: 21 Derb Ourbia Makhfiya، Fes 30000, Morocco.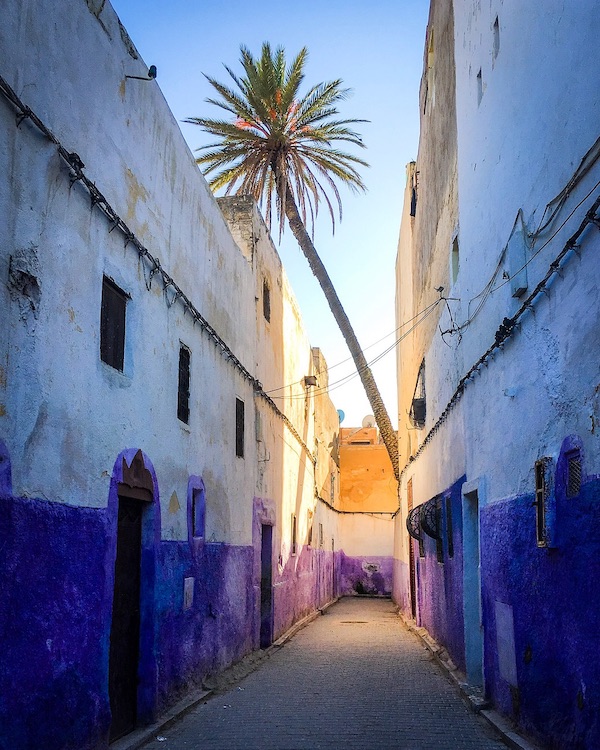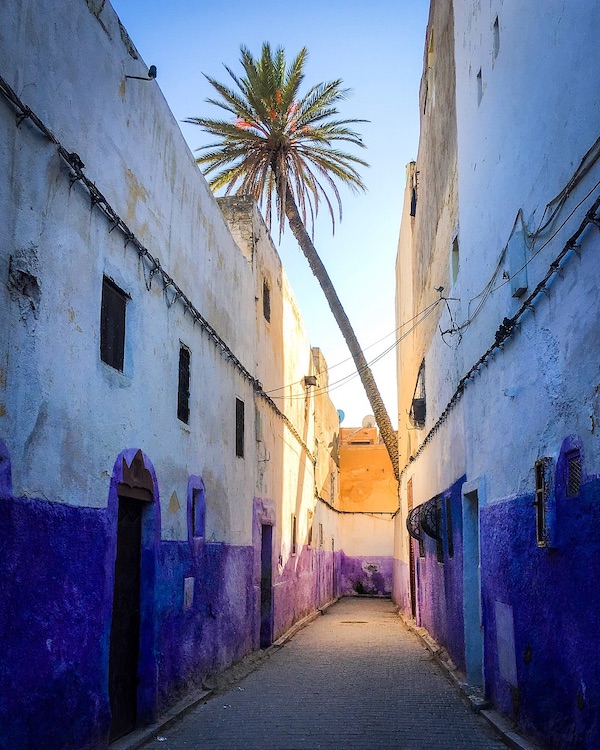 Bab Bou Jeloud
Bab Bou Jeloud is the name of the famous Blue Gates of Fes and they are the entryway into the Old Medina. The neighborhood around Bab Bou Jeloud before you get to the Old Medina is one of the best areas to stay on a visit to Fes.
Just outside Bab Bou Jeloud, you will find the hustle and bustle of Fes. The city buzzes on the outside of the gates while things are a bit quieter once on the other side. You will find a clutch of local restaurants and cafes around Bab Bou Jeloud. Passersby will see these cafes packed with people throughout the day.
The neighborhood is a great place to stay as it combines new and old in equal measure. Staying around Bab Bou Jeloud gives you the chance to be close to the city's oldest part. It also allows you easy access to public transport, so you can reach other parts of the city.
Best place to stay in Bab Bou Jeloud
Hotel Ryad Mabrouka. Address: 25 Derb el Miter, Rue Talaa Kebira، Aïn Zleten، Fes 30110, Morocco.

As Seffarine
The neighborhood of As Seffarine is littered with handicraft workers, leather makers, and pottery shops. It is an area where foreign travelers go to purchase uniquely made gifts to take home with them. Morocco is well-known for its craftsmen and many of the locally made items are sold in Seffarine Square. This is a place where you can haggle for the perfect price for locally made goods.
Guided tours often make their ways through As Seffarine to give travelers a taste of local craftwork. In addition to the local shops and workspaces, the neighborhood is situated near many attractions just to the northeast of the Old Medina.
Travelers regularly visit the beautiful Riad Palais Bahia Fes. It is a quaint green space in the middle of the neighborhood. You can meander through the neighborhood taking in the various sellers' stalls and stop off of a break in the riad.
If you want a top-quality hotel that is lower in price than accommodation in the Old Medina, then look no further than As Seffarine. Many of the mid-range hotels are lower in price due to the neighborhood's location on the northeast edge of the city.
Best place to stay in As Seffarine
Hotel Palais Amani. Address: 12 Derb El Miter، Fes 30000, Morocco.

Nouvelle Ville
Situated to the southwest of the Old Medina, you will find Nouvelle Ville. As the name suggests, Nouvelle Ville had a large French influence on it. Today, Nouvelle Ville attracts foreign nationals and many of the neighborhood's residents are well-off. Apartment rents and hotel prices are much higher than in other areas of Fes.
Culture vultures will find a rich European influence on Nouvelle Ville. International restaurants, ice cream shops, bakeries, and even fast-food chains are abundant in the neighborhood. Foreign travelers looking for a taste of home should head to Nouvelle Ville, even if they are not staying in a hotel in the area.
Nightlife is also abundant in Nouvelle Ville. You can reach the neighborhood thanks to the city's public transit which services it throughout the day. Due to the number of public transport options that run through Nouvelle Ville, you can reach the city's best landmarks quite easily.
Best place to stay in Nouvelle Ville
Hotel Sahrai. Address: Dhar El Mehraz, 30 000، Fes, Morocco.

Fes el-Jdid
Fes el-Jdid is the newer part of the Old Medina. Of course, it was built in the 1200s, so, in fact, it isn't that new. However, it is technically newer than the Old Medina. One of the big differences between the areas is that Fes el-Jdid has fewer alcoves and it isn't as easy to get lost in the neighborhood.
The area is home to the Jewish quarter. It may surprise you to find out that a country under Islamic law and culture has a Jewish quarter, but you will find it in Fes el-Jdid. The Jewish quarter is known as the Mellah and it is home to a museum that welcomes visitors throughout the year.
There are several accommodation options for travelers around Fes el-Jdid. However, they are not as plentiful as in other parts of Fes. If you want to stay in Fes el-Jdid during a stay, it is paramount to book your hotel early as hotels book up quickly.
Best place to stay in Fes el-Jdid
Riad Dar Nour. Address: 125 Kasbat Boujloud, 30000 Fes, Morocco.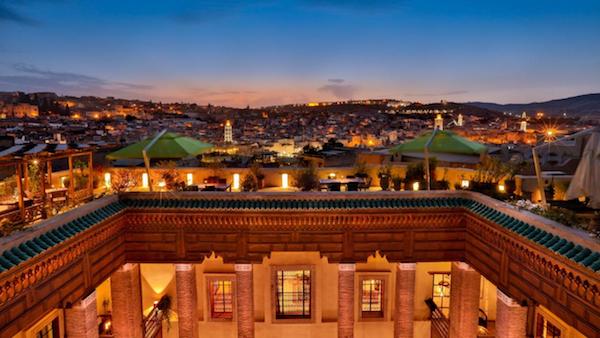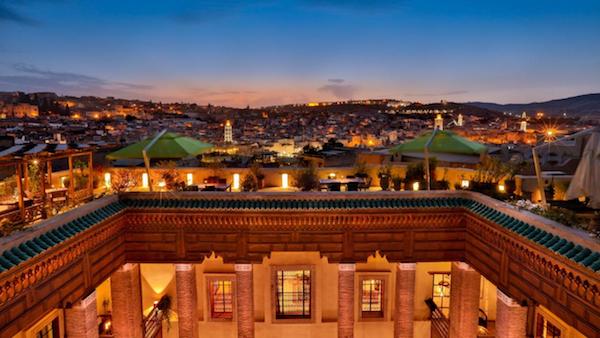 Where travel critics stay in Fes
Want to know where travel critics from publishers like The New York Times, Frommer's, Fodor's and Lonely Planet stay in Fes? Check out our overview of all recommended hotels, hostels and B&Bs in Fes.
Budget
"Fez' original, Spanish-owned hostel is still the best, offering up good cheap backpacker beds close to Bab el-Jdid. It's a youthful and social place, with more dorm beds than you might imagine." — Lonely Planet.
Address: 60, Arset Lamdelssi, Bab Jdid Fes Medina, Fes El Bali, 30110 Fes, Morocco.
Mid-range
"Built around a lush courtyard garden—a tranquil oasis from the medina's mayhem right on the doorstep—this 17th-century palace had fallen into disrepair before being rescued and rebuilt by its French-American owners, utilizing the skills of the city's finest craftsmen." — Fodor's.
Address: 3 Derb Bechara، Fes, Morocco.
Luxury
"The sumptuous 15-room Palais Amani was created by a charming Franco-Moroccan woman from Montpellier and her family, which explains why it offers the pleasure of magnificently renovated Fassi décor with modern comforts, including air-conditioning and internet." — New York Times.
Address: 12 Derb El Miter، Fes 30000, Morocco.
FAQ: Fes hotel recommendations
If you're looking for a budget, boutique, or luxury hotel in Fes, or maybe your travel plans require a splendid hostel? Want to know which hotel serves the best breakfast? Here are all those answers and more about where to stay in Fes.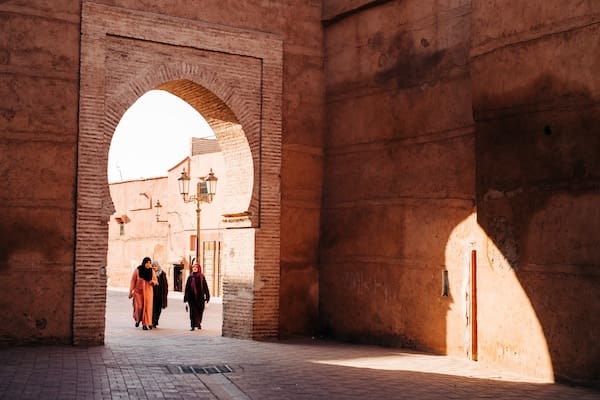 Best time to visit Fes
The best time to visit Fes, without a doubt, is during the spring months of April and May. The weather during this period is nothing short of spectacular – warm sunny days, cool evenings, and just the right amount of breeze to keep you comfortable as you traverse the ancient medina.
Spring in Fes is also the season of festivities, with the city playing host to an array of events that are sure to leave you spellbound. Imagine attending the world-renowned Fes Festival of World Sacred Music, where artists from around the globe come together to celebrate spirituality through the universal language of music.
Or how about the Festival of Sufi Culture, a week-long event featuring mesmerizing music, dance, and poetry performances that delve deep into the mystical world of Sufism?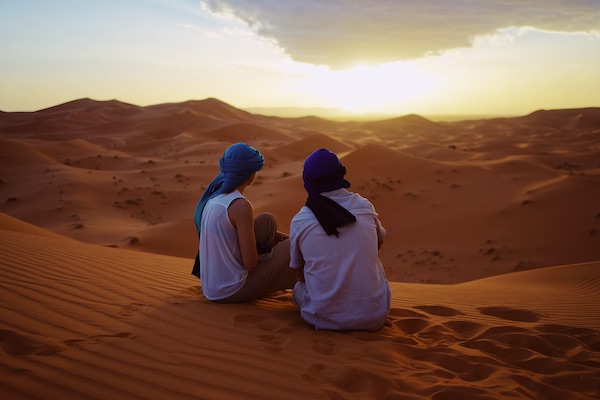 Best things to do in Fes
There are a lot of things to do in Fes and surrounding areas, including day trips, attractions, museums, sightseeing tours and many other activities. Here's our list of 3 things you should definitely do when you're in and around Fes:
Fes Medina Guided Tour
This tour of Fes takes you through the intricate maze of streets of the medina. See the tanneries, Medersa Bouaanania, Nejjarine Museum and more. Price: $30. More info.
Small-Group Day Tour to Chefchaouen from Fes
Visit the Rif Mountain town of Chefchaouen on a small-group tour from Fez, and spend the day exploring the dreamy blue and white architecture, a picturesque medina, and local landmarks. Price: $45. More info.
3 Days 2 Nights Desert Trip to Marrakech from Fes
This trip from Fes to Marrakech takes you through the Cedars forest, Atlas mountains and deserts. Visit kasbahs, ride a camel and stay overnight in a Berber tent. Price: $300. More info.
Deciding where to stay in Fes
In conclusion, this travel guide has covered the best areas and hotels in Fes and how to get around. Now it is up to you to decide which area suits your needs the most.
Top 5 areas to stay in Fes
Old Medina
Fes el-Jdid
Nouvelle Ville
Bab Bou Jeloud
As Seffarine
As you have seen in this travel guide, there are a lot of things to explore, and deciding where to stay in Fes is important. Whether you stay in Old Medina, Fes el-Jdid, Nouvelle Ville, Bab Bou Jeloud or As Seffarine, all those neighborhoods are in good locations.
The atmosphere of the area, whether you travel for leisure or business, whether you travel with your family or friends, and proximity to the attractions you prefer to visit should probably be the deciding factors. Whatever your preference is, you'll have a great time in Fes.
Check out our other guides about the best places to stay in Fes: