Especially as of late, Morocco has become a beacon for international visitors. Fes is one of the most popular areas to visit in the entire country. Although the largest city in the country is Casablanca, Fes is the second-largest in Morocco and has so much to offer to every visitor.
With thousands of years of history in this area, there are a lot of focal points to visit in Fes. This is on top of the food, shopping, and deep culture that is littered throughout the streets. No matter what your interests are, experiencing the culture in Fes is a truly unique and awesome experience.
One of the best ways to experience the cool side of Fes is by staying in a boutique hotel. These offer personalized experiences that are hard to replicate with any other style of accommodation.
Here are five of the best boutique hotels in Fes, Morocco!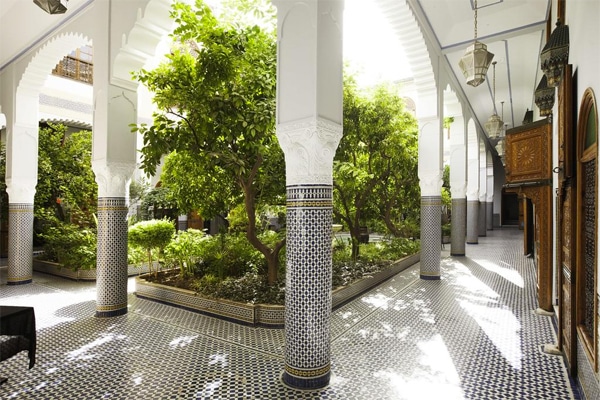 Palais Amani Hotel
One of the best and most exclusive boutique hotels in all of Fes is the Palais Amani Hotel. This is a high-end spot that brings tremendous value to your stay.
The location is Palais Amani's biggest perk. You are in a safe, clean spot while also being just a short walk away from the Medina street markets. Experiencing the Moroccan market culture is a must whenever in the country.
In terms of what the actual hotel brings, there are tons of perks and luxuries. Some include a rooftop terrace, a super unique riad style, a spa, an outdoor shower and more. Be sure to get reservations far in advance, because there are very few rooms and the hotel always seems to fill up quickly.
Hotel details
Address: 
12 Derb El Miter, Fes 30000, Morocco.
Guest rating:
4.5 out of 5
Price per night:
From $185

Riad Laaroussa
One staple feature of Morocco is the use of riads. Riads are traditional Moroccan houses that are built up and around courtyards or gardens. These are beautiful structures that separate the busy, dusty streets of Morocco from the more elegant accommodations.
This is what the Riad Laasroussa is. Staying in this unique accommodation will give you a unique Moroccan experience that you will never forget.
Now, there are only eight rooms in the entire complex, so getting a spot needs to be arranged pretty far in advance. Each room has its own, unique theme, so if you love the riad, you can come back again another time and stay in a completely different room.
Hotel details
Address: 
3 Derb Bechara, Fes, Morocco.
Guest rating:
4.9 out of 5
Price per night:
From $125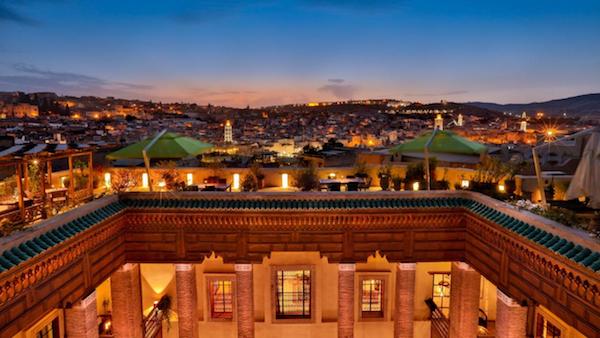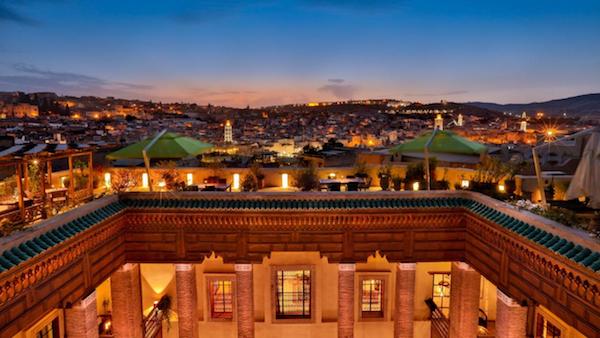 Karawan Riad
Although the riad style is very similar across Fes, the Karawan Riad somehow sticks out amongst the many others. This is probably because of the complex's history as a well-known palace over 400 years ago. Although there have been many renovations, it still has enough of that ancient charm to make it super unique.
Staying at the Karawan Riad also gets you away from the high tourism area and into Fes's true culture. This also means that you are close to a lot of the city's hidden gems that a majority of visitors will never experience. If this is what you are looking for on a trip, the Karawan Riad is for you.
Hotel details
Address: 
21 Derb Ourbia Makhfiya، Fes 30000, Morocco.
Guest rating:
4.8 out of 5
Price per night:
From $208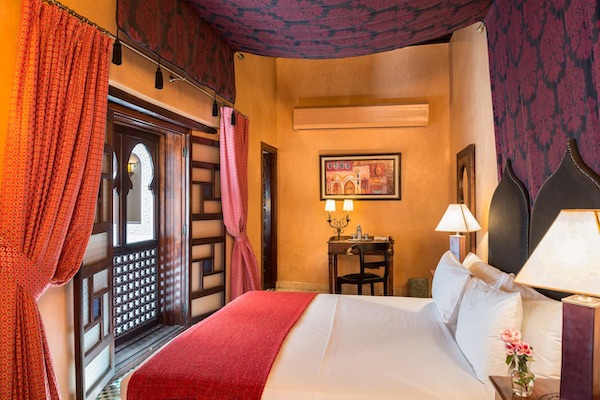 Algilà Fes
A divergence of culture happens at the Algila Fes. This boutique hotel combines the classic Moroccan vibe that is found throughout Fes as well as an Italian charm. This is a unique combination that makes this hotel so admirable.
The biggest perk of Algila Fes is its location. No matter what kind of traveler you are, you will be staying in the perfect location to access a lot of the hotspots quickly. This is a really important factor because staying at a nice place is great, but if you are miles and miles away from the main spots, it is a hassle.
Plus, you will have access to a rooftop terrace, really modern amenities, and so much more in the hotel itself.
Hotel details
Address: 
17, Akibat Sbaa, Fes El Bali, 30000 Fes, Morocco.
Guest rating:
4.7 out of 5
Price per night:
From $120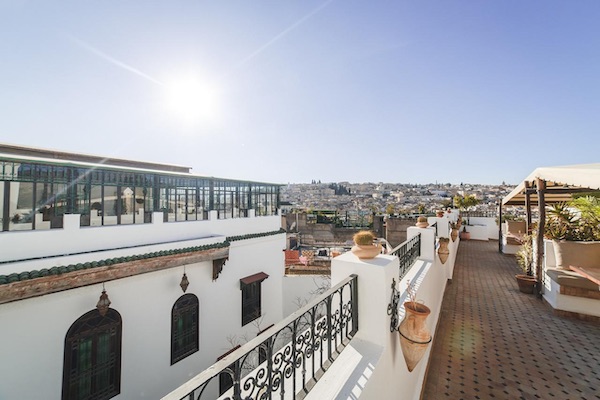 Riad le Calife
Finally, we have Riad le Calife. Right in the middle of Medina de Fes, this hotel is a part of the historic district of the city. In fact, this is a small portion of one of the oldest riads in all of Fes. That in of itself is a huge perk to staying here. You will have the quickest access to this historical, cultural focal point at the drop of a tack.
There are two gorgeous terraces that give incredible views of the city. On top of these, there is a really delicious restaurant downstairs. So, you don't have to travel far to really enjoy what this area has to offer.
Hotel details
Address: 
19 Bis Derb El Ouarbiya, Fes El Bali, 35000 Fez, Morocco.
Guest rating:
4.9 out of 5
Price per night:
From $125
About our boutique hotel recommendations in Fes
We are a travel research company. We help you discover the best boutique hotels in Fes by researching the internet for you. It's not just our opinion, it's the opinion of many travelers who have been there before you. We make it easy for you to find out about cool design hotels and unique design hotels in the city. Some of them might be so romantic you might not want to leave your room.
Please note, we only list hotels that have an aggregated guest review rating of at least 4.0 out of 5. We aggregate all reviews from different booking sites and other unbiased review websites. Hence, you can be certain all hotels listed above offer you a great stay in Fes.
Best price guarantee
We partner with Booking.com and Hotels.com to provide you with the lowest price guarantee on your stay in Fes! Both those websites offer price matching. That ensures that you are paying the lowest price available online. If you find a cheaper offer on another website for the same cool hotel in Fes at least 24 hours before check-in, contact them to claim a refund of the difference!
Top 5 boutique hotels in Fes
Before you go, let's summarize this guide. Based on thousands of guest reviews and tips from travel experts, these are the best boutique hotels in Fes:
More Fes tips
If you like our guide above, you should also check out our other articles about Fes: