Oslo is one of Scandinavia's most vibrant cities, packed with interesting attractions, delicious restaurants, and diverse cultural events. Whether you're a first-time visitor or a seasoned traveler, there's something for everyone to enjoy in this captivating city.
With high-end amenities, impeccable details, and top-notch customer service, what's not to love about a luxury hotel? After a full day or afternoon of experiencing the sights and sounds of Oslo, recharge in a luxurious hotel room in a plush bed, a deep bathtub, or at the hotel spa.
While there are no set standards for luxury hotels, many are nestled in historic structures with unique details and furnishings you can't find anywhere else. Designer interiors often include aesthetic details, opulent touches, and large, flat-screen TVs. Many of these hotels also provide luxury services, like saunas, spa treatments, high-end dining, or state-of-the art-fitness centers. At a luxury hotel, your comfort is the top priority.
There's no better way to experience the elegance of Norway than by staying at a luxury hotel. Keep reading to discover the five best luxury hotels in Oslo.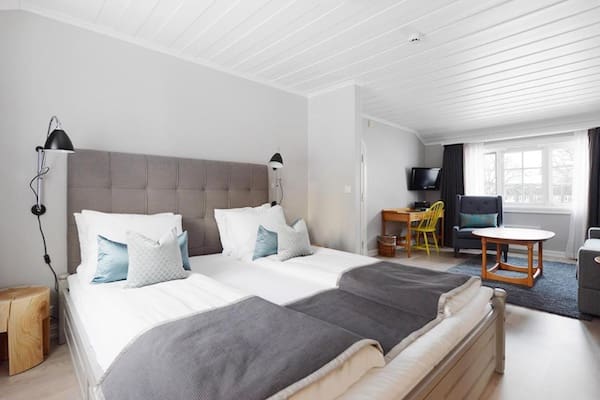 Lysebu Hotel
Perched on a hilltop surrounded by rustic wooden buildings, Lysebu Hotel will make you feel like you've been transported to a Norwegian storybook. Built during World War 1, this property was given to the Danish-Norwegian Cooperation Fund as a gift for the food aid Norway received during the German occupation.
Today, this hotel is a rural oasis for nature enthusiasts, only 20 minutes outside the center of Oslo. Situated on the edge of the Nordmarka forest, guests enjoy hiking, biking, and skiing through the spectacular scenery. However, the metro station is only 9 minutes away, so you can still easily access the rest of the city.
Comprising 85 rooms, this hotel's interior is minimalist yet still tastefully decorated. Throughout each space, you'll notice earthy, neutral tones, white linens, plush furniture, flat-screen TVs, and wooden floors. Several rooms showcase artwork and paintings by local artists, like Carl Nesjar, Knut Rumohr, and Gunnvor Advoccat. Upgrade to a suite to enjoy a separate living area or a balcony.
Hotel guests will receive a complimentary breakfast, but a high-end restaurant and wine bar are also onsite. You can also enjoy the hotel cooking theater, showcasing live demonstrations. Lysebu Hotel has an indoor pool, fitness center, sauna, and an art gallery.
Hotel details
Address:
Lysebuveien 12, 0712 Oslo, Norway.
Guest rating:
4.5 out of 5
Price per night:
From $158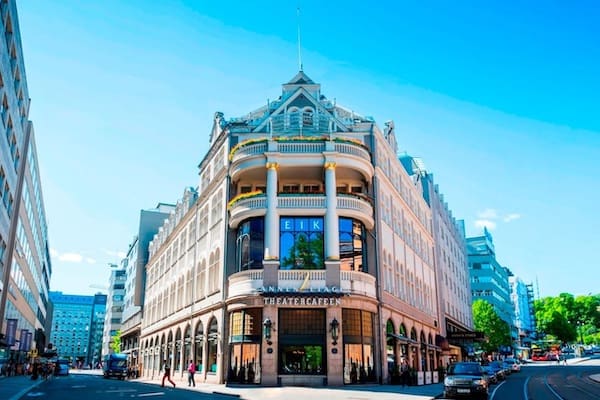 Hotel Continental
Hotel Continental offers a contemporary-classic atmosphere in one of the most unbeatable locations in Oslo. During your stay, you'll be close to the waterfront, and even closer to Oslo's most popular attractions, like the National Theater, Karl Johans gate, and the Royal Palace. It's also just a three-minute walk to the metro station, making it quick and easy to get around the city.
This family-owned hotel has been around since 1900, encompassing 151 rooms in the center of Oslo. While the hotel feels classic and old-timey, the rooms have been kept up-to-date to feature modern amenities. Bathrooms feature white tiling and recess lighting, while guest rooms boast fun lighting, white linens, bold colors, and comfortable furniture.
There are various room options, ranging from single or double rooms to large suites outdoor spaces. Every room includes WiFi, flat-screen TVs, designer toiletries, and minibars. Guests can upgrade to enjoy separate living spaces, soaking tubs, and Nespresso machines. Other suites include dining areas, outdoor terraces, and panoramic city or water views.
Hotel details
Address:
Stortingsgaten 24 / 26, 0161 Oslo, Norway.
Guest rating:
4.5 out of 5
Price per night:
From $295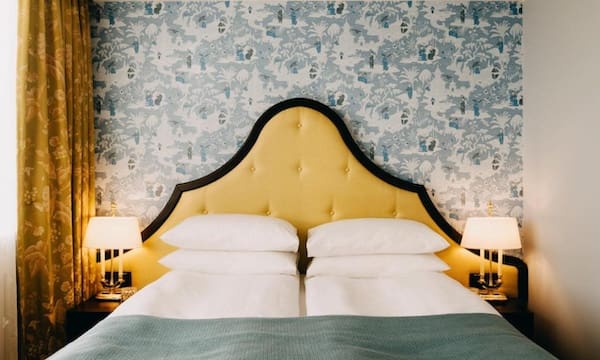 Hotel Bristol
Hotel Bristol dates back to the 1920s, featuring historic details like elegant chandeliers and ornate pillars throughout the lobby. However, this luxurious hotel mixes old with new, featuring several modern amenities.
Hotel Bristol has many different room options, from single standard rooms to business rooms and suites. Each room includes free WiFi, minibars, and flat-screen TVs. Upgrade to a suite to enjoy a separate sitting area and coffee and tea-making facilities.
This hotel has a complimentary breakfast buffet each morning and two other onsite restaurants. Bristol Grill serves seasonally changing Norwegian fare, while the piano bar, Vinterhaven, has live music in the evening and tea in the afternoon.
An onsite gym is available for guests aged 15 and older, providing weight machines, free weights, and cardio equipment. Guests can also book a treatment at the onsite spa to recharge from a day of Norwegian exploration. This hotel also has several private event rooms, perfect for weddings, conferences, or corporate events.
Located only two minutes from the tram stop, the rest of Oslo is easily accessible from Hotel Bristol. The Royal Palace is located within an 11-minute walk from the hotel, which makes sightseeing a breeze.
Hotel details
Address:
Kristian IVs Gate 7, 0164 Oslo, Norway.
Guest rating:
4.5 out of 5
Price per night:
From $179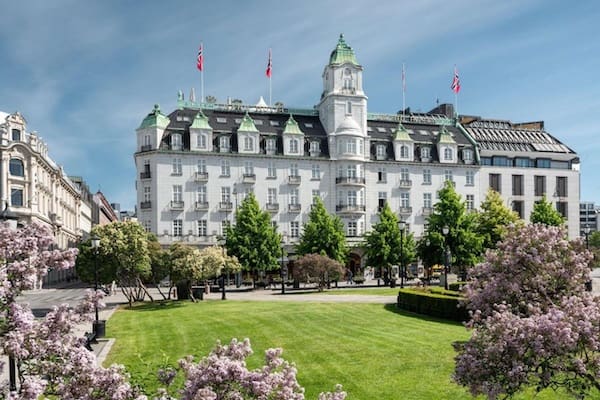 Grand Hotel Oslo
Featuring marble floors, opulent chandeliers, and exquisite event spaces, the Grand Hotel Oslo truly lives up to its name. This hotel, built in 1874, is nestled in a landmark structure on the bustling Karl Johans Gate. During your stay, take a five-minute stroll to the National Museum of Art, or an 11-minute walk to the Royal Palace.
All 283 guest rooms and 54 suites at the Grand Hotel are simple and elegant, with wooden floors, simple colors, renovated bathrooms, and historic accents. Every room has a flat-screen TV, minibar, and WiFi. Upgrades include sofas, armchairs, tea and coffee-making facilities, and city views. Junior Suites offer French balconies, creating an even more luxurious experience. Suites are individually themed and decorated. One of the most notable spaces is the Nobel Suite, where the Nobel Peace Prize winner stays every year, receiving their ovations on the balcony in front of Karl Johan's Gate and the Parliament building.
Artesia Spa, the hotel spa, serves as a sanctuary for guests needing some much-needed relaxation. This spa has several highly-trained therapists, relaxing body treatments, a stunning design, a heated swimming pool, a sauna, and a steam room. Right next to the spa, you'll find a high-end fitness center with Technogym equipment overlooking the rooftops of Oslo.
Hotel details
Address:
Karl Johans gate 31, 0159 Oslo, Norway.
Guest rating:
4.1 out of 5
Price per night:
From $230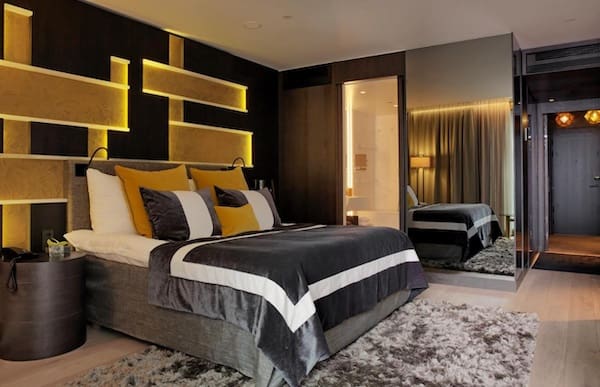 The Thief Hotel
With a name like The Thief, you can be sure that the only thing this hotel will steal is your heart! The Thief earned its name through the area's history – it's built on a former prison island, known as Tjuvholmen, or "Thief Island." However, the hotel feels nothing like a prison. With a bright and open atmosphere, stylish furnishings, warm lighting, and fun artwork, this hotel will make you feel like you never want to leave!
Established in 2013, The Thief encompasses 119 rooms with four floor plans – standard, superior, deluxe, and junior suite. Every room sleeps two guests with a king-size bed. These contemporary spaces include balconies, flat-screen TVs, WiFI, entertainment systems, and Nespresso machines. Upgraded rooms have marble bathrooms and separate living spaces, while the largest suite boasts a private rooftop terrace with 360-degree views.
Hotel details
Address:
Karl Johans gate 31, 0159 Oslo, Norway.
Guest rating:
4.1 out of 5
Price per night:
From $230
About our luxury hotel recommendations in Oslo
We are a travel research company. Our team helps you discover the best luxury hotels in Oslo by researching the internet for you. We have also visited some of these places. Hence, it's not just our opinion, it's the opinion of many travelers who have been there before you. We make it easy for you to find out about the most luxurious and exclusive 5-star hotels in the city.
Please note that we only list hotels that have an aggregated guest review rating of at least 4.0 out of 5. We aggregate all reviews from different booking sites and other unbiased review websites. Hence, you can be certain all hotels listed above offer you a great stay in Oslo.
Best price guarantee
We partner with Hotels.com and Booking.com to ensure you get the best price for your stay in Oslo! Both sites offer price matching. That means you pay the lowest prices for your stay. If you find a cheaper offer on another website for the same luxury hotel in Oslo at least 24 hours before check-in, contact them to claim a refund of the difference!
Best 5-star hotels in Oslo
Now that you've gone over this guide, let's summarize it. We got to know what the best 5-star hotels in Oslo are thanks to thousands of guest reviews and tips from travel experts:
More Oslo guides
If you like the advice we've given you above, make sure to check out some of our other articles about Oslo: