On the world tourism scene, there are a few cities that always stick out as some of the best to visit. Tokyo, London, Beijing, and New York City are among the top. One that is added to that list is Los Angeles.
L.A. is a beacon for entertainment, food, culture, and so much more. Any traveler that wants to experience the world's top hits should make a special trip to Los Angeles. There is so much to do that you can spend weeks in the area and not see it all.
Los Angeles is a city of luxury for those who want it to be. Like many big cities, there are areas that are super high-end and others that are not all. So, you can cater a trip to fit whatever budget you have. Here are five of the best luxury hotels in Los Angeles!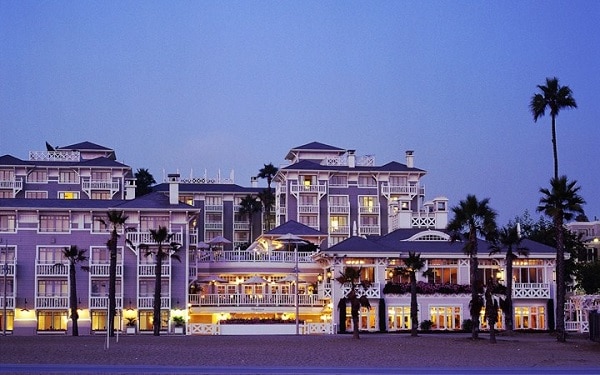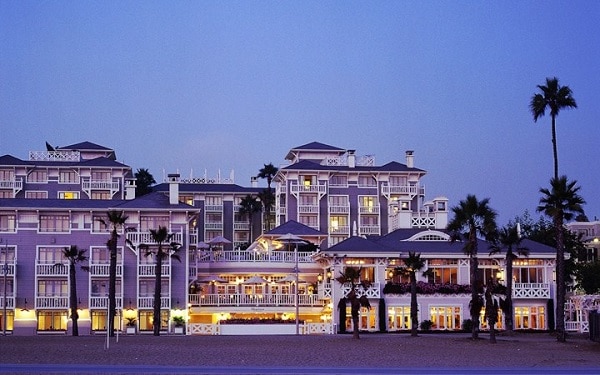 Shutters on the Beach
Los Angeles is a huge area that is really made up of a bunch of areas. This includes Ventura, Hollywood, Pasadena, and an array of others. One of which is Santa Monica, an area on the ocean known for gorgeous views. This is exactly where Shutters on the Beach is located.
It is located on the beach, as the name implies, and brings practical luxury to the forefront. Some of the amenities include an outdoor pool, access to the beach, a fantastic spa, and much more.
The unique factor of Shutters on the Beach is the diversity of rooms being offered. This is not some hotel that just has a basic room. Although the entire property is luxurious, you can amp it up depending on your budget.
Hotel details
Address: 
1 Pico Blvd, Santa Monica, CA 90405, USA.
Guest rating:
4.4 out of 5
Price per night:
From $595
Chateau Marmont
In a city like Los Angeles, there is no shortage of celebrities milling about. One of the getaways for notable people is the Chateau Marmont. Although seeing someone famous is not guaranteed when staying here, you are promised a luxurious stay with great amenities
Located right on Sunset in LA, you are getting quick access to some great locations. There are a total of 63 rooms, but there is one option that is cooler than the rest. There are four bungalows that can be rented out in place of a regular room. This is a super cool way to stay.
There is also a fantastic restaurant and bar on site. Although there are incredible restaurants on Sunset, retreating to the hotel after a busy day is always a good option.
Hotel details
Address: 
8221 Sunset Blvd, Los Angeles, CA 90046, USA.
Guest rating:
4.3 out of 5
Price per night:
From $450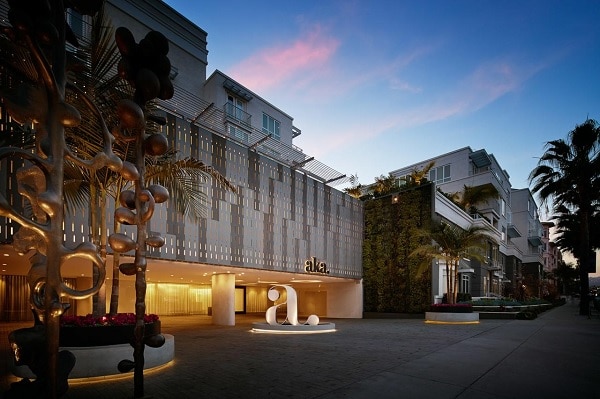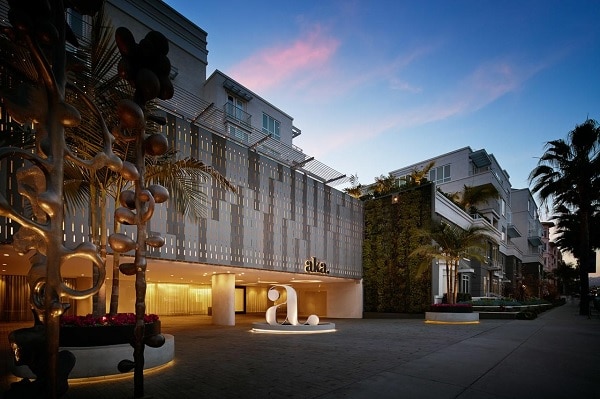 AKA Beverly Hills
A fairly unique style of accommodation is the AKA Beverly Hills. Although it is still a luxury hotel, it can be classified as an extended-stay location. With companies like AirBnB giving people more options than the usual hotel in some scenarios, sometimes you need something more. Not all the time, but sometimes you do.
This is where the AKA Beverly Hills hotel comes into play. You get apartment-style accommodations paired with the high-end perks of a luxury hotel. To some, this is the best of both worlds.
Some of the great amenities include room service, a gym, upscale features, and more.
Hotel details
Address: 
155 N Crescent Dr, Beverly Hills, CA 90210, USA.
Guest rating:
4.6 out of 5
Price per night:
From $415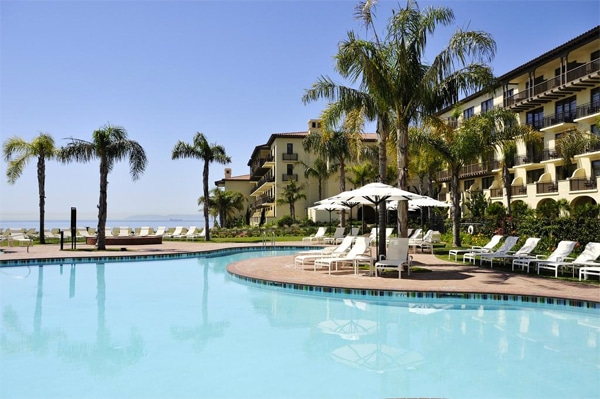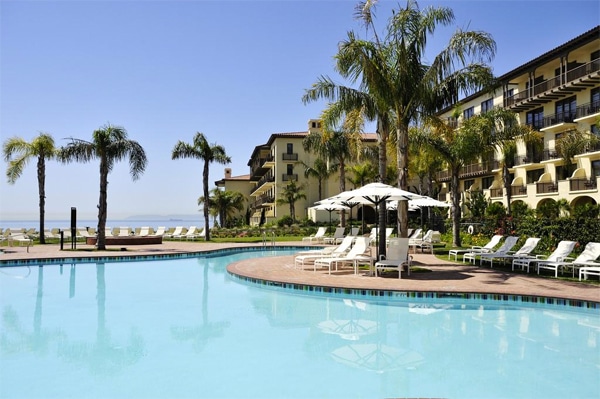 Terranea Resort
Located in the Ranchos Palos Verdes area, the Terranea Resort is an upscale establishment that spares no expense for your enjoyment. Not only is the property luxurious, but the immediate area is littered with high-end spots and things to do. You are also about a 30-minute drive from downtown LA, so access to the area is not too much of a headache.
This is by far one of the largest on the list with nearly 600 total rooms. This could be good or bad depending on your view of things. Yes, things will be busier, but these types of hotels tend to have updated features more often.
Hotel details
Address: 
100 Terranea Way, Rancho Palos Verdes, CA 90275, USA.
Guest rating:
4.5 out of 5
Price per night:
From $304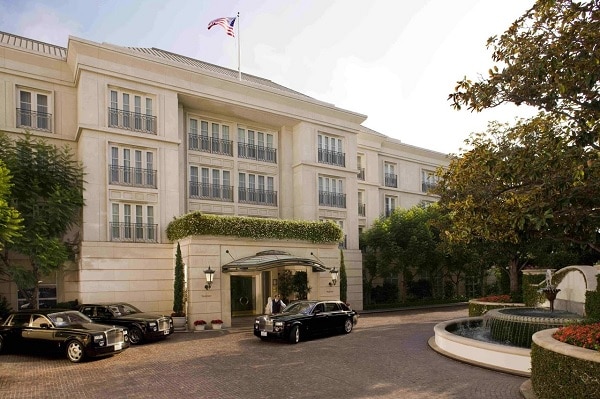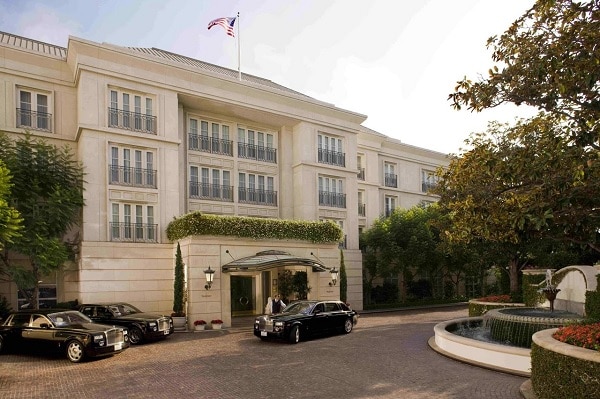 The Peninsula Beverly Hills
The final spot on our list is the Peninsula Beverly Hills. As you probably already know, Beverly Hills is an uppity spot that is full of upscale shopping, sites, and scenery. If staying right in the heart of that lifestyle is a priority, the Peninsula is the way to go.
With just under 200 rooms, there is a wide variety of options that you can choose from. For example, in addition to the normal hotel room, there are 38 suites and 17 villas. These definitely get up there in price, but the value that comes from the experience could be well worth it. So, harness your inner celebrity and stay in one of the most famous areas of LA!
Hotel details
Address: 
9882 South Santa Monica Boulevard, Beverly Hills, Los Angeles, CA 90212, USA.
Guest rating:
4.7 out of 5
Price per night:
From $605
About our luxury hotel recommendations in Los Angeles
We are a travel research company. Our team helps you discover the best luxury hotels in Los Angeles by researching the internet for you. We have also visited some of these places. Hence, it's not just our opinion, it's the opinion of many travelers who have been there before you. We make it easy for you to find out about the most luxurious and exclusive 5-star hotels in the city.
Please note, we only list hotels that have an aggregated guest review rating of at least 4.0 out of 5. We aggregate all reviews from different booking sites and other unbiased review websites. Hence, you can be certain all hotels listed above offer you a great stay in Los Angeles.
Best price guarantee
We partner with Hotels.com and Booking.com to make sure you get the best price for your stay in Los Angeles! Both sites offer price matching. That means you pay the lowest prices for your stay. If you find a cheaper offer on another website for the same luxury hotel in Los Angeles at least 24 hours before check-in, contact them to claim a refund of the difference!
Top 5 luxury hotels in Los Angeles
Now that you've gone over this guide, let's summarize it. We got to know what the best 5-star hotels in Los Angeles are thanks to thousands of guest reviews and tips from travel experts:
More Los Angeles guides
If you like the advice we've given you above, make sure to check out some of our other articles about Los Angeles:
Best cheap hotels in Los Angeles
Best boutique hotels in Los Angeles