Crete is a magnificent Greek island located in the Mediterranean Sea. It is a popular tourist destination for its idyllic beaches, ancient ruins, and beautiful landscapes.
Hostels in Crete are great for those looking for a budget-friendly accommodation option. Crete's hostels provide a unique and vibrant atmosphere, with many hosting events and activities to make your stay even more enjoyable. Most hostels in Crete have shared dorm rooms, often with balconies or terraces overlooking the sea. The hostels also provide amenities such as a kitchen, lounge area, and laundry facilities.
You can find hostels in all the major cities, including Heraklion, Chania, and Rethymno. Whether you're looking for a place to stay for a few days or a more extended getaway, staying in a hostel provides an excellent opportunity for travelers to explore the island on a budget.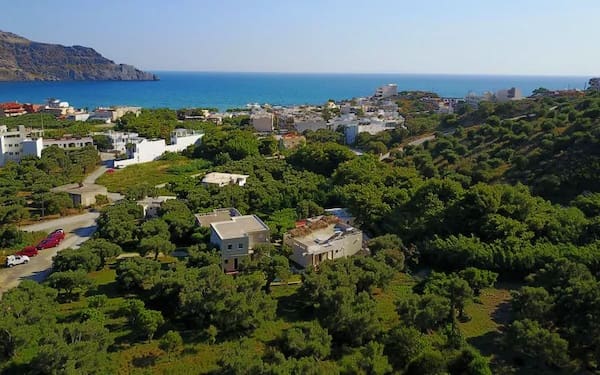 Youth Hostel Plakias
Youth Hostel Plakias is a fantastic hostel located in the stunning Plakias village in Crete, Greece. The hostel is surrounded by lush green hills and is within walking distance of all the local attractions. It is conveniently close to the beach and perfect for travelers looking for a unique experience in a beautiful and tranquil setting.
The hostel itself is modern and clean, with a welcoming atmosphere. There are a variety of accommodation options, including private rooms and dorms. Six dorms provide WiFi, hot showers, and free luggage storage. The hostel also has an outdoor lounge area and a fully equipped kitchen.
Youth Hostel Plakias also offers a range of activities and excursions, including boat trips, scuba diving, and hiking. The hostel is also close to various restaurants and bars, so guests can enjoy the local cuisine.
Overall, Youth Hostel Plakias is the perfect place for travelers looking for a comfortable and affordable stay in the beautiful Plakias village. It is a great place to relax, explore, and make new friends.
Hostel details
Address:
Plakias, Rethymno, Crete, Greece.
Guest rating:
4.8 out of 5.
Price per night:
from $15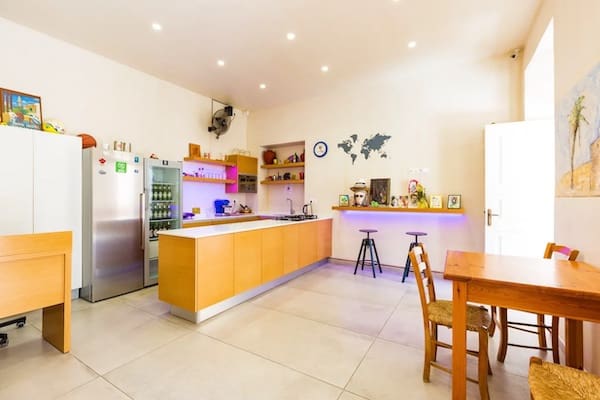 Rethymno Youth Hostel
The Rethymno Youth Hostel is an excellent accommodation option for the budget-minded traveler. Located in the heart of the city, the hostel is within easy walking distance of all the main attractions and amenities the city offers. This hostel is well-equipped, with comfortable and spacious rooms, modern amenities and facilities, and friendly and helpful staff.
The hostel offers a wide range of room types, from private dorms and double rooms to family rooms and apartments. Each room is clean and well-maintained, with comfortable beds, private bathrooms, and ample storage space. The hostel also provides several amenities, including a shared kitchen, a TV lounge, and a laundry room.
Visitors can enjoy many activities and services, such as guided city tours, bike hire, and pub crawls. The staff is friendly and helpful and always willing to help guests with any queries or questions.
Overall, Rethymno Youth Hostel is an excellent place for those who want comfortable and affordable accommodations in Rethymno. With its great location, amenities, and services, it is a fantastic place for those who wish to explore the city and enjoy the local culture.
Hostel details
Address:
Tobazi 41, Rethymno, Crete, Greece.
Guest rating:
4.7 out of 5.
Price per night:
from $16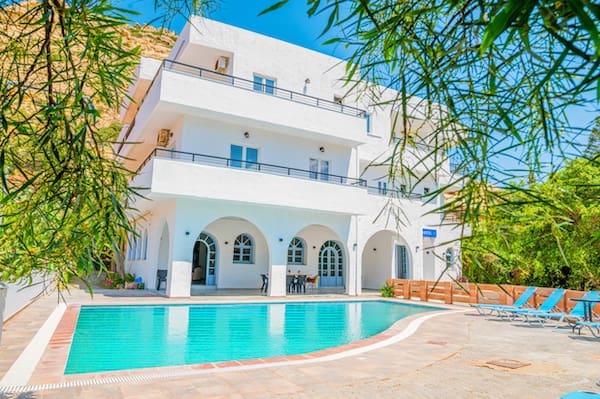 Matala Hostel
Matala Hostel is a small, family-run hostel located in the beautiful town of Matala, on the south coast of Crete, Greece. The hostel is situated near Matala's famous beach and is an excellent base for exploring the town and the wider region.
The hostel offers a variety of accommodations, from double rooms and dorms to camping and a self-catering studio apartment. With a friendly and welcoming atmosphere, the hostel staff is always happy to help guests with any queries. Rooms are comfortable and include air-conditioning, free WiFi, and a TV. There is also a fully-equipped kitchen and a communal lounge area. In addition, this hostel has a large terrace with spectacular sea views, perfect for relaxing and enjoying the stunning surroundings.
Matala Hostel is ideal for those who want to experience the beauty of Matala without breaking the bank. Guests can take advantage of the hostel's many amenities, such as bike rentals, and the staff is always happy to help you explore the local area. Matala Hostel is also an excellent base for day trips to the nearby archaeological site of Phaestos, as well as to the nearby towns of Agia Galini and Plakias.
Matala Hostel is a top-notch choice for affordable accommodation in a beautiful and unique location. Its friendly atmosphere and comfortable rooms make it the perfect place to relax and explore the stunning Cretan coast.
Hostel details
Address:
Epar. Od. Gortinas – Matalon, Matala, Crete, Greece.
Guest rating:
4.7 out of 5.
Price per night:
from $20
About our Crete hostel recommendations
Whether you're a solo traveler looking for a private room, or a backpacker traveling around in a group wanting to stay in a cheap and cozy dorm, above you will find the best hostels in Crete for all your needs.
Please note that we only list hostels on our website with an aggregated guest review rating of at least 4.0 out of 5. We aggregated all reviews from different booking sites and other unbiased review websites. Hence, you can be certain all hostels listed above offer an excellent value-for-money stay in Crete.
Best price guarantee
For our hostel recommendations, we work together with Hostelworld and Booking. These partnerships don't have any influence on the recommendations we make or on the order in which our recommended hostels are listed. The reasons why we have chosen to partner with these companies are that they're trustworthy, offer excellent service and both apply the best price guarantee.
This means you can claim a refund for the difference if you find your reservation cheaper on another website. It has to be for the same property, accommodation type, dates, cancellation policy and conditions, otherwise, you can't claim a refund for the difference. If you book through Booking.com then all you need to do is contact them at least 24 hours before your check-in date. If you book through Hostelworld you must claim the refund within 24 hours after you made the booking.
Top 3 hostels in Crete
To summarize again, based on thousands of guest reviews, these are the best hostels in Crete:
Why you should be careful when booking the cheapest hostel available
Booking the cheapest hostel available is not recommended for a few reasons:
The cheapest hostels available are typically not in a great location. If you want to go sightseeing or go for a night out in Crete, you probably end up having to pay for public transport or a taxi to get there. So your stay could end up being more expensive compared to a stay in a central location. For first-time travelers, we recommend staying central anyway, but also for frequent visitors, it's probably worth it to pay a bit more to stay in a central location.
Another reason why you shouldn't stay at the cheapest hostel is that the people staying at the cheapest hostels are often not the people that can afford to travel like you. Because a very cheap hostel is often cheaper than renting a flat, these places tend to attract migrant workers or local misfits. That's probably not the crowd you want to hang out with, especially if you're a solo traveler looking for friends.
The third reason why you should avoid the cheapest hostels is safety. Some of the cheapest hostels don't check IDs, don't ask for signatures, or only accept cash at check-in. The hostel won't know who is actually staying there.
Lastly, the service at these hostels isn't great. For instance, if you choose to store your luggage, your bags will be unattended in a public space. It won't be recorded anywhere or tagged and stored in a locked room.
So, it's probably worth it to spend a bit more on your hostel stay in Crete.
And finally, a tip: always read the latest reviews of the hostel! All places have good and bad reviews, but the most recent reviews matter the most.
More Crete tips
Get to know the island even better and check out our other articles about Crete: