Ireland is a fantastic country that has a very underrated tourism scene. The biggest city in Ireland doubles as its capital. Dublin is rich in culture and jampacked with things to do. There is a little bit of everything that is in Dublin. By this, we mean that there are different areas that all have different perspectives to bring to the table. Whether you are wealthy and want to live the high life or are a backpacker looking to stay in the cheapest hostel possible, there are accommodations to fit your needs in Dublin.
Plus, there are so many pubs, nightclubs, restaurants, and attractions littered throughout. Because Dublin is so densely packed, all of these focal points are in proximity to wherever you stay. That being considered, some areas are unique and bring better attractions than others. Your entire experience depends on how ambitious or adventurous you are. Here are five of the best areas to stay in while visiting Dublin!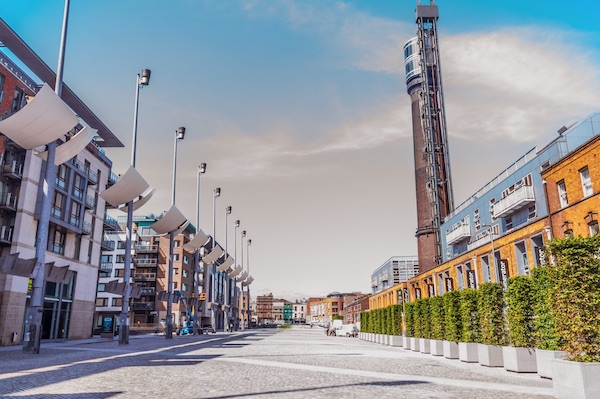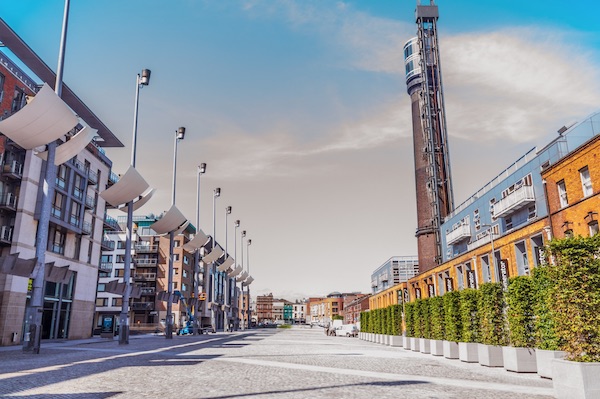 Smithfield
If you are looking for an authentic, local experience, staying in Smithfield is your best bet. Although there are a lot of tourists that flow through this neighborhood, there is a large residential presence and small business that are authentically Irish.
The biggest part of Smithfield is Smithfield Square. This is a huge cobblestone square that is full of small shops, vendors, cafes, and restaurants. In the summer, there is live music and entertainment venues help right here. You can spend an entire day drinking, eating, and shopping your way through this iconic plaza.
In addition to the Square, there is also the Bow Street Distillery here. This is where you can sample and buy the famous Jameson Irish Whiskey. You will learn about the distillation process, the marketing ventures set out by Jameson, and other cool experiences. Even if you are not a fan of whiskey, Jameson is an iconic brand and it is still worth checking out.
Best place to stay in Smithfield
Hotel The Hendrick. Address: Smithfield Hendrick Street, Dublin, Ireland.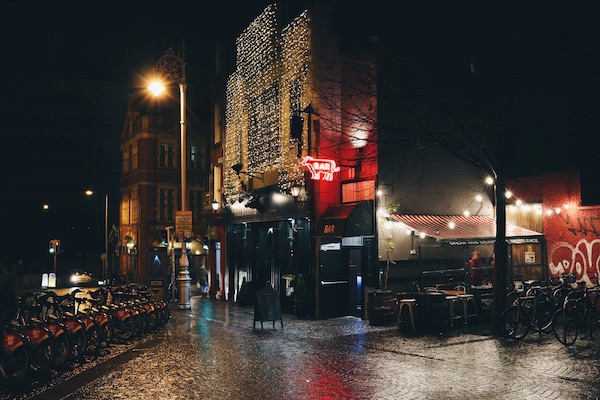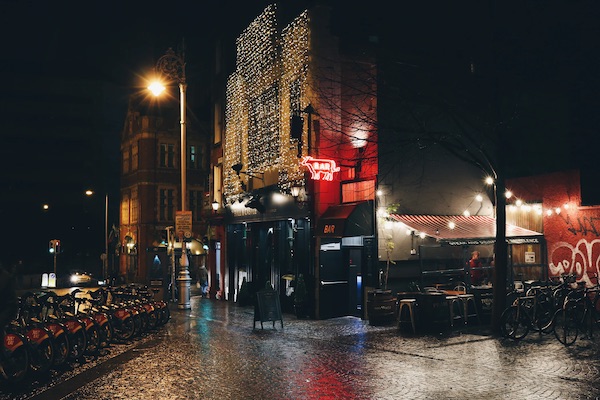 Portobello
Portobello is a little more "hipster" and is a more contemporary part of Dublin and has a younger crowd with growing businesses here. In the late 1800s, Portobello was known as "Little Jerusalem" and was home to tons of Eastern European Jewish refugees. Now, it has evolved into a young neighborhood with vibrant features.
A big part of this contemporary lifestyle is the food and drink scene. There are rows of young restaurants that are really pushing the envelope of Irish cuisine. This is very exciting and is worth visiting even if you choose to live somewhere else. On top of the dining experiences, some bars and nightclubs harbor a very young crowd.
On the same note, one of Ireland's top-rated bars, The Bernard Shaw, is here. This is a must-stop spot that will be worth spending a night out on the town. Overall, staying in Portobello will keep you in the hip crowd and where a lot of the action is.
Best place to stay in Portobello
The Dean Hotel. Address: 33 Harcourt St, Saint Kevin's, Dublin 2, Ireland.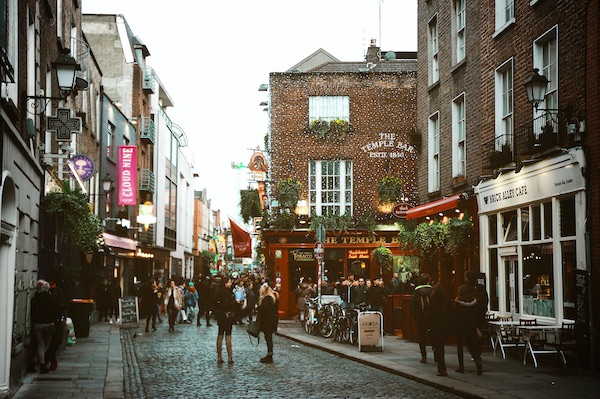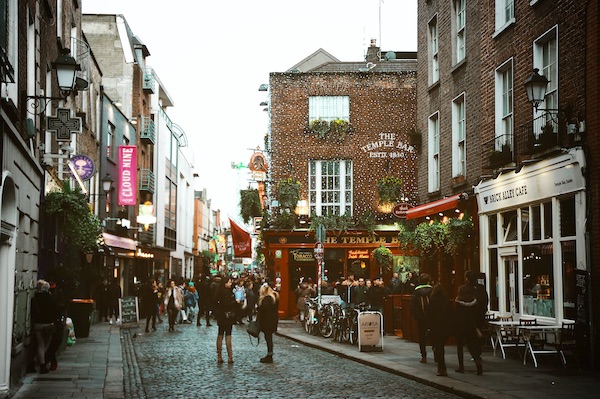 Temple Bar
Temple Bar is the most rounded and versatile area in all of Dublin. This is because there really isn't one demographic that finds themselves here at one point or another. The picturesque cobblestone streets and Irish architecture are very present in Temple Bar. Like many areas of Dublin, bars and nightlife are quite popular here. Thanks to Temple Bar's centric location, you are quite literally in the center of Dublin's nightlife.
However, there is so much more to Temple Bar than partying. The neighborhood has many art galleries, displays, quirky shops, and other fantastic locations for its visitors. You can truly immerse yourself in Irish culture while in Ireland's capital.
As I said, Temple Bar is an area where just about everyone finds themselves at some point while visiting Dublin. The comforting, quaint feel makes it a great place for tourists and locals. No matter where you choose to stay, Temple Bar is a must-visit spot in the city.
Best place to stay in Temple Bar
Hotel The Clarence. Address: 6-8 Wellington Quay, Temple Bar, Dublin 2, D02 HT44, Ireland.
Merrion Square
One of the more historical sectors of Dublin is Merrion Square. The centerpiece of the neighborhood is the Merrion Square Park that adds a nice touch of natural features in this condensed, busy city. A similar location is St. Stephen's Green which is a nice patch of green space that adds some breathability to Dublin. Surrounding the gorgeous parks are cobblestone streets and artsy cafes.
Now, we will get to the historical aspects of Merrion Square. The National Concert Hall, National Library, and the National Gallery are all in this neighborhood. All of these are open to visitors and the local officials even encourage stopping by to see this side of Dublin. There is even the Natural History Museum that is a fantastic place to spend a few hours see all of the different historical perspectives of Ireland.
Overall, staying in Merrion Square will give you a quaint feel while still being close to some awesome attractions. You won't be geographically in the middle of the action, but you will have the same experience.
Best place to stay in Merrion Square
The Merrion Hotel. Address: Merrion Street Upper, Dublin 2, Ireland.
Cheaper alternative:
Hotel The Mont. Address: Merrion Square, D2 Dublin, Ireland.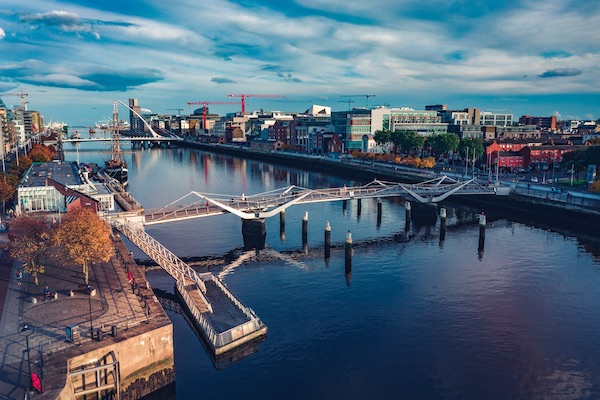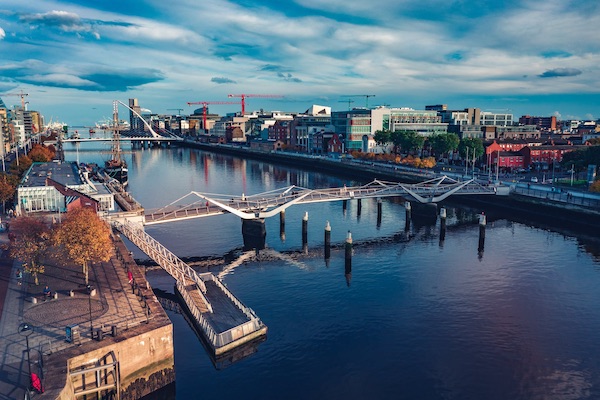 The Docklands
Last, but certainly not least, we have The Docklands. What was once an industrial, pioneering area has now turned into a modern, hub of business and culture. The River Liffey flows through The Docklands and offers beautiful, natural scenery. It is quite popular to rent a canoe or kayak and explore the city via the river. This is a unique way to spend a couple of hours exploring what Dublin has to offer.
There is also the famous National Theatre of Ireland located here. This complements the contemporary culture with the traditional theatrical aspects of Dublin. While out exploring, be sure to stop at one of the many Irish restaurants scattered throughout. If grabbing a drink is a top priority, be sure to stop at John Mulligan's where U.S. President John F. Kennedy once grabbed a drink. This is an awesome historical establishment that has been in this spot for over 160 years.
Best place to stay in The Docklands
The Marker Hotel. Address: Grand Canal Square, Docklands, Dublin 2, D02 CK38, Ireland.

Where travel critics stay in Dublin
Want to know where travel critics from publishers like The New York Times, Frommer's, Fodor's and Lonely Planet stay in Dublin, Ireland? Check out our overview of all recommended hotels, hostels and B&Bs in Dublin.
Budget
"This hostel offers everything from cheap, breezy shared rooms to design-focused single and twin rooms and higher-end deluxe rooms. The restaurant serves a mean burger, too." — Telegraph.
Address: Smithfield, Dublin 7, Ireland.
Mid-range
"The chic Iveagh Garden Hotel has rooms in a range of sizes, decked out in green and blue velvet accents and with generous bathrooms. The hotel backs onto the lush Iveagh Gardens and is walking distance from many city sights." — New York Times.
Address: Dublin 2 72 Harcourt Street, Dublin, Ireland.
Luxury
The Shelbourne Renaissance Hotel.
"The Shelbourne has been the preferred halting post of the powerful and wealthy since 1824. Several owners and refurbs later it is now part of Marriott's Renaissance portfolio, and while it has a couple of rivals in the luxury stakes, it cannot be beaten for heritage." — Lonely Planet.
Address: 27 St Stephen's Green, Dublin, Ireland.
FAQ: Dublin hotel tips
Looking for the best budget, boutique, or luxury hotel in Dublin? Or maybe you're a backpacker looking for an excellent hostel? Want to know which Dublin hotel serves a great breakfast? Here are the answers to all those and other questions about where to stay in Dublin.
What is the best budget hotel in Dublin?
If you're looking for a cheap hotel in Dublin, then book Drury Court Hotel. It's an excellent budget hotel offering great value for money. It's in a good location, it's been recommended by travel experts and the hotel has excellent customer reviews. Also make sure you read our shortlist of the best cheap hotels in Dublin.
What is the best boutique hotel in Dublin?
You like some luxury but don't like the famous chain hotels. If you're looking for the best boutique hotel in Dublin, you should check out Wilder Townhouse. It's a very cool hotel that has been highly recommended by travelers and experts. Also check out our list of the best boutique hotels in Dublin, it's a manually curated list of the most unique and romantic hotels in the city.
What is the best luxury hotel in Dublin?
If money isn't a problem and you're looking for a luxury hotel in Dublin, then go for The Merrion Hotel. The hotel offers excellent service, it's in a top location, it has been rated very highly by previous guests and renowned travel critics have recommended it. Also make sure you read our shortlist of the best luxury hotels in Dublin, it's a manually curated list of the most exclusive 5-star hotels in the city.
What is the best hostel in Dublin?
If you're looking for a great hostel in Dublin, then you should check out Jacobs Inn Hostel. The hostel has magnificent reviews by backpackers, it has been recommended by well-known travel experts and it's in a good location. Also check out our list of the best hostels in Dublin.
What is the best bed & breakfast in Dublin?
Looking for a cozy place to stay in Dublin that serves you handmade and fresh breakfast in the morning? Go and check out Aberdeen Lodge B&B. The B&B has been recommended by well-known travel experts and recent guests have given it top ratings.
Which Dublin hotel serves great breakfast?
Try The Conrad Hotel if you're looking for a delicious breakfast. The Dublin hotel has excellent customer review ratings for breakfast.
How much does it cost to stay in a Dublin hotel?
For a 3-star hotel, you have to pay around $170 per night and for a 4-star hotel, you would be looking at $220 per night. If you're after a luxury 5-star Dublin hotel then you can expect to pay around $380 per night.
Which Dublin hotels have the best rooftop bars?
If you're looking for a great place to have a drink with a view, then try The Marker Hotel or The Dean Hotel. Both hotels have excellent reviews for their rooftop bars.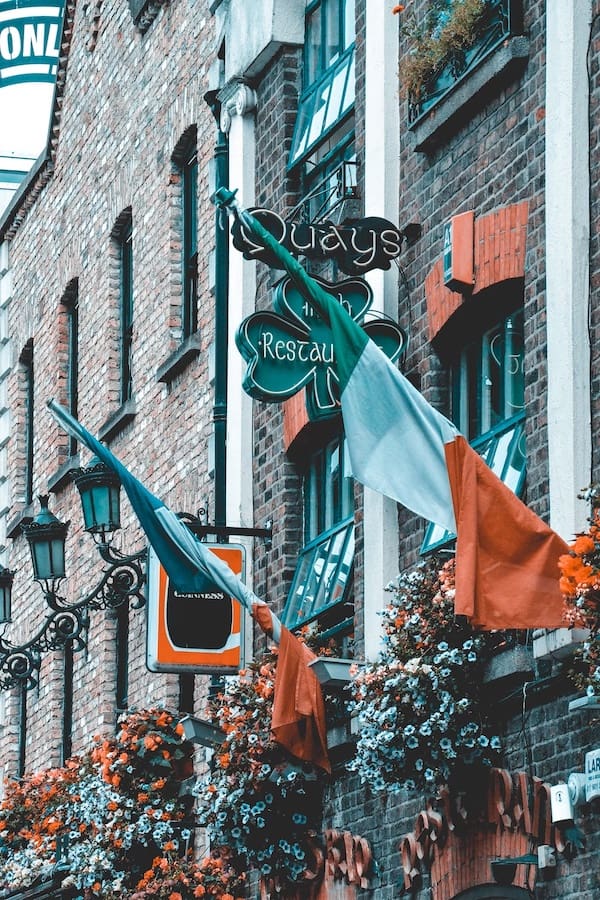 Best time to visit Dublin
The Irish capital is known for its mild climate, and the best time to visit Dublin for pleasant weather is between May and September. During this period, you'll experience longer days, warmer temperatures, and relatively less rainfall.
Imagine basking in the sunshine as you stroll through the charming streets lined with Georgian architecture or enjoying a picnic in one of Dublin's picturesque parks – bliss!
For those who love festivities, the best time to visit Dublin is undoubtedly during March, when the entire city comes alive for the world-famous St. Patrick's Day celebrations. This week-long festival attracts visitors from around the globe, making it a fantastic time to soak in the exuberant atmosphere, witness the spectacular parades, and enjoy traditional Irish music and dancing. Just be prepared for the crowds and book your accommodations in advance!
If you're a literature enthusiast, you won't want to miss the annual Bloomsday Festival in June, which celebrates the life and works of James Joyce. This unique event offers walking tours, readings, and performances, providing an incredible opportunity to immerse yourself in Dublin's rich literary history.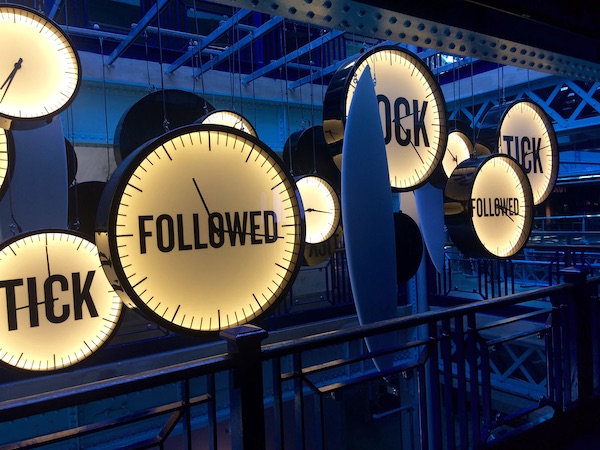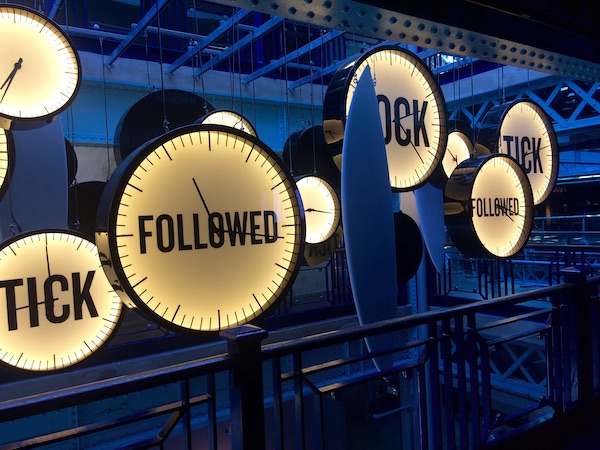 Best things to do in Dublin
There are a lot of things to do in Dublin and surrounding areas, including day trips, attractions, museums, sightseeing tours and many other activities. Here's our list of 3 things you should definitely do when you're in and around Dublin:
Cliffs of Moher Tour Including Wild Atlantic Way and Galway City from Dublin
From the comfort of a luxury coach, admire stunning Irish countryside and travel along the Wild Atlantic Way to the incredible 700-foot high Cliffs of Moher. Price: $54. More info.
Guinness Storehouse Tour & Pint
More than a million people a year visit the home of Guinness, and most agree that it's a high point of a trip to Dublin. Take a self-guided tour of the Guinness Storehouse, learn all about world-famous Guinness Stout, and enjoy a complimentary pint. Price: $23. More info.
Discover Dublin By Boat
See Dublin from the River Liffey on a 45-minute boat cruise, and admire the city's monuments from the water. Learn the history of Dublin, from the arrival of the Vikings to the rapid development of the city in the 18th and 19th centuries. Price: $18. More info.
Deciding where to stay in Dublin
Let's recap what we just learned in this article. We've covered the best areas of Dublin above. Now you can decide where to stay while visiting!
Top 5 neighborhoods to stay in Dublin
Smithfield
Docklands
Merrion Square
Temple Bar
Portobello
As you have seen in this travel guide, there are a lot of things to explore, and deciding where to stay in Dublin is important. Whether you stay in Smithfield, Docklands, Merrion Square, Temple Bar or Portobello, all those neighborhoods are in good locations.
The atmosphere of the area, whether you travel for leisure or business, whether you travel with your family or friends, and proximity to the attractions you prefer to visit should probably be the deciding factors. Whatever your preference is, you'll have a great stay in Dublin.
Check out our other guides about the best places to stay in Dublin: