Dublin is such a warm and welcoming city, full of friendly locals, interesting history, and a lot of pubs. The city has inspired various writers and intellectuals over the years with its humor, intelligence, insight, history, and 'craic.' With a stunning coastline, cobblestoned streets, a lively atmosphere, and an intimate vibe, Dublin is an ideal place to travel for leisure, tourism, and sustainability.
Ireland has a long history of sustainable and nature-based tourism; its biggest attraction is its Emerald Isle natural beauty. While Dublin is the capital city, it's full of green spaces and eco-friendly aspects around every corner. There is an abundance of organic markets and local boutiques, the opportunity for various eco-tours, and eco-friendly transportation options as well.
There are many hotels around the city offering sustainability programs and promoting eco-tourism. Whether you are looking to splurge, are on a budget, or want to relax in a comfortable and sustainable home away from home, look no further; there are tons of options. Here are 5 of the best sustainable hotels in Dublin, Ireland.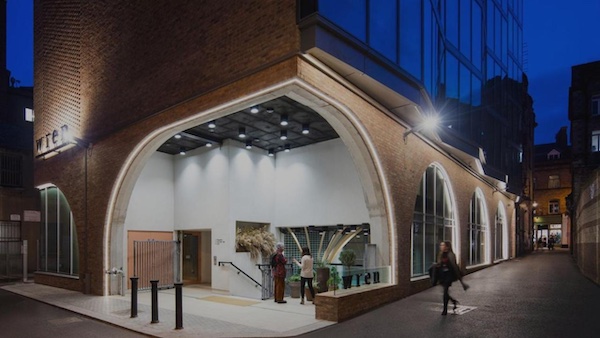 Wren Urban Nest
The Wren Urban Nest is a uniquely designed eco-oasis, tucked away in the heart of Dublin. The best of the city sits right at its doorsteps, allowing a shorter distance between the action and your cozy urban nest comfort. It's an ideal place to relax after a long day of exploring, and one of the most sustainable hotels in the country, protecting the environment as much as possible.
Located in the city center. Wren urban Nest is within close proximity to Dublin Castle, Chester Beatty Library, City Hall, and the Gaiety Theater. Guests can enjoy the shared lounge on-site, and an English or Irish breakfast each morning, with a vegetarian breakfast option upon request. Rooms come with a private bathroom, cozy beds, television, safety box, and free wifi.
Why is Wren Urban Nest sustainable?
The Wren Urban Nest is sustainable by constructing the hotel using the most advanced sustainable technologies, eliminating the need for fossil fuels, and allowing the use of 100% renewable electricity. They don't burn any fossil fuels, and a unique heating system uses cutting-edge sustainable technology. And finally, the hotel upcycles as much as possible and realizes that all of the little steps taken to lighten the carbon footprint can make a big difference.
Hotel details
Address: 
Dublin Andrews Lane, Dublin, Ireland.
Guest rating:
4.4 out of 5
Price per night:
From $96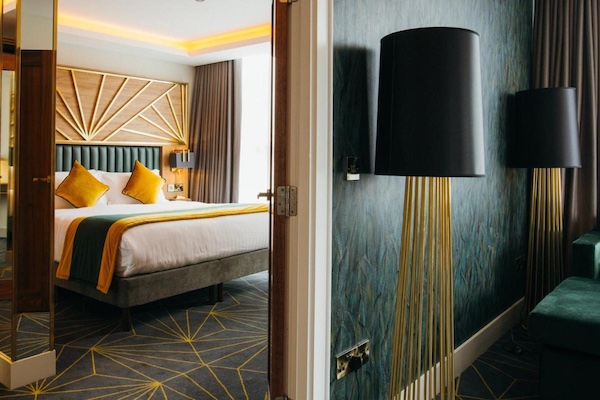 Iveagh Garden Hotel
The Iveagh Garden Hotel is a 4-star hotel in Dublin with a modern take on traditional luxury and modern-day comforts. The urban oasis is just steps away from exciting Grafton Street. Its location puts it near all the top attractions of Dublin. Eco-occasion travelers can be happy to know that it offers the lowest carbon footprint of any other hotel in the city, being sustainable and eco-friendly through to its core.
Located in Dublin's city center, it is surrounded by various shops, restaurants, pubs, and things to do. The infamous Temple Bar, Grafton Street, and Dublin Castle are just a short walk away. The Iveagh Garden Hotel features Elles Bar and Bistro, serving breakfast, lunch, and dinner, in addition to delicious coffees, beers, and drinks. The front desk is 24/7 and employees are more than happy to assist in booking tours and attractions around the city. Rooms are equipped with immaculate city views and rich stylish textures and designs, free wifi, a private bathroom with toiletries, and complimentary bottled water.
Why is Iveagh Garden Hotel sustainable?
The Iveagh Garden Hotel is sustainable by having a love for nature and environmental surroundings and strives to have the lowest carbon footprint out of any hotel in Europe. Plumbing and heating systems that ran on fossil fuel were removed to make way for a revolutionary system that uses natural energy harvested on-site. Renewable hydro source meters below the hotel act as an energy reserve for cooling, and heating the hotel without burning fuel, the natural energy plant room uses electricity produced on-site in a gas turbine that eliminates electrical energy loss from grid power, and the onsite gas turbine also produces hot water for hotel use which is stored on each floor close to en-suites and bathrooms.
Hotel details
Address: 
Dublin 2 72 Harcourt Street, Dublin, Ireland.
Guest rating:
4.4 out of 5
Price per night:
From $100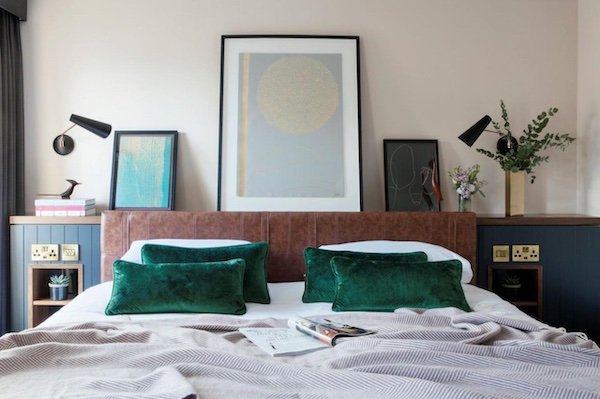 The Alex Hotel
The Alex Hotel is the ultimate boutique hotel in Dublin, centrally located and stocked with the best quality and services. Surrounded by interesting hotspots and things to do, it's in a prime location for the real Dublin experience. From spacious and comfortable rooms, 5-star service, and a delicious onsite restaurant, The Alex Hotel is nothing short of comfort and quality in Dublin.
Located in the Dublin city center, the Alex Hotel is just steps away from the National Gallery, Trinity College, Merrion Square Gardens, and a short walk to Grafton Street. The hotel offers a fitness and wellness center, a co-working hub for remote workers or businesses, and a daily buffet breakfast each morning. The onsite barista and restaurant offer internationally prepared dishes, with locally sourced ingredients and spices for delicious meals. Rooms are spacious with free wifi, a television with Chromecast, international outlets, and a private bathroom with toiletries.
Why is The Alex Hotel sustainable?
The Alex Hotel is sustainable by being a part of the Travel Sustainable Program, and well as a member of the Green Key FEE. The Green Key certification means they are helping the environment to make a big difference on a sustainable level.
Hotel details
Address: 
41-47 Fenian Street, D2 Dublin, Ireland.
Guest rating:
4.4 out of 5
Price per night:
From $145
Hotel 7
Hotel 7 is a fabulous luxury boutique hotel in the center of Dublin. Not only is location a top priority for Hotel 7, but so is a relaxing atmosphere and high-quality comfort. Only the finest of comfort and products are offered at the hotel, and its convenient location make it easy to enjoy the metropolis buzzing nightlife.
Located in Parrnell Square in Dublin, it's conveniently located for exploring the cobblestoned streets and seeing the best of the city. It sits within walking distance of Dublin Castle, Jameson Distillery, Button Factory, Trinity College, and the vibrant and popular Temple Bar. The hotel features a bar and restaurant on-site, serving lunch and dinner, in addition to a daily English breakfast for all guests. Rooms are equipped with coffee/tea makers, television, free wifi, a private bathroom, and wake-up services upon request.
Why is Hotel 7 sustainable?
Hotel 7 is sustainable by being a part of the Living Green Hotel Group and making positive changes and implements to make a positive impact on the environment. Some of the programs and services that Hotel  7 promotes or uses are composting all waste, using a recycling program, having 100% energy efficient lightbulbs, LED lighting, and motion-sensored controls, having a waste management plan, and having monthly Green Member meetings.
Hotel details
Address: 
7 Gardiner Row, Dublin, Ireland.
Guest rating:
4.5 out of 5
Price per night:
From $119
The Merrion
The Merrion is a luxurious 5-star hotel in the heart of Dublin, and a member of The Leading Hotels of the World. The restoration of 4 Georgian townhouses has been transformed into exquisite comfort, relaxed elegance, and high-quality advancements and services. From delicious meals, world-class comfort and luxury, and a prime location, The Merrion is the perfect place to stay in Dublin.
Located in the heart of the city, The Merrion is surrounded by beautifully landscaped gardens. It sits between Merrion Square Park and St. Stephens Green and is within walking distance of Trinity College, Grafton Street, and the National Gallery. It features the Tethra Spa, with luxurious treatments, scrubs, and massages for peace and relaxation, followed by a steam bath and workout in the gym.
The is Cocktail Bar No.23, and 2 Michelin Stars restaurants onsite, one with Irish cuisine and one with French cuisine, both with beers and creative cocktails. Rooms are spacious with Georgian decor and furniture, equipped with a private bathroom with bathrobes, a television, a stocked mini-bar, a refrigerator, and gorgeous garden views.
Why is The Merrion sustainable?
The Merrion is sustainable by making a positive impact on the world and community. Merrion believes the best hotels benefit their surroundings by promoting engagement as much as escapism. They educate their guests, ensuring they leave with a better understanding of where they have been. The sustainable programs and services used aren't just designed to protect you from the outside world; they're designed to expose you to it and protect it from us.
Hotel details
Address: 
Merrion Square, D2 Dublin, Ireland.
Guest rating:
4.7 out of 5
Price per night:
From $345
We hope this list of the 5 best sustainable hotels in Dublin has inspired you to travel more environmentally friendly and encourages you to do your best to protect the planet as much as possible.
How we select the best eco-friendly hotels in Dublin
We are a travel research company. We check a lot of details and guest reviews before making a selection. First, we check which hotels follow eco-travel principles. Are they recycling their waste? Do they work with local communities? Are they using renewable energy? Are they not using single-using plastics?
Secondly, we check guest reviews across multiple websites and only list hotels with an aggregated review rating of at least 4 out of 5. So you can be confident you will stay at an eco-friendly Dublin hotel.
More and more people recognize the importance of sustainable travel. Not only is it better for the environment and our planet, but it also often leads to more meaningful experiences. If you're interested in learning more about eco-tourism, here are some eco-friendly travel tips to get you started.
More Dublin guides
Get to know the city even better by reading our other articles about Dublin: