Dublin is the capital of Ireland, and it is the go-to destination in this country for many travelers from all over. You certainly will not run out of activities and sights to see while visiting, and there are luckily numerous options when it comes to affordable but superb hostels in this city. Keep on reading if you want to find out more about staying in Dublin, Ireland.
Dublin happens to rest on the eastern coast of the Republic of Ireland. If you have a deep love for history, you will be mesmerized by this city and all of the architectural relics that lie within it. The Dublin Castle is an extraordinary place, and it has been impressively standing since the 13th century! You of course will not want to miss out on seeing St. Patrick's Cathedral, a breathtaking church that was completed in 1191.
If you enjoy the outdoors, consider taking a hike along the Howth Cliffs, just outside of the main city of Dublin. You are guaranteed out of this world views of Dublin Bay and Howth Harbor on this path, so make sure to have your camera ready. While in Dublin, you definitely do not want to miss out on trying some local seafood and an authentic Irish breakfast during at least one of your mornings.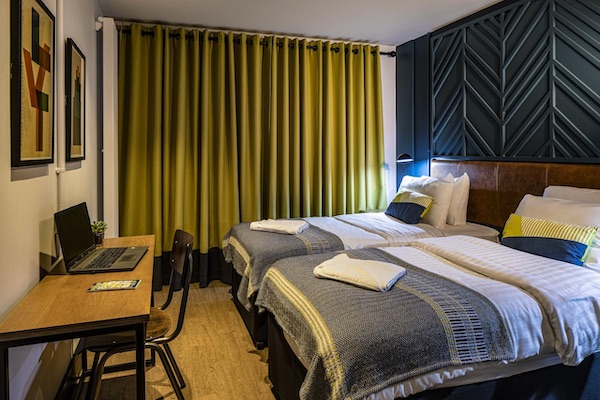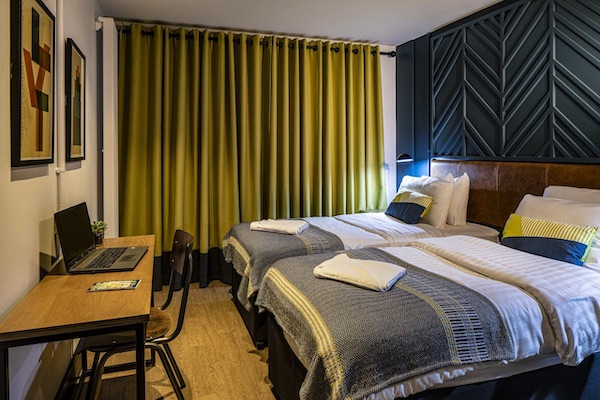 Jacob's Inn
At Jacob's Inn, you are given a warm welcome from the friendly staff and the cozy interior of this hostel. You are conveniently located to the main bus station, so getting around Dublin should not be a problem. If you want a tour of the area, the staff is kind enough to give walking tours to the patrons, too. There is a bar at Jacob's Inn and board games for when you want to have a calm evening.
The bunk beds in the shared rooms are nice and private, and you are supplied with a luggage locker to safely stow your items away in. The private rooms are nice and spacious and have ample-sized bathrooms in them. You will be given bed linens to borrow during your stay here, as well.
Hostel details
Address:
21 – 28 Talbot Place, D1 Dublin, Ireland.
Guest rating:
4.2 out of 5.
Price per night:
from $22.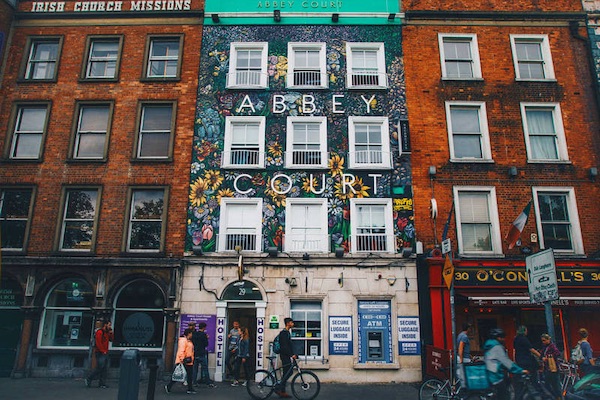 Abbey Court
Abbey Court is a hostel centrally located in some of the best regions in Dublin. Getting around is easy here, and transportation is super accessible. Abbey Court thoughtfully provides free all-you-can-eat breakfasts for everyone, so you can begin your days as fueled as possible. There is a lounge room with games and television for when you want to relax, as well.
You have the option to pick between a female-only or a mixed dorm at Abbey Court. All of the rooms come with bathrooms attached, and clean bed linens are supplied to each individual. There are lockers to store your things, you will just need to bring your own lock. There are rooms that sleep 2 if you would like some more privacy, also.
Hostel details
Address:
29 Bachelors Walk, Dublin 1, Dublin, Ireland.
Guest rating:
4.4 out of 5.
Price per night:
from $32.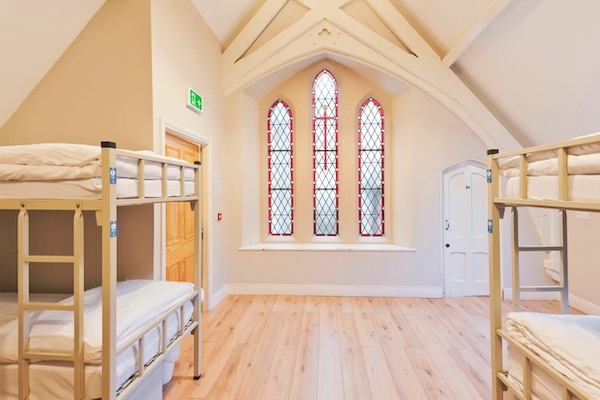 Gardiner House
The Gardiner House happens to exist in a building that used to be a convent and has been standing for 200 years. Gardiner House will cook you up a free breakfast in the morning, so you can get out and explore on a full stomach. There are plenty of attractions within walking distance from this hostel, such as Croke Park and O'Connell Street.
The rooms at Gardiner House vary from female-only and mixed, and there are private rooms available, as well. You will be provided with bed linens and a luggage locker, and there is even the option to sleep in the historic chapel that is on-site. The Gardiner House is airy and light, and you will have no problem unwinding here.
Hostel details
Address:
76 Gardiner Upper Street, Dublin, Ireland.
Guest rating:
4.5 out of 5.
Price per night:
from $30.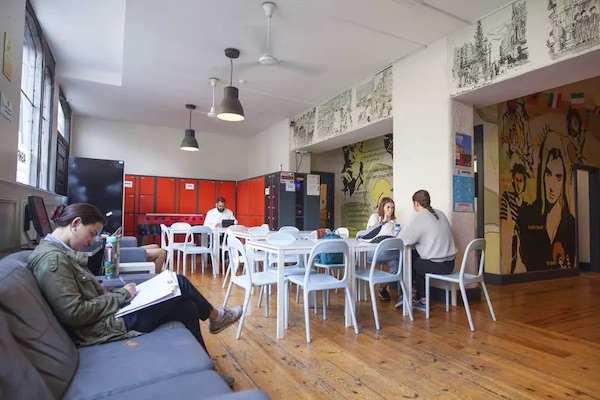 Ashfield Hostel
The next hostel up on our list is Ashfield Hostel, which is located in the most prime location, just a short walk away from O'Connell Street and Trinity College. Ashfield Hostel is able to provide patrons with a free breakfast each morning, which is super convenient when you are traveling. If you want to get to know the area more, join in on the complimentary walking tour with the staff.
There are ample options when it comes to rooms here, as there are private rooms for individuals or for groups of friends. There are mixed and female-only rooms, and each type of room comes with a bathroom attached. You can even take advantage of the free snack area when you need a pick-me-up.
Hostel details
Address:
19-20 Dolier Street, Dublin 2, Dublin, Ireland
Guest rating:
4.4 out of 5.
Price per night:
from $29.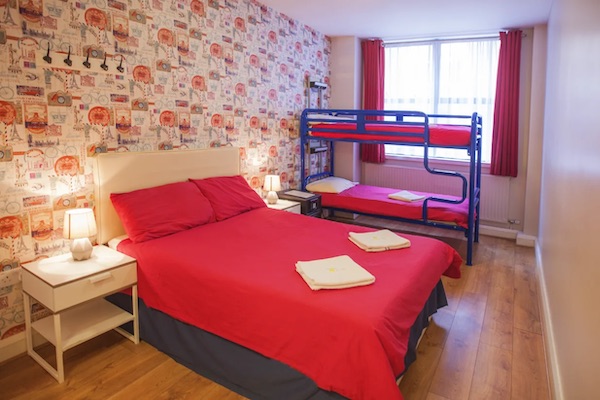 Abigail's Hostel
Lastly, Abigail's Hostel is a spot just around the corner from all of the liveliest areas of Dublin. You can count on free breakfasts and reliable Wi-Fi at Abigail's Hostel, too. There is a fully equipped kitchen if you would prefer to cook up your own meals during your stay. The staff will gladly take you on a walking tour if you want to see more of Dublin from this perspective.
There are mixed and female-only dorms in Abigail's Hostel, and all of them come with an attached bathroom and linens for your respective bed. If you would rather have a private room, there are options that can accommodate you, also. Grab a tea or a coffee at any time of day with the complimentary station in the common areas.
Hostel details
Address:
7 – 9 Aston Quay, Dublin 2, Dublin, Ireland.
Guest rating:
4.3 out of 5.
Price per night:
from $30.
Do not be surprised if you meet some of the friendliest locals and absolutely fall in love with Dublin. Hopefully, our list of hostels has given you some insight into where a good fit for you would be.
About our Dublin hostel recommendations
Are you a solo traveler looking for a private room? Or a backpacker traveling around in a group wanting to stay in a cheap and cozy dorm? Above you will find the best hostels in Dublin for all your needs.
Please note, we only list hostels that have an aggregated guest review rating of at least 4.0 out of 5. We aggregate all reviews from different booking sites and other unbiased review websites. Hence, you can be certain all hostels listed above offer an excellent value-for-money stay in Dublin.
Best price guarantee
For our hostel recommendations, we work together with Hostelworld and Booking. These partnerships don't have any influence on the recommendations we make or on the order in which our recommended hostels are listed. The reasons why we have chosen to partner with these companies is that they're trustworthy, offer excellent service and they both apply the best price guarantee. This means you can claim a refund for the difference if you find your reservation cheaper on another website. It has to be for the same property, accommodation type, dates, cancellation policy and conditions, otherwise, you can't claim the refund for the difference. If you book through Booking.com then all you need to do is contact them at least 24 hours before your check-in date. If you book through Hostelworld you must claim the refund within 24 hours after you made the booking.
Top 5 hostels in Dublin
To summarize again, based on thousands of guest reviews, these are the best hostels in Dublin:
Why you should be careful when booking the cheapest hostel available
The cheapest hostels available are typically not in a great location. If you want to go sightseeing or go for a night out in central Dublin, you probably end up having to pay for public transport or a taxi to get there. So your stay could end up being more expensive compared to a stay in a central location. For first-time travelers, we recommend staying central anyway, but also for frequent visitors, it's probably worth it to pay a bit more to stay in a central location.
Another reason why you shouldn't stay at the cheapest hostel is that the people staying at the cheapest hostels are often not the people that can afford to travel like you. Because a very cheap hostel is often cheaper than renting a flat, these places tend to attract migrant workers or local misfits. That's probably not the crowd you want to hang out with, especially if you're a solo traveler looking for friends.
The third reason why you should avoid the cheapest hostels is safety. Some of the cheapest hostels don't check IDs, don't ask for signatures, or only accept cash at check-in. The hostel won't know who is actually staying there.
Lastly, the service at these hostels isn't great. For instance, if you choose to store your luggage, your bags will be unattended in a public space. It won't be recorded anywhere or tagged and stored in a locked room.
So, it's probably worth it to spend a bit more on your hostel stay in Dublin.
And finally, a tip: always read the latest reviews of the hostel! All places have good and bad reviews, but the most recent reviews matter the most.
More Dublin tips
Get to know the city even better and check out our other articles about Dublin:
Best boutique hotels in Dublin