The breathtaking country of Ireland is absolutely the place to go if you are craving a beautiful escape consisting of vast fields, rolling hills, and historically significant sites that date back as far as the 11th century. Dublin, which is the incredible capital city of Ireland, should definitely not be missed out on if you are intending to make your way here.
Places such as the Christ Church Cathedral, Trinity College, and St. Patrick's Cathedral are all must-see establishments while exploring fascinating Dublin. There is really no bad time to visit Dublin, although it is generally more enjoyable from the spring into the fall months since it can get quite cold in the winter.
There are of course more than enough lavish hotel options to check into during your stay in Dublin that will make your stay as unforgettable as can be, which is exactly what we are going to discuss today.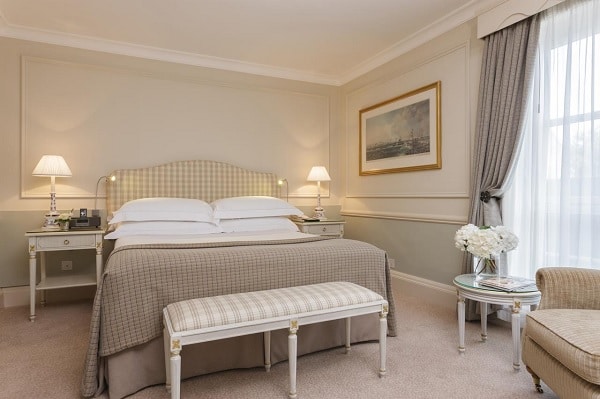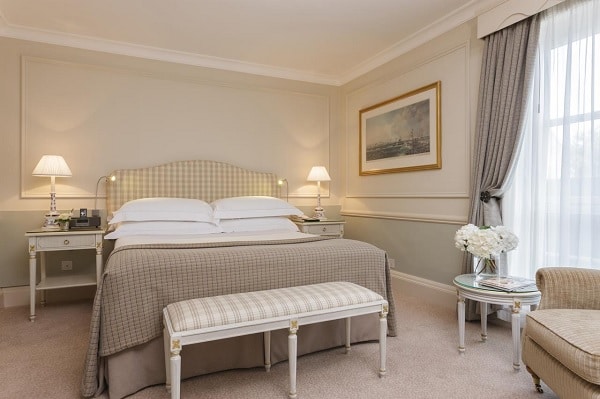 The Merrion
The Merrion is the most luxurious 5-star hotel in Dublin. It is a member of The Leading Hotels of The World group and is located directly across from Government Buildings in the city center. The hotel was created from 4 Georgian Townhouses and a modern Garden Wing. With 142 guestrooms and suites, the Merrion is decorated in Georgian period colors and set around two 18th century style gardens.
Every room is fully endowed with the latest technology, central AC, and wireless internet connection. The bathrooms feature extravagant marble and have individual bathtubs and standing showers. The hotel offers two restaurants for guests to choose from, the Cellar Restaurant serves modern cuisine with an Irish elegance while Restaurant Patrick Guilbaud has two Michelin Stars and serves more formal gourmet dining.
If you're looking to grab a drink on-site, The Cellar Bar and the intimate cocktail bar, No. 23 offer a number of handcrafted drinks to choose from. The Tethra Spa offers an outdoor pool, a gym, a steam room and a number of treatments, as well.
Hotel details
Address: 
Merrion Street Upper, Dublin 2, Ireland.
Guest rating:
4.8 out of 5
Price per night:
From $310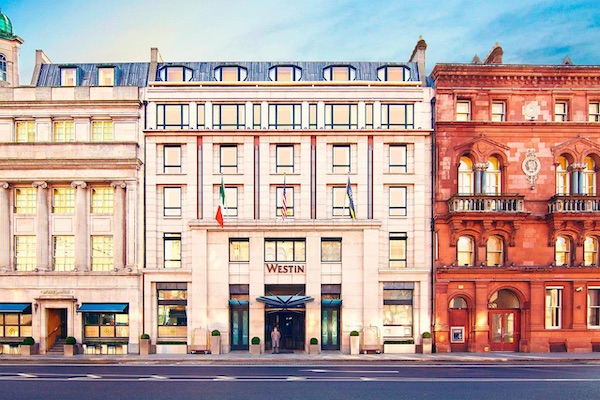 The Westin Dublin
The Westin is located across from Trinity College and was reconstructed from 19th-century landmark buildings. The history lives on in the marble pillars and wide mahogany doorways set this space apart from the many other places to stay in Dublin. Despite the vast design, the Westin Dublin is still surprisingly welcoming and homey.
The bedrooms are small and warm and filled with Indian linens and oak furniture. Each room was recently refurbished and overlooks the surrounding historic buildings. Guests can book treatments that can be enjoyed in their rooms and have the option of using the sizable fitness center any time of day. For dining options, the hotel offers perfectly cooked steak at the Morelands Grill and guests can enjoy an afternoon tea at the beautiful, classy Atrium Lounge.
Hotel details
Address: 
College Green, Westmoreland Street, D2 Dublin, Ireland.
Guest rating:
4.4 out of 5
Price per night:
From $320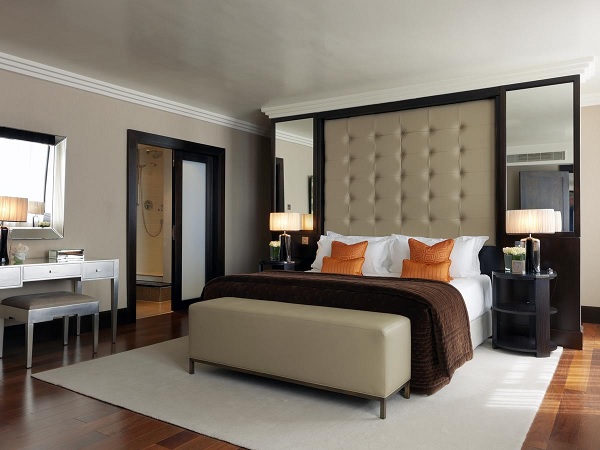 The Westbury Hotel
Not only is the Westbury surrounded by extravagance and style, but it also places guests at the very center of the city's most notable social and cultural treasures. It is housed in a prime location between Trinity College and St. Stephen's Green and is perfect for exploring some of Dublin's most exciting sites. Right outside the hotel's front door is Grafton Street, which is notorious for its vibrant colors, street art, and indulgent shopping.
Dublin's Creative Quarter is an animated grid of streets occupied by energetic bars, restaurants and individual stores that all run behind the hotel. It is also conveniently close to the city's top theaters, museums and art galleries all just a short walk away. Contemporary, cool and cultured, Westbury's restaurants, bars and meeting spaces present a distinctive combination of Dublin's business and social circles.
Hotel details
Address: 
Balfe St, Dublin 2, Ireland.
Guest rating:
4.5 out of 5
Price per night:
From $285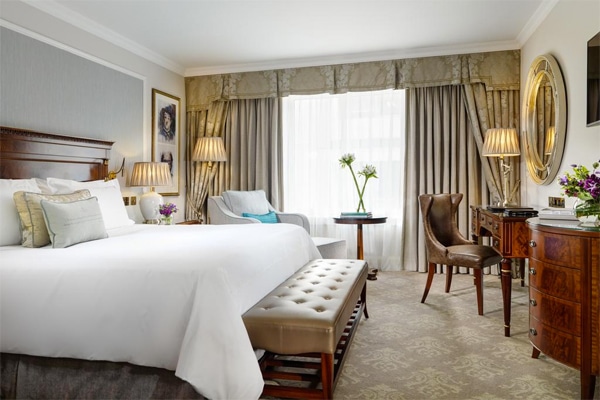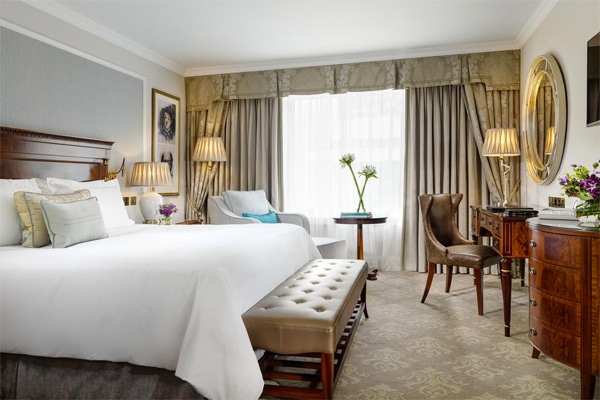 The Shelbourne Dublin
If you are searching for the essence of Dublin's history while visiting the beautiful city, look no further than the Shelbourne. Ireland's founding father first drafted the country's constitution at this site in the 1900s. Today, the space is located across from the verdant gardens and meandering paths of St. Stephen's Green and has such a refined elegance that it's impossible to forget.
With 262 rooms to choose from, each containing period style and dark antique furnishings, the Shelbourne is historic and homey. A three-story spa was recently added and is complete with a salon, a swimming pool, and calming relaxation rooms overlooking stunning gardens and wide green spaces. This is the most historic hotel in all of Dublin and is a must-stay for anyone hoping to enrich themselves with everything from the past to the modern-day.
Hotel details
Address: 
27 St Stephen's Green, Dublin, Ireland.
Guest rating:
4.6 out of 5
Price per night:
From $231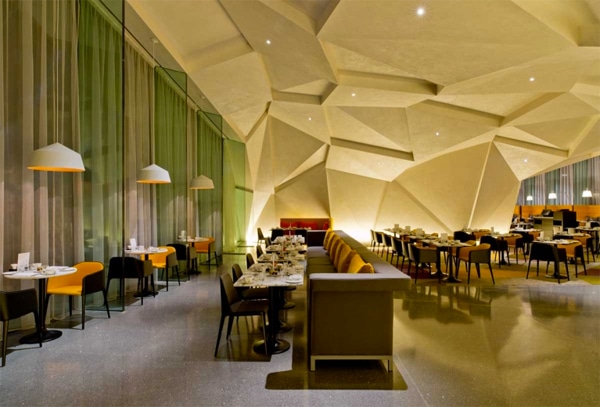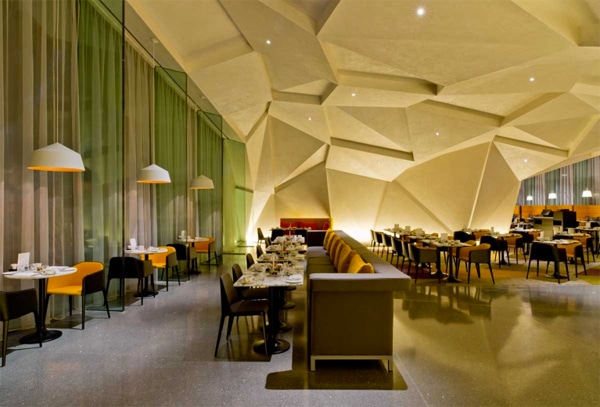 The Marker
On the opposite side of the spectrum, the Marker is Dublin's newest luxury hotel and is located in the city's most vibrant and novel business and cultural district. With unconventional design and the highest of modern standards, this beautiful hotel is sleek, urban, and offers beautiful views of the city's mountains and the sea. Everything about the Marker is contemporary and iconic while still offering all of the classic components of a luxury hotel.
The rooftop bar and terrace boast unbelievable views of the cityscape and are perfect for a romantic evening under the stars or a business dinner. Guests can relax in the wellness spa and infinity pool to forget all of their everyday stressors. This is the perfect place to stay for anyone searching for new and modern design while enjoying the historic city of Dublin.
Hotel details
Address: 
Grand Canal Square, Docklands, Dublin 2, D02 CK38, Ireland.
Guest rating:
4.6 out of 5
Price per night:
From $227
Dublin is a remarkable place that allows visitors to fully immerse themselves in the outstanding culture and history that is so present here. The luxury hotels that are available here certify that your stay is as tranquil and relaxing as can be.
About our luxury hotel recommendations in Dublin
We are a travel research company. Our team helps you discover the best luxury hotels in Dublin by researching the internet for you. We have also visited some of these places. Hence, it's not just our opinion, it's the opinion of many travelers who have been there before you. We make it easy for you to find out about the most luxurious and exclusive 5-star hotels in the city.
Please note, we only list hotels that have an aggregated guest review rating of at least 4.0 out of 5. We aggregate all reviews from different booking sites and other unbiased review websites. Hence, you can be certain all hotels listed above offer you a great stay in Dublin.
Best price guarantee
We have partnered with Booking.com and Hotels.com to offer the best price for your stay in Dublin! Both sites offer price matching, so you can be sure that you are getting the cheapest rates possible for a luxury hotel in Dublin. If you find an even lower rate on another site at least 24 hours before check-in, contact them to claim a refund of the difference!
Top 5 luxury hotels in Dublin
Having read this guide, now let's summarize what we learned. We found the best 5-star hotels in Dublin thanks to reviews and tips from thousands of guests and travel experts:
More Dublin recommendations
We hope you enjoy the advice we've given to you above. If so, be sure to check out some of our other articles about Dublin:
Best boutique hotels in Dublin