As the capital of South Africa, Cape Town is a super unique city that is a must-visit when doing some international tourism. Cape Town is actually broken down into many neighborhoods and areas that all have different offerings and subcultures.
That being said, where you choose to stay is a crucial aspect of your short time in Cape Town. You want to make sure you have time to see everything you want to. This may include beaches, museums, nightlife, and so much more.
Cape Town really has a lot to offer to every visitor, no matter the reason for being in town. If you want to shop, there are plenty of options. If you want to watch professional sports, there is that as well. Overall, your tourist needs will be met while in Cape Town. Here are five of the best areas to stay in the city so you can see everything you desire!

Green Point
There is a reason why this neighborhood is known as Green Point. To kick off the list, this area is an awesome place that puts you right in between a lot of the top attractions. To be more specific, Green Point sits right between Sea Point and downtown. So, accessing the city's best hotspots is very easy.
This is one of the most gorgeous areas in the entire city. The green lawns and mountains in the distance contrast the blue ocean in a beautiful way. Be sure to bring your camera as you will want to grab some photos.
One of the top attractions in Green Point is the Cape Town Stadium. This is a huge stadium that caters to local football games and various live events. When there aren't any events going on, be sure to grab a tour of this super unique structure.
Throughout Green Point, restaurants and bars offer incredible options for you and your loved ones. Although it might be a bit pricey, there are some fantastic food options settled in Green Point.
Best place to stay in Green Point
O' Two Boutique Hotel. Address: 3 Surrey Place, Mouille Point, Mouille Point, 8005 Cape Town, South Africa.
Sea Point
If you really want to slow down and relax while in Cape Town, Sea Point is worth considering. That is because it is far enough from the city center that everything is a bit quieter, but it still has a lot to offer to its visitors.
This is also a spot where you can get some sun and hit the beach. Saunder's Beach is fairly well-known and offers a cool escape from city life.
There is also the Sea Point Promenade in this neighborhood. This is a landmark of Cape Town and is a great place to spend a day. Plus, this area will give you some incredible views of the coastline and ocean.
One aspect that makes Sea Point unique is its diversity of natural features. Yes, there are beaches, but the mountains are also right there. These two aspects alone offer so many activities and places to explore on top of the town area.
Finally, Sea Point is attractive to travelers because it offers fairly affordable accommodations across the board. This is the place to stay when on a budget.
Best place to stay in Sea Point
President Hotel. Address: 4 Alexander Road, Bantry Bay, Sea Point, 8001 Cape Town, South Africa.
City Bowl
Probably the busiest area in all of Cape Town is City Bowl. This is because City Bowl sits right in the heart of the action. This is where a lot of business happens. However, it isn't only for hustling businessmen who are on the run all over the place.
There is so much to do packed into this downtown area. Some popular hotspots include Bree Street, Long Street, shopping complexes, and many green areas. The two streets are the nightlife and cuisine capitals of Cape Town. Some of South Africa's best restaurants are on Bree Street. No matter where you decide to stay, this is a place that you have to visit at some point.
Overall, staying at City Bowl will keep you in all of the action. Within the skyscrapers and huge building complexes, there are some great locations to check out and spend some time exploring.
Best place to stay in City Bowl
Cape Heritage Hotel. Address: 90 Bree St, Cape Town City Centre, Cape Town, 8000, South Africa.

Gardens
Sitting right next to Table Mountain National Park, Gardens is a neighborhood that is young, pretty, and offers a different view of Cape Town. If you want to take advantage of the natural features of South Africa, this is one of the areas that can make it happen.
Venturing out and seeing some of the natural features is a fantastic way to spend your time in Cape Town. With the surrounding mountains, forests, and oceanfront, there is a lot of exploring to be had.
On the flip side, Gardens still has a cool town feel and great places to enjoy. Some examples include the various restaurants, boutiques, and cafes littered throughout. This is actually a fairly artsy neighborhood that has art galleries, the Labia Theater, and a young, vibrant presence. This adds a different energy to an already busy city.
A huge selling point is that Gardens borders the city center, so you will potentially be within walking distance to the main action.
Best place to stay in Gardens
Belmond Mount Nelson Hotel. Address: 76 Orange St, Gardens, Cape Town, 8001, South Africa.
Cheaper alternative:
Hotel Du Parc. Address: 19 Park Road 19, Gardens, 8001 Cape Town, South Africa.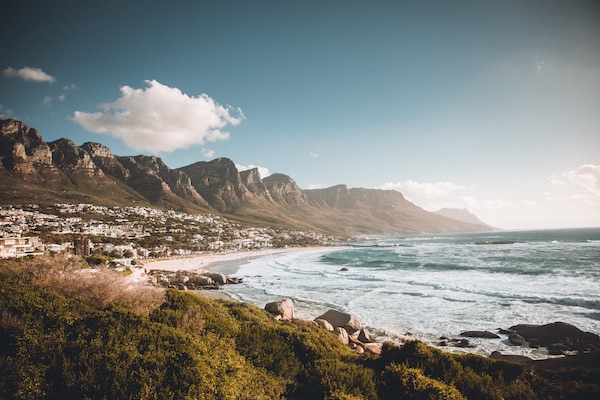 Camps Bay
To round out the list, we have Camps Bay. This is a neighborhood for those who want a beachfront experience. Camps Bay Beach is very well-known and has beautiful white sand contrasted by clear, blue water. This is the perfect place to relax and escape from the hustle and bustle of city life.
However, Camps Bay is only a 10-minute drive from the city center. So, you will still have a calming feeling from the ocean, but you won't be too far from Downtown. This is what makes Camps Bay special. You get the best of both worlds.
In between soaking in the sun and enjoying beach life, visit some of the many beachside cafes, restaurants, and shops. This is one of the most beautiful parts of all of Cape Town. Even just walking the beach, stopping in at one of these establishments, and enjoying great weather.
Best place to stay in Camps Bay
Twelve Apostles Hotel & Spa. Address: Victoria Street, Camps Bay, Cape Town, 8005, South Africa.

Where travel critics stay in Cape Town
Want to know where travel critics from publishers like The New York Times, Frommer's, Fodor's and Lonely Planet stay in Cape Town? Check out our overview of all recommended hotels, hostels and B&Bs in Cape Town.
Budget
"B.I.G. is a wonderful hybrid backpacker and b&b, with 12 en-suite private double/triple/family rooms, six en-suite dorms and the most engaging hosts you could hope for. A fun, vibrant, affordable option that will introduce you to the best the city has to offer." — Telegraph.
Address: 18 Thornhill Road, Green Point, Green Point, 8005 Cape Town, South Africa.
Mid-range
"Expat couple Maxime and Mélodie ladle on the Gallic charm at this imaginatively renovated former stables, where the ancient stone walls are a feature of the rooms." — Lonely Planet.
Address: 15 Park Rd, Gardens, Cape Town, 8001, South Africa.
Luxury
"Directly off Chapman's Peak Drive and built around a wonderland of native fynbos and milk wood trees, Tintswalo Atlantic is the only beachfront development in Table Mountain National Park." — Fodor's.
Address: Chapmans Peak Dr, Hout Bay, 7806, South Africa.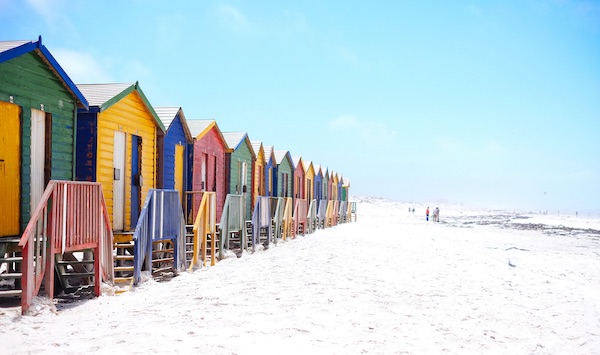 FAQ: Cape Town hotel tips
Looking for the best budget, boutique, or luxury hotel in Cape Town? Or maybe you're a backpacker looking for an excellent hostel? Want to know which Cape Town hotel serves a great breakfast? Here are the answers to all those and other questions about where to stay in Cape Town.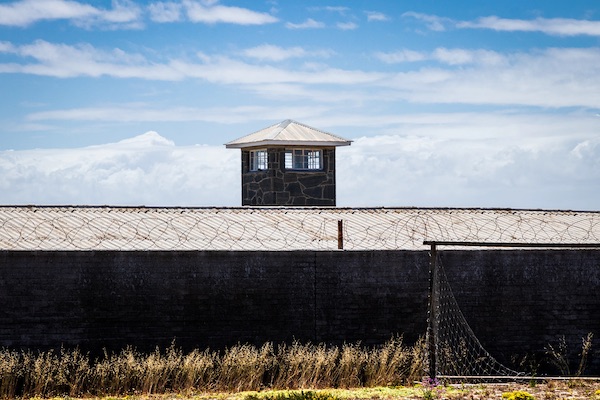 Best things to do in Cape Town
There are a lot of things to do in Cape Town and surrounding areas, including day trips, attractions, museums, sightseeing tours and many other activities. Here's our list of 3 things you should definitely do when you're in Cape Town:
Table Mountain Cable Car Ticket & Hop-On Hop-Off Bus Combo
See the best of Cape Town with this combined Table Mountain return cable car ticket, Cape Town hop-on hop-off bus ticket and, free walking tour. Use the bus to be dropped at the door of the Cableway station. Price: $41. More info.
Full-Day Cape Point & Cape Peninsula Sightseeing Tour from Cape Town
Visit Boulders Beach, Cape Fur, and Cape Point Nature Reserve, and see a penguin colony as well as other wildlife. Price: $62. More info.
Robben Island: Ferry Ticket and Tour
Secure a ticket for the ferry to Robben Island and visit the prison where Nelson Mandela was kept during Apartheid. Learn about the dramatic history of South Africa through the voice of one of the former prisoners. Price: $65. More info.
More things to do in Cape Town
Deciding where to stay in Cape Town
Let's recap what we just learned in this article. We've covered the best areas of Cape Town above. Now you can decide where to stay while visiting!
Top 5 neighborhoods to stay in Cape Town
Green Point
City Bowl
Sea Point
Camps Bay
Gardens
As you have seen in this travel guide, there are a lot of things to explore, and deciding where to stay in Cape Town is important. Whether you stay in Green Point, City Bowl, Sea Point, Camps Bay or Gardens, all those neighborhoods are in good locations.
The atmosphere of the area, whether you travel for leisure or business, whether you travel with your family or friends, and proximity to the attractions you prefer to visit should probably be the deciding factors. Whatever your preference is, you'll have a great time in Cape Town.
Check out our other guides about the best places to stay in Cape Town: