Cape Town is a coastal city in the country of South Africa, and it truly is an exhilarating travel destination. Located right on the Atlantic Ocean and the Indian Ocean, this city is filled with friendly locals, tropical scenery, outdoor activities, and a flourishing nightlife that will keep you entertained for the entirety of your visit.
If you are a huge fan of football, or what Americans happen to know as soccer, you will be right at home in wonderful Cape Town. Hostels are definitely one of the most ideal ways to experience Cape Town. You will save money this way and you will have the chance to meet some fellow like-minded travelers.
We have compiled a list for you consisting of five of the best hostels you can choose between in this city, so keep on reading to find out which will be the most ideal fit for your needs.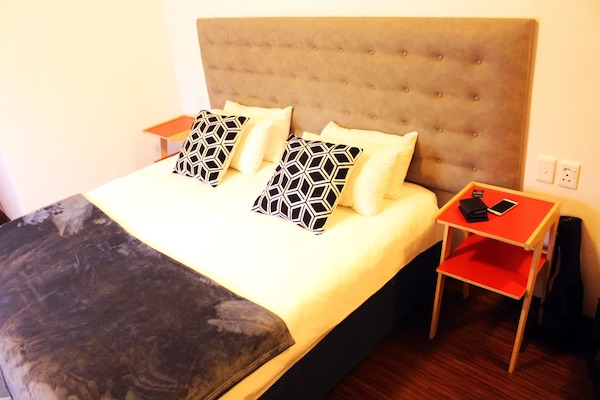 91 Loop
The first hostel up on our list is 91 Loop, which you can find situated in a prime spot right in the center of Cape Town. 91 Loop has numerous amenities, such as free breakfast, tours of the surrounding area, live music on certain nights, and a restaurant on the property for those nights you do not feel like cooking. If you have work to get done online, there is reliable internet available here for guests.
The rooms here vary from private to dorm-style with en-suites, and there are even pod rooms that are not what you typically see in hostel setups. Bed linens and towels will be kindly provided to you, and you can count on there being security lockers within your space so that you can safely stow away your luggage.
Hostel details
Address:
91 Loop Street, Cape Town, South Africa.
Guest rating:
4.5 out of 5.
Price per night:
from $10.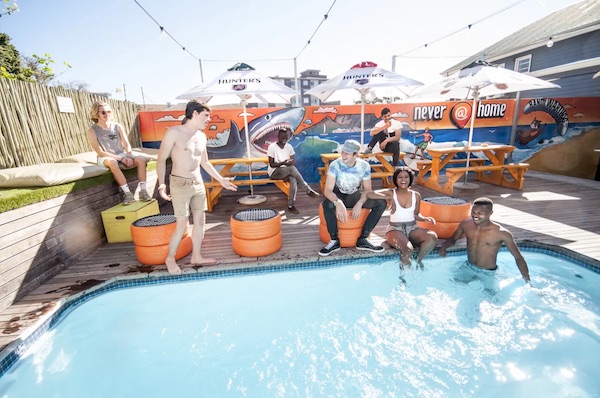 Never@Home Cape town
Up next, we have Never@Home Cape Town, which is a hostel in an ideal spot for travelers who want easy access to the beaches located off of this city. Never@Home can assist you in booking exhilarating activities and tours, or you can choose to spend your extra time here lounging in the on-sit pool or on the terrace. Kitchen facilities are available to anyone looking to whip up some meals, too.
Guests can choose between a mixed dorm, a female-only dorm, or a private room. The rooms all come with bathrooms inside, and linens will be lent out to you, as well. The spaces are all equipped with luggage lockers, and there are reading lights set up by the beds for those who like to dive into a good novel before sleeping.
Hostel details
Address:
107 Main Road, Green Point, Cape Town, South Africa.
Guest rating:
4.6 out of 5.
Price per night:
from $12.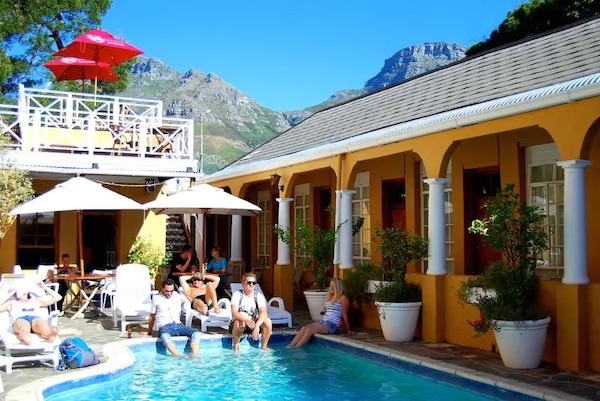 Ashanti Lodge Gardens
Ashanti Lodge Gardens is a hostel that is situated in an idyllic location close to the heart of Cape Town. You are never far from the beach at Ashanti Lodge Gardens, and there is a pool as well as a garden and sundecks throughout the property to enjoy on days you do not feel like being out and about. There is a kitchen facility free for guests to utilize whenever they may need it.
Ashanti Lodge Gardens is able to offer private en-suite rooms, as well as renovated dorms equipped with reading lights and security lockers for your belongings. You do not have to worry about bringing along your own bed linens to Ashanti Lodge Gardens, as they will provide them for you upon your arrival.
Hostel details
Address:
11 Hof Street, Gardens, Cape Town, South Africa.
Guest rating:
4.5 out of 5.
Price per night:
from $20.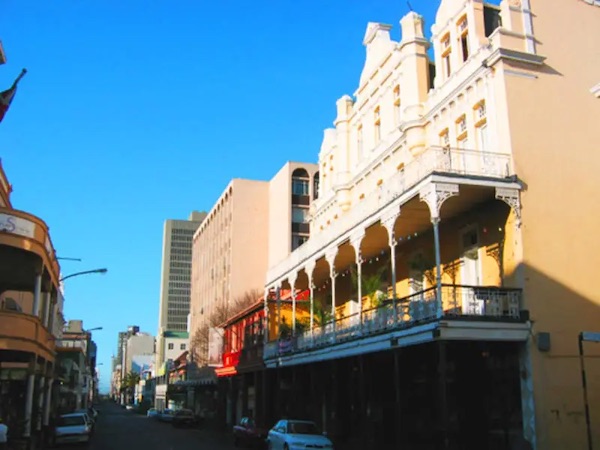 Carnival Court
The next hostel on our guide is Carnival Court, which is the perfect spot if you are looking for somewhere that is central to all of the fun in Cape Town. The hostel is complete with a pool table and foosball, and it is only a quick drive away from the gorgeous Cape Town beaches. There is a bar within the hostel that is a great place to meet up with fellow travelers.
There are private rooms with either twin or double bed options. They all come prepared with linens and security lockers for your luggage. The bathrooms are communal here, but there is ample space available for everyone. If you are in need of a kitchen, that can be found in the main common area of Carnival Court.
Hostel details
Address:
255 Long Street, Cape Town, South Africa.
Guest rating:
4.8 out of 5.
Price per night:
from $10.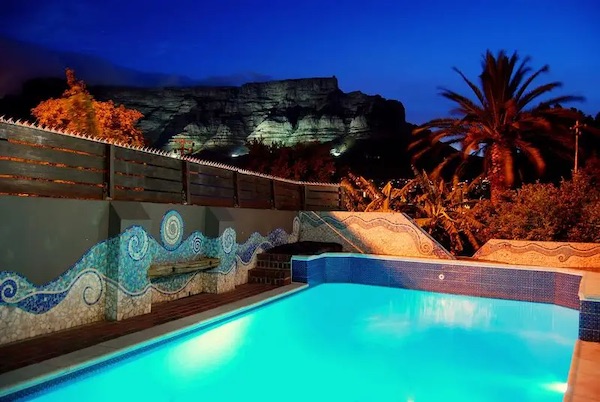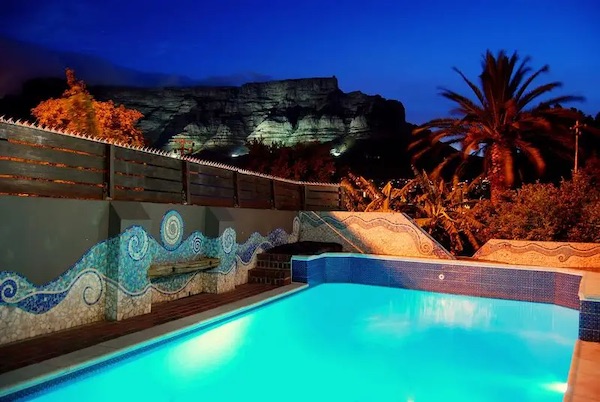 The Backpack Cape Town
Our last hostel on our list is The Backpack Cape Town, a popular accommodation space that is close to all of the excitement of downtown Cape Town. You will be provided with everything you need and then some at this place. The hostel offers free breakfasts for those staying in a private room, Wi-Fi, bed linens, a swimming pool, and there is a bar on-site.
There are mixed dorms, female-only dorms, private rooms, and even family rooms accessible at this hostel. Some of the rooms come with private bathrooms, but others are shared. The rooms here are beyond cozy, so you will have no issue winding down after long days spent exploring wonderful Cape Town.
Hostel details
Address:
74 New Church Street, Cape Town, South Africa.
Guest rating:
4.3 out of 5.
Price per night:
from $14.
This concludes our list of five of the best hostels located in Cape Town, South Africa. You can count on being in a supreme location at any of the above-mentioned accommodations, and you will undoubtedly love the experience of lodging in a cozy hostel.
About our Cape Town hostel recommendations
Are you a solo traveler looking for a private room? Or a backpacker traveling around in a group wanting to stay in a cheap and cozy dorm? Above you will find the best hostels in Cape Town for all your needs.
Please note, we only list hostels that have an aggregated guest review rating of at least 4.0 out of 5. We aggregate all reviews from different booking sites and other unbiased review websites. Hence, you can be certain all hostels listed above offer an excellent value-for-money stay in Cape Town.
Best price guarantee
For our hostel recommendations, we work together with Hostelworld and Booking. These partnerships don't have any influence on the recommendations we make or on the order in which our recommended hostels are listed. The reasons why we have chosen to partner with these companies is that they're trustworthy, offer excellent service and they both apply the best price guarantee. This means you can claim a refund for the difference if you find your reservation cheaper on another website. It has to be for the same property, accommodation type, dates, cancellation policy and conditions, otherwise, you can't claim the refund for the difference. If you book through Booking.com then all you need to do is contact them at least 24 hours before your check-in date. If you book through Hostelworld you must claim the refund within 24 hours after you made the booking.
Top 5 hostels in Cape Town
To summarize again, based on thousands of guest reviews, these are the best hostels in Cape Town:
Why you should be careful when booking the cheapest hostel available
The cheapest hostels available are typically not in a great location. If you want to go sightseeing or go for a night out in central Cape Town, you probably end up having to pay for public transport or a taxi to get there. So your stay could end up being more expensive compared to a stay in a central location. For first-time travelers, we recommend staying central anyway, but also for frequent visitors, it's probably worth it to pay a bit more to stay in a central location.
Another reason why you shouldn't stay at the cheapest hostel is that the people staying at the cheapest hostels are often not the people that can afford to travel like you. Because a very cheap hostel is often cheaper than renting a flat, these places tend to attract migrant workers or local misfits. That's probably not the crowd you want to hang out with, especially if you're a solo traveler looking for friends.
The third reason why you should avoid the cheapest hostels is safety. Some of the cheapest hostels don't check IDs, don't ask for signatures, or only accept cash at check-in. The hostel won't know who is actually staying there.
Lastly, the service at these hostels isn't great. For instance, if you choose to store your luggage, your bags will be unattended in a public space. It won't be recorded anywhere or tagged and stored in a locked room.
So, it's probably worth it to spend a bit more on your hostel stay in Cape Town.
And finally, a tip: always read the latest reviews of the hostel! All places have good and bad reviews, but the most recent reviews matter the most.
More about Cape Town
Get to know the city even better and check out our other articles about Cape Town:
Best cheap hotels in Cape Town
Best boutique hotels in Cape Town
Best luxury hotels in Cape Town