San Francisco is a fabulous destination in the United States. It is known for having a widely diverse culture of people from multiple different backgrounds, fantastic landscapes and scenery, delicious food, a bug art scene, and friendly, open-minded residents. It's ideal for urban adventurers and eco-friendly travelers, and there is literally something for everyone.
San Francisco has quickly become a leader in sustainability in the United States. Now known as the 'greenest city in North America,' San Francisco has been able to boost environmental accountability policies and practices and adopt sustainable measures more than most other cities. It was the first city in the country to have large-scale urban food waste and composting programs in the country and has been able to reduce greenhouse gas emissions by more than 12%.
The hotel industry has done its fair share in maintaining an eco-friendly reputation and outlook, promoting sustainability, and implementing environmental products and practices. For a sustainable stay in San Francisco for comfort and amenities, as well as protecting the environment, consider these top 5 eco-friendly hotels in the city.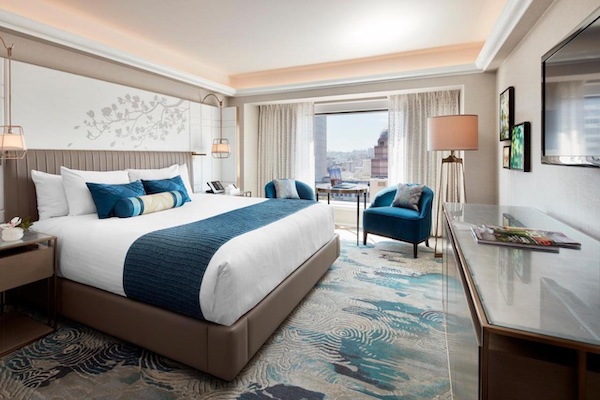 Hotel Nikko
Hotel Nikko is an adventure into a world full of ambiance, warmth, style, and comfort in the heat of San Francisco. 5-star friendliness and hospitality begin as soon as you step foot in the spacious lobby to ease away the stress of your day. Indulge in sustainable and comfortable accommodation while exploring the fabulous city of San Francisco.
Located just a step away from Union Square, this eco-friendly hotel offers a prime location and home-away-from-home in San Francisco. Rooms are slick and spacious with modern Asian-influenced design, ideal for business and work-related travel. Rooms feature breathtaking views of the city, with private stuck bathrooms, televisions, wifi, and optional services.
Hotel Nikko also allows guests to indulge in a fine dining experience at the onsite restaurant ANZU, serving a fusion of Californian and Japanese range of cuisine options. Guests also have the option of ANZU in-room bed and breakfast services for a fresh start to a day of exploring, and use of the pool for a day of peace and sunshine and overall wellness.
What makes Hotel Nikko sustainable
Hotel Nikko is Sustainable by focusing on eco-friendliness, conservation, and community. They process food waste, reduce water waste, have an over-the-top recycling program, and an enormous amount of community outreach and sustainable conservation.
Hotel details
Address: 
222 Mason Street, Union Square, San Francisco, CA 94102, United States of America.
Guest rating:
4.4 out of 5
Price per night:
From $202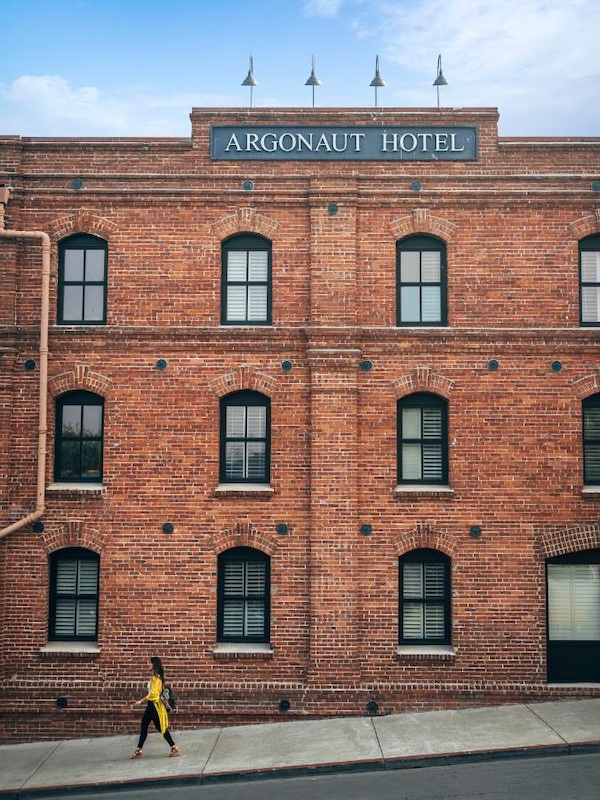 Argonaut Hotel
Housed in the old Haslett Warehouse is the prestigious and sustainable Argonaut Hotel. The hotel allows visitors to indulge in breathtaking views, legendary history, and award-winning services. Whether you are there for location, scenery, or amenities, Argonaut Hotel comes stocked with everything for an ideal and sustainable San Francisco visit.
Located in the Fishermans Wharf District, it is an icon of the city in both the past and present. The hotel offers guests wake-up views of the Golden Gate Bridge, San Francisco Bay, and Alcatraz. Just steps away from Hyde Street Pier, it offers a great location for a noteworthy adventure. The hotel features rejuvenating spa services, onsite dining, and iconic accommodations. Rooms are equipped with jacuzzi tubs in private bathrooms, large bay windows, HD TV, spacious seating areas, and a gorgeous interior design with exposed brick accent walls.
What makes Argonaut Hotel sustainable
The Argonaut Hotel is sustainable by being a certified Green Business. They offer an indulgent and eco-friendly experience, all while protecting the environment at the same time. The hotel features LED lighting, stem battery power, a recycling system, and other energy-saving programs throughout the premises.
Hotel details
Address: 
495 Jefferson Street, Fisherman's Wharf, San Francisco, CA 94109, United States of America.
Guest rating:
4.4 out of 5
Price per night:
From $245
Orchard Garden Hotel
The Orchard Garden Hotel is a tranquil paradise in downtown San Francisco. Offering a 5-star luxury with an eco-friendly design, it is known to be a tradition of excellence and comfort in the city. Relax and enjoy the city at the first LEED-certified hotel, and take in the gorgeous city skyline from the rooftop terrace.
Located near Union Square, the Orchard Garden couldn't be in a perfect location to enjoy San Francisco. It's within walking distance of some f the city's most attractive districts, activities, and landmarks. Restaurants, shops, and things to do are uncountable, and with all the amenities the hotel offers, you're guaranteed access to everything you need. Rooms have a sustainable design, featuring free wifi, smart television, private bathrooms, seating area, and on-call butler services. Onsite dining is available onsite, in addition to the rooftop bar and terrace.
What makes Orchard Garden Hotel sustainable
Voted in the top 7 in the United States, Orchard Garden is an eco-friendly and sustainable facility in San Francisco.  The hotel has earned a Green Certification earning LEED-NC status, and certification for a building design by the U.S Green Building Council. It features LED lighting systems, recycling and waste management programs, and a non-toxic environment.
Hotel details
Address: 
466 Bush Street, Chinatown, San Francisco, CA 94108, United States of America.
Guest rating:
4.5 out of 5
Price per night:
From $188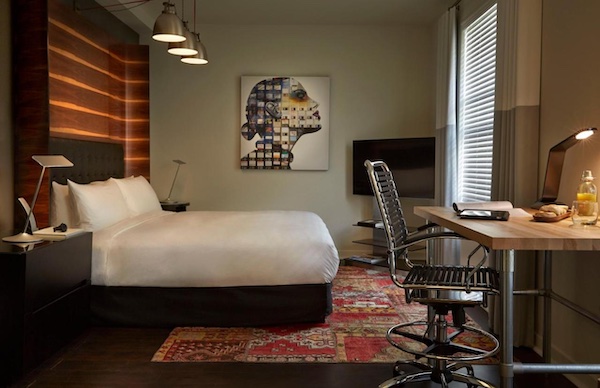 Hotel Zetta
Hotel Zetta is a creative, urbanized retreat in the center of downtown San Francisco. The hotel welcomes all creative minds, cultural wanderers, and savvy travelers to reside in a cutting-edge neighborhood with a bold and timeless atmosphere. For any who is looking for a sustainable stay in San Francisco and wants to make new memories and discoveries, Hotel Zetta is the place to be.
Located just opposite the Westfield Shopping Center, Hotel Zetta is centrally located for an immersive experience to make the most of San Francisco. It is within walking distance of Union Square and Moscone Center, with various restaurants and shops scattered between. The hotel features a world-class fitness center, an onsite Cavalier Restaurant, a full-service bar, and an English-style Brasserie. Rooms come with televisions, wifi, sound systems, double-panned privacy windows, a work area, a coffee maker, and private upscale loaded bathrooms.
What makes Hotel Zetta sustainable
Hotel Zetta is sustainable by offering eco-friendly guest services, waste management, water conservation, and energy-saving systems. The Stay Green program is an in-room initiative offered to hotel guests, all bathrooms use water-saving faucets and toilets, contactless entry and exits, and a waste recycling program throughout the whole facility.
Hotel details
Address: 
55 5th Street, Union Square, San Francisco, CA 94103, United States of America.
Guest rating:
4.6 out of 5
Price per night:
From $185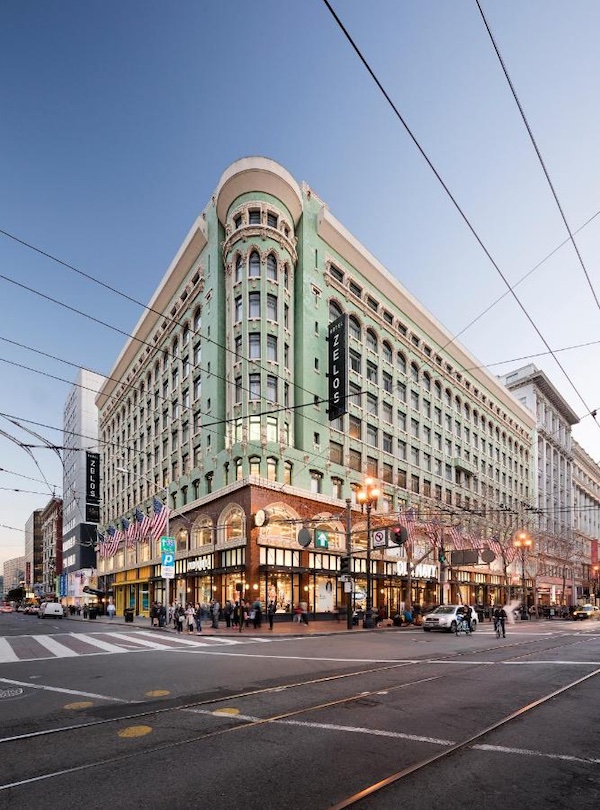 Hotel Zelos
Hotel Zelos offers a stylish stay in a boutique hotel in San Francisco. The urban retreat encourages you to expand your mind, feel inspired, and relax in a spacious cozy atmosphere. Relax in an ideal environment suitable for work or play while visiting San Francisco.
Located in the trendy district of SoMa, Hotel Zelos is just steps away from Union Square. Restaurants, bars, shops, and entertainment line the surrounding streets, with cultural art and influences flowing through the breeze. Rooms at Hotel Zelos are designed with a warm and homey feeling, putting guests at ease and peace of mind knowing they have a safe and relaxing environment away from all the action. Rooms are equipped with soundproof walls, air conditioning and heating, VIP room facilities, television, private bathrooms, and optional room service. Don't forget to dine at the Dirty Habit during your stay for a delicious mouthwatering treat!
What makes Hotel Zelos sustainable
Hotel Zelos is sustainable in the areas of waste management, guest services, electricity efficiency storage, water conservation, and social responsibility. The Go-Green program allows guests to determine how sustainable their stay will be, in addition to a STEM system for efficiency, and a Recology program for a zero-waste initiative.
Hotel details
Address: 
12 Fourth Street, Union Square, San Francisco, CA 94103, United States of America.
Guest rating:
4.3 out of 5
Price per night:
From $200
We hope you have enjoyed this guide to some of the best eco-friendly hotels in San Francisco, and hope it inspires you to enjoy a sustainable stay in the city.
How we select the best eco-friendly hotels in San Francisco
We are a travel research company. We check a lot of details and guest reviews before making a selection. First, we check which hotels follow eco-travel principles. Are they recycling their waste? Do they work with local communities? Are they using renewable energy? Are they not using single-using plastics?
Secondly, we check guest reviews across multiple websites and only list hotels which have an aggregated review rating of at least 4 out of 5. So you can be certain you will be staying at an excellent eco-friendly hotel in San Francisco.
Sustainable travel is becoming increasingly popular and important as we strive to reduce our carbon footprints. There are many easy ways to reduce your impact while traveling, from choosing eco-friendly accommodations to respecting the local wildlife. Here are some of the most important tips for sustainable travel.
More San Francisco recommendations
Get to know the city even better by reading our other articles about San Francisco:
Boutique hotels in San Francisco
Where to stay in San Francisco
Luxury hotels in San Francisco