Cape Town is the adventure capital of South Africa and is at the top of many travelers' bucket lists. The country is loaded with scenic beauty and natural attractions, thrilling landscapes, and beautiful coastal views. No matter which direction, there are golden beaches and a breathtaking background; ideal for any perfect adventure.
Environmentally friendly conscious travelers will be happy to know that local like, and most tourism attractions, are centered around nature, the outdoors, and maintaining an active lifestyle. Cape Town is the greenest city in South Africa, and affectionately invested in its residents and surroundings by implementing a cleaner public transportation system, and various cycling lanes, and uses renewable energy to power most of the city.
Much like the rest of the city, the hotel and tourism industry has adapted its practices and services to provide eco-friendly services and promote sustainability. During your next visit to the magnificent coastal city, consider staying at one of these 5 most sustainable hotels in Cape Town.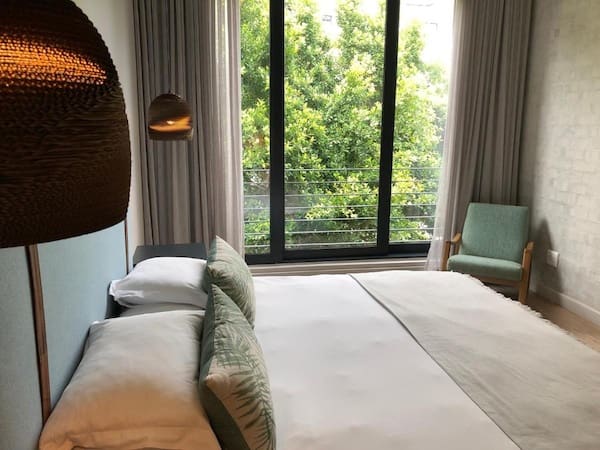 The Tree House Boutique Hotel
The Treehouse Boutique Hotel is one of the most exciting and appealing accommodation options in all of Cape Town. It is nestled amongst lush trees, and enjoys the most amazing panoramic views of the city, thus leading to its fitting name. With remarkable design inspiration which reconnects with nature and harnesses its pure magic, it results in an exceptional Cape Town haven that offers guests a sense of escape, wonder, and respite while continuing their personal journey.
Located in the trendy neighborhood of Green Point, it sits within walking distance of various great attractions, such as the VA Waterfront, Cape Town Stadium, and Cape Quarter. The hotel showcases local creativity and color in all 14 of its guestrooms. All rooms include a king-size bed, en-suite bathroom, in-room laptop safe, LED TV, free Wi-fi, designer tea, Pod coffee machines, and air conditioning. The Tree House provides a 24-hour concierge, spa service, free breakfast served until 11 am, an all-day dining menu, and a full-service bar.
What makes The Tree House Boutique Hotel sustainable
The Tree House Boutique is sustainable by being a part of the Travel Sustainability Program and is accredited by the international body, GTA, for its environmental awareness and leadership in sustainable tourism. The hotel provides renewable energy sources, and waste management sources, and supports local artists and services.
Hotel details
Address: 
28 Vesperdene Road, Green Point, 8005 Cape Town, South Africa.
Guest rating:
4.7 out of 5
Price per night:
From $155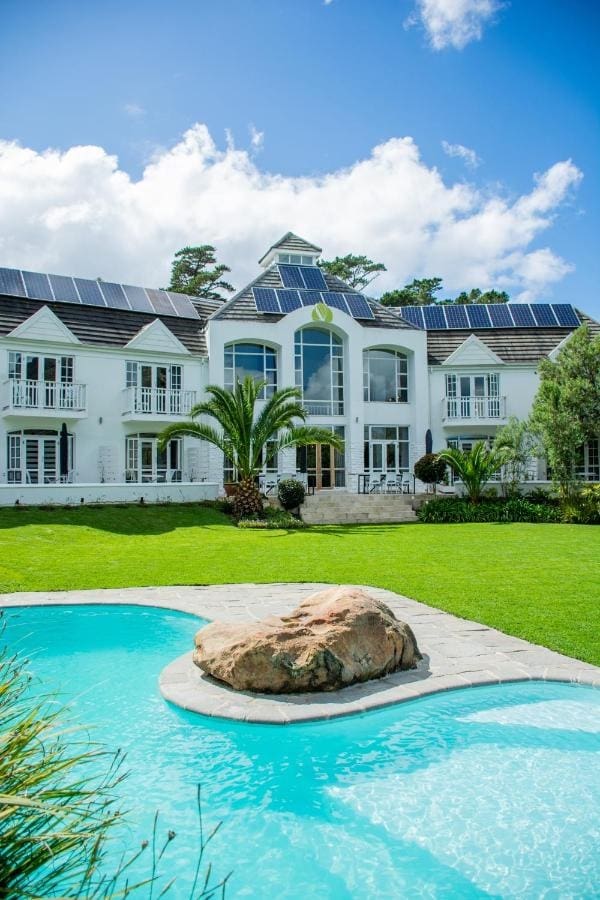 Vida Nova Retreat
Capes Towns' elegant sanctuary, The Vida Nova Retreat, is an Eco-Luxury oasis within the bustling city. A quiet and secluded place of relaxation is the main goal that the retreat strives to provide to guests. "Vida Nova" means new life. Through the luxury, eco-conscious property, they aim to connect all guests with nature,
Located just 20 minutes away from the city center in Hout Bay, the retreat sits on the southern slopes of the majestic Table Mountain, surrounded by views of the National Park. It's close enough to the sounds and sights of the city, but far enough away to be immersed in nature and relaxation. There is an on-site day spa, bar and restaurant, indigenous gardens, and a swimming pool. Rooms are equipped with free high-speed internet, televisions, a car park, disabled accessibility, and private bathrooms.
What makes Vida Nova Retreat sustainable
The Vida Nova Retreat is sustainable by being a part of the Travel Sustainable Program. The hotel makes good efforts to reduce food waste, has eliminated the use of single-use plastic products, has water-efficient toilets and showers, uses LED lightbulbs throughout the property, promotes local artists, and provides locally sourced and organic meals.
Hotel details
Address: 
Disa River Road & Valley Road, 7806 Cape Town, South Africa.
Guest rating:
4.6 out of 5
Price per night:
From $160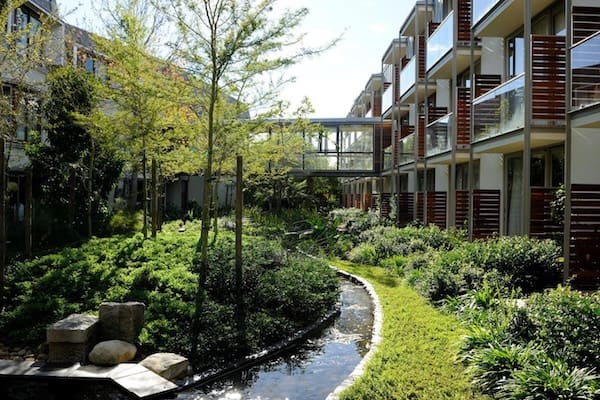 Vineyard Hotel
Vineyard Hotel is a beloved favorite, and one of the best sustainable hotels in Cape Town. Excellent service and pleasing guests' every want and need is the main priority of the hotel, and have a friendly and hospitable staff helping every step of the way. With a blend of good food, serene comfort, and gorgeous scenic views, Vineyard Hotels is a breath of fresh air just minutes from the exciting city center of Cape Town.
Located in Newlands, the Vineyard Hotel sits on the banks of the Liesbeek River overlooking Table Mountain. It is about 10 minutes away from the city center, with easy access to the Victoria Waterfront, Newlands Stadium, and the Cavendish Shopping Center. The hotel features the award-winning Square Restaurant, luxurious Angsana Spa, health & fitness center, and a free wine tasting every Monday evening. The property is decorated with art and design by local African artists, and rooms feature flat-screen televisions, free wifi, a stocked mini-bar, coffee and tea, a private balcony, and a patio.
What makes Vineyard Hotel sustainable
The Vineyard Hotel promotes sustainability and eco-friendliness by implementing an initiative to reduce negative effects on the environment. The hotel has received an FTT Certificate (Fair Trade Tourism) and makes use of sustainable and ethically produced goods, and has implemented a number of initiatives to reduce waste, water and energy usage. There are 148 solar panels, and recycle 90% of all waste.
Hotel details
Address: 
Colinton Road, Newlands , Newlands, 7725 Cape Town, South Africa.
Guest rating:
4.6 out of 5
Price per night:
From $195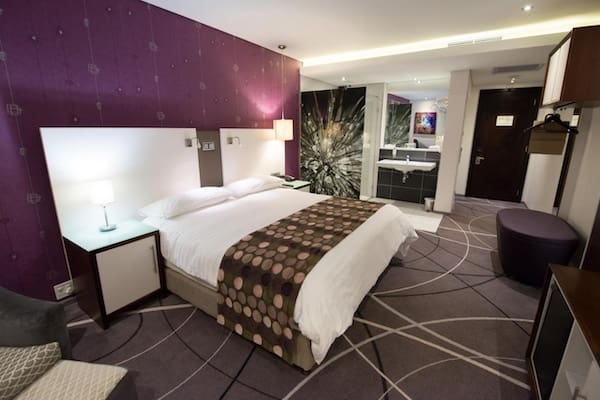 Hotel Verde
Hotel Verde is a modern and stylish eco-friendly hotel just around the corner from the airport. Sitting between the center city and wine country, Hotel Verde is the ultimate accommodation option for the best of both worlds. Whether you are looking for a quick getaway stay, or a week or 2 of homey comfort, Hotel Verde offers a green and relaxing stay with a friendly atmosphere.
Located just 400 meters from the Cape Town Airport, Hotel Verde is in an ideal location for easy transportation access. It is just a quick 13 miles from the city center and Canal Walk. The property feathers an on-site gym, jogging trail, organic restaurant and bar, business center, and 24-hour room service upon request. Rooms are equipped with everything guests could need, including spacious private bathrooms, flat screen television, stocked mini-bar, tea and coffee makers, and a small kitchen and seating space.
What makes Hotel Verde sustainable
The Hotel Verde has sustainability all the way to its core. They have won various awards relating to environmental friendliness, including the title of 'Africa's Greenest Hotel.' It was the first hotel in Africa to offer 100% offset carbon-neutral accommodation and conferencing, and provides a sustainable design. They strive to be energy and water efficient and have a top-notch waste and recycling program.
Hotel details
Address: 
15 Michigan Street, Airport Industria, 7490 Matroosfontein, South Africa.
Guest rating:
4.4 out of 5
Price per night:
From $88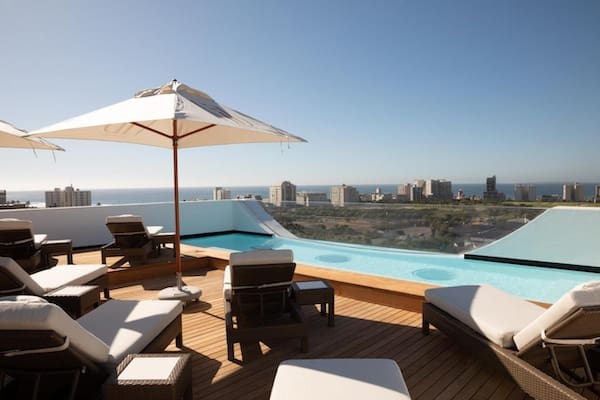 ANEW Hotel
The ANEW Hotel gives guests a unique experience and excellent hospitality on Cape Town's Atlantic Seaboard. It offers not only an ideal location in the center but hidden away for a peaceful escape from the hustle and bustle. Adventures looking for a sustainable stay with easy access and various opportunities will find ANEW Hotel hard to match.
Located in Green Point, ANEW Hotel is within walking distance of various famous landmarks and attractions of Cape Town, including the Waterfront and Sea Point Promenade. It's in an ideal location for those looking to explore the 'Mother City' and has easy access to transportation, as well as hiking opportunities. The hotel features an on-site restaurant, health & fitness center, bar & terrace, daily breakfast, and free wifi throughout the entire facility. Rooms are loaded with private bathrooms, a coffee machine, a television, and a private balcony.
What makes ANEW Hotel sustainable
The ANEW Hotel is sustainable by striving to promote eco-friendliness and environmentally conscious travelers. They are located near the oldest game reserve, offering accommodation immersed in nature. They provide easy access to safaris, parks, and other naturalistic services. Furthermore, they promote recycling and waste reduction amenities.
Hotel details
Address: 
181 Main Road Green Point, Green Point, 8005 Cape Town, South Africa.
Guest rating:
4.2 out of 5
Price per night:
From $64
Environmentally conscious travelers will be thrilled to see there is no shortage of green accommodation options in Cape Town! We hope that this guide has inspired you to think of yourself and the environment when going on your next exciting journey to South Africa's Mother City.
How we select the best eco-friendly hotels in Cape Town
We are a travel research company. We check a lot of details and guest reviews before making a selection. First, we check which hotels follow eco-travel principles. Are they recycling their waste? Do they work with local communities? Are they using renewable energy? Are they not using single-using plastics?
Secondly, we check guest reviews across multiple websites and only list hotels with an aggregated review rating of at least 4 out of 5. So you can be confident you will stay at an excellent eco-friendly hotel in Cape Town.
Sustainable travel is the key to enjoying a responsible and meaningful trip. You can make a difference in the environment and the communities you visit with the right sustainable travel tips. From packing light to choosing eco-friendly transportation and accommodations, there are plenty of ways to reduce your environmental impact.
More Cape Town recommendations
We hope you enjoy the advice we've given to you above. If so, be sure to check out some of our other articles about Cape Town: