Are you ready to explore Argentina's capital city?! Buenos Aires is a spectacular city full of life, history and culture. Learn how to tango or simply watch the pros dance instead in Milonga or spend your time exploring the bustling markets. The San Telmo market is a street fair that takes place each Sunday and is filled with unique artwork and antiques and is definitely worth checking out!
If you're interested in shopping in Buenos Aires, Plaza Serrano is the place to be. With pop-up shops, independent vendors and one of a kind items for a great price! You'll also find many cafes, bars, and restaurants in the area. If you're up for an activity more tailored to the Argentinian culture, head to a polo match while you're in the capital city.
With so much to do in and around the city, it can be challenging to pick the right place to stay during your visit. You can't go wrong with one of these 5 best hostels in Buenos Aires!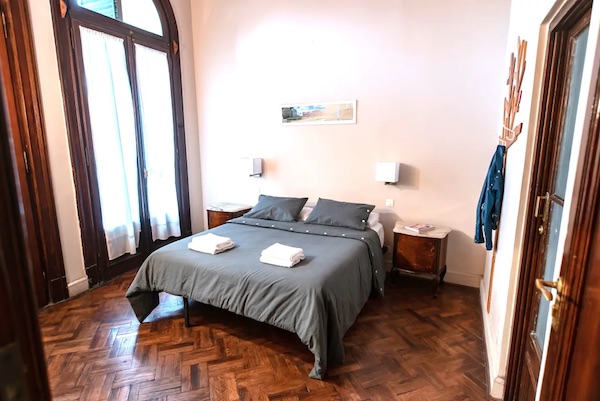 Milhouse Hostel Avenue
You'll stumble upon the Milhouse Hostel Avenue in the San Nicolas neighborhood of Buenos Aires. It's just a short walk from a metro station, making it easy to find when coming from the airport or surrounding areas.
It's most definitely a social hostel with new activities happening every day and parties throughout the night. Explore the beautiful streets of Buenos Aires by day and sip on a beer while sharing travel stories with new friends by night! The rooftop terrace also offers a magnificent view of the city and a great place to socialize.
Hostel details
Address:
Avenida de Mayo 1245, Buenos Aires, Argentina.
Guest rating:
4.4 out of 5.
Price per night:
from $3.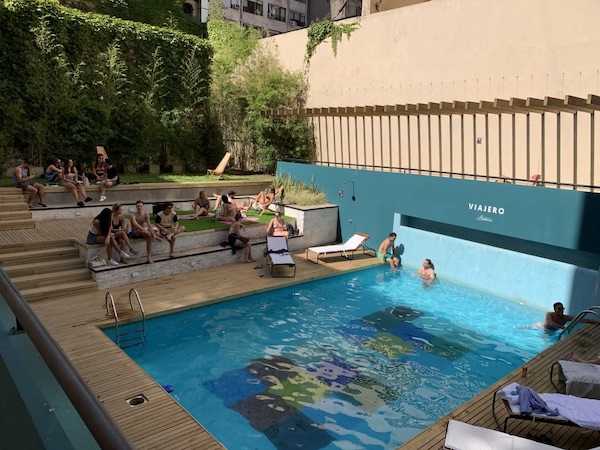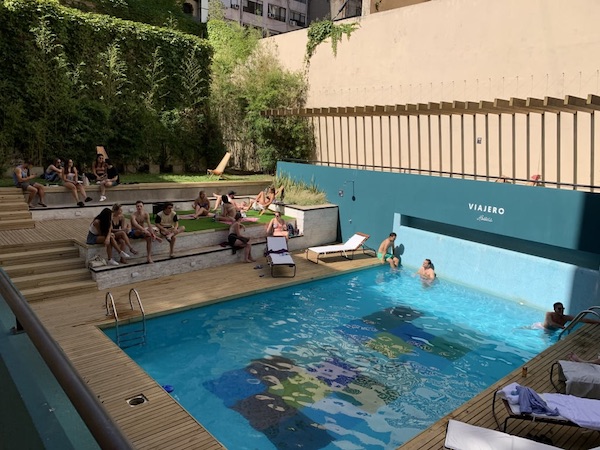 Viajero Buenos Aires Hostel
Viajero Buenos Aires Hostel can be found in the Monserrat neighborhood which is an older part of the city with a presidential palace and other historical sites. The hostel is minutes from the metro, offers free breakfast and has a lively atmosphere!
With an indoor and outdoor pool for all guests to use and an in-house bar and restaurant, you won't be able to get enough of this hostel. Each dorm room has curtains to provide privacy and the beds are comfy to ensure you have a great sleep. There's also no shortage of places to socialize, making it a great place to spend your time in Buenos Aires.
Hostel details
Address:
Venezuela 649, San Telmo, Buenos Aires, Argentina.
Guest rating:
4.7 out of 5.
Price per night:
from $8.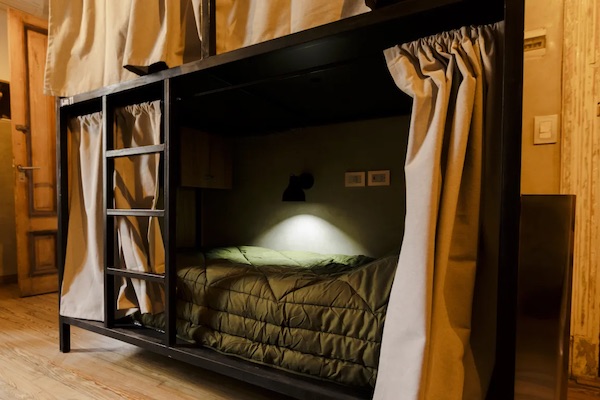 Che Juan BA
Che Juan BA hostel is located in the San Nicolas neighborhood and near the Basilica del Santisimo Sacramento, Centro Cultural Kirchner and Palacio Barolo. With many points of attraction nearby to see during your stay, you'll fall in love with this hostel's location!
Each dorm room bed comes equipped with a reading light, curtain, mini bedside cupboard to store your valuables at night and powerpoints to charge all your devices. The kitchen comes fully equipped and there are many quiet spots throughout if you need to get work done. This hostel has a cozy feel you won't find anywhere else!
Hostel details
Address:
Lavalle 477 3er Piso , Buenos Aires, Argentina.
Guest rating:
4.7 out of 5.
Price per night:
from $8.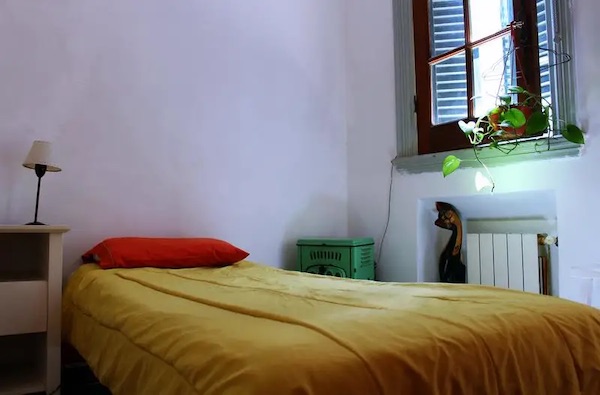 Rayuela Hostel Boutique
Discover the beautiful Monserrat neighborhood while staying at Rayuela Hostel Boutique. It's right in the heart of Buenos Aires and is perfect for all types of travelers. Enjoy a delicious breakfast with homemade treats in the morning and explore the beautiful terrace that overlooks San Telmo.
The hostel is nearby underground bars, the best spots for live music or tango shows or watching a game of football. The social and friendly atmosphere of the hostel is enough to convince you to stay a few days (or weeks) past what you had originally planned!
Hostel details
Address:
887 Belgrano Ave. 1, Buenos Aires, Argentina.
Guest rating:
4.4 out of 5.
Price per night:
from $11.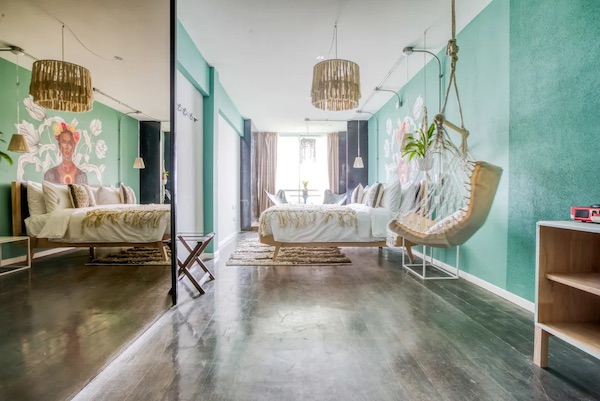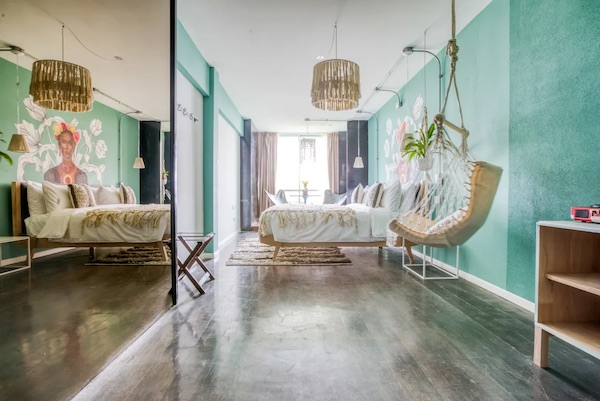 Selina Palermo
As you may have guessed, the Selina Palermo hostel is in the Palermo neighborhood – a beautiful shopping district with a range of dining experiences to choose from and home to the MALBA Modern Art Museum.
The rooms are beautifully designed and the terrace provides views that are nothing short of spectacular! This hostel is a great place to truly connect with other travelers and make new friends. It's in a fantastic area with lots to discover on your own or with the company of others!
Hostel details
Address:
Guatemala 4931, Palermo Soho, Buenos Aires, Argentina.
Guest rating:
4.5 out of 5.
Price per night:
from $12.
About our Buenos Aires hostel recommendations
Whether you're a solo traveler looking for a private room, or a backpacker traveling around in a group wanting to stay in a cheap and cozy dorm, above you will find the best hostels in Buenos Aires for all your needs.
Please note, we only list hostels on our website that have an aggregated guest review rating of at least 4.0 out of 5. We aggregated all reviews from different booking sites and other unbiased review websites. Hence, you can be certain all hostels listed above offer an excellent value-for-money stay in Buenos Aires.
Top 5 hostels in Buenos Aires
To summarize again, based on thousands of guest reviews, these are the best hostels in Buenos Aires:
Best price guarantee
For our hostel recommendations, we work together with Hostelworld and Booking. These partnerships don't have any influence on the recommendations we make or on the order in which our recommended hostels are listed. The reasons why we have chosen to partner with these companies is that they're trustworthy, offer excellent service and they both apply the best price guarantee. This means you can claim a refund for the difference if you find your reservation cheaper on another website. It has to be for the same property, accommodation type, dates, cancellation policy and conditions, otherwise, you can't claim the refund for the difference. If you book through Booking.com then all you need to do is contact them at least 24 hours before your check-in date. If you book through Hostelworld you must claim the refund within 24 hours after you made the booking.
Why you should be careful when booking the cheapest hostel available
The cheapest hostels available are typically not in a great location. If you want to go sightseeing or go for a night out in central Buenos Aires, you probably end up having to pay for public transport or a taxi to get there. So your stay could end up being more expensive compared to a stay in a central location. For first-time travelers, we recommend staying central anyway, but also for frequent visitors, it's probably worth it to pay a bit more to stay in a central location.
Another reason why you shouldn't stay at the cheapest hostel is that the people staying at the cheapest hostels are often not the people that can afford to travel like you. Because a very cheap hostel is often cheaper than renting a flat, these places tend to attract migrant workers or local misfits. That's probably not the crowd you want to hang out with, especially if you're a solo traveler looking for friends.
The third reason why you should avoid the cheapest hostels is safety. Some of the cheapest hostels don't check IDs, don't ask for signatures, or only accept cash at check-in. The hostel won't know who is actually staying there.
Lastly, the service at these hostels isn't great. For instance, if you choose to store your luggage, your bags will be unattended in a public space. It won't be recorded anywhere or tagged and stored in a locked room.
So, it's probably worth it to spend a bit more on your hostel stay in Buenos Aires.
And finally, a tip: always read the latest reviews of the hostel! All places have good and bad reviews, but the most recent reviews matter the most.
More Buenos Aires tips
Get to know the city even better and check out our other articles about Buenos Aires:
Best boutique hotels in Buenos Aires
Best luxury hotels in Buenos Aires
Best cheap hotels in Buenos Aires