If you're planning a South American trip, you have to visit Buenos Aires, the capital of Argentina, known for its eclectic and friendly atmosphere. With its unique blend of South American traditions and European architecture, Buenos Aires has a distinct multicultural feel to it that draws in globetrotters year-round. 
The Argentine capital has 48 neighborhoods, each with its own character—the most popular ones being Abasto, Puerto Madero, La Boca, San Telmo, and Recoleta. In each one, you'll stumble across different bars, temples, theaters, and football stadiums. For a reprieve from the urban bustle, you can stroll to the Ecological Reserve, just minutes from downtown.
It's also an incredibly creative city; music, dancing, and art fill the air, and there are countless museums, theaters, open-air markets, and antique shops to satisfy even the most avid culture lover. When you walk around, it's clear that Buenos Aires lives up to its name as the capital of tango—there are fancy tango shows, underground milongas (dance halls), and live tango orchestras everywhere. The city also has undeniably phenomenal nightlife—bars, clubs, taverns; you name it—for those looking to party. In fact, some people visit the city for the nightlife alone.
As far as cuisine, Buenos Aires has traditional bites such as empanadas and parilla (Argentine-style barbecue) as well as international food. Throughout the day, make sure to enjoy a café con leche or a glass of popular Malbec wine.
If you want to hang out in Buenos Aires for a while, consider staying at one of the city's sustainable hotels. We've compiled a list of eco-friendly hotels for you below, so you can be the most responsible traveler possible on your South American adventure.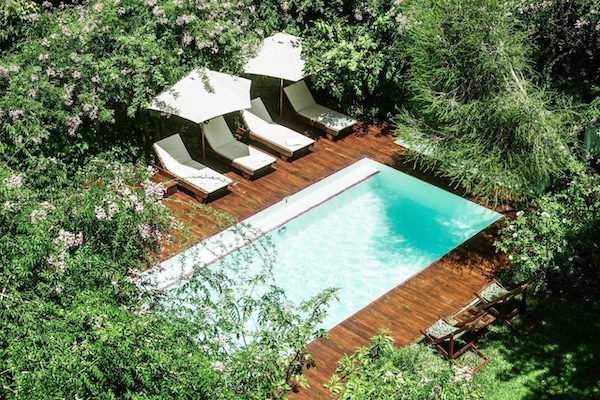 Home Hotel
First on our list of sustainable hotels in Buenos Aires is Home Hotel, located in the hip neighborhood of Palermo Hollywood. It's set in a serene area, perfect for catching a peaceful night's sleep before tackling the city the next day. As the name suggests, the area is known for its many celebrities, film studios, and other cultural hotspots. However, there's more to it than that—it has a unique feel to it, as it has both a traditional and modern atmosphere. Staying here means easy access to the city center, tourist attractions, and tons of bars and restaurants, including La Mar, Las Flores, and Mercado de Liniers.
As a boutique hotel, the property is full of beautiful personal touches and has an overall welcoming feel. All rooms have good WiFi and all the typical amenities, such as bathroom products and comfy beds. There is also an outdoor heated pool, a sauna, complimentary breakfast, an on-site restaurant (all-day breakfast and brunch!), and a bar. Most rooms overlook the beautiful open-air patio.
What makes Home Hotel sustainable
What exactly makes Home Hotel one of Buenos Aires' eco-friendly hotels? First, it is one of only two hotels that partners with El Ceibo, the city's recycling community. Home Hotel is committed to becoming single-use plastic-free by the end of 2022, and they also donate towels, sheets, and slippers to local charity groups. Its outdoor pool is solar-heated, and the property has plenty of native trees and other flora. Overall, this lovely boutique joint is a great sustainable stay in Argentina.
Hotel details
Address: 
Honduras 5860, C1414 CABA, Argentina.
Guest rating:
4.6 out of 5
Price per night:
From $150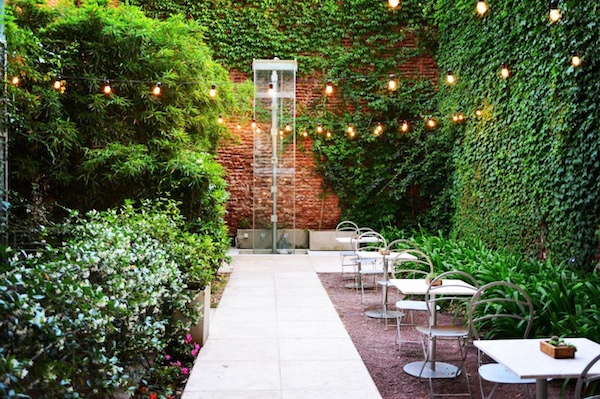 Palo Santo Hotel
Next up is Palo Santo Hotel, a stunning plant-filled paradise with luxury amenities in the trendy Palermo neighborhood. Nearby, you'll find the Botanical Gardens and Serrano Square, a very popular place both during the day and at night, and the very busy Sante Fe Avenue. When you're looking to venture to other areas of the city, simply walk a short distance to the nearest metro station.
Every room has WiFi, a TV, and a nice bathroom; a major bonus to Palo Santo is that all units also have a balcony with either a garden or city view. Its in-house eatery, Charqui Restaurant, serves traditional homemade Argentinian meals, including slow-cooked ojo de bife (ribeye) and braised pork. If you're there over the weekend, make sure to catch the delicious weekend brunch, with offerings such as avocado toast, dulce de leche alfajor, and pulled-pork. You can enjoy your breakfast inside or outside. Lastly, there is also a hot tub and sun terrace for relaxing!
What makes Palo Santo sustainable
Palo Santo has a number of green initiatives and was built according to LEED (a sustainable business criterion) standards. For example, it uses LED lighting, motion detectors to avoid overuse, energy-efficient elevators, and rainwater recovery strategies. It's also very well-insulated to avoid waste, and the roof and siding are additionally insulated with plants (there are also an incredible 800 plants inside the building for cleaner air and beautiful aesthetics). For adventures, guests can borrow a bike. With its ideal location, green practices, and luxury amenities, Palo Santo is an awesome option for eco-conscious visitors.
Hotel details
Address: 
Bonpland 2275, Palermo, C1425FWC Buenos Aires, Argentina.
Guest rating:
4.5 out of 5
Price per night:
From $79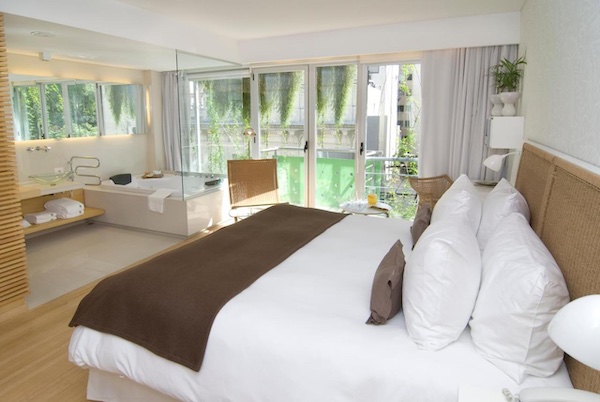 Casa Calma
Another one of the great eco-friendly hotels in Buenos Aires is Casa Calma. It's located in the Retiro neighborhood, close to landmarks such as Centro Cultural Kirchner and Palacio Barolo, and only one block away from the bustling Sante Fe avenue. Florida Street and the famous Colon Theater are also nearby. Even though it's in the heart of the city, you'll feel like you're in a small oasis due to the relaxing design.
Casa Calma is full of personality and charm. Chic and down-to-earth decor fills the rooms and public spaces, and the soft and neutral color palette offers a soothing experience for guests. There is WiFi in all rooms; however, when you're looking to unplug, you can head to the jacuzzi or get a massage in your room for a small fee. Guests can also enjoy a buffet breakfast from 8–11 in the morning and a cocktail at the in-house Honesty Bar. If you're traveling as a couple, consider booking one of their popular Honeymoon or other romance packages.
What makes Casa Calma sustainable
Let's talk about sustainability. First off, plants wrap around the exterior of the building making for a cool aesthetic in addition to added natural insulation. Impressively, all wood used in the hotel is certified by the Forest Stewardship Council. Additionally, bamboo bikes are available for use and offer a towel-reuse system to cut back on laundry use. Casa Calma also gives used cooking oil to local authorities to be reused in fuel products and donates used slippers.
Hotel details
Address: 
Suipacha 1015, C1008 CABA, Argentina.
Guest rating:
4.5 out of 5
Price per night:
From $120
Mine Hotel
Mine Hotel is another solid green option. It's set in the heart of the Palermo neighborhood, putting you within walking distance of Plaza Serrano and La Rural Convention Center. Additionally, you'll find the best Argentinian experiences nearby, such as La Viruta, a tango club, and well-known restaurants such as La Cabrera. The area around the hotel is full of charming original wooden doors, cobblestone streets, and old trees, which merge with its modern energetic atmosphere.
Mine Hotel has 20 thoughtfully-designed rooms, a beautiful garden, an outdoor pool, and a staff that speaks great English. The warm earthy design complements the friendly vibe that Buenos Aires is so well-known for. As for amenities, Mine Hot has you covered—you can enjoy a complimentary breakfast buffet and free WiFi throughout the property before heading out for the day's adventures. For a small charge, you can also sip on a glass of wine and enjoy tapas in the lounge area. On top of all this, people give the service here very high marks.
What makes Mine Hotel sustainable
However, what we are most interested in for this article is its green policy. It has all the important things—reuse of towels if the guests opt-in, energy-saving keycard switches, large disposable bathroom dispensers to avoid small plastic bottles, sorted recyclable and waste materials, and biodegradable products. It also gives used cooking oils to the local authorities for fuel manufacturing and donates slippers, towels, and bed sheets to charities.
Hotel details
Address: 
Gorriti 4770, Palermo, C1414BJL Buenos Aires, Argentina.
Guest rating:
4.7 out of 5
Price per night:
From $125
Marcel de Buenos Aires
Last but not least on our list of sustainable hotels in the Argentine capital is Marcel, a lovely place with Belgian flair (it was founded by a Belgian woman who fell in love with Buenos Aires). Staying here means you'll enjoy one of the most historical neighborhoods of the city, Balvanera. You're 50 meters away from a metro station which will take you everywhere you will want to go.
The boutique hotel, with nine rooms and three apartments, is beautiful and has several areas to relax. On warm days, guests can hang out by the rooftop pool or on the thoughtfully-designed patio with hammocks. The standard breakfast, which is included in most room rates, has everything you need; if you want to upgrade to a fancier meal, you can pay for the "happy-breakfast," which even includes homemade sourdough bread. The cafeteria downstairs is also open for guests to cook themselves.
What makes Marcel de Buenos Aires sustainable
Marcel has a number of green aspects. For example, all light bulbs are LED, and the bathroom features organic bathroom products and water-saving toilets. Each room has energy-efficient LED lights, recycled furniture, Belgian linens, and organic biodegradable cotton. Additionally, towels are changed every three days unless the guests indicate they want to have them replaced sooner (there is a similar system for sheets). Marcel's staff also cooks as much as possible with organic ingredients and is happy to make vegan and vegetarian dishes.
Buenos Aires is catching up in the eco-lodging space; although it doesn't have quite as many sustainable hotels as other cities, it still has plenty of good options for the eco-conscious traveler to enjoy.
Hotel details
Address: 
Republica Bolivariana de Venezuela 2763, Balvanera, 1211 Buenos Aires, Argentina.
Guest rating:
4.0 out of 5
Price per night:
From $84
How we select the best eco-friendly hotels in Buenos Aires
We are a travel research company. We check a lot of details and guest reviews before making a selection. First, we check which hotels follow eco-travel principles. Are they recycling their waste? Do they work with local communities? Are they using renewable energy? Are they not using single-using plastics?
Secondly, we check guest reviews across multiple websites and only list hotels with an aggregated review rating of at least 4 out of 5. So you can be confident you will stay at an excellent eco-friendly hotel in Buenos Aires.
Sustainable travel is becoming increasingly popular and essential as we strive to reduce our carbon footprints. There are many easy ways to reduce your impact while traveling, from choosing eco-friendly accommodations to respecting the local wildlife. Here are some of the essential tips for sustainable travel.
More Buenos Aires guides
Get to know the city even better by reading our other articles about Buenos Aires:
Boutique hotels in Buenos Aires