Paris is a destination most people only dream about visiting someday! The city is both romantic and magical and is home to some of the most iconic sites such as the Eiffel Tower, the Louvre Museum, the Notre Dame Cathedral, the Palace of Versailles and many more. Besides the main tourist sites, Paris is known for its spectacular cafes and rustic European scenery.
With so much to see and do during your time in Paris, it can be overwhelming when deciding on a place to stay. Depending on how you hope to fill your itinerary, you may want to stay in a few different places or spend the entirety of your trip at one central hostel.
Let's take a look at the 6 best hostels in Paris and you can decide which ones are the right fit for you!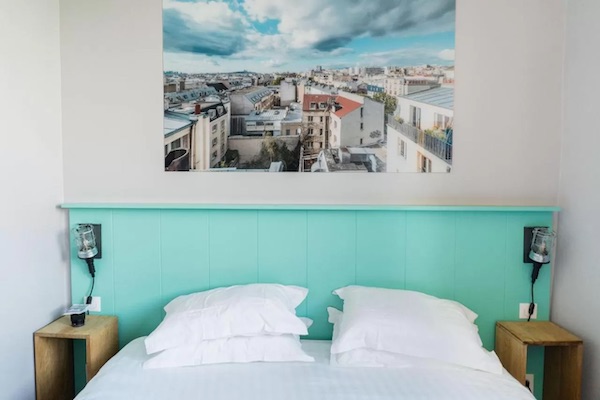 Les Piaules
Les Piaules Hostel is a wonderful hostel in the Folie-Méricourt neighborhood in Paris. It's right in between two metro stations, making it easily accessible. The beds in each room are spacious with a reading light, plug and curtain available for each dorm bed. The rooftop view offers a spectacular view of the city, especially at night!
This hostel has a great atmosphere with a bar on the first floor and the Nouveau Casino only a few minutes away. With a relaxed vibe, it's easy to make new friends to explore Paris with. Les Piaules is also in close proximity to many cafes, restaurants and food shops for convenience.
Hostel details
Address: 59 Boulevard De Belleville, 11th arr., 75011 Paris, France.
Guest rating: 4.3 out of 5.
Price per night: from $21.
Generator Paris
Generator Paris is not far from Les Piaules in the 10th arrondissement of Paris. It's within walking distance of several central metro stations and getting downtown is a breeze! The neighborhood is also known to be laid-back and riddled with bohemian bars and cafes.
With a modern and inviting feel, Generator Paris provides comfortable and clean rooms with large private showers. If you're hoping to do some shopping, the Canal Saint-Martin is just a few minutes away. There you'll find vintage shops, restaurants and other eateries. To top it off, there's a beautiful terrace and some rooms come with a private terrace as well!
Hostel details
Address: 9 – 11 Place du Colonel Fabien, 10th arr., 75010 Paris, France.
Guest rating: 4.1 out of 5.
Price per night: from $22.
St. Christopher's Inn Gare du Nord
St. Christopher's Inn Gare du Nord is also located within the 10th arrondissement of Paris. The neighborhood is well connected with easy access to the Notre Dame and Eiffel Tower, as well as the other main attractions in Paris.
The hostel itself is large and looks almost like a hotel. It's home to Belushi, which is a bar that has Paris' biggest happy hour with two for one drink deals and 25% off food! The hostel also offers a free walking tour to help you get to know the city a little better and make some new friends at the same time.
Hostel details
Address: 5, Rue de Dunkerque, Paris, France.
Guest rating: 4.3 out of 5.
Price per night: from $26.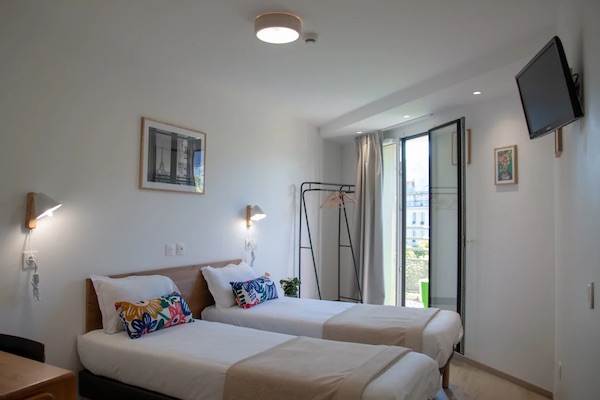 The People Hostel – Paris 12
The People Hostel can be found in Picpus which is a safe and charming district a mere few train stops from Gare de Lyon.
The style of the hostel is simple, yet stylish. Individual lockers are spacious for those with a lot of baggage and each dorm bunk is equipped with their own reading light, plug and curtain. The rooftop offers a unique view of the city and is the perfect place to catch a sunset in Paris! Find yourself enjoying a few drinks at the bar or making conversation at the lounge. Either way, you're sure to enjoy your time at The People Hostel!
Hostel details
Address: 28 Boulevard de Reuilly, Paris, France.
Guest rating: 4.8 out of 5.
Price per night: from $22.
JO&JOE Paris – Gentilly
Located right at the Gentilly metro station, 10 minutes from the Charlety Stadium and only 35 minutes from the airport, JO&JOE Paris is in a great spot! While it takes slightly longer to get into the city, (about 20 minutes on the train), it's reasonably priced and a great spot if you're flying in or out of the city.
The design of the bunk beds in dorm rooms is unique and artistic and the rooms are massive! The hostel walls are covered in colorful art and you'll even find a self-serving beer tap at the bar.
Hostel details
Address: 89 Avenue Paul Vaillant Couturier, 6 Etage – JO&JOE , Paris, France.
Guest rating: 4.4 out of 5.
Price per night: from $23.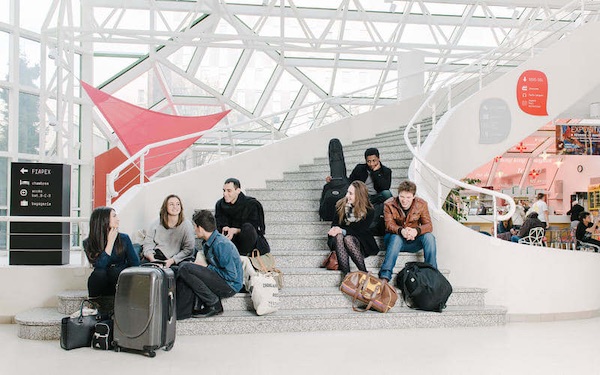 FIAP Jean Monnet
If you're after a bustling neighborhood with a bohemian vibe, FIAP Jean Monnet if the place to be! Located in the 14th arrondissement of Paris is near many metro stations and about 45 minutes from the airport.
All dorm rooms have ensuite toilets and showers, as well as security lockers and adapters if you happened to leave yours behind! Towels and breakfast are included with your stay, making you feel right at home. With two cocktail areas, two restaurants and a picturesque outdoor terrace with picnic tables, you don't need to worry about making new friends at this hostel.
Hostel details
Address: 30 Rue Cabanis, Paris, France.
Guest rating: 4.6 out of 5.
Price per night: from $37.
About our Paris hostel recommendations
Whether you're a solo traveler looking for a private room, or a backpacker traveling around in a group wanting to stay in a cheap and cozy dorm, above you will find the best hostels in Paris for all your needs.
Please note, we only list hostels on our website that have an aggregated guest review rating of at least 4.0 out of 5. We aggregated all reviews from different booking sites and other unbiased review websites. Hence, you can be certain all hostels listed above offer an excellent value-for-money stay in Paris.
Check out our other articles about Paris: