Nestled along the shores of Lake Michigan, Milwaukee is a popular city that effortlessly combines old-world charm with modern elegance. From its attractive waterfront areas to its bustling downtown, Milwaukee is an interesting city that has something to suit everyone's tastes.
If you are seeking a place that combines fine dining experiences, vibrant nightlife, and areas of natural beauty the city of Milwaukee is the perfect destination. Whether strolling through the city's picturesque neighborhoods or taking in the stunning scenery, Milwaukee is a top attractive option for people looking for an invigorating vacation.
For those looking to indulge in the finer things in life, there are plenty of luxury hotels in the city.
Whether you're looking for a grand, historic mansion-turned-hotel or a sleek, modern property with all the latest amenities, Milwaukee has something to offer. So if you're ready to treat yourself to a luxurious stay in one of the Midwest's most exciting cities, read on for a guide to the top five luxury hotels in Milwaukee.
Schuster Mansion
The gorgeous Schuster Mansion is a boutique hotel, located in the heart of the city's historic Concordia neighborhood, that offers a truly unique and indulgent stay.
The Schuster Mansion is a beautifully restored Victorian mansion that dates back to 1891. As soon as you step inside, you will be greeted with stunning period details and antique furnishings throughout the property.
The hotel's 8 guest rooms are each uniquely decorated and named after a famous composer or artist, with luxurious amenities such as whirlpool tubs, fireplaces, and plush bedding to ensure you have a restful and rejuvenating stay.
In addition to the cozy and luxurious guest rooms the Schuster Mansion also offers a range of common areas for guests to enjoy. The parlor is a warm place to enjoy a good book or guests can head to the stunning dining room where breakfast is served daily on fine china, with crystal glassware.
The Schuster Mansion is located in the attractive Concordia neighborhood, which is a pleasure to walk through with picturesque Victorian homes and tree-lined streets. Some of Milwaukee's best restaurants, bars, and shops are located within walking distance of the Schuster Mansion, and guests can also enjoy a stroll through the nearby Mitchell Boulevard Park.
Hotel details
Address:
3209 West Wells Street, Milwaukee, WI 53208, United States of America.
Guest rating:
4.3 out of 5
Price per night:
From $135
The Pfister Hotel
Situated in downtown Milwaukee, The Pfister Hotel is a vast, historic high-end establishment that first opened its doors in 1893. Initially dubbed the "Grand Hotel of the West," it has since become a symbolic structure within the city.
Renowned for its majestic architecture, opulent interiors, and sophisticated ambiance, the hotel is also a venue for various cultural and musical events throughout the year.
Boasting 307 uniquely designed guest rooms and suites, the Pfister Hotel expertly blends contemporary conveniences with the allure of its historical roots.
Modern comforts such as flat-screen televisions, high-speed internet, plush bedding, and well-appointed private bathrooms can be found in each room. Additionally, the hotel provides a variety of upscale amenities and services, including a fitness center, spa, and salon.
The hotel boasts an array of fantastic dining choices, such as Mason Street Grill, but it is the remarkable art collection that sets the Pfister hotel apart. Featuring over 80 pieces of original artwork, the hotel holds a significant position in Milwaukee's art community and frequently hosts artists-in-residence. These artists live and work in the hotel's studio space, engaging with guests.
The elegant Pfister hotel is encompassed by numerous top-notch restaurants and bars. Conveniently located, the hotel is a short walk from the Wisconsin Center, Cathedral Square Park, and the renowned Pabst Theatre, making it an ideal spot for those who want to infuse their visit with a touch of classic glamour.
Hotel details
Address:
424 East Wisconsin Avenue, Milwaukee, 53202, United States of America.
Guest rating:
4.6 out of 5
Price per night:
From $160
Kimpton Journeyman Hotel
The Kimpton Journeyman Hotel, a chic boutique hotel, can be found in Milwaukee's fashionable and artistic Historic Third Ward neighborhood. This district is bustling with stylish galleries, stores, and inviting cafes, drawing numerous young professionals and creative individuals.
Boasting an elegant and streamlined design, the Kimpton Journeyman Hotel is a sought-after boutique lodging option. Its hotel lobby showcases contemporary lighting, a welcoming fireplace, and repurposed wood flooring, while the guestrooms exude a hip, modern ambiance.
Every room features spacious king-size beds, plushly furnished armchairs, and walk-in showers. Additionally, the bathrooms are equipped with sizeable freestanding bathtubs, perfect for unwinding after a day spent exploring the city and visiting various galleries.
The hotel also features the exceptional Tre Rivali restaurant, which serves a fusion of Mediterranean-inspired contemporary American dishes, while the spectacular Outsider rooftop bar and lounge provide patrons with breathtaking city views as they enjoy a cocktail.
Additionally, the Kimpton Journeyman Hotel offers daily wine hours, free bicycles for city exploration, and a pet-friendly policy permitting guests to bring their furry friends along on their travels.
In summary, the Kimpton Journeyman Hotel presents a chic and inviting choice for those seeking a boutique hotel experience in Milwaukee's lively Third Ward district. Its proximity to numerous popular city attractions makes it a favored destination for those visiting Milwaukee.
Hotel details
Address:
310 E Chicago Street, Milwaukee, WI 53202, United States of America.
Guest rating:
4.2 out of 5
Price per night:
From $160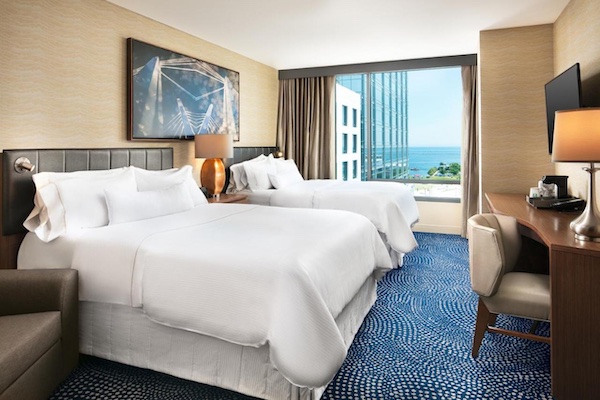 The Westin Milwaukee
This Westin is an upscale hotel located in the heart of downtown Milwaukee on East Michigan Street, offering guests stunning views of the city skyline, with easy access to some of Milwaukee's top cultural attractions.
The hotel features 220 spacious and elegant guest rooms and suites, with a contemporary design that exudes style and comfort. Each room is well-furnished with high-end amenities such as large flat-screen TVs, signature Westin heavenly beds, and oversized windows with views of the beautiful Lake Michigan. The hotel also offers a well-equipped fitness center, including exercise bikes, treadmills, and strength equipment.
The hotel offers guests excellent dining options. The excellent upscale steakhouse Stella Van Buren offers Italian-style cuisine and the finest Midwestern produce. Guests can also enjoy breakfast and dinner throughout the week, and grab-and-go food options from the sundry store.
The Westin Milwaukee is conveniently located within walking distance of some of the city's best cultural attractions, such as the Milwaukee Art Museum, which houses an impressive collection of art from around the world.
Guests can also enjoy a peaceful walk to the Henry W. Maier festival park, a 75-acre park located on the shores of Lake Michigan, which hosts the annual Summerfest music festivals.
Hotel details
Address:
550 N Van Buren Street, Milwaukee, 53202, United States of America.
Guest rating:
4.1 out of 5
Price per night:
From $150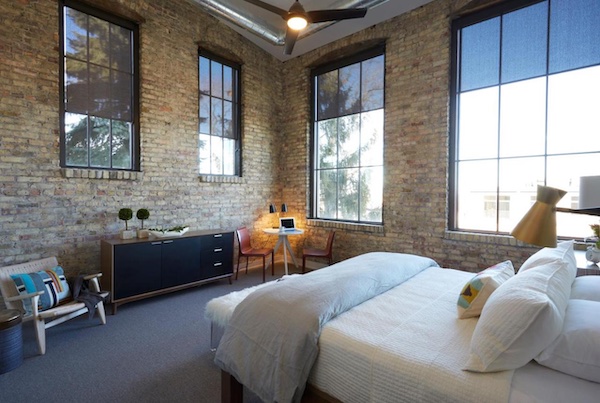 Kinn Guesthouse
The luxurious Kinn Guesthouse is located at 600 North Broadway in the city's bustling and trendy Historic Third Ward neighborhood. This stylish boutique hotel offers a unique stay that perfectly combines comfort, luxury, and charm.
The Kinn Guesthouse has a beautiful modern design with clean lines, elegant furnishings, and large windows letting in plenty of natural light. The hotel is small and intimate with only 8 guest rooms.
Each room is uniquely decorated, with high-end amenities such as rainfall showers, stylish light fixtures, and modern art pieces. The hotel also has an impressive Penthouse Suite which features a private sauna and a rooftop deck with sweeping views of the city skyline.
The Kinn Guesthouse is wonderfully located in the Historic Third Ward, the ideal neighborhood for anyone looking to enjoy the energetic and artistic attractions of the city. The area is full of interesting boutique shops and has many fine art galleries, restaurants, and bars a short distance from the hotel.
Guests staying at the hotel can also enjoy a relaxing stroll to the nearby Milwaukee Public Market, a lively indoor food market selling everything from artisanal cheeses to cooking classes. The beautiful Milwaukee Riverwalk is also close by and offers the ideal place for a scenic walk along the riverfront.
Hotel details
Address:
2535 South Kinnickinnic Avenue, Milwaukee, WI 53207, United States of America.
Guest rating:
4.7 out of 5
Price per night:
From $140
About our luxury hotel recommendations in Milwaukee
We are a travel research company. Our team helps you discover the best luxury hotels in Milwaukee by researching the internet for you. We have also visited some of these places. Hence, it's not just our opinion, it's the opinion of many travelers who have been there before you. We make it easy for you to find out about the most luxurious and exclusive 5-star hotels in the city.
Kindly note that we only list hotels that have an aggregated guest review rating of at least 4.0 out of 5. We aggregate all reviews from different booking sites and other unbiased review websites. Hence, you can be certain all hotels listed above offer you a great stay in Milwaukee.
Best price guarantee
We partner with Hotels.com and Booking.com to ensure you get the best price for your stay in Milwaukee! Both sites offer price matching. That means you pay the lowest prices for your stay. If you find a cheaper offer on another website for the same luxury hotel in Milwaukee at least 24 hours before check-in, contact them to claim a refund of the difference!
Best luxury hotels in Milwaukee
Now that you've gone over this guide, let's summarize it. We got to know what the best 5-star hotels in Milwaukee are thanks to thousands of guest reviews and tips from travel experts:
More Milwaukee guides
If you like the advice we've given you above, make sure to check out some of our other articles about Milwaukee: