As the capital of Hungary and the biggest city in the area, Budapest is a very underrated city to visit. Although not traditionally known for a high tourism population, there has been a resurgence as of late that is well worth taking part in.
There is a very distinct culture that flows all throughout the city. Compared to many other big locations in Europe and Asia, this one will give visitors a more authentic experience whereas others may have very convoluted touristy views. This is not the case in Budapest.
Now, one of the greatest ways to experience the city is by staying in a luxury hotel. This ensures that your money is well spent and you are in a prime spot to have a good time.
Here are five of the best luxury hotels located in Budapest!
Four Seasons Hotel Gresham Palace
One of the largest and best luxury hotel chains in the entire world is the Four Seasons. Just about every big city in the world will have a location that can deliver excellence. So, if you choose to stay at the Four Seasons Hotel Gresham Palace, you know that you are in for a fabulous experience due to the company's reputation.
In terms of this location specifically, it is apparent right from the start that you are in a luxurious space. This is also translated from the amenities that come along with the stay. Some examples include a pool, spa, fitness center, and many others.
Overall, you know you will get the works at the Four Seasons.
Hotel details
Address: 
Budapest, Széchenyi István tér 5, 1051, Hungary.
Guest rating:
4.8 out of 5
Price per night:
From $400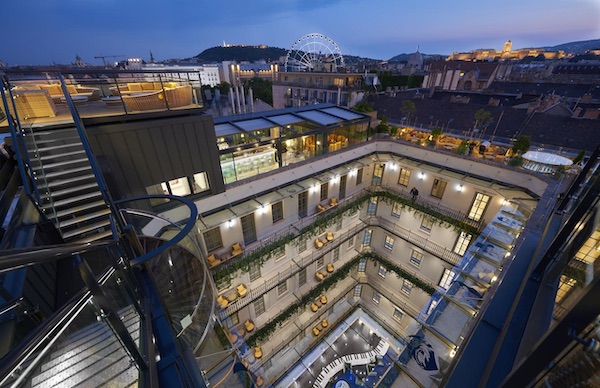 Aria Hotel Budapest
Next up on our list is the Aria Hotel Budapest. This is one of the smaller options in town with less than 50 rooms in total. This could be good or bad depending on your preferences. If you want a more exclusive experience with fewer moving parts, this is perfect. If you would like a bit more action, some of the other options may be best.
Here are some of the other factors that you can take advantage of if you do like the smaller feel. Some perks include a spa, sauna, room upgrades, a restaurant, and a rooftop bar.
As you can see, this is a well-rounded location that brings a tremendous amount of value to the price of your room. Start your day with a spa treatment and end it with drinks on the roof!
Hotel details
Address: 
1051 Budapest, Hercegprímás utca 5., Hungary.
Guest rating:
4.8 out of 5
Price per night:
From $325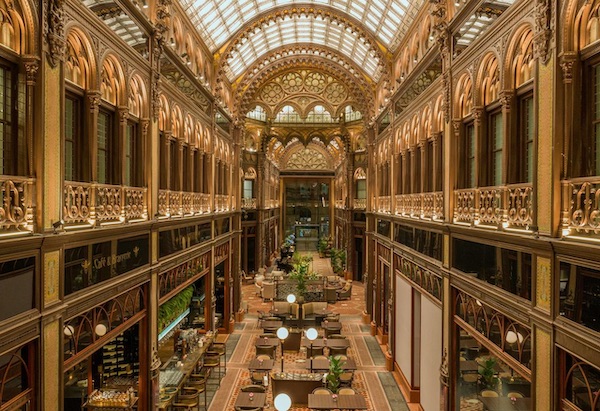 Parisi Udvar Hotel
If you love your hotels to be unique and luxurious in a way that is in your face and obvious, the Parisi Udvar Hotel is the place to be. Since you are spending a good amount of money, you might want to feel elegant right away. This is the type of experience that comes along with a room here.
The golden trim and Gothic style provide awesome vibes from the moment that you enter the building. Now, all of this is cool, but without awesome amenities, your experience cannot live up to the luxurious standards set by others on this list.
Some features include a fully functioning spa, delicious restaurant and much more.
Hotel details
Address: 
1052 Budapest, Petőfi Sándor utca 2-4, Hungary.
Guest rating:
4.7 out of 5
Price per night:
From $340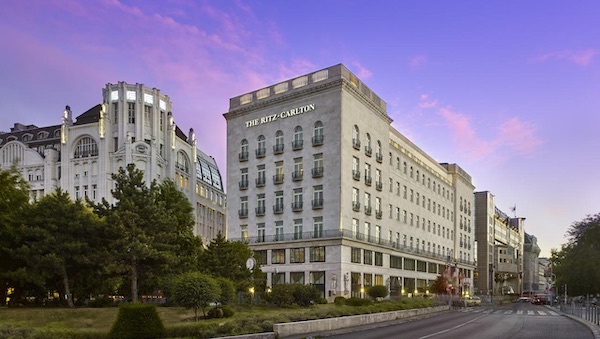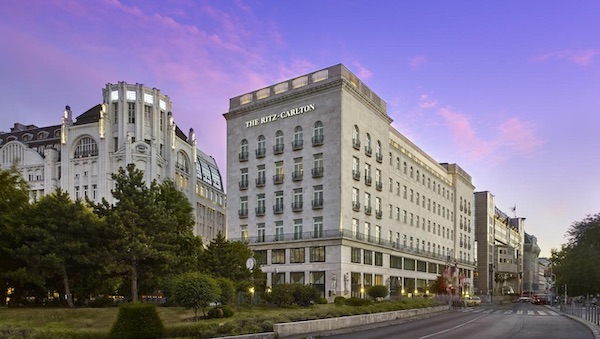 Ritz-Carlton Budapest
Similar to the Four Seasons, the Ritz-Carlton is a fabulous hotel chain that works to always deliver good vibes. Staying in a place that has such a highly-regarded reputation can be very fruitful
Another feature that many Ritz-Carlton locations offer is a traditional take on culture and ambiance. The feel of the area is super important to a stay because you want to be immersed in the local culture.
The Ritz-Carlton Budapest puts you in the heart of the action. This is a huge perk because it gives you quick access to a lot of the tourism hotspots.
Hotel details
Address: 
1051 Budapest, Erzsébet tér 9-10., Hungary.
Guest rating:
4.7 out of 5
Price per night:
From $290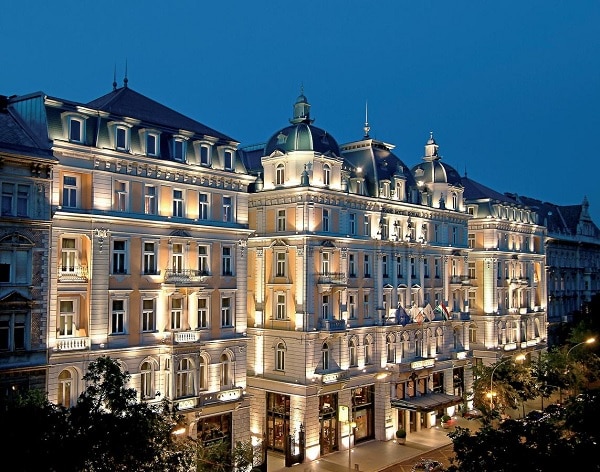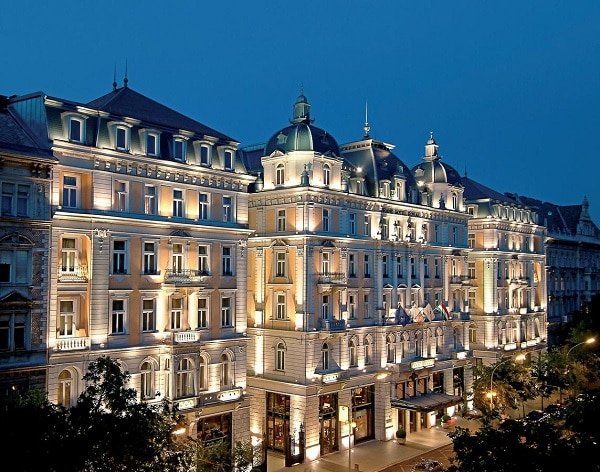 Corinthia Hotel
While other hotels on this list are unique and eccentric, Corinthia Hotel's bread and butter is a classic and timeless experience for guests. The hotel is very well-updated but isn't overly modern. Instead, guests experience Hungary in luxury in one of its 414 rooms.
At Corinthia, guests can choose from thirteen different room and suite styles, ranging from their Superior Room to their Grand Residence.  Outside of the rooms, there are many amenities to enjoy. The hotel has a Hungarian bath complete with a modern spa and an indoor pool. Cuisines offered include modern Hungarian, pan-Asian, and pastries, which you can find at Szamos Marzipan Royal Café.
Visitors' favorite features here include its prime location, classic décor, and excellent amenities.
Hotel details
Address: 
Budapest, Erzsébet krt. 43-49, 1073, Hungary.
Guest rating:
4.6 out of 5
Price per night:
From $155
About our luxury hotel recommendations in Budapest
We are a travel research company. Our team helps you discover the best luxury hotels in Budapest by researching the internet for you. We have also visited some of these places. Hence, it's not just our opinion, it's the opinion of many travelers who have been there before you. We make it easy for you to find out about the most luxurious and exclusive 5-star hotels in the city.
Please note, we only list hotels that have an aggregated guest review rating of at least 4.0 out of 5. We aggregate all reviews from different booking sites and other unbiased review websites. Hence, you can be certain all hotels listed above offer you a great stay in Budapest.
Best price guarantee
We partner with Hotels.com and Booking.com to make sure you get the best price for your stay in Budapest! Both sites offer price matching. That means you pay the lowest prices for your stay. If you find a cheaper offer on another website for the same luxury hotel in Budapest at least 24 hours before check-in, contact them to claim a refund of the difference!
Top 5 luxury hotels in Budapest
Now that you've gone over this guide, let's summarize it. We got to know what the best 5-star hotels in Budapest are thanks to thousands of guest reviews and tips from travel experts:
More Budapest guides
If you like the advice we've given you above, make sure to check out some of our other articles about Budapest:
Best boutique hotels in Budapest