Modern-day Budapest is a pulsating city with a diverse mix of historical landmarks and vibrant culture. Located alongside the Danube river, this Hungarian capital has two parts – Buda and Pest. It is a gateway between eastern and Western Europe that millions of visitors travel to each year.
Countless bridges connect the two sides of the city. On each side, there are intriguing sights to see. You can see spectacular architectural wonders, including St. Stephen's Basilica, the Budapest Parliament Building, Matthias Church, and Fisherman's Bastion.
Of course, you will need to visit some important historical monuments such as Liberation Monument, the Millennium Monument, Heroe's Square, and the Budapest Jewish Holocaust Memorial. If you want to relax, Budapest is known as the city of "baths," with 15 public thermal baths supplied by natural spring water.
If you plan on visiting this historic city, here are the five best boutique hotels in Budapest.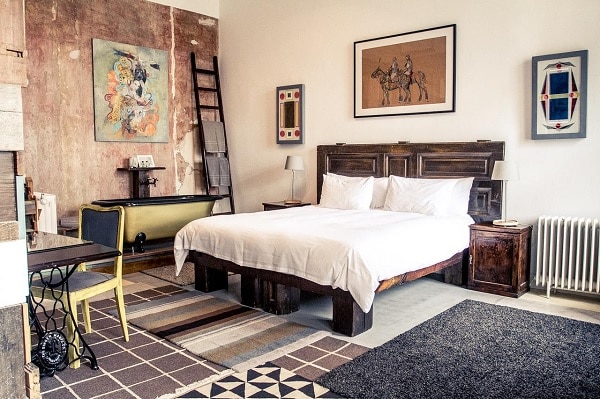 Brody House
You'll stumble upon the Brody House in the Pest side of Budapest nearby the Danube River. Its neighbors include a historic parliament building and a grand square within the palace quarter. The hotel is an art community staple, with Brody Studios and Brody ArtYard just minutes away.
Its grounds are so aesthetically pleasing that many films and fashion shoots take place here. However, while it is exciting and well-designed, it maintains a homey atmosphere. Every one of its 11 rooms is uniquely and imaginatively decorated. You can grab a continental breakfast at the hotel in the mornings and head to Brody Studios for lunches and cocktails.
This hotel wowed its visitors with its friendly staff, artistic rooms, and welcoming atmosphere.
Hotel details
Address: 
Budapest, Bródy Sándor u. 10, 1088, Hungary.
Guest rating:
4.8 out of 5
Price per night:
From $116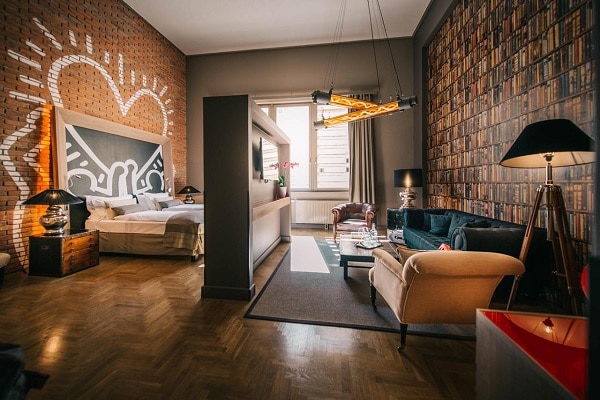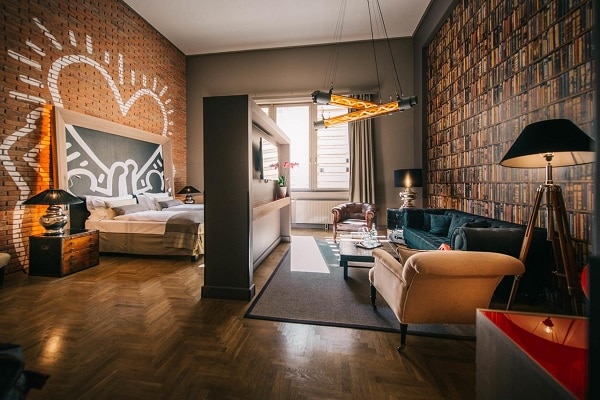 Baltazar Budapest
If you're looking for something classic and minimalistic, Baltazar Budapest is not it. However, if you want something exciting and eclectic, you'll enjoy this expressive, uniquely designed, and family-owned hotel. The hotel has an excellent location within Budapest's historical and gastronomic center.
Rooms within Baltazar Budapest are far from carbon copies of each other. Each comes with a distinct theme, inspired by Vivienne Westwood, Andy Warhol, Jean-Michel Basquiat, and Keith Haring. You'll enjoy the opulent furnishings that are a mix of vintage and modern pieces. Housed within the hotel is a delicious restaurant, Baltazar Grill, which serves up tasty local cuisine, regional wines, and some of the world's best gin.
Guests loved Baltazar's fascinating surroundings, knowledgeable team, and unique atmosphere.
Hotel details
Address: 
Budapest, Országház u. 31, 1014, Hungary.
Guest rating:
4.7 out of 5
Price per night:
From $106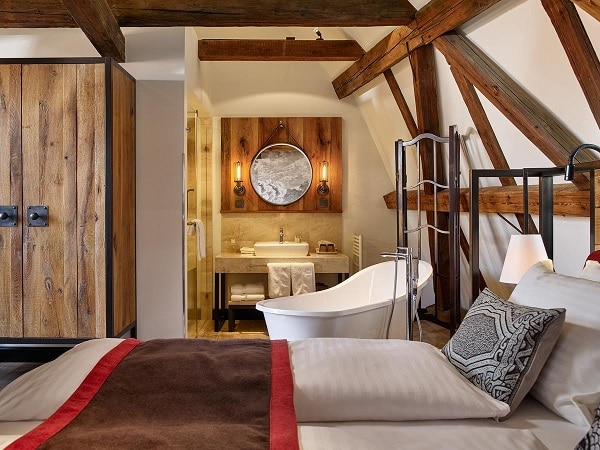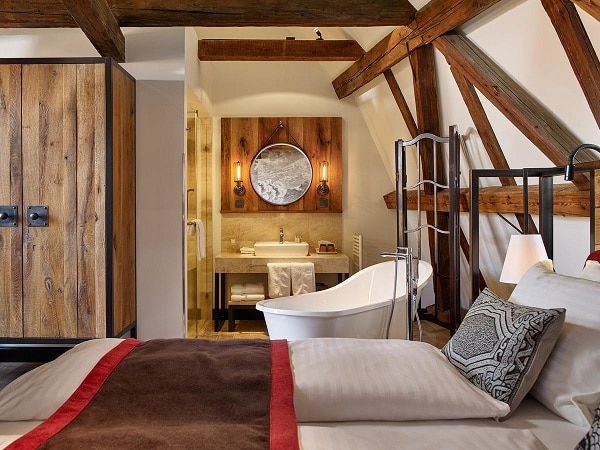 Pest-Buda Hotel
Pest-Buda Hotel, located within the Buda side of town, will make you feel as if time is irrelevant. Its surroundings contain historical sights such as the extravagant Matthias Church and the Buda Castle complex. If you enjoy nature, you can try some of the wooded hiking trails within the area.
The ten-room hotel has an intimate feel exuding warmth. Tibor Somlai and Géza Ipacs balanced the building's old-world charm with retro mid-century touches. In the hotel's bistro terrace, you can start your morning or end your evening right with some spectacular Hess András Square views. You can eat exquisitely prepared Hungarian treats at this restaurant and enjoy the extensive wine list.
Highlights include its whimsical spaces, charming neighborhood, and tasty cuisine.
Hotel details
Address: 
Budapest, Fortuna u. 3, 1014, Hungary.
Guest rating:
4.7 out of 5
Price per night:
From $105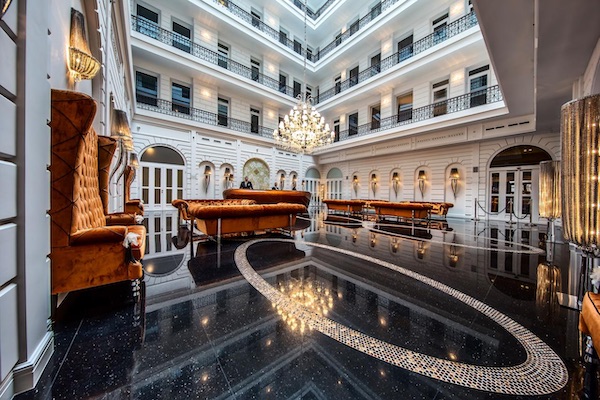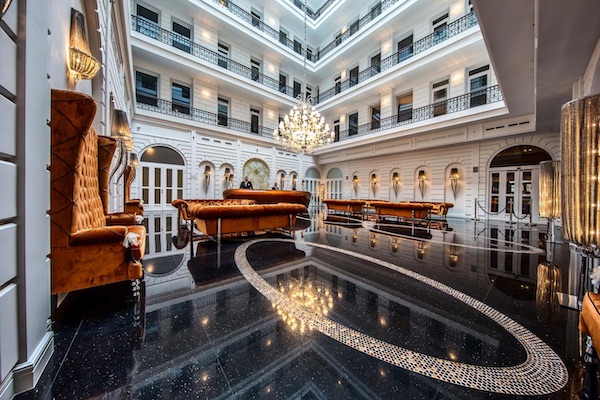 Prestige Hotel
Head to the breathtaking Prestige Hotel for an elegant cosmopolitan experience. One step into this building, and you'll understand why it has "prestige" in its name. Its 85 contemporary rooms wrap around a breathtaking atrium with beautiful chandeliers.
A perk beyond the hotel's architectural beauty is its central location along the Danube River on the city's Pest side. Within its property, there are some truly luxurious amenities. One of its crowning jewels is a Michelin-starred restaurant, Costes Downtown, the country's first restaurant to earn this prestigious distinction. After a meal at this award-winning restaurant, guests can unwind at the sauna and jacuzzi in the hotel's relaxation room onsite.
The hotel's best features include its architecture, world-class dining, and excellent neighborhood.
Hotel details
Address: 
1051 Budapest, Vigyázó Ferenc utca 5., Hungary.
Guest rating:
4.7 out of 5
Price per night:
From $95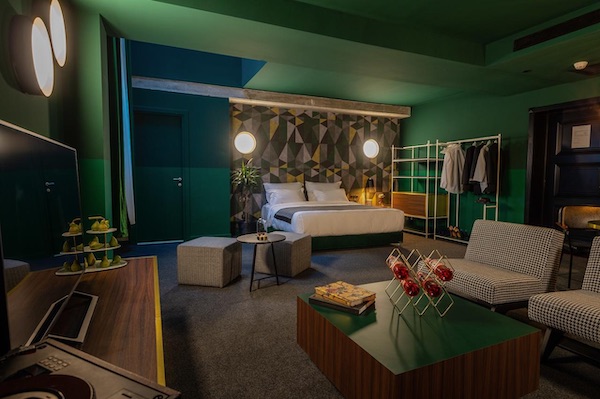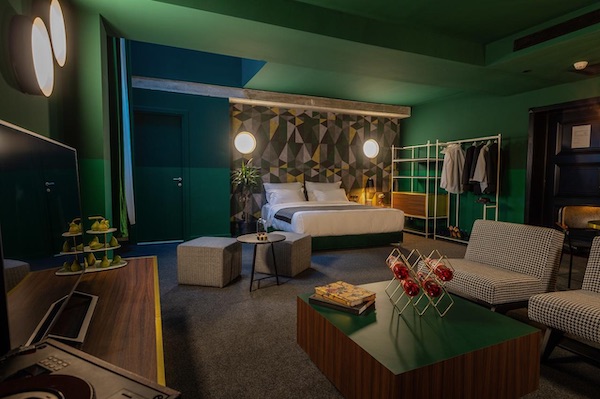 Stories Hotel
To round out our list, there is the Stories Hotel. This is also the smallest option on our list, even smaller than the Aria Hotel. With just 38 rooms, you are going to be delivered an exclusive experience that can be catered to your individual needs and wants in a trip.
This is the perfect hotel for those who want good features but like to keep it simple. One of the cool perks of staying at the Stories is the ability to upgrade rooms. The best of which is the Presidential Suite.
For some extra money, you can get two separate bedrooms that come with their own jacuzzi and sauna. These are some crazy perks that come along with your stay, so it is worth looking into.
Hotel details
Address: 
1061 Budapest, 26 Király utca, Hungary.
Guest rating:
4.6 out of 5
Price per night:
From $85
About our boutique hotel recommendations in Budapest
We are a travel research company. We help you discover the best boutique hotels in Budapest by researching the internet for you. It's not just our opinion, it's the opinion of many travelers who have been there before you. We make it easy for you to find out about cool design hotels and unique design hotels in the city. Some of them might be so romantic you might not want to leave your room.
Please note, we only list hotels that have an aggregated guest review rating of at least 4.0 out of 5. We aggregate all reviews from different booking sites and other unbiased review websites. Hence, you can be certain all hotels listed above offer you a great stay in Budapest.
Best price guarantee
We partner with Booking.com and Hotels.com to provide you with the lowest price guarantee on your stay in Budapest! Both those websites offer price matching. That ensures that you are paying the lowest price available online. If you find a cheaper offer on another website for the same cool hotel in Budapest at least 24 hours before check-in, contact them to claim a refund of the difference!
Top 5 boutique hotels in Budapest
Before you go, let's summarize this guide. Based on thousands of guest reviews and tips from travel experts, these are the best boutique hotels in Budapest:
More Budapest tips
If you like our guide above, you should also check out our other articles about Budapest: