Berlin is Germany's bustling capital city, packed with countless things to do and see. People from around the world love visiting this trendy yet deeply historic place. This place has everything from somber reminders of its darker past to lively neighborhoods showcasing its thriving present.
Today, Berlin is a cosmopolitan city known for being at the cutting edge of everything. Visitors can explore places like Museumsinsel (Museum Island), the Reichstag (Parliament Building), and the impressive TV Tower. Its streets have no shortage of delicious restaurants and craft beer bars to enjoy.
However, Berlin was not always this peaceful. Travelers can visit the Berlin Wall Memorial, where the wall used to divide the city. There is also the Memorial to the Murdered Jews of Europe to memorialize Holocaust victims. This blend of vibrant city life and fascinating history makes Berlin an intriguing destination.
Here are the five best luxury hotels in Berlin if you plan on visiting.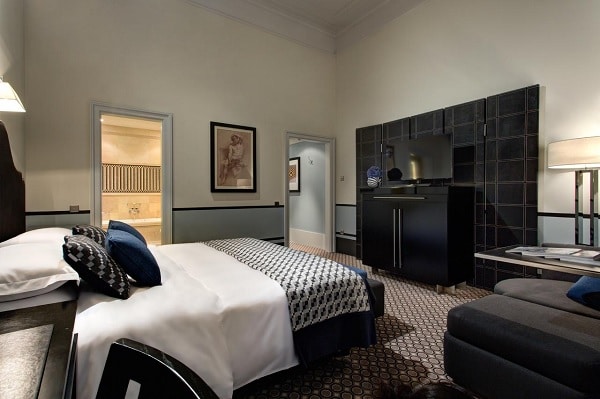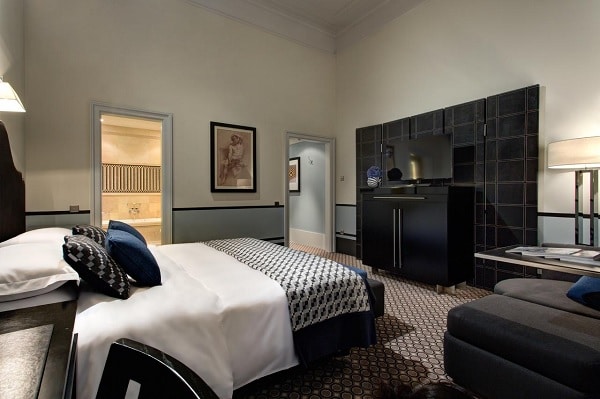 Hotel de Rome
If this hotel looks a little bit like a bank to you, then you wouldn't be wrong. Hotel de Rome stands on the former headquarters of Dresdner Bank. The jewel vault is currently a swimming pool, the cashier's hall is now the grand ballroom, and the director's office is now a suite.
Its rooms have tasteful designs with a coordinated color palette and unique details that are neither boring nor exuberant. The hotel has many amenities to pamper you during your stay. The former bank vaults are now relaxing spas offering massage treatments, a hammam, and a sauna. There is also an excellent assortment of restaurants and bars.
Highlights at this hotel include its quality service, comfortable rooms, and intriguing setting.
Hotel details
Address: 
Behrenstraße 37, 10117 Berlin, Germany.
Guest rating:
4.6 out of 5
Price per night:
From $348
Hotel Adlon Kempinski Berlin
You'd be hard-pressed to find a hotel with a better location in Berlin. The Adlon Kempinski sits across from the Brandenburg Gate and a stone's throw away from the Reichstag and Potsdamer Platz. You can reach anywhere in Berlin's cultural center within minutes.
Its interior is just as impressive as its excellent location. Walk into the lobby, and you'll encounter chandeliers, solid marble staircases, and a glass dome. This hotel's rooms are elegant and sophisticated, with outstanding views of Berlin. Those who want pampering will not be disappointed with the 9,000 sq. ft. spa facilities. At dinner time, you can dine at Lorenz Adlon Esszimmer restaurant, which has two Michelin stars.
Guests love the hotel's elegance, location, and delicious dining.
Hotel details
Address: 
Unter den Linden 77, Mitte, 10117 Berlin, Germany.
Guest rating:
4.7 out of 5
Price per night:
From $275
Ritz Carlton Berlin
The Ritz Carlton has some of the world's most luxurious hotels, and Ritz-Carlton Berlin is no exception. In recent years, Berlin has become a hipster haven. This accommodation stands out in a sea of avant-garde boutique hotels by providing a tried-and-true classic guest experience.
Its opulent setting is in a skyscraper in the Potsdamer Platz. Enter the building, and you'll find a lobby filled with exquisite chandeliers and marble columns that exude an old-world charm. The hotel's rooms are a bit more modern and understated, but no less elegant. Its wellness center is well-equipped with spa treatments, a sauna, and a fitness center. Dining options at the Ritz are top-notch and delicious.
Visitors enjoyed its beautiful facilities, outstanding service, and eateries.
Hotel details
Address: 
Potsdamer Platz 3, Mitte, 10785 Berlin, Germany.
Guest rating:
4.6 out of 5
Price per night:
From $240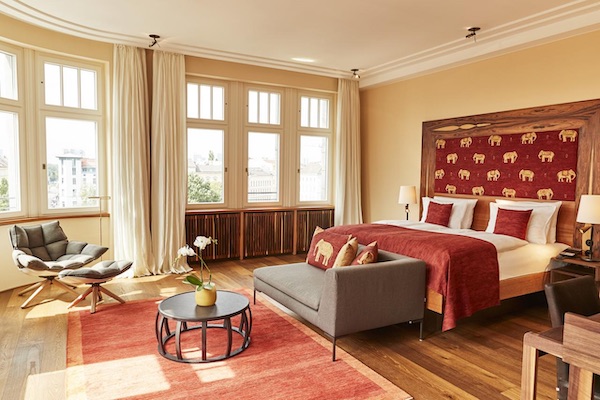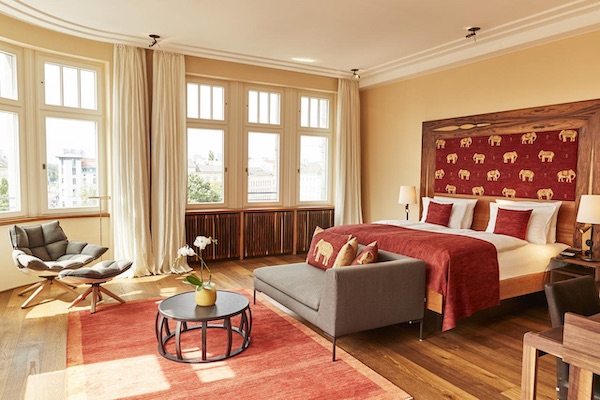 Hotel Orania.Berlin
The Hotel Oriana.Berlin is a surprising hotel that juxtaposes seemingly contradictory elements together. Its location within the trendy Kreuzberg neighborhood would lead you to think it would be a chic boutique hotel. While it is undoubtedly hip, there is more elegance behind its classic façade than what meets the eye.
This hotel impressively manages to turn a bohemian aesthetic into something lavish. The devil is in the details here. Rooms have handmade mattresses and modern furnishings from Patricia Urquiola and Antonio Citterio. Downstairs, there are stylish bars and unique event spaces. You're likely to catch some outstanding performers there during its music series on any given night.
Hotel Oriana.Berlin's best aspects are its luxurious details, cozy rooms, and musical performances.
Hotel details
Address: 
Oranienplatz 17, Friedrichshain-Kreuzberg, 10999 Berlin, Germany.
Guest rating:
4.6 out of 5
Price per night:
From $150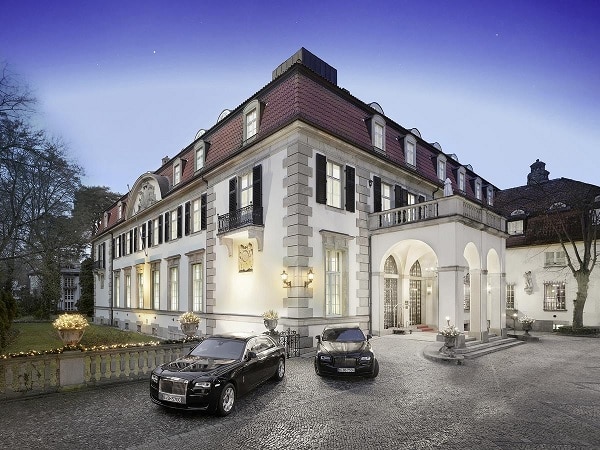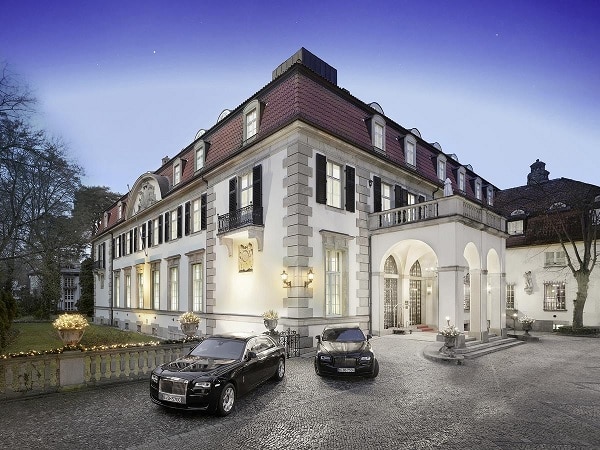 Patrick Hellmann Schlosshotel
You'll know that you're in for a one-of-a-kind experience before you enter the hotel. Patrick Hellman Schlosshotel's building blends in with the many mansions surrounding it on its beautiful tree-lined street.
Inside, you'll see why the place is a see-and-be-seen type of location. Decorators successfully blended ultra-contemporary elements with classic elegant details. There are glass chandeliers and Prussian portraits alongside geometric prints and modern furnishings.
Rooms have Art Deco touches and nods to the Roaring Twenties. There are a relaxing spa, a heated pool, and a well-equipped fitness center for guests to use onsite. Downstairs, there is a health-conscious eatery overlooking the hotel's perfectly manicured gardens.
Travelers raved about Patrick Hellmann Schlosshotel's exquisite design, outstanding service, and beautiful grounds.
Hotel details
Address: 
Brahmsstraße 10, 14193 Berlin, Germany.
Guest rating:
4.5 out of 5
Price per night:
From $235
About our luxury hotel recommendations in Berlin
We are a travel research company. Our team helps you discover the best luxury hotels in Berlin by researching the internet for you. We have also visited some of these places. Hence, it's not just our opinion, it's the opinion of many travelers who have been there before you. We make it easy for you to find out about the most luxurious and exclusive 5-star hotels in the city.
Please note, we only list hotels that have an aggregated guest review rating of at least 4.0 out of 5. We aggregate all reviews from different booking sites and other unbiased review websites. Hence, you can be certain all hotels listed above offer you a great stay in Berlin.
Best price guarantee
We have partnered with Booking.com and Hotels.com to offer the best price for your stay in Berlin! Both sites offer price matching, so you can be sure that you are getting the cheapest rates possible for a luxury hotel in Berlin. If you find an even lower rate on another site at least 24 hours before check-in, contact them to claim a refund of the difference!
Top 5 luxury hotels in Berlin
Having read this guide, now let's summarize what we learned. We found the best 5-star hotels in Berlin thanks to reviews and tips from thousands of guests and travel experts:
More Berlin recommendations
We hope you enjoy the advice we've given to you above. If so, be sure to check out some of our other articles about Berlin:
Best boutique hotels in Berlin